Twice the size of Earth, planet 503b has just been discovered
About twice the size of Earth, 503b orbits its own star every six days.
07 September, 2018
Scientists using data from NASA's Kepler Space Telescope, which has recently awoken from a slumber meant to conserve precious fuel, have found Wolf 503b, an exoplanet about twice the size of our own Earth — a mere 145 light years away, in the Virgo constellation.
---
The team involved includes Canadian, American, and German researchers. The lead author of the study is Merrin Peterson, a graduate student at the Institute for Research on Exoplanets.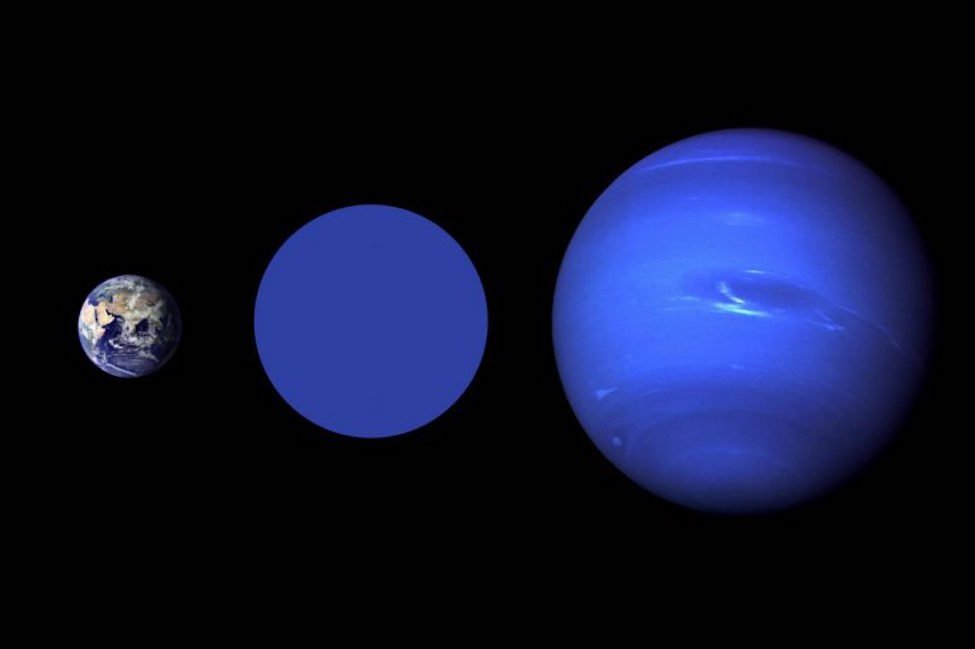 Size comparison: Earth, Wolf 503b, and Neptune. The color blue for Wolf 503b is imaginary; nothing is yet known about the atmosphere and surface of the planet. Credit: NASA Goddard/Robert Simmon (Earth), NASA / JPL (Neptune).
"The discovery and confirmation of this new exoplanet was very rapid, thanks to the collaboration that I and my advisor, Björn Benneke, are a part of," Peterson said. "In May, when the latest release of Kepler K2 data came in, we quickly ran a program that allowed us to find as many interesting candidate exoplanets as possible. Wolf 503b was one of them."
The planet was found by observing the changes in the light that the dwarf star (named, of course, Wolf 503) exhibits as the planet crosses in front of it; since Wolf 503b orbits its sun every six days, and is approximately 10x closer to its sun than our planet Mercury is ours, the effect it creates on the light from this star is readily seen by a telescope of Kepler's capability.
It's precisely because of Kepler that we know this: Most of the planets in our galaxy that orbit close to their stars like 503b does are usually between Earth and Neptune in size.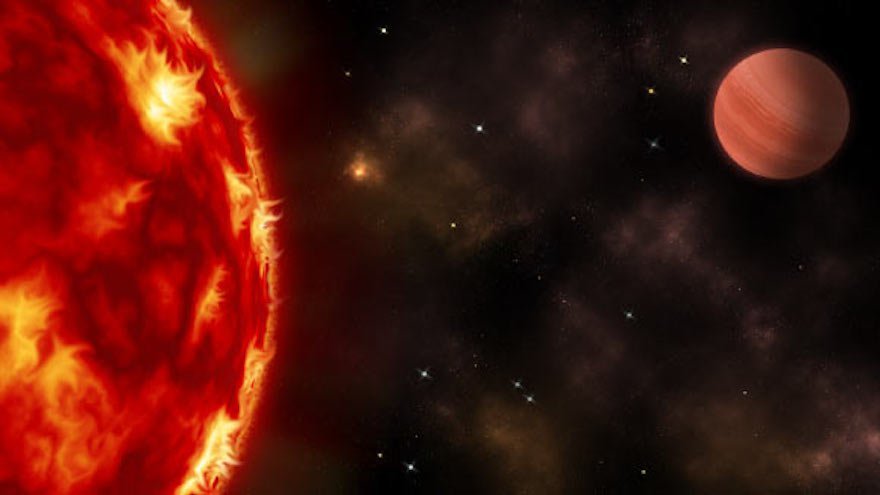 Artist's impression of the exoplanet Wolf 503b and its host star. Image credit: Sci-News.com
We have nothing like 503b in our solar system, so it's a rare opportunity to study such a planet, and potentially figure out if those kinds of planetary bodies are likely to be rocky and Earth-like, or more gaseous, like Neptune. Because the star that 503b revolves around is relatively close to us, it's very bright; this will allow more detailed study and inferences about its density and mass.
If indications are that it's a higher-mass planet, after calculating its radius using similar light-bending telescopic data, this will provide researchers an approximate density of the planet, which will inform them as to its composition. In other words, a more dense, higher-mass planet would likely be rocky like Earth, and a much less dense and more gaseous composition would put 503b into a Neptunian category.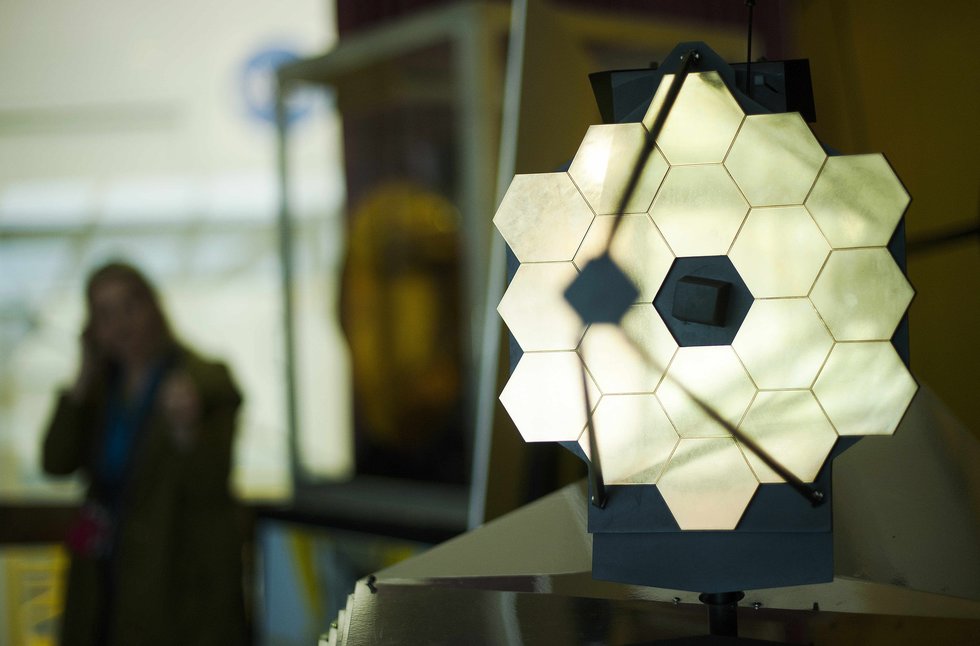 A woman stands near a model of the James Webb Space Telescope (JWST) at NASA Goddard Space Flight Center in Greenbelt, Maryland on April 2, 2015. AFP PHOTO/ JIM WATSON (Photo credit JIM WATSON/AFP/Getty Images)
As Kepler reaches the end of its effective life cycle, a new telescope, the James Webb Space Telescope (JWST), is launching in early 2021 to replace both it and, after working alongside it for a while, Hubbel; it will be better able to study planets such as 503B, including chemical composition such as hydrogen and water.
"The brightness of the host star makes Wolf 503b a prime target for prompt radial velocity follow-up, Hubble Space Telescope transit spectroscopy, as well as detailed atmospheric characterization with JWST," the astronomers said.
Speaking of the JWST, here are the top 5 things about it:
Malcolm Gladwell teaches "Get over yourself and get to work" for Big Think Edge.
Big Think Edge
Learn to recognize failure and know the big difference between panicking and choking.

At Big Think Edge, Malcolm Gladwell teaches how to check your inner critic and get clear on what failure is.

Subscribe to Big Think Edge before we launch on March 30 to get 20% off monthly and annual memberships.
Can sensitive coral reefs survive another human generation?
Videos
Coral reefs may not be able to survive another human decade because of the environmental stress we have placed on them, says author David Wallace-Wells. He posits that without meaningful changes to policies, the trend of them dying out, even in light of recent advances, will continue.
The World Wildlife Fund says that 60 percent of all vertebrate mammals have died since just 1970. On top of this, recent studies suggest that insect populations may have fallen by as much as 75 percent over the last few decades.
If it were not for our oceans, the planet would probably be already several degrees warmer than it is today due to the emissions we've expelled into the atmosphere.
Image source: Topical Press Agency / Getty Images
Politics & Current Affairs
Though we know today that his policies eventually ended the Great Depression, FDR's election was seen as disastrous by some.
A group of wealthy bankers decided to take things into their own hands; they plotted a coup against FDR, hoping to install a fascist dictator in its stead.
Ultimately, the coup was brought to light by General Smedley Butler and squashed before it could get off the ground.
Michael Dowling, Northwell Health's CEO, believes we're entering the age of smart medicine.
Sponsored by Northwell Health
The United States health care system has much room for improvement, and big tech may be laying the foundation for those improvements.
Technological progress in medicine is coming from two fronts: medical technology and information technology.
As information technology develops, patients will become active participants in their health care, and value-based care may become a reality.
Big think's weekly newsletter.
Get smarter faster from the comfort of your inbox.
See our newsletter privacy policy
here
Most Popular
Most Recent
Big think's weekly newsletter.
Get smarter faster from the comfort of your inbox.
See our newsletter privacy policy
here
© Copyright 2007-2018 & BIG THINK, BIG THINK EDGE,
SMARTER FASTER trademarks owned by The Big Think, Inc. All rights reserved.