From Harlem to the Moon: What Aretha Franklin meant to America
Accomplishments? Yes, Aretha Franklin had them.
17 August, 2018
44 Grammy nominations
18 Grammy awards
112 charted Billboard singles
77 Hot 100 entries
17 top-ten pop singles
100 R&B entries
20 #1 R&B singles
75 million records sold worldwide
1987 induction into the Rock and Roll Hall of Fame — the first woman to do so
2005 induction to the UK Music Hall of Fame — only the second woman up to that point
2012 induction into the GMA Gospel Music Hall of Fame
Cover of Time magazine, June, 1968
Received Hollywood Walk Of Fame star in 1979 10 honorary degrees
These are just some of the accomplishments of the singer, who died August 16 at age 76 of pancreatic cancer. 
---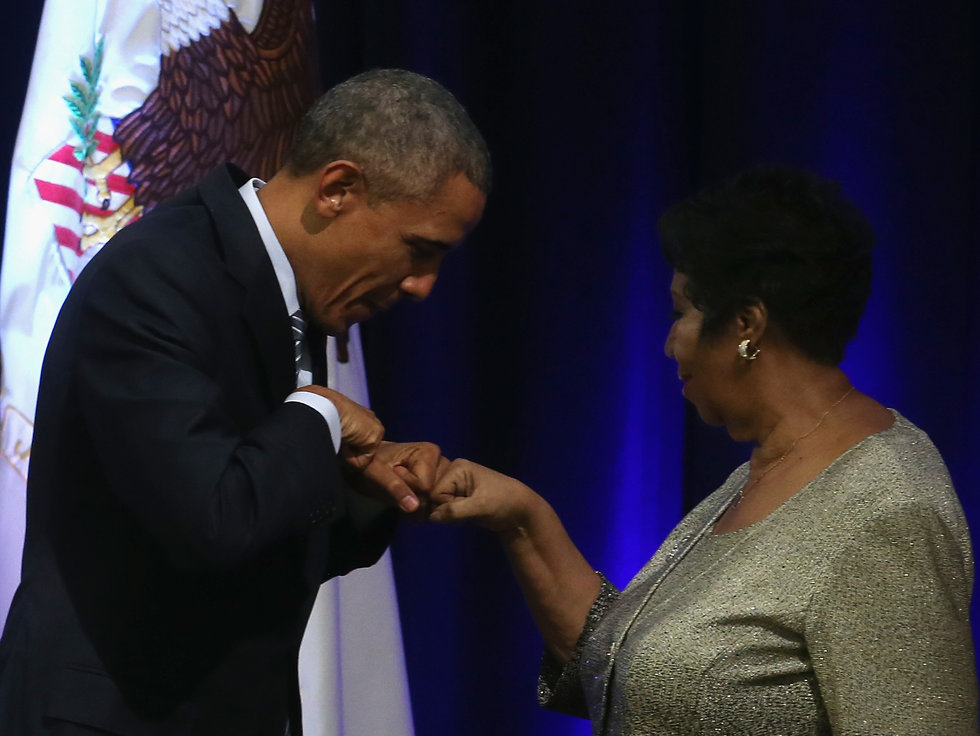 US President Barack Obama fist bumps with singer Aretha Franklin who sung during a farewell ceremony for Attorney General Eric Holder at the Justice Department February 27, 2015 in Washington, DC. (Photo by Mark Wilson/Getty Images)
Her parents split when she was seven years old, her mother dying of a heart attack when she was 10. It was soon after that Franklin began to play piano by ear, almost as if she turned that grief into something that transcended. 
Beginning with gospel songs, she started to make a name for herself. This brought her to California with her father, and a fateful meeting with Sam Cooke.
When she turned 18, she told her father that she wanted to follow in Cooke's footsteps, and moved to New York to begin charting her success in the music industry.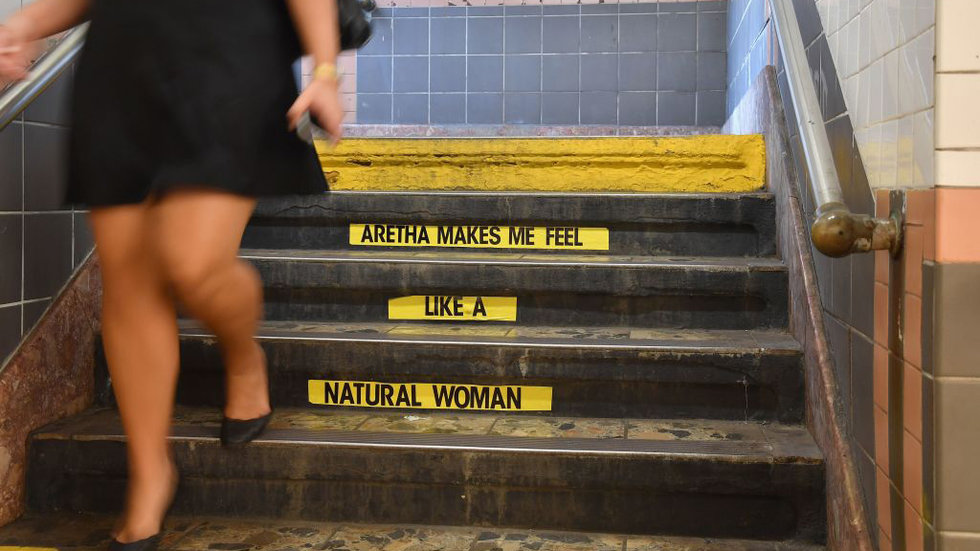 The words 'Aretha Makes Me Feel Like A Natural Woman' are seen at the stairwell leading to the Franklin Street subway station in New York on August 16, 2018. - 'Queen of Soul' Aretha Franklin passed away August 16, 2018 in Detroit at the age of 76. (Photo by Angela Weiss / AFP/ Getty Images)
Memorable and meaningful moments in her life were plenty. She toured with Dr. Martin Luther King, Jr. and sang at his funeral; offered to post bail for African American political activist Angela Davis when she was arrested, citing, "I know you got to disturb the peace when you can't get no peace,"; she sang 'My Country, 'Tis of Thee' at Barack Obama's first inauguration 
There's so much more about her, and her life, that has been recounted and told in the form of stories, that there's no way to do it all justice. 
So here are some of the quotes on Twitter from various people and organizations in recognition of who she was:
We're very sad to hear about the #QueenofSoul passing. Rock Steady Aretha.
From your steady rock out in space. pic.twitter.com/1rbBRlRUW7
— NASA Moon (@NASAMoon) August 16, 2018


#CorettaScottKing with the #QueenOfSoul. #ArethaFranklin pic.twitter.com/VinGBi00R0
— The King Center (@TheKingCenter) August 17, 2018


ROCK. STEADY!! Honoring #ApolloLegend Aretha Franklin and paying R-E-S-P-E-C-T to the #QueenOfSoul in the way only #Harlem can! pic.twitter.com/LR8CIppHUx
— Apollo Theater (@ApolloTheater) August 16, 2018


Aretha Franklin is the reason why I sing from that part deep inside of me that few could ever reach. She was my favorite and will always be. What a gift she has left all of us with her musical footprints. There will never be another like her. She was truly special. #QueenOfSoul

— Kelly Clarkson (@kelly_clarkson) August 16, 2018

Finally, there is the time, in 2015, when she sang, 'A Natural Woman' at the Kennedy Center in celebration of Carole King's official medal from the White House. Barack Obama himself commented on it later. You can see him wiping a tear from his eye early on in the below clip.
"American history wells up when Aretha sings," President Obama explained. "Nobody embodies more fully the connection between the African-American spiritual, the blues, R&B, rock and roll—the way that hardship and sorrow were transformed into something full of beauty and vitality and hope."
Related Articles
Explore how alcohol affects your brain, from the first sip at the bar to life-long drinking habits.
(Photo by Angie Garrett/Wikimedia Commons)
Mind & Brain
Alcohol is the world's most popular drug and has been a part of human culture for at least 9,000 years.
Alcohol's effects on the brain range from temporarily limiting mental activity to sustained brain damage, depending on levels consumed and frequency of use.
Understanding how alcohol affects your brain can help you determine what drinking habits are best for you.
If you want to know what makes a Canadian lynx a Canadian lynx a team of DNA sequencers has figured that out.
Surprising Science
A team at UMass Amherst recently sequenced the genome of the Canadian lynx.
It's part of a project intending to sequence the genome of every vertebrate in the world.
Conservationists interested in the Canadian lynx have a new tool to work with.
Artwork: Guillaume le Clerc / Wikimedia Commons
13th-century fantastical depiction of an elephant.
It is easy to see how one can look at 66,000 genomic sequences stored away as being the analogous equivalent of the Svalbard Global Seed Vault. It is a potential tool for future conservationists.
But what are the practicalities of sequencing the genome of a lynx beyond engaging with broad bioethical questions? As the animal's habitat shrinks and Earth warms, the Canadian lynx is demonstrating less genetic diversity. Cross-breeding with bobcats in some portions of the lynx's habitat also represents a challenge to the lynx's genetic makeup. The two themselves are also linked: warming climates could drive Canadian lynxes to cross-breed with bobcats.
John Organ, chief of the U.S. Geological Survey's Cooperative Fish and Wildlife units, said to MassLive that the results of the sequencing "can help us look at land conservation strategies to help maintain lynx on the landscape."
What does DNA have to do with land conservation strategies? Consider the fact that the food found in a landscape, the toxins found in a landscape, or the exposure to drugs can have an impact on genetic activity. That potential change can be transmitted down the generative line. If you know exactly how a lynx's DNA is impacted by something, then the environment they occupy can be fine-tuned to meet the needs of the lynx and any other creature that happens to inhabit that particular portion of the earth.
Given that the Trump administration is considering withdrawing protection for the Canadian lynx, a move that caught scientists by surprise, it is worth having as much information on hand as possible for those who have an interest in preserving the health of this creature—all the way down to the building blocks of a lynx's life.
The exploding popularity of the keto diet puts a less used veggie into the spotlight.
Purple cauliflower. (Photo: Shutterstock)
Surprising Science
The cauliflower is a vegetable of choice if you're on the keto diet.
The plant is low in carbs and can replace potatoes, rice and pasta.
It can be eaten both raw and cooked for different benefits.
Big think's weekly newsletter.
Get smarter faster from the comfort of your inbox.
See our newsletter privacy policy
here
Most Popular
Most Recent
Big think's weekly newsletter.
Get smarter faster from the comfort of your inbox.
See our newsletter privacy policy
here
© Copyright 2007-2018 & BIG THINK, BIG THINK EDGE,
SMARTER FASTER trademarks owned by The Big Think, Inc. All rights reserved.