From Harlem to the Moon: What Aretha Franklin meant to America
Accomplishments? Yes, Aretha Franklin had them.
17 August, 2018
44 Grammy nominations
18 Grammy awards
112 charted Billboard singles
77 Hot 100 entries
17 top-ten pop singles
100 R&B entries
20 #1 R&B singles
75 million records sold worldwide
1987 induction into the Rock and Roll Hall of Fame — the first woman to do so
2005 induction to the UK Music Hall of Fame — only the second woman up to that point
2012 induction into the GMA Gospel Music Hall of Fame
Cover of Time magazine, June, 1968
Received Hollywood Walk Of Fame star in 1979 10 honorary degrees
These are just some of the accomplishments of the singer, who died August 16 at age 76 of pancreatic cancer. 
---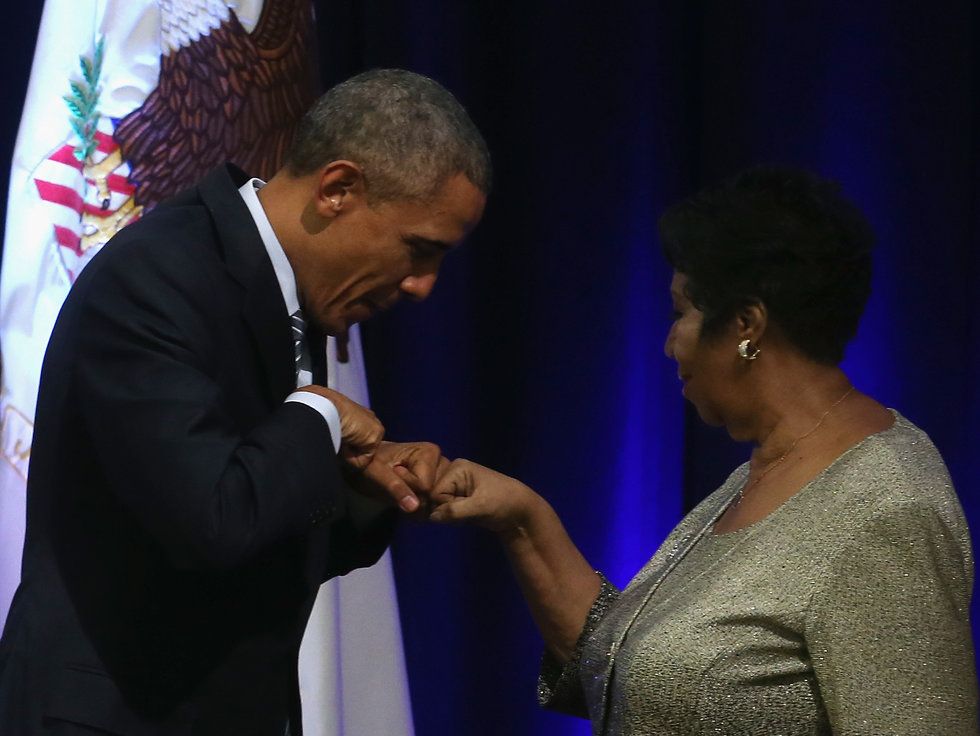 US President Barack Obama fist bumps with singer Aretha Franklin who sung during a farewell ceremony for Attorney General Eric Holder at the Justice Department February 27, 2015 in Washington, DC. (Photo by Mark Wilson/Getty Images)
Her parents split when she was seven years old, her mother dying of a heart attack when she was 10. It was soon after that Franklin began to play piano by ear, almost as if she turned that grief into something that transcended. 
Beginning with gospel songs, she started to make a name for herself. This brought her to California with her father, and a fateful meeting with Sam Cooke.
When she turned 18, she told her father that she wanted to follow in Cooke's footsteps, and moved to New York to begin charting her success in the music industry.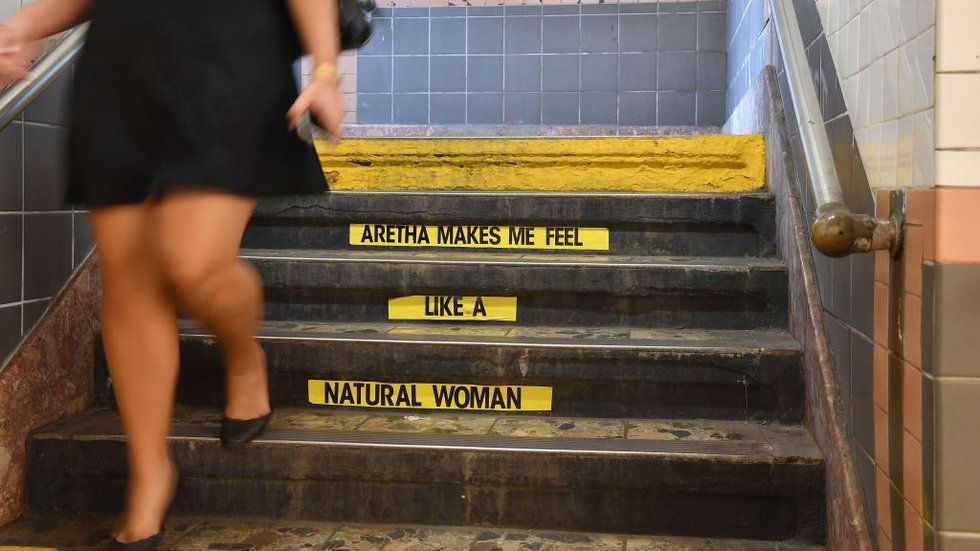 The words 'Aretha Makes Me Feel Like A Natural Woman' are seen at the stairwell leading to the Franklin Street subway station in New York on August 16, 2018. - 'Queen of Soul' Aretha Franklin passed away August 16, 2018 in Detroit at the age of 76. (Photo by Angela Weiss / AFP/ Getty Images)
Memorable and meaningful moments in her life were plenty. She toured with Dr. Martin Luther King, Jr. and sang at his funeral; offered to post bail for African American political activist Angela Davis when she was arrested, citing, "I know you got to disturb the peace when you can't get no peace,"; she sang 'My Country, 'Tis of Thee' at Barack Obama's first inauguration 
There's so much more about her, and her life, that has been recounted and told in the form of stories, that there's no way to do it all justice. 
So here are some of the quotes on Twitter from various people and organizations in recognition of who she was:
We're very sad to hear about the #QueenofSoul passing. Rock Steady Aretha.
From your steady rock out in space. pic.twitter.com/1rbBRlRUW7
— NASA Moon (@NASAMoon) August 16, 2018


Step inside the unlikely friendship of a former ACLU president and an ultra-conservative Supreme Court Justice.

Sponsored by Charles Koch Foundation
Former president of the ACLU Nadine Strossen and Supreme Court Justice Antonin Scalia were unlikely friends. They debated each other at events all over the world, and because of that developed a deep and rewarding friendship – despite their immense differences.
Scalia, a famous conservative, was invited to circles that were not his "home territory", such as the ACLU, to debate his views. Here, Strossen expresses her gratitude and respect for his commitment to the exchange of ideas.
"It's really sad that people seem to think that if you disagree with somebody on some issues you can't be mutually respectful, you can't enjoy each other's company, you can't learn from each other and grow in yourself," says Strossen.
The opinions expressed in this video do not necessarily reflect the views of the Charles Koch Foundation, which encourages the expression of diverse viewpoints within a culture of civil discourse and mutual respect.
Scientists make an important discovery for the future of computing.
Pixabay
Surprising Science
Researchers find a new state of matter called "topological superconductivity".
The state can lead to important advancements in quantum computing.
Utilizing special particles that emerge during this state can lead to error-free data storage and blazing calculation speed.
Erik Verlinde has been compared to Einstein for completely rethinking the nature of gravity.
Photo by Willeke Duijvekam
Surprising Science
The Dutch physicist Erik Verlinde's hypothesis describes gravity as an "emergent" force not fundamental.
The scientist thinks his ideas describe the universe better than existing models, without resorting to "dark matter".
While some question his previous papers, Verlinde is reworking his ideas as a full-fledged theory.
As tempting as it may be to run away from emotionally-difficult situations, it's important we confront them head-on.
Videos
Impossible-sounding things are possible in hospitals — however, there are times when we hit dead ends. In these moments, it's important to not run away, but to confront what's happening head-on.
For a lot of us, one of the ways to give meaning to terrible moments is to see what you can learn from them.
Sometimes certain information can "flood" us in ways that aren't helpful, and it's important to figure out what types of data you are able to take in — process — at certain times.