Apple's $14.5 Billion Tax Bill That It Really, Really Doesn't Want To Pay
Do you think it's fair that corporations can move their offices offshore to avoid tax bills?
16 September, 2016
---
In 2014, Apple paid 0.005% taxes on its international profit, and has averaged a 1% tax rate over the 25 years it's had an international headquarters in Ireland.
It's precisely why the company has an office there — to avoid paying taxes that the European Union now says it owes, in addition to interest on international sales. It also manages to avoid paying taxes in the United States on those same international sales. The country it uses for its headquarters — Ireland — specifically recruits companies so that they can pay almost nothing. 
Here's an infographic from the European Commission that demonstrates the shell game aspects of how the money flowed. Or, rather, didn't.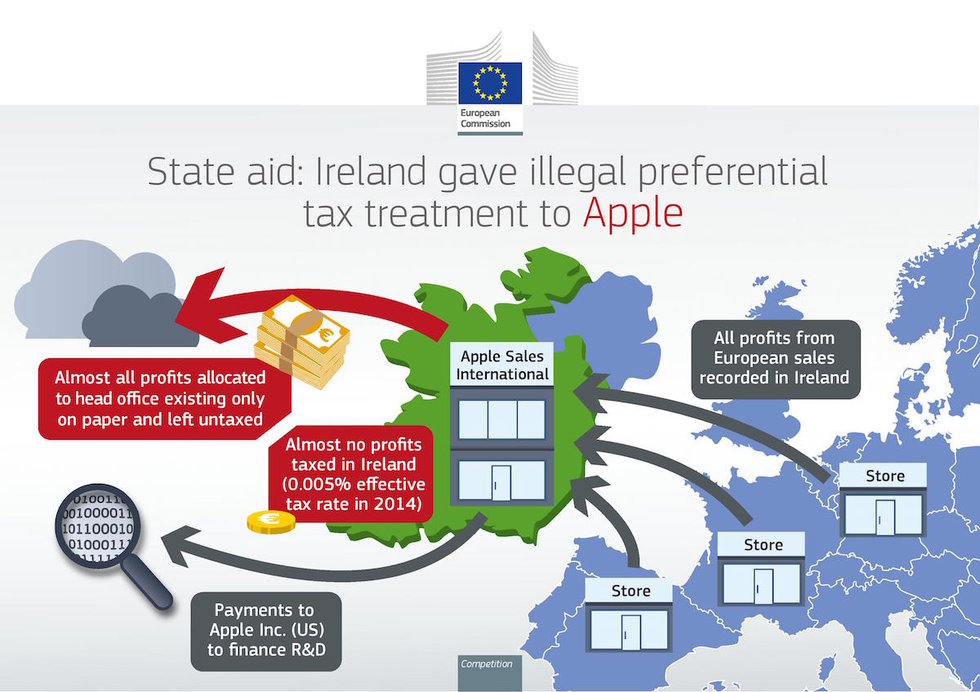 Apple's own annual report claims something else entirely, stating that:
"substantially all of the company's undistributed international earnings intended to be indefinitely reinvested in operations outside the US were generated by subsidiaries organized in Ireland, which has a statutory tax rate of 12.5 percent." 
The European Union (E.U.) figured it out, and has now told Apple that it owes $14.6 billion in taxes, and interest on that as well.
Apple doesn't want to cover the tax bill, nor the penalties, but it might just have to; the Commissioner of Competition in the E.U. stated, simply, "This is illegal under E.U. state aid rules." And Apple has the cash on hand — $187 billion outside of the U.S. right now.  
Apple basically responded with (paraphrasing … of course!) "Nice corporate tax haven with thousands of jobs we've got going here… sure would be a shame if something… err, ummm, happened to it."
Which means Ireland really doesn't want to charge the tax, because it might lose the thousands of workers that are there now, as well as other companies with similar setups. 
At a time when in the United States — and in much of Europe for that matter — schools are underfunded, roads and bridges are crumbling, and city infrastructure accounts are basically bankrupt, should we allow companies to do what Apple is doing? 
If we allow them to do so, then what's to stop all companies from heading to countries like Ireland and other locations across the world to escape taxes?
And if we don't allow tax havens like these, does it kill businesses and otherwise impede growth? 
Economist Robert Reich has some thoughts about that here: 
Robert Reich is on Facebook, and his books and some videos are available here. 
Thumbnail image Creative Commons Licensed. 
The way that you think about stress can actually transform the effect that it has on you – and others.
Big Think Edge
Stress is contagious, and the higher up in an organization you are the more your stress will be noticed and felt by others.
Kelly McGonigal teaches "Reset your mindset to reduce stress" for Big Think Edge.

Subscribe to Big Think Edge before we launch on March 30 to get 20% off monthly and annual memberships.
These quick bursts of inspiration will brighten your day in 10 minutes or less.

Explore a legendary philosopher's take on how society fails to prepare us for education and progress.
Alan Watts.
Personal Growth
Alan Watts was an instrumental figure in the 1960s counterculture revolution.
He believed that we put too much of a focus on intangible goals for our educational and professional careers.
Watts believed that the whole educational enterprise is a farce compared to how we should be truly living our lives.
How can we use the resources that are already on the Moon to make human exploration of the satellite as economical as possible?
The All-Terrain Hex-Limbed Extra-Terrestrial Explorer (ATHLETE), a prototype heavy-lift utility vehicle to support future human exploration of extraterrestrial surfaces, at right, is parked beside the Habitat Demonstration Unit - Pressurized Excursion Module (HDU-PEM), at left, a concept off-Earth living and work quarters for astronauts stationed on asteroids, the moon or Mars, 15 September 2010. Photo by: ROBYN BECK/AFP/Getty Images
Technology & Innovation
If you were transported to the Moon this very instant, you would surely and rapidly die. That's because there's no atmosphere, the surface temperature varies from a roasting 130 degrees Celsius (266 F) to a bone-chilling minus 170 C (minus 274 F). If the lack of air or horrific heat or cold don't kill you then micrometeorite bombardment or solar radiation will. By all accounts, the Moon is not a hospitable place to be.

Big think's weekly newsletter.
Get smarter faster from the comfort of your inbox.
See our newsletter privacy policy
here
Most Popular
Most Recent
Big think's weekly newsletter.
Get smarter faster from the comfort of your inbox.
See our newsletter privacy policy
here
© Copyright 2007-2018 & BIG THINK, BIG THINK EDGE,
SMARTER FASTER trademarks owned by The Big Think, Inc. All rights reserved.