Australians discover evidence of 25-million-year-old mega shark
This is an extremely rare find; only three similar fossils have been found in the world.
10 August, 2018
In 2015, Philip Mullaly was walking on the beach near Victoria, Australia, in a hotbed of fossil finds known as Jan Juc, when he came across what looked like a serrated blade stuck into a boulder. 
---
After prying it out with his car keys, he realized what he had; a shark's tooth, about the size of his palm.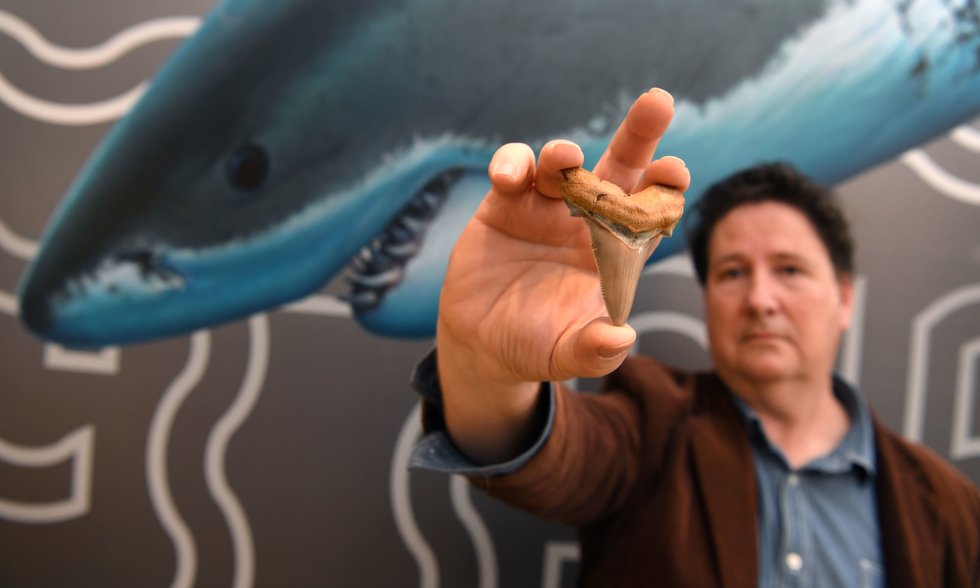 Fossil enthusiast Philip Mullaly holds a giant shark tooth—evidence that a shark nearly twice the size of a great white once stalked Australia's ancient oceans—at the Melbourne Museum on August 9, 2018. (Credit WILLIAM WEST/AFP/Getty Images)
"I was walking along the beach looking for fossils, turned and saw this shining glint in a boulder and saw a quarter of the tooth exposed. I was immediately excited, it was just perfect and I knew it was an important find that needed to be shared with people," recounts Mr. Mullaly.
Museums Victoria was his next call; it eventually sent out a team to excavate the area, and several more 3-inch (9cm) teeth showed up right in the same spot, indicating the shark had died right there, 25 million years ago.
The museum has released its study of the finds this week, and it has confirmed that these are from a great jagged narrow-toothed shark, or Carcharocles angustidens, a 30-foot shark that patrolled the waters off of Australia 25 million years ago.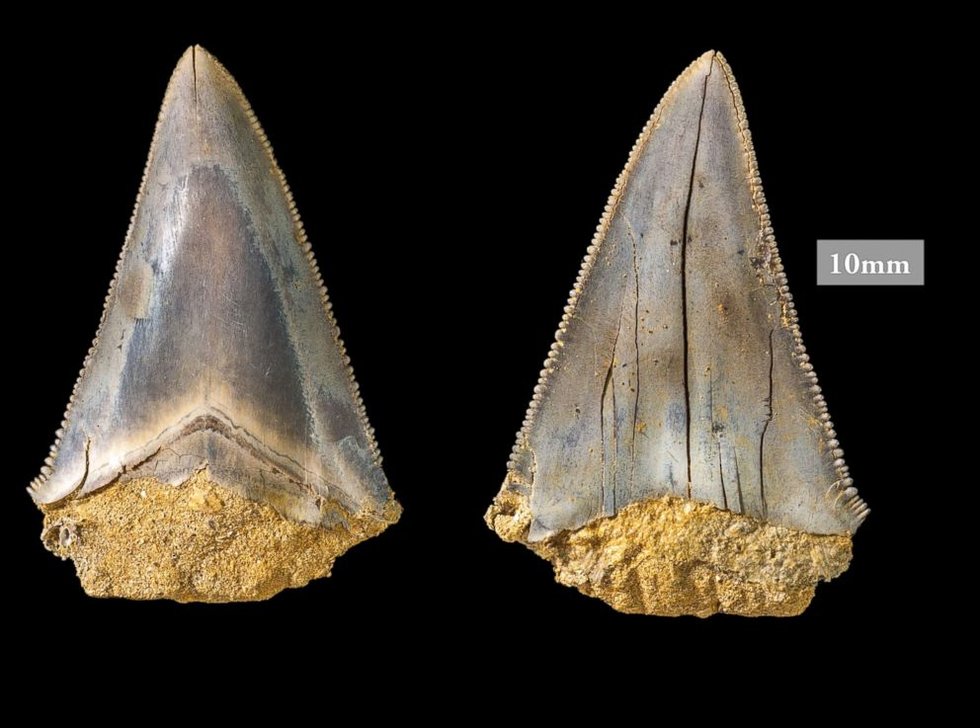 Two views of a fossilized tooth belonging to Carcharocles angustidens, a prehistoric shark that likely measured more than 30 feet long. (Credit: Museums Victoria.)
"Angustidens was a bloody big shark, we're talking more than 30 feet long," said Dr. Erich Fitzgerald, Senior Curator of Vertebrate Palaeontology at the Museums Victoria in Melbourne, Australia.
In all, 40 teeth were found there, several of them from the species of shark known as the sixgill shark, or Hexanchus. What likely happened is that as the narrow-toothed shark died in the waters off of Jan Juc, the sixgill sharks descended upon the remains and had a feast, leaving some teeth behind.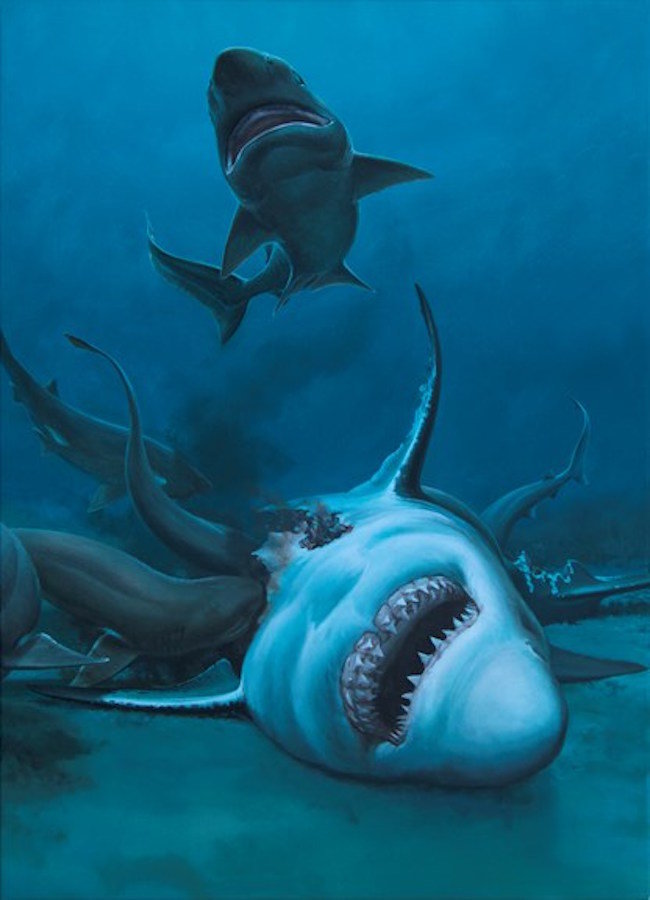 A prehistoric shark feast the Carcharocles angustidens being feasted upon by several Six Gill Sharks. (Credit: Peter Trusler, Museums Victoria.)
A schoolteacher and self-professed fossil hunter, Mullally has collected over 100 fossils, but never anything as old or significant as these.
"If you think about how long we've been looking for fossils around the world as a civilization—which is maybe 200 years—in (that time) we have found just three (sets of) fossils of this kind on the entire planet, and this most recent find from Australia is one of those three," Fitzgerald told CNN.
The teeth will be on display at the museum until October.
Related Articles
How a cataclysm worse than what killed the dinosaurs destroyed 90 percent of all life on Earth.
Credit: Ron Miller
Surprising Science
While the demise of the dinosaurs gets more attention as far as mass extinctions go, an even more disastrous event called "the Great Dying" or the "End-Permian Extinction" happened on Earth prior to that. Now scientists discovered how this cataclysm, which took place about 250 million years ago, managed to kill off more than 90 percent of all life on the planet.
A new study discovers the "liking gap" — the difference between how we view others we're meeting for the first time, and the way we think they're seeing us.
New acquaintances probably like you more than you think. (Photo by Simone Joyner/Getty Images)
Surprising Science
We tend to be defensive socially. When we meet new people, we're often concerned with how we're coming off. Our anxiety causes us to be so concerned with the impression we're creating that we fail to notice that the same is true of the other person as well. A new study led by Erica J. Boothby, published on September 5 in Psychological Science, reveals how people tend to like us more in first encounters than we'd ever suspect.
Using advanced laser technology, scientists at NASA will track global changes in ice with greater accuracy.
Firing three pairs of laser beams 10,000 times per second, the ICESat-2 satellite will measure how long it takes for faint reflections to bounce back from ground and sea ice, allowing scientists to measure the thickness, elevation and extent of global ice
popular
Leaving from Vandenberg Air Force base in California this coming Saturday, at 8:46 a.m. ET, the Ice, Cloud, and Land Elevation Satellite-2 — or, the "ICESat-2" — is perched atop a United Launch Alliance Delta II rocket, and when it assumes its orbit, it will study ice layers at Earth's poles, using its only payload, the Advance Topographic Laser Altimeter System (ATLAS).
Big think's weekly newsletter.
Get smarter faster from the comfort of your inbox.
See our newsletter privacy policy
here
Most Popular
Most Recent
Big think's weekly newsletter.
Get smarter faster from the comfort of your inbox.
See our newsletter privacy policy
here
© Copyright 2007-2018 & BIG THINK, BIG THINK EDGE,
SMARTER FASTER trademarks owned by The Big Think, Inc. All rights reserved.