Binge-watching TV together is good for your relationship, say studies
Surprisingly, this study was not funded by HBO, Netflix, Hulu or the Illuminati. 
16 September, 2016
Characters in TV shows, films and books can feel so real. We cry for them when times are bad, we laugh when they make jokes – then look over our shoulders to check no one saw us. Or, if you're watching with your partner, you'll grasp their arm, look at one another with slack jaws, and excitedly discuss as the credits roll.
---
Burning through hours of bandwidth watching Game of Thrones or Narcos might seem like time that could be spent more productively, but when you're watching it beside the one you love, turns out science gives it the all clear. You're creating a "shared social reality", according to a new study from the University of Aberdeen in Scotland (pdf file).

The psychology researchers found that there are measurable benefits to consuming media like films and books with your partner, especially if the two of you don't have a mutual group of friends, are in a long-distance relationship, or don't have much family. The researchers studied 259 students who had been in committed relationships for 16.7 months on average, and they controlled for the time couples spent together to make sure it was in fact the media, and not general time spent together, that produced the enhanced feelings of closeness. The couples who either had shared friends, or had fewer common friends but shared media consumption, reported the highest relationship satisfaction for the duration of the study.

In a different study, couples that share more friends reported greater satisfaction, commitment, intimacy, and optimism about their relationship's future than couples who share fewer friends, so if two people somehow feel they are lacking common social connections the air in the room might get filled with awkward static. Fortunately, we humans are extremely resourceful. When deprived of our psychological needs, we'll find creative ways to meet them. We look at photos when we miss someone. We get pets for companionship. We read books, which psychologically embeds the reader into whatever community is described in the narrative, satisfying a deep human need for belonging to the point that a 2011 study showed that after reading Harry Potter, participants imbued their identity with wizard traits. In extreme isolation, some of us take up with a soccer ball called Wilson.
What this University of Aberdeen study has found is that fictional characters act as social surrogates. "When people lack a shared circle of friends with their partners, sharing media like TV shows, books, and movies with partners may compensate for this deficit and restore closeness," the study reports.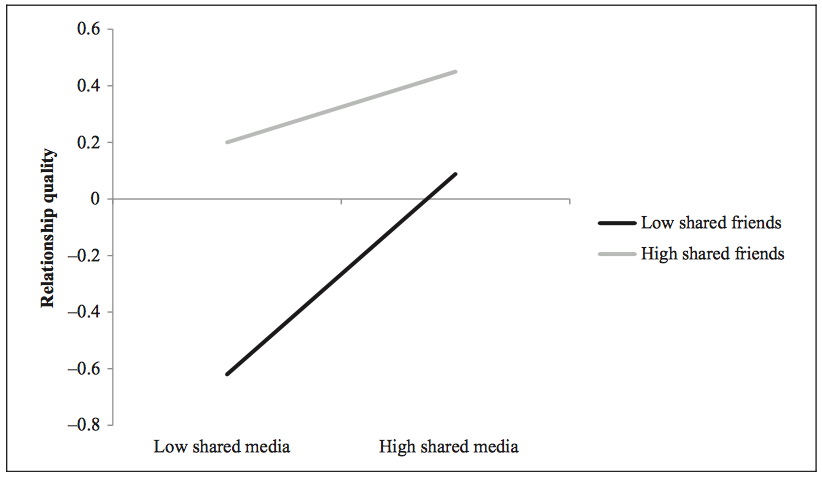 Figure 1. Predicted relationship quality scores for the shared friends by shared media interaction in Study 1. Scores on the Y-axis are predicted values for the composite of standardized measures of partner centrality, own and partner closeness, and own and partner commitment.
The authors also reference research conducted in 2013 on the prevention of marital distress and dissolution, which showed that when couples watched and discussed relationship-themed movies it was equally effective as skills-based counseling interventions in preventing relationship dissolution over three years.
To unlock a bonus level of relationship closeness with your partner, there's evidence to suggest you should browse the thriller, horror and action genres. That's right, you want to feel the fear – purely so you can misattribute it.
A research paper on the effects of adrenaline on arousal and attraction from McKendree University indicates that when someone's emotional arousal (this is arousal outside of the sexual context, think a literal increase of emotional state marked by things like a racing heart and sweaty palms) is increased, their system is flooded with adrenaline, which increases the likelihood and amount of attraction between two people. A creative study by Dutton and Aron involving exchanging phone numbers after crossing a shaky bridge supports it, and it's also why some avant-garde relationship counsellors will suggest couples go sky-diving together as therapy.
So you can grow closer to your partner by sharing the experience of characters in tense dramas, comedies and love stories, but as neuroscientist Joseph Ledoux says, "Things that are bad have more weight than things that are good." Watching a character on Game of Thrones get his eyes gouged until his head pops, for example, should do it. As will watching Barb get shunned by her best friend then dragged to the 'upside down' by a monster in Stranger Things. Oh Barb, romantically fortified couples all over the world thank you.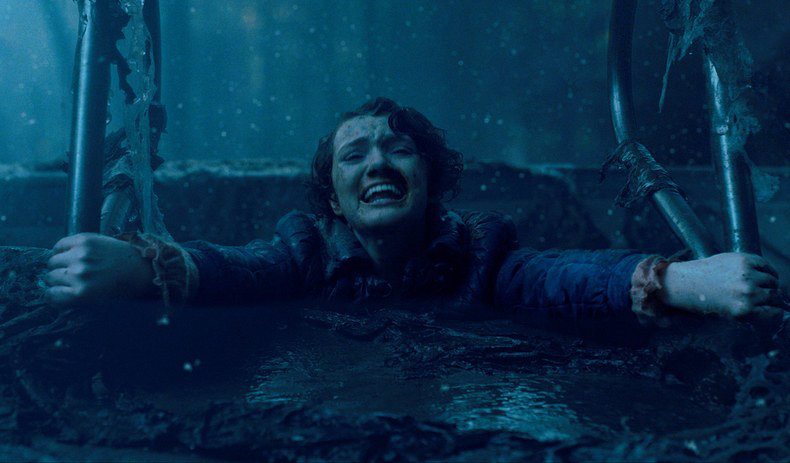 What can 3D printing do for medicine? The "sky is the limit," says Northwell Health researcher Dr. Todd Goldstein.
Northwell Health
Sponsored by Northwell Health
Medical professionals are currently using 3D printers to create prosthetics and patient-specific organ models that doctors can use to prepare for surgery.
Eventually, scientists hope to print patient-specific organs that can be transplanted safely into the human body.
Northwell Health, New York State's largest health care provider, is pioneering 3D printing in medicine in three key ways.
The periodic table was a lot simpler at the beginning of the universe.
Great ideas in philosophy often come in dense packages. Then there is where the work of Marcus Aurelius.
(Getty Images)
Personal Growth
Meditations is a collection of the philosophical ideas of the Roman Emperor Marcus Aurelius.
Written as a series of notes to himself, the book is much more readable than the dry philosophy most people are used to.
The advice he gave to himself 2,000 years ago is increasingly applicable in our hectic, stressed-out lives.
Can dirt help us fight off stress? Groundbreaking new research shows how.
University of Colorado Boulder
Surprising Science
New research identifies a bacterium that helps block anxiety.
Scientists say this can lead to drugs for first responders and soldiers, preventing PTSD and other mental issues.
The finding builds on the hygiene hypothesis, first proposed in 1989.
Are modern societies trying too hard to be clean, at the detriment to public health? Scientists discovered that a microorganism living in dirt can actually be good for us, potentially helping the body to fight off stress. Harnessing its powers can lead to a "stress vaccine".
Researchers at the University of Colorado Boulder found that the fatty 10(Z)-hexadecenoic acid from the soil-residing bacterium Mycobacterium vaccae aids immune cells in blocking pathways that increase inflammation and the ability to combat stress.
The study's senior author and Integrative Physiology Professor Christopher Lowry described this fat as "one of the main ingredients" in the "special sauce" that causes the beneficial effects of the bacterium.
The finding goes hand in hand with the "hygiene hypothesis," initially proposed in 1989 by the British scientist David Strachan. He maintained that our generally sterile modern world prevents children from being exposed to certain microorganisms, resulting in compromised immune systems and greater incidences of asthma and allergies.
Contemporary research fine-tuned the hypothesis, finding that not interacting with so-called "old friends" or helpful microbes in the soil and the environment, rather than the ones that cause illnesses, is what's detrimental. In particular, our mental health could be at stake.
"The idea is that as humans have moved away from farms and an agricultural or hunter-gatherer existence into cities, we have lost contact with organisms that served to regulate our immune system and suppress inappropriate inflammation," explained Lowry. "That has put us at higher risk for inflammatory disease and stress-related psychiatric disorders."
University of Colorado Boulder
Christopher Lowry
This is not the first study on the subject from Lowry, who published previous work showing the connection between being exposed to healthy bacteria and mental health. He found that being raised with animals and dust in a rural environment helps children develop more stress-proof immune systems. Such kids were also likely to be less at risk for mental illnesses than people living in the city without pets.
Lowry's other work also pointed out that the soil-based bacterium Mycobacterium vaccae acts like an antidepressant when injected into rodents. It alters their behavior and has lasting anti-inflammatory effects on the brain, according to the press release from the University of Colorado Boulder. Prolonged inflammation can lead to such stress-related disorders as PTSD.
The new study from Lowry and his team identified why that worked by pinpointing the specific fatty acid responsible. They showed that when the 10(Z)-hexadecenoic acid gets into cells, it works like a lock, attaching itself to the peroxisome proliferator-activated receptor (PPAR). This allows it to block a number of key pathways responsible for inflammation. Pre-treating the cells with the acid (or lipid) made them withstand inflammation better.
Lowry thinks this understanding can lead to creating a "stress vaccine" that can be given to people in high-stress jobs, like first responders or soldiers. The vaccine can prevent the psychological effects of stress.
What's more, this friendly bacterium is not the only potentially helpful organism we can find in soil.
"This is just one strain of one species of one type of bacterium that is found in the soil but there are millions of other strains in soils," said Lowry. "We are just beginning to see the tip of the iceberg in terms of identifying the mechanisms through which they have evolved to keep us healthy. It should inspire awe in all of us."
Check out the study published in the journal Psychopharmacology.
Big think's weekly newsletter.
Get smarter faster from the comfort of your inbox.
See our newsletter privacy policy
here
Most Popular
Most Recent
Big think's weekly newsletter.
Get smarter faster from the comfort of your inbox.
See our newsletter privacy policy
here
© Copyright 2007-2019 & BIG THINK, BIG THINK EDGE,
SMARTER FASTER trademarks owned by The Big Think, Inc. All rights reserved.