Searching for the Formula of Love
Edward Frenkel, who is one of the leading mathematical physicists in the world, makes math look sexy.
14 February, 2014
"In popular films, mathematicians are usually portrayed as weirdos and social misfits on the verge of mental illness, reinforcing the stereotype of mathematics as a boring and cold subject, far removed from reality."
---
So writes the Berkeley mathematician Edward Frenkel in his new book, Love and Math: The Heart of Hidden Reality. 
And yet, contrary to this stereotype, Frenkel sees mathematical research as a great love story. In fact, Frenkel, who is one of the leading mathematical physicists in the world, makes math look sexy. In 2010, Frenkel made a short film called "Rites of Love and Math" with the French filmmaker Reine Graves.
The film features a mathematician tattooing a formula on the body of a woman he loves. "The tattoo scene in the film was meant to represent the passion involved in doing mathematical research," Frenkel writes. "While he is making the tattoo, the Mathematician completely shuts himself off from the world. To him, the formula really becomes a question of life and death."
This is the formula as it appears in the film: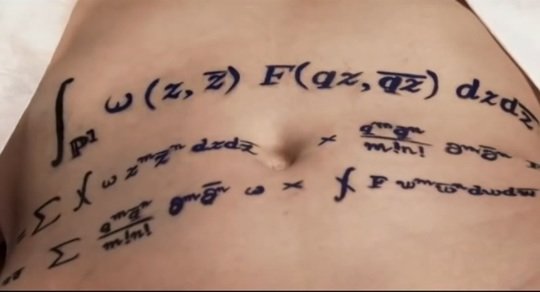 Frenkel says this formula would seem forbidding if he had written it on a blackboard. "But seeing it in the form of a tattoo elicited a totally different reaction," he writes. "It really got under everyone's skin: everyone wanted to know what it meant."
In the video below, Frenkel explains how he set out to present math on a "visceral and emotional, intuitive level," and also entertains the question of whether there is a formula of love. "Actually every formula we discover is a formula of love," Frenkel says. "And that's because these formulas represent something deep and fundamental about the world."
Watch the video here:
Watch the official trailer for "Rites of Love and Math" here. 
To watch the entire film online or order a DVD, visit http://ritesofloveandmath.com/
Related Articles
It's a development that could one day lead to much better treatments for osteoporosis, joint damage, and bone fractures.
Image: Nissim Benvenisty
Surprising Science
Scientists have isolated skeletal stem cells in adult and fetal bones for the first time.
These cells could one day help treat damaged bone and cartilage.
The team was able to grow skeletal stem cells from cells found within liposuctioned fat.
Gut bacteria play an important role in how you feel and think and how well your body fights off disease. New research shows that exercise can give your gut bacteria a boost.
National Institutes of Health
Surprising Science
Two studies from the University of Illinois show that gut bacteria can be changed by exercise alone.
Our understanding of how gut bacteria impacts our overall health is an emerging field, and this research sheds light on the many different ways exercise affects your body.
Exercising to improve your gut bacteria will prevent diseases and encourage brain health.
A groundbreaking new study shows that octopuses seemed to exhibit uncharacteristically social behavior when given MDMA, the psychedelic drug commonly known as ecstasy.
Surprising Science
Octopuses, like humans, have genes that seem to code for serotonin transporters.
Scientists gave MDMA to octopuses to see whether those genes translated into a binding site for serotonin, which regulates emotions and behavior in humans
Octopuses, which are typically asocial creatures, seem to get friendlier while on MDMA, suggesting humans have more in common with the strange invertebrates than previously thought
Big think's weekly newsletter.
Get smarter faster from the comfort of your inbox.
See our newsletter privacy policy
here
Most Popular
Most Recent
Big think's weekly newsletter.
Get smarter faster from the comfort of your inbox.
See our newsletter privacy policy
here
© Copyright 2007-2018 & BIG THINK, BIG THINK EDGE,
SMARTER FASTER trademarks owned by The Big Think, Inc. All rights reserved.