How many times have you heard a colleague preach about the importance of achieving a healthy work-life balance? For a lot of self-helpers, achieving an equilibrium between the personal and the professional is the definition of happiness. But doesn't striking a balance between the two imply having to make trade-offs between them — sacrificing work ambitions to live a fuller life, or vice-versa?
---
For this reason, Big Think Mentor Stewart D. Friedman believes we should aspire to harmony or integration rather than a work-life balance. And he would know — he's a busy man. Friedman is both a professor at the Wharton School of Business at the University of Pennsylvania as well as founding director of the Wharton Leadership Program and Wharton's Work/Life Integration Project. He is also the author of the new book Leading the Life You Want: Skills for Integrating Work and Life.
Just as that title suggests, the key to happiness is to identify opportunities in which you can integrate different areas of your life rather than relying on a zero-sum contest between them. In his Big Think Mentor Workshop, Friedman explains how achieving a "Four-Way Win" between the areas of your life can help you do just that:
According to Friedman, a Four-Way Win is a decision that creates harmony between your self, family, community, and work/career and contributes to your goals in each domain. Finding opportunities to so so becomes much easier once you know how to seek them out. According to Friedman, there are three guiding principles to keep in mind: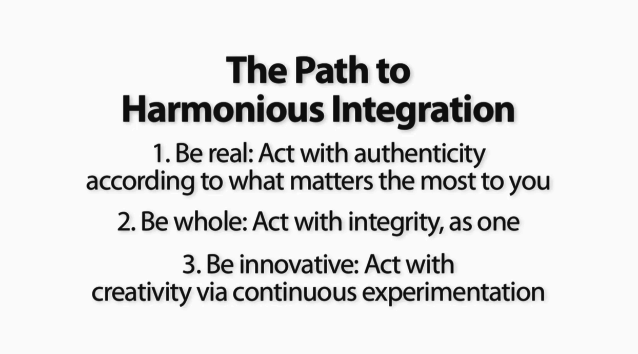 Want to learn more about Four-Way Wins and? Check out Stewart Friedman's workshop, Lead The Life Your Want, on Big Think Mentor.
Big Think Mentor, our paid subscription channel on YouTube, connects world-class mentors with a global community of smart, driven users to teach the habits of mind and people skills we need to live happier, healthier, more productive lives. 
Priced at only $9.99 a month/$99.99 a year, and with content updated regularly, Mentor teaches 21st century life skills such as achieving focus through meditation, dealing with feedback, raising children with a thirst for knowledge, and more.
You can sign up for a free trial of Big Think Mentor and watch more videos from Stewart D. Friedman here.
Former president of the ACLU Nadine Strossen discusses whether our society should always defend free speech rights, even for groups who would oppose such rights.
Sponsored by Charles Koch Foundation
Former ACLU president Nadine Strossen understands that protecting free speech rights isn't always a straightforward proposition.
In this video, Strossen describes the reasoning behind why the ACLU defended the free speech rights of neo-Nazis in Skokie, Illinois, 1977.
The opinions expressed in this video do not necessarily reflect the views of the Charles Koch Foundation, which encourages the expression of diverse viewpoints within a culture of civil discourse and mutual respect.
Going back to the moon will give us fresh insights about the creation of our solar system.
Videos
July 2019 marks the 50th anniversary of the moon landing — Apollo 11.
Today, we have a strong scientific case for returning to the moon: the original rock samples that we took from the moon revolutionized our view of how Earth and the solar system formed. We could now glean even more insights with fresh, nonchemically-altered samples.
NASA plans to send humans to a crater in the South Pole of the moon because it's safer there, and would allow for better communications with people back on Earth.
Pugs and bulldogs are incredibly trendy, but experts have massive animal welfare concerns about these genetically manipulated breeds. 
Photo by terriermandotcom.blogspot.com
popular
Pugs, Frenchies, boxers, shih-tzus and other flat-faced dog breeds have been trending for at least the last decade.
Higher visibility (usually in a celebrity's handbag), an increase in city living (smaller dogs for smaller homes), and possibly even the fine acting of Frank the Pug in 1997's Men in Black may be the cause.
These small, specialty pure breeds are seen as the pinnacle of cuteness – they have friendly personalities, endearing odd looks, and are perfect for Stranger Things video montages.
Jokesters and serious Area 51 raiders would be met with military force.
Politics & Current Affairs
Facebook joke event to "raid Area 51" has already gained 1,000,000 "going" attendees.
The U.S. Air Force has issued an official warning to potential "raiders."
If anyone actually tries to storm an American military base, the use of deadly force is authorized.