Big Think Interview with Jeff Sharlet
Jeff Sharlet
Jeff Sharlet is a writer, journalist, and contributing editor for Harper's and Rolling Stone magazines. His 2008 book "The Family: The Secret Fundamentalism at the Heart of American Power," a New York Times bestseller, dissects the phenomenon known as "elite fundamentalism" and its gospel of "Biblical capitalism." In 2000 he founded a religion-themed online literary magazine, Killing the Buddha, which has spawned a book of the same title (Free Press, 2004, co-author Peter Manseau) and an anthology called "Believer, Beware" (Beacon Press, 2009).
Sharlet's work has appeared in publications as various as The Washington Post, The Nation, Salon, and The Chronicle of Higher Education. His next book, an essay collection called "What They Wanted," is forthcoming from W. W. Norton.
12 November, 2009
Big Think Interview with Jeff Sharlet
Question: What is "The Family"?
Jeff Sharlet: Yeah, The Family is the oldest and arguably most influential religious political organization in Washington. It dates back to the Great Depression in 1935 when the founder of this group thought what he had was a new revelation that Christianity had been looking for the wrong direction for 2,000 years, focusing on the poor, and the weak, and the down and out. That God, instead, wanted him to work—God wanted to work through elites, through those whom he called the "up and out," and that he should be a missionary to and for the powerful. And that's what The Family has been ever since, concentrating not on mass revivals, but on organizing Congressmen, businessmen and foreign officials. Today in Washington, the membership is comprised primarily of Senators, Representatives, and government officials who are bound together in this idea that what they see as "spiritual warfare," as they call it sometimes, or religious change, can best be affected through elites, not through mass movements.
Question: Will elite fundamentalism and the GOP always be intertwined?
Jeff Sharlet: Elite fundamentalism has always going to be involved with a certain set of conservative interests, but certainly not exclusively Republican. What's interesting about The Family is a lot of The Family is a particularly useful group for going back and reviewing the history of conservatism. That while it's always been majority Republican it's never been exclusively Republican.
Back in the early days, there was a lot of the so-called "Dixie-crats;" the conservative pro-segregation, southern Democrats, Strom Thurman was involved, Herman Tallmadge, Absalom Willis Robertson, Senator from Virginia, Pat Robertson's father. And today I think what's interesting is the populace movement of fundamentalism is starting to mirror that approach that elite fundamentalism has long had of trying to have influence across the political spectrum. And understanding when you do that, you can drag the whole political spectrum right-ward. So, The Family has always been doing this, always cultivating certain democrats.
I think now we are starting to see populace conservatives recognize that they were too tied to the Republican Party. So, there's the Republican partisan activist, but then there's the real conservative visionaries, for lack of a better word. They don't care who does the changes they want to see happen. They don't care if it's Senator Chuck Grassley standing in the door and walking Obama's legislative changes, or if it's Senator Mark Prior, Democrat from Arkansas who was arguably one of the key men in scuttling a big part of Obama's labor agenda. In fact, I think they take great satisfaction from the idea that there are Democrats and Republicans involved because to them, this is testifying to the sort of the universal truth of their cause. They say, in fact, that, "What we're saying isn't conservative or liberal, it's not right-wing or left-wing, it's simply true." And all of these Republicans know it and a bunch of Democrats know that too.
Question: As the populist movement in the GOP strengthens, will it ally with elite fundamentalism?
Jeff Sharlet: Elite fundamentalism has always been on the corporate side of things. But what this does is tell us that this divide is not nearly as sharp as maybe David Brooks would have us believe that there's some rattle out there and then there's some high-minded proper Republicans. The Family begins as a Christian fundamentalist anti-labor organization. It begins with a bunch of bosses getting together and saying, "We're going to break labor's spine, and that we're doing this for Jesus. This is what Jesus wants." So, it's the rhetoric that maybe you are familiar with from the fight over abortion, but being applied to corporate interests.
In service of what The Family in particular, but also other really **** conservatives come to call what is "Biblical Capitalism." The idea that capitalism is ordained in the Bible and that inasmuch as we interfere with the market, we're interfering with God's literal and visible hand. God's ability to move the hearts of big business people and have them do the right thing. Instead of relying on government programs or labor unions, or any kind of activism, we should rely on Jesus to move the hearts of these leaders and that they will then dispense the blessings to the rest of us. So it's this sort of trickle down economics, and trickle down religion. And that's influenced the shape of populace conservatism at this point too.
I remember a few years ago, I was in a mega-church in Colorado Springs, Ted Haggard's church, before Ted Haggard's fall, he was a very prominent pastor, no longer so prominent after he came out that he was having a relationship with a male prostitute. But at the time, Haggard had managed to get 11,000 or so of his members of his church all riled up over the issue of steel tariffs. Steel tariffs; that was the issue. Steel tariffs were violating God's plan. And these weren't wealthy people. These were mostly working-class people. So, that kind of trickle down religion in action and showing that you can recruit the populace conservatism for the interests of corporate conservatism that the two things can be married into one unholy union.
Question: What causes will define fundamentalism in the coming years?
Jeff Sharlet: I think you have to put everything—we are still living in an era defined by the Cold War. The Cold War was really the great struggle of the 20th Century and it shaped American political life from top to bottom. And what the Cold War did was provide a fairly clearly defined enemy and it's easy to organize around that. What's interesting is of course, not only did conservatives organize around that; liberals did too. Liberals were just as engaged and using the rhetoric of a sort of a battle with the Soviets and with Communism in general, with an evil empire. The **** Democrats used the evil empire rhetoric as well.
This interesting thing happens with the collapse of communism, especially in the really activist ranks of Christian fundamentalism, which is really the base for conservative activism. Who is the enemy now? And so they've been casting about now for some years trying to figure out how to define themselves. There was this actual moment, I mentioned before, this church out in Colorado Springs, New Life Church, several years ago they had a summit of about 3,000 pastors around the country and the debate at the summit was, what is the front line of the struggle for America's soul, America's future? What is the great threat, because you've got to have a threat? And there were two choices. The gay man; you always hear this individual spoken in the singular. The gay man, like it's this one guy who is subverting everything. It's an archetype. Or, the Muslim; the gay man or the Muslim. And that's been a tension in the right for awhile now. And when I think is happening is it's slowly coalescing around the side that would make struggle with Islam the main fight. Partly because that reproduces some of the alliances made possible by the Cold War because there's Democrats and there's liberals who are every bit as anti-Islamic as the hard right is. There are real radical Muslim groups out there that really are pretty villainous. You don't have to make them up.
But as they do that, that really replicates some of the cold war, but it's not a perfect fit and I think as they struggle with that issue it sort of explodes things outward. So you have this one issue, this sort of Muslim threat. Well that allows people to talk about national security. So, you go to like a town hall, or a tea party meeting and you have folks talk about big government and so on, but also speaking an incredibly precise detail about America's missile arsenal and missile defense and this becoming an issue and then linking that to the question, not just of healthcare but also of public schools.
I mean, really I think one of the overlooked struggles on the right now is the long-time dream of the eradication of public schools. Which they're not ever going to—that's going to happen, at least any time soon. But look how far they've come. Look how much that rightward push has shifted the debate so that public schools probably have less government support now then they have certainly in our lifetimes and going back many decades.
So all these kinds of little issues that are somehow being linked to the great enemy in their mind of Islam. That Islam requires us to get our house in order. And our house in order means we need education that is going to teach about real menace and public schools can't do that. It means we need this vigorous free market enterprise and it's all for the sake of national security.
Question: Is fundamentalism inherently conservative, or can liberals harness its power?
Jeff Sharlet: Fundamentalism is a 20th-century phenomenon, but that kind of religious fervor actually has not always been associated with conservative goals. As Christian right activists are quick to point out, they say, "Look, it was evangelicals who were on the frontlines of the fight for abolition in the Antebellum period. And that's true. And even go back to the defining moment, the creation moment of the modern fundamentalism, which is the Scope's Monkey Trial, 1925. This is the evolution trial over whether or not we're going to teach creation in schools in Tennessee and so on. We all have this sort of popular narrative of this event. Clarence Darrow as the great warrior and champion of justice versus "Crazy" William Jennings Bryan, the old fundamentalist and blustering on about the sun standing still and monkeys and all this kind of stuff.
That narrative obscures the fact that what happened in 1925 wasn't left versus right, it was two great strands of leftist thought in American life clashing. Up to that moment, Williams Jennings Bryan was the most successful populist presidential candidate in American history. He had a lot of ugly ideas, but he also had a lot of very progressive ideas. He was the guy who leaves the Wilson Administration because he see it as too imperialist and he represents a leftist tradition of fundamentalism that gets kind of lost at that point. Because I think liberals sort of coalesce around this other idea that we own reason, that we own the center, that we are the establishment. So there really is no where else for that energy to go now but the right because liberalism has for so long defined the establishment.
Then you also have the problem that liberalism can't ever—it can own the center, but it can't ever mobilize the same energy. Who's going to go marching out in the street and say, "what do we want?" "Incremental reform." "When do we want it?" "Over a graduated period of time." It doesn't energize folks. It doesn't speak to the visionary aspect to American life. It doesn't speak to ideals. Liberalism doesn't speak to ideals. Radicalism does. Leftism does and some other movement, the once and former labor movement. There isn't much of a labor movement now. Which wasn't exactly left, but it did speak to the sort of visionary ideals and it was able to organize a lot of people. Even now, it's still able to organize a lot of people, just not nearly as many.
Question: Does Sarah Palin represent a new kind of force in the GOP?
Jeff Sharlet: She's a different story, but an old story. It's the George Wallace story, or maybe she's not as grand as George Wallace; maybe it's the less dramatic story as the lesser George Wallace of Georgia. But it's also part of the whole history of the United States and conservatism with the United States of revival. Now, religious historians look at the United States and say, one of the things that make it sort of unusual is this cyclical religious revival. There's the first great awakening before the United States was formed, there's the second great awakening. There's arguments, are we now in the midst of a third or a fourth great awakening? If it's the fourth, when did the third end? But no one disputes that periodically, throughout American history there's been these great big revivals. These are obviously populace religious movements. And out of them you see leaders like George Wallace, the famous populace sort of left-right Governor of Alabama. Or before him, Huey Long. Again, is he left? Is he right? It's hard to say. He's populace, but certainly both of these guys, in some ways, tended to consolidate power in a way that is very comfortable for elites and elites encouraged this.
Sarah Palin is the latest incarnation of this. I think the question with Sarah Palin is not whether or not we're in this revival moment, I think you look at the tea parties and you look at the schisms within the establishment Republican Party and the broader conservatism movement, there's no doubt we're in a revival moment, the question is, is Sarah Palin going to be the one that's going to be that standard bearer. Does she have the juice to become a George Wallace, or to become a Barry Goldwater, or to become something that, as you said, hasn't existed before? And there is the potential for that too, I think. Because the issues over which the populace movement gets excited are different then they were for Wallace or Long or going back further, Billie Sunday, not in the political sphere, but as a political religious revivalist.
There are different issues at different times. It's possible that these fringe characters who we traditionally understood as "Big Fringe," but they end up pushing the establishment one way or the other. I don't see any third parties coming, but there could be a real massive shift in what establishment means. Sarah Palin may not lead that, but she may just ride the crest of that wave, or maybe she's opened the door for someone who is a little bit of a smoother operator.
Question: Do the current "tea parties" inspire or alarm you?
Jeff Sharlet: I remember a friend of mine, it was in France or Italy, I don't remember, he was sitting in a cafe and someone come running down the streets yelling, "The professors are coming! The professors are coming!" A rampaging mob of professors, which I think liberalism wants to dismiss as extremism. But I prefer—My favorite forgotten President in American history is James Buchanan, who in defending really robust and sharp-elbowed debates said, "I like the noise of democracy. I like the sound of people in the streets making noise." Which is what's made it actually ironic that so many liberals have rushed to denounce these tea parties, these folks on the street as somehow anti-democratic and mob violence and so on.
Now, I don't agree with these demonstrations at all. But they're doing the work of democracy. They feel that the government's not responding to them. They're correct, and I hope it doesn't, but they're saying, "Look, we're going to make a lot of noise." And there's going to be sharp elbows. We're not going to go out and do this civilly and say, "Well, I disagree with you." That kind of keeping the conversation quiet always favors whoever is holding the power. Whoever is holding the power says, "Yeah, let's keep things civil and quiet." Whoever's outside say's, "No, I'm not going to keep things civil and quiet, I'm going to bang on the door." And I think we may be in this moment—I know we're talking about the future of conservatism, but what's interesting to me also is I think there's a sense in which where maybe, 1964, or 1963, that we could also moving toward a period of radical revival as disillusionment with the Democratic Party sets in and as a generation of folks with just no attachments to the last great radical revival come up and just say, "Look, I'm pissed about this. I don't care if Fox News is going to say I'm a 60's retread because I was born in 1985, so clearly I'm not." I think that moment could be coming.
Question: Are the two parties sustainable as they are, or will we see shakeups?
Jeff Sharlet: I think they are sustainable and when we talk about the future of conservatism, that's it. I mean, these parties are so consolidated now that the idea of a serious third-party challenge is just kind of ridiculous and so on. That's the future of conservatism. The Democratic and Republican parties combined. The Max Baucus approach to healthcare. That's the future of conservatism, a government in the interest of big business, essentially. So, the parties are going to stay put, but that doesn't mean politics are going to be defined by the parties. There's going to be a lot of stuff happening beyond that. On the right, right now there's all this stuff happening.
What I've been interested in, in fact, is the really incredible, just sort of ****-like growth of fundamentalism in the military. That's a faction—that' something in play that hasn't been in play for a long time. It's one thing to have fundamentalist activist, it's another thing to have fundamentalist generals who are armed and to have decided that the time has come to redefine their oath to protect and defend the Constitution.
I don't think we're in danger of any coups, but I talked to enough senior officers who have lost hold of that traditionally pretty solid subordinate relationship between the military and civilian structure. There's no radical movement like that on the left, but there could be and I think a lot of the political action, the political life of America is going to start happening outside of the parties.
Big ideas.
Once a week.
Subscribe to our weekly newsletter.
Climate change and artificial intelligence pose substantial — and possibly existential — problems for humanity to solve. Can we?
Credit: stokkete / 223237936 via Adobe Stock
13-8
Just by living our day-to-day lives, we are walking into a disaster.
Can humanity wake up to avert disaster?
Perhaps COVID was the wake-up call we all needed.
Does humanity have a chance for a better future, or are we just unable to stop ourselves from driving off a cliff? This was the question that came to me as I participated in a conference entitled The Future of Humanity hosted by Marcelo's Institute for Cross-Disciplinary Engagement. The conference hosted an array of remarkable speakers, some of whom were hopeful about our chances and some less so. But when it came to the dangers facing our project of civilization, two themes appeared in almost everyone's talks.
And here's the key aspect that unifies those dangers: we are doing it to ourselves.
The problem of climate change
The first existential crisis that was discussed was, as you might guess, climate change. Bill McKibben, the journalist and now committed activist who first began documenting the climate crisis as far back as the 1980s, gave us a history of humanity's inability to marshal action even in the face of mounting scientific evidence. He spoke of the massive, well-funded disinformation efforts paid for by the fossil fuel industry to keep that action from being taken because it would hurt their bottom lines.
It's not like some alien threat has arrived and will use a mega-laser to drive the Earth's climate into a new and dangerous state. Nope, it's just us — flying around, using plastic bottles, and keeping our houses toasty in the winter.
Next Elizabeth Kolbert, one of America's finest non-fiction writers, gave a sobering portrait of the state of efforts that attempt to deal with climate change through technological fixes. Based on her wonderful new book, she looked at the problem of control when it comes to people and the environment. She spoke of how often we get into trouble when we try to exert control over things like rivers or animal populations only to find that these efforts go awry due to unintended consequences. This requires new layers of control which, in turn, follow the same path.
Credit: Jo-Anne McArthur via Unsplash
At the end of the talk, she focused on attempts to deal with climate change through new kinds of environmental controls with the subtext being that we are likely to run into the same cycle of unintended consequences and attempts to repair the damage. In a question-and-answer period following her talk, Kolbert was decidedly not positive about the future. Because she had looked so deeply into the possibilities of using technology to get us out of the climate crisis, she was dubious that a tech fix was going to save us. The only real action that will matter, she said, is masses of people in the developed would reducing their consumption. She didn't see that happening anytime soon.

The problem of artificial intelligence
Another concern was over artificial intelligence. Here the concern was not so much existential. By this, I mean the speakers were not fearful that some computer was going to wake up into consciousness and decide that the human race needed to be enslaved. Instead, the danger was more subtle but no less potent. Susan Halpern, also one of our greatest non-fiction writers, gave an insightful talk that focused on the artificial aspect of artificial intelligence. Walking us through numerous examples of how "brittle" machine learning algorithms at the heart of modern AI systems are, Halpern was able to pinpoint how these systems are not intelligent at all but carry all the biases of their makers (often unconscious ones). For example, facial recognition algorithms can have a hard time differentiating the faces of women of color, most likely because the "training data sets" the algorithms were taught were not representative of these human beings. But because these machines supposedly rely on data and "data don't lie," these systems get deployed into everything from making decisions about justice to making decisions about who gets insurance. And these are decisions that can have profound effects on people's lives.
Then there was the general trend of AI being deployed in the service of both surveillance capitalism and the surveillance state. In the former, your behavior is always being watched and used against you in terms of swaying your purchasing decisions; in the latter, you are always being watched by those in power. Yikes!
The banality of danger
In listening to these talks I was struck by how mundane the sources of these dangers were when it comes to day-to-day life. Unlike nuclear war or some lone terrorist building a super-virus (threats that Sir Martin Rees eloquently spoke of), when it comes to the climate crisis and an emerging surveillance culture, we are collectively doing it to ourselves through our own innocent individual actions. It's not like some alien threat has arrived and will use a mega-laser to drive the Earth's climate into a new and dangerous state. Nope, it's just us — flying around, using plastic bottles, and keeping our houses toasty in the winter. And it's not like soldiers in black body armor arrive at our doors and force us to install a listening device that tracks our activities. Nope, we willingly set them up on the kitchen counter because they are so dang convenient. These threats to our existence or to our freedoms are things that we are doing just by living our lives in the cultural systems we were born into. And it would take considerable effort to untangle ourselves from these systems.
So, what's next then? Are we simply doomed because we can't collectively figure out how to build and live with something different? I don't know. It's possible that we are doomed. But I did find hope in the talk given by the great (and my favorite) science fiction writer Kim Stanley Robinson. He pointed to how different eras have different "structures of feeling," which is the cognitive and emotional background of an age. Robinson looked at some positive changes that emerged in the wake of the COVID pandemic, including a renewed sense that most of us recognize that we're all in this together. Perhaps, he said, the structure of feeling in our own age is about to change.
Let us hope, and where we can, let us act.
New research shines a light on the genetics of sudden cardiac deaths.
Photo: Pixel-Shot / Adobe Stock
Surprising Science
Soccer player Christian Eriksen of Denmark recently collapsed on the field from a cardiac arrest. Thankfully, he survived.
A new study examined the genetics underlying unexplained sudden cardiac death.
About 20 percent of these unexplained deaths are likely due to genetics.
The football world was rocked recently when Denmark's Christian Eriksen collapsed while suffering from cardiac arrest on the field during a European Championship match on June 12. The 29-year-old star has won the Danish Football Player of the year five times. Doctors are still baffled as to why an athlete in prime shape would experience sudden cardiac arrest.
While Eriksen's case remains a mystery, a large team of researchers from the University of Maryland School of Medicine recently looked into the reasons a person with no apparent health problems dies from sudden cardiac death (SCD). Their study, published in JAMA Cardiology, found that roughly 20 percent of unexplained cases involve genetics.
The mystery of sudden cardiac death
SCDs are common, with between 180,000 to 450,000 occurring every year in the United States. While coronary heart disease is involved in between 50 to 75 percent of these cases, doctors are uncertain of the reasons in 30 to 40 percent of cases.
The team notes that most research on SCDs, such as in New Zealand, Denmark, and South Korea, tend to focus on homogenous populations of people under age 35. One study based in New York investigated a racially diverse cohort but included a number of infants. While these studies looked at genetic components of SCD, they write, "No systematic comparison of the genetics underlying cases of unexplained SCD between adult White and African American descendants has ever been conducted."
The State of Maryland's medical examiner's office has been collecting data on SCDs for over two decades, which gave the team a rich collection of data to pull from — over 5,000 such cases. From that data set, the researchers looked at 683 African American and white adults (median age: 41). In total, the DNA of 413 patients who died from unexplained SCD was genetically sequenced. Thirty different cardiomyopathy genes and 38 arrhythmia genes were examined.
Genetic screens for sudden cardiac death
Clinical associate professor of medicine and corresponding author Aloke Finn explains the importance of rooting out the cause of SCDs: "Genetic screening isn't routinely used in cardiology, and far too many patients still die suddenly from a heart condition without having any previously established risk factors. We need to do more for them."
One surprising finding was the large number of the deceased that carried the genetic variant for hypertrophic cardiomyopathy (HCM), which causes the heart's muscle tissue to be abnormally thick. This could explain why people with no apparent heart disease experience cardiac arrest seemingly out of nowhere. While HCM is a somewhat common heart disorder (with a prevalence as high as 0.2 percent), we're only just now learning the role of genes in determining who suffers from a fatal attack.
What is clear, however, is that those with particular genetic variants are likelier to die from unexplained SCD earlier in life than others who die from unexplained SCD.By identifying these genes, researchers hope this information could be used in future medical screenings. E. Albert Reece, Dean of the University of Maryland School of Medicine, believes this could save lives.

"This is a fascinating study that provides important new insights into devastating deaths due to unexplained cardiac abnormalities. It certainly makes the case for more research to address this urgent health need and save lives in the future."
--
Stay in touch with Derek on Twitter. His most recent book is "Hero's Dose: The Case For Psychedelics in Ritual and Therapy."
Ever since we've had the technology, we've looked to the stars in search of alien life. It's assumed that we're looking because we want to find other life in the universe, but what if we're looking to make sure there isn't any?
According to the Great Filter theory, Earth might be one of the only planets with intelligent life. And that's a good thing (NASA, ESA, and the Hubble Heritage Team [STScI/AURA]).
Surprising Science
Here's an equation, and a rather distressing one at that: N = R* × fP × ne × f1 × fi × fc × L. It's the Drake equation, and it describes the number of alien civilizations in our galaxy with whom we might be able to communicate. Its terms correspond to values such as the fraction of stars with planets, the fraction of planets on which life could emerge, the fraction of planets that can support intelligent life, and so on. Using conservative estimates, the minimum result of this equation is 20. There ought to be 20 intelligent alien civilizations in the Milky Way that we can contact and who can contact us. But there aren't any.
The Drake equation is an example of a broader issue in the scientific community—considering the sheer size of the universe and our knowledge that intelligence life has evolved at least once, there should be evidence for alien life. This is generally referred to as the Fermi paradox, after the physicist Enrico Fermi who first examined the contradiction between high probability of alien civilizations and their apparent absence. Fermi summed this up rather succinctly when he asked, "Where is everybody"?
But maybe this was the wrong question. A better question, albeit a more troubling one, might be "What happened to everybody?" Unlike asking where life exists in the universe, there's a clearer potential answer to this question: the Great Filter.
Why the universe is empty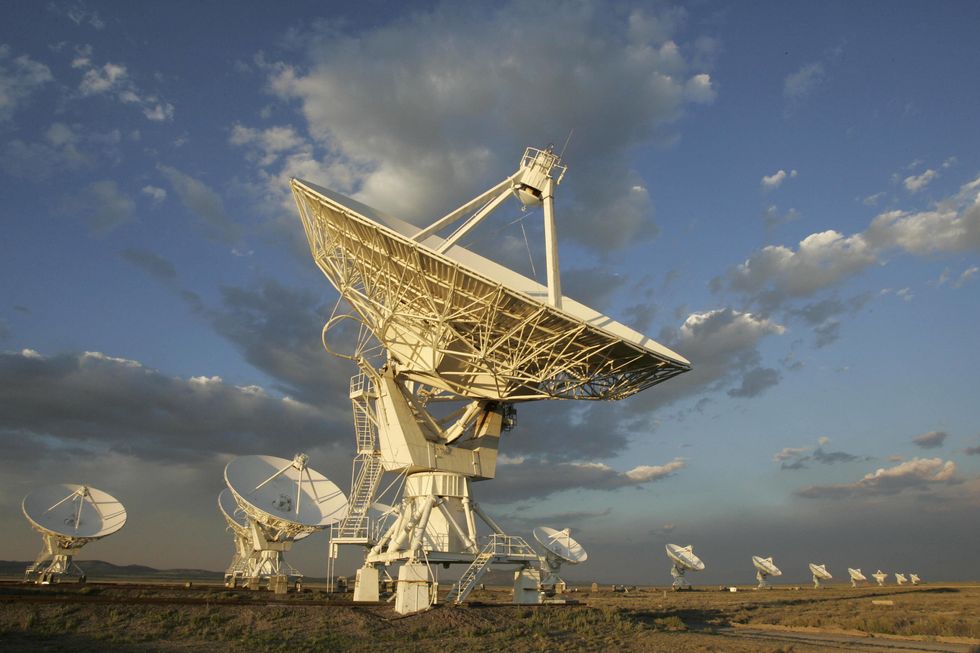 Alien life is likely, but there is none that we can see. Therefore, it could be the case that somewhere along the trajectory of life's development, there is a massive and common challenge that ends alien life before it becomes intelligent enough and widespread enough for us to see—a great filter.
This filter could take many forms. It could be that having a planet in the Goldilocks' zone—the narrow band around a star where it is neither too hot nor too cold for life to exist—and having that planet contain organic molecules capable of accumulating into life is extremely unlikely. We've observed plenty of planets in the Goldilock's zone of different stars (there's estimated to be 40 billion in the Milky Way), but maybe the conditions still aren't right there for life to exist.
The Great Filter could occur at the very earliest stages of life. When you were in high school bio, you might have the refrain drilled into your head "mitochondria are the powerhouse of the cell." I certainly did. However, mitochondria were at one point a separate bacteria living its own existence. At some point on Earth, a single-celled organism tried to eat one of these bacteria, except instead of being digested, the bacterium teamed up with the cell, producing extra energy that enabled the cell to develop in ways leading to higher forms of life. An event like this might be so unlikely that it's only happened once in the Milky Way.
Or, the filter could be the development of large brains, as we have. After all, we live on a planet full of many creatures, and the kind of intelligence humans have has only occurred once. It may be overwhelmingly likely that living creatures on other planets simply don't need to evolve the energy-demanding neural structures necessary for intelligence.
What if the filter is ahead of us?
These possibilities assume that the Great Filter is behind us—that humanity is a lucky species that overcame a hurdle almost all other life fails to pass. This might not be the case, however; life might evolve to our level all the time but get wiped out by some unknowable catastrophe. Discovering nuclear power is a likely event for any advanced society, but it also has the potential to destroy such a society. Utilizing a planet's resources to build an advanced civilization also destroys the planet: the current process of climate change serves as an example. Or, it could be something entirely unknown, a major threat that we can't see and won't see until it's too late.
The bleak, counterintuitive suggestion of the Great Filter is that it would be a bad sign for humanity to find alien life, especially alien life with a degree of technological advancement similar to our own. If our galaxy is truly empty and dead, it becomes more likely that we've already passed through the Great Filter. The galaxy could be empty because all other life failed some challenge that humanity passed.
If we find another alien civilization, but not a cosmos teeming with a variety of alien civilizations, the implication is that the Great Filter lies ahead of us. The galaxy should be full of life, but it is not; one other instance of life would suggest that the many other civilizations that should be there were wiped out by some catastrophe that we and our alien counterparts have yet to face.
Fortunately, we haven't found any life. Although it might be lonely, it means humanity's chances at long-term survival are a bit higher than otherwise.
A new device cured the hiccups 92 percent of the time in a recent study involving more than 200 participants.
Technology & Innovation
Hiccups are an occasional annoyance to most people, but some get them frequently. Others suffer from episodes that last days, months, or even years.
A new "suction and swallow" tool stops hiccups 92% of the time by activating the same muscles and nerves that are involved during the hiccup reflex arc.
Although the new tool may be convenient, you can probably mimic its function with a glass of water and a straw.
In 1922, an Iowa man named Charles Osborne was preparing to butcher a hog. As he was lifting the 350-pound carcass, he fell. He didn't report any pain to his doctor. But he did walk away with a strange medical condition that earned him a spot in the Guinness Book of World Records: the longest bout of hiccups.
Osborne hiccuped for 68 consecutive years. In total, he hiccuped an estimated 430 million times, at a rate of up to 40 hiccups per minute. He tried numerous home remedies. None worked. Then, one year before his death in 1991, his hiccups mysteriously stopped.
That's an extreme example of a hiccup attack. But even for much shorter episodes, called transient hiccups when they resolve within 48 hours, it can be hard to find a home remedy that works reliably, if you find one at all.
A new remedy recently had its hiccup-quashing abilities put to the test. The "forced inspiratory suction and swallow tool," marketed as the HiccAway, is basically a drinking device with a specialized straw that requires forceful suction to draw liquid.
The idea is to stimulate the same body parts that execute the involuntary hiccup response, so much so that they stop triggering hiccups. (The official medical term is singultus, from the Latin word "singult," which means gasping while sobbing.)
What happens during hiccups?
When you hiccup, your diaphragm — a large, dome-shaped muscle beneath the lungs — involuntarily contracts. This spasm causes the sudden closure of your epiglottis, a flap of cartilage at the root of the tongue that closes when you swallow so that food and liquids don't enter the lungs. The shutting of your epiglottis is what makes the "hic" sound during hiccups.
Two major nerves are involved in the hiccup process. The phrenic nerve helps contract the diaphragm, while the vagus nerve shuts the epiglottis. By forcefully sucking on the tool's straw and then swallowing water, you contract the diaphragm and close the epiglottis. These two actions stimulate the phrenic and vagus nerves, which interrupts the hiccup reflex arc.
The tool has a mouthpiece on the top, a body in the middle, and an adjustable cap with a pressure valve on the lower end.Alvarez et al.
"HiccAway can instantly stop hiccups by generating enough pressure while sipping from the device to lower the diaphragm while simultaneously activating the leaf-shaped flap in the throat, known as the epiglottis," the company writes on its website. "Doing this stimulates two key nerves, the phrenic and the vagus nerves, which are responsible for the hiccups. This allows the brain to reset and stop hiccups."

Testing the device
To test the efficacy of the tool, researchers with the University of Texas Health Science Center at San Antonio sent the HiccAway to more than 600 people who reported having hiccups at least once a month. The results showed that the tool stopped hiccups 92 percent of the time for the 249 participants whose responses were validated in the study. More than 90 percent of participants said it was more effective than home remedies.
"Many home remedies consist of physical maneuvers designed to stimulate contraction of the diaphragm and/or closure of the epiglottis," stated a study published in JAMA Network Open. "These maneuvers lack clear, standardized instructions and can be cumbersome to perform, and there are few, if any, scientific studies of their effectiveness."
Still, it's worth noting that the results were based on self-reported data, and the study didn't feature a control group. Future research could compare the efficacy of HiccAway with a device that looks similar but doesn't function.
It's also worth pointing out that you don't need a $14 device to stimulate the vagus and phrenic nerves. You may just need a glass of water and a straw. A 2006 article published in the British Medical Journal noted that "plugging both ears tightly, pushing both right and left tragus, and drinking the entire glass of water through the straw without pause, without releasing the pressure over the ears" is a "nearly infallible" method to stop hiccups.
What if nothing stops your hiccups? Consider consulting a doctor: Persistent hiccups can signal underlying medical conditions, including pancreatitis, pregnancy, and liver cancer, among others.