History binge
History may not repeat but it does rhyme.
16 September, 2018
The fascist philosopher behind Vladimir Putin's Russia
Some ideas lie dormant for decades, and such is the case with Russian philosopher Ivan Ilyin, whose anti-communist stance got him—along with about 160 other intellectuals—expelled from Soviet Russia in 1922 aboard the 'philosopher's ship'. So who was Ilyin, and why has Russia's President Vladimir Putin breathed new life into his writings more than 60 years after Ilyin's death? Yale University's Professor Timothy Snyder gives a crash course in three pillars of Ilyin's philosophy of fascism and explains why this worldview is so appealing to Putin: it defines freedom as knowing your set place in society, asserts that democracy is a ritual and not a reality, and maintains that there are no facts in the world—Russian nationalism is the only truth. Perhaps the most fascinating part of this is how new technology—like Facebook—is turning old fascism into political warfare. "The fundamental way that Russia works in American politics is by transmitting the idea that's nothing is real... What the fascist ideas do with the new technology is they drive [Americans] into a situation where we think the real stakes of politics are all emotional and all about enemies—usually enemies at home," says Snyder. Russia meddled in the 2016 U.S. election in such a way that Americans couldn't see where the trouble was coming from. "A lot of us are still having a lot of trouble seeing what was happening," he says. Snyder's most recent book is The Road to Unfreedom: Russia, Europe, America.
Pablo Escobar's hippos: Why drug lords shouldn't play God
Lucy Cooke—an acclaimed zoologist, author, and TV presenter—talks to us about Colombian drug lord Pablo Escobar's animal menagerie, which included four hippos illegally stolen from Africa. Four became eight, and eight became sixteen, and so on, and since these hippos have no other hippo competition there's a strong potential that you may have a brand new species of hippo, which Cooke refers to as "Hippopotamus Escobarus." Her latest book is The Truth About Animals: Stoned Sloths, Lovelorn Hippos, and Other Tales from the Wild Side of Wildlife.
How Ernest Shackleton survived a doomed Antarctic expedition
Great leaders are few and far between but Nancy Koehn, a historian of business at Harvard Business School, has put together a compendium of anecdotes from five great leaders throughout history. It reads like a whos-who of humanitarianism, with true stories of grit and determination from the likes of explorer Ernest Shackleton, American president Abraham Lincoln, the abolitionist Frederick Douglass, the Nazi-resisting Lutheran minister Dietrich Bonhoeffer, and the environmental activist Rachel Carson. Here, Nancy Koehn talks to us about how Ernest Shackleton overcame some incredible odds to hold his team together on a doomed Antarctic expedition, and how we can learn from his stories. Nancy's great new book is Forged in Crisis: The Power of Courageous Leadership in Turbulent Times.
The chronology of crazy in the USA
Since a boat of religious fanatics with buckles on their hats hit the shores near Plymouth Rock and claimed that this was their utopia, America has always been a little bit crazy. It's this kind of wide-eyed "anything can happen if you believe" mentality that, at its best, can produce incredible art. But at its worst, it can be cruel and conspiratorial. We live in a country where people refuse to believe vaccination can help you and where a White House is spinning "alternative — but Kurt Andersen is here to say that this is nothing now. At the time of the Civil War, society had become split by two sides that refused to listen to each other. Back then, the political and social divide is stoked by a hyperbolic partisan media where anyone could publish whatever they wanted in a pamphlet without fact-checking. Sound familiar? It definitely should. Kurt's latest book is appropriately titled Fantasyland: How America Went Haywire.
The feats and failures of hierarchical power: Stalin, Xi Jinping, Macbeth
If you want to understand what a truly hierarchical political system looks like, just look at Joseph Stalin's Soviet Union, says historian Niall Ferguson. Stalin wanted to be all-powerful and omnipresent; he tapped phones, policed relationships and spied on everything—he was totally paranoid, says Ferguson, and for good reason. Social networks are lethal to top-down hierarchies and dictatorships, which is what makes this model of governance so unsustainable. But there is an exception that has stunned observers, Niall Ferguson included: China. Under leader Xi Jinping, China's economy has soared over the last 30 years, but it is now vexed with the largest middle class in history. Can this system endure through the 21st century? That's a huge question for China's leaders, and for the world. Niall Ferguson is the author of The Square and the Tower: Networks and Power, from the Freemasons to Facebook.
"Never Again?" How fascism hijacks democracies over and over
Rob Riemen — founder and president of the Nexus Institute — posits that the type and level of toxicity in today's political climate is a breeding ground for fascism. He argues that most people in fully democratic Germany in the early 1930s didn't think that by decade's end they'd be a fully fascist country, and goes further to say that perhaps history will look back on the 2016 American election in the same way. Is he correct? You be the judge. Rob Riemen's latest book is To Fight Against This Age: On Fascism and Humanism.
How social networks shaped 500 years of revolutionary progress
Facebook might be the biggest social network but it's far from the first, despite what those in Silicon Valley will have you believe. Stanford University fellow and Oxford University historian Niall Ferguson argues that social networks have been around for centuries and the most prominent of which — the Freemasons — could very well be responsible for democracy as we know it. Started in the 1700s in England and carried over to what would later become America, it was a place where class and social strata didn't count and people could exchange ideas freely... and its members included none other than George Washington and Benjamin Franklin. Niall's latest book is the tantalizing The Square and the Tower: Networks and Power, from the Freemasons to Facebook.
A lesson in power and influence from Abraham Lincoln
Class and race: Driving American politics since revolutionary times
More playlists
People have searched for sex differences in human brains since at least the 19th century, when scientist Samuel George Morton poured seeds and lead shot into human skulls to measure their volumes.
---
Gustave Le Bon found men's brains are usually larger than women's, which prompted Alexander Bains and George Romanes to argue this size difference makes men smarter. But John Stuart Mill pointed out, by this criterion, elephants and whales should be smarter than people.
So focus shifted to the relative sizes of brain regions. Phrenologists suggested the part of the cerebrum above the eyes, called the frontal lobe, is most important for intelligence and is proportionally larger in men, while the parietal lobe, just behind the frontal lobe, is proportionally larger in women. Later, neuroanatomists argued instead the parietal lobe is more important for intelligence and men's are actually larger.
In the 20th and 21st centuries, researchers looked for distinctively female or male characteristics in smaller brain subdivisions. As a behavioral neurobiologist and author, I think this search is misguided because human brains are so varied.
Female and male traits typically overlap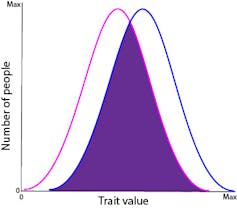 A chart showing how measurements that often differ between sexes, like height, substantially overlap. (Ari Berkowitz, CC BY)
Even when a brain region shows a sex difference on average, there is typically considerable overlap between the male and female distributions. If a trait's measurement is in the overlapping region, one cannot predict the person's sex with confidence. For example, think about height. I am 5'7". Does that tell you my sex? And brain regions typically show much smaller average sex differences than height does.
Neuroscientist Daphna Joel and her colleagues examined MRIs of over 1,400 brains, measuring the 10 human brain regions with the largest average sex differences. They assessed whether each measurement in each person was toward the female end of the spectrum, toward the male end or intermediate. They found that only 3% to 6% of people were consistently "female" or "male" for all structures. Everyone else was a mosaic.
Genes cause some brain sex differences
While prenatal hormones probably cause most brain sex differences in nonhumans, there are some cases where the cause is directly genetic.
This was dramatically shown by a zebra finch with a strange anomaly – it was male on its right side and female on its left. A singing-related brain structure was enlarged (as in typical males) only on the right, though the two sides experienced the same hormonal environment. Thus, its brain asymmetry was not caused by hormones, but by genes directly. Since then, direct effects of genes on brain sex differences have also been found in mice.
Learning changes the brain
Many people assume human brain sex differences are innate, but this assumption is misguided.
Humans learn quickly in childhood and continue learning – alas, more slowly – as adults. From remembering facts or conversations to improving musical or athletic skills, learning alters connections between nerve cells called synapses. These changes are numerous and frequent but typically microscopic – less than one hundredth of the width of a human hair.
Studies of an unusual profession, however, show learning can change adult brains dramatically. London taxi drivers are required to memorize "the Knowledge" – the complex routes, roads and landmarks of their city. Researchers discovered this learning physically altered a driver's hippocampus, a brain region critical for navigation. London taxi drivers' posterior hippocampi were found to be larger than nondrivers by millimeters – more than 1,000 times the size of synapses.
So it's not realistic to assume any human brain sex differences are innate. They may also result from learning. People live in a fundamentally gendered culture, in which parenting, education, expectations and opportunities differ based on sex, from birth through adulthood, which inevitably changes the brain.
Ultimately, any sex differences in brain structures are most likely due to a complex and interacting combination of genes, hormones and learning.

Ari Berkowitz, Presidential Professor of Biology; Director, Cellular & Behavioral Neurobiology Graduate Program, University of Oklahoma
This article is republished from The Conversation under a Creative Commons license. Read the original article.