A Single Trump Tweet Reveals the Market Power of Social Media
A recent tweet from Donald Trump plummeted the value of Lockheed Martin's stocks. What implications does this hold about the economic influences of social media?
22 December, 2016
A recent tweet by Donald Trump criticizing the costliness of Lockheed Martin's F-35 program caused its stock to plummet by about $3.5 billion. The effects were not only immense but also immediate: The Independent reported Boeing fell by 1.5% after the tweet.
---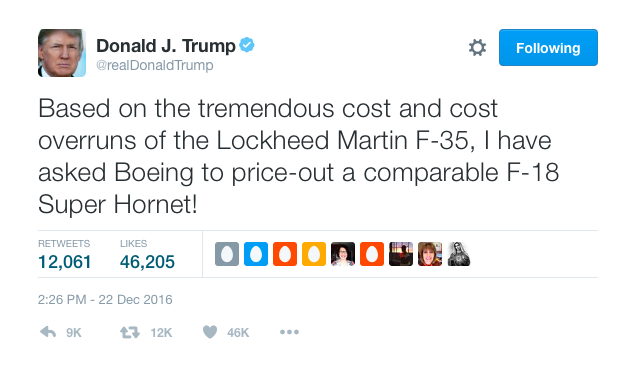 Although the impact on Lockheed Martin is likely temporary, this reflects the power that Twitter as well as other social media outlets have on society and the marketplace. There are numerous examples of individual posts on social media having dramatic economic consequences. A more severe case occurred in 2013, when the Associate Press's Twitter account was hacked. A tweet was posted describing a false attack on the white house in which Barack Obama was injured. In the hour after the false news had been tweeted, according to CNN, the Dow Jones dropped nearly 13 points.
More commonplace examples of the intersection of social media and the economy lie in the rapid rise in investments by companies in online marketing campaigns throughout recent years. Contributor Christine Moorman reported for Forbes on the surges in corporate spending on social media – all in spite of a general lack of reliable metrics to measure returns on those investments. Indeed, even the FDA is investigating how it might use Twitter to spread information about pharmaceutical drugs and their side effects. While not a corporation, this reflects the general belief in the power of social media in affecting people's opinions and consumption.
Alongside the increased presence of political and corporate entities in social media, posts of non-famous individuals are also growing to become more consequential. One such incident is noted of a recent documentary about comedy and free speech entitled Can We Take a Joke?. In this case, a woman tweeted a joke before boarding a plane and by the time she got off, she had lost her job and incurred death threats as a consequence.
More generally, social media has created an uncomfortable tension for employers. As employees' outside-of-work comments are increasingly visible publicly, managers face dilemmas concerning ethics and professionalism. Stephanie Chen described this tension in an article for CNN. In it, she reflects on the ways social media and workplace tensions have clashed. She recalls, for instance, a viral video of two Domino's employees that led the company to fire and sue them. She offers the prescriptions of an attorney who says of any social media posting: "It can become public and stay out there forever. Don't post anything you don't want to send to your boss in an e-mail."
For stock markets, businesses, and employees alike, social media has become a complex but powerful force.
What can 3D printing do for medicine? The "sky is the limit," says Northwell Health researcher Dr. Todd Goldstein.
Northwell Health
Sponsored by Northwell Health
Medical professionals are currently using 3D printers to create prosthetics and patient-specific organ models that doctors can use to prepare for surgery.
Eventually, scientists hope to print patient-specific organs that can be transplanted safely into the human body.
Northwell Health, New York State's largest health care provider, is pioneering 3D printing in medicine in three key ways.
It's a "canary in the coalmine," said one climate scientist.
Surprising Science
A team of researchers discovered that permafrost in Northern Canada is melting at unusually fast rates.
This could causes dangerous and costly erosion, and it's likely speeding up climate change because thawing permafrost releases heat-trapping gasses into the atmosphere.
This week, Canada's House of Commons declared a national climate emergency.
One of Stephen Hawking's predictions seems to have been borne out in a man-made "black hole".
Image source: NASA/JPL-Caltech
Surprising Science
Stephen Hawking predicted virtual particles splitting in two from the gravitational pull of black holes.
Black holes, he also said, would eventually evaporate due to the absorption of negatively charged virtual particles.
A scientist has built a black hole analogue based on sound instead of light.
Not every part of a satellite burns up in reentry. Considering the growing number of satellites in orbital space, that's a big problem.
Technology & Innovation
Earth's orbital space is getting more crowded by the day.
The more satellites and space junk we put into orbit, the greater a risk that there could be a collision.
Not all materials burn up during reentry; that's why scientists need to stress test satellite parts to ensure that they won't become deadly falling objects.
Big think's weekly newsletter.
Get smarter faster from the comfort of your inbox.
See our newsletter privacy policy
here
Most Popular
Most Recent
Big think's weekly newsletter.
Get smarter faster from the comfort of your inbox.
See our newsletter privacy policy
here
© Copyright 2007-2019 & BIG THINK, BIG THINK EDGE,
SMARTER FASTER trademarks owned by The Big Think, Inc. All rights reserved.