Amendments to the U.S. Constitution
Do you know your rights? Hit refresh on your constitutional knowledge!
17 September, 2018
The 2nd Amendment: How the gun control debate went crazy
The gun control debate has been at fever pitch for several years now, and as things fail to change the stats get grimmer. The New York Times reports that there have been 239 school shootings nationwide since the 2012 Sandy Hook Elementary school massacre, where 20 first graders and six adults were killed. Six years later, 438 more people have been shot in schools, and for 138 of them it was fatal. Here, journalist and author Kurt Andersen reads the Second Amendment, and explains its history from 1791 all the way to now. "What people need to know is that the Second Amendment only recently became such a salient amendment," says Andersen. It's only in the last 50 years that the gun debate has gone haywire, and it was the moment the NRA went from reasonable to absolutist. So what does the "right to bear arms" really mean? What was a firearm in the 1790s, and what is a firearm now? "Compared to [the] many, many, many rounds-per-second firearms that we have today, it's the same word but virtually a different machine." Kurt Andersen is the author of Fantasyland: How America Went Haywire.
The 5th Amendment: Do not break in case of emergency
The Fifth Amendment of the United States Constitution is often talked about but rarely read in full. The reason? Counterterrorism expert Amaryllis Fox explains that it has, these days, simply become shorthand for not saying anything in court to incriminate yourself. But the full text states how important the due process of law is to every American. So perhaps learning the full text, not just the shorthand, is an important step to being an American citizen. You can find out more about Amaryllis Fox here.
The 13th Amendment: The unjust prison to profit pipeline
The 13th Amendment to the U.S. Constitution abolished slavery—but it still remains legal under one condition. The amendment reads: "Neither slavery nor involuntary servitude, except as a punishment for crime whereof the party shall have been duly convicted, shall exist within the United States, or any place subject to their jurisdiction." Today in America, big corporations profit of cheap prison labor in both privatized and state-run prisons. Shaka Senghor knows this second wave of slavery well—he spent 19 years in jail, working for a starting wage of 17 cents per hour, in a prison where a 15-minute phone call costs between $3-$15. In this video, he shares the exploitation that goes on in American prisons, and how the 13th Amendment allows slavery to continue. He also questions the profit incentive to incarcerate in this country: why does America represent less than 5% of the world's population, but almost 25% of the world's prisoners? Shaka Senghor's latest venture is Mind Blown Media.
The 14th Amendment: History's most radical idea?
In 1868, three years after slavery was abolished, the 14th Amendment to the U.S. Constitution was adopted, granting equal protection under the law to every born and naturalized U.S. citizen. For CNN news commentator Van Jones this amendment is, in his words, the "whole enchilada." It's not the most popular amendment—it doesn't get name-dropped in TV courtroom dramas, or fiercely debated before elections—but to Jones it is a weighty principle that was far ahead of its time. "It doesn't say equal protection under the law unless you're a lesbian. That's not what it says. It doesn't say equal protection under the law unless you're African American. That's not what it says. It says if you're in the jurisdiction you get equal protection under the law. That's radical. In 10,000 years of human history, that's radical." Van Jones is the author of Beyond the Messy Truth: How We Came Apart, How We Come Together.
The 26th Amendment: The act of voting should empower people
Is a 55.7% voter turnout really enough? Bryan Cranston was disappointed with the 2016 presidential election, not for the outcome but for the process. According to Census Bureau figures it was a bumper year for voter engagement with 137.5 million total ballots cast—but is just over half of the eligible voters really that impressive? The Pew Research Center shows that the U.S. still trails behind most developed nations in voter registration and turnout. "I think we've devalued the honor and privilege of voting and we've become complacent, and maybe a bit cynical about our place and rights as citizens and our duties and responsibilities," says Cranston. The good news? Millennials and Gen Xers are on an upward trend in civic engagement, casting more votes than Boomers and older generations in the 2016 election. Cranston reminds us of how empowering the 26th Amendment is in granting voting rights to Americans over the age of 18. "We can't take that lightly," says Cranston. It's a timely reminder too, as 40 million people are expected to drop off that 55.7% figure for the midterm elections, mostly from the millennial, unmarried women and people of color demographics. Bryan Cranston's new book is the spectacular memoir A Life in Parts.
More playlists
I've lived much of my life with anxiety and depression, including the negative feelings – shame and self-doubt – that seduced me into believing the stigma around mental illness: that people knew I wasn't good enough; that they would avoid me because I was different or unstable; and that I had to find a way to make them like me.
---
It took me some time – I'm a classic late bloomer – but just before I turned 60, I discovered that sharing my story by drawing could be an effective way to both alleviate my symptoms and combat that stigma.
Mental health disorders are complicated. There are 22 sections of criteria and codes in the Diagnostic and Statistical Manual of Mental Disorders – and that's just for anxiety. Meanwhile, the psychiatric literature on depression is enormous, with hundreds of scholarly articles and books published in the past two years alone.
One thing we seem to know for certain is that, somehow, anxiety and depression made it through the evolutionary process.
"Since antiquity," writes William Styron in "Darkness Made Visible: A Memoir of Madness," "in the tortured lament of Job, in the choruses of Sophocles and Aeschylus – chroniclers of the human spirit have been wrestling with a vocabulary that might give proper expression to the desolation of melancholia."
My first anxiety attacks happened early in life. By the time I was 13, I knew the signs: quickened breathing and an increased heart rate, blurry vision, sweaty palms, and sudden fight or flight impulses. Once, when on deck to bat in Little League, I became so panicked I dropped my bat and fled the ball field. I rode my bike all the way home, barely able to see five feet in front of me.
Growing up, I also spent countless hours drawing. I drew or scribbled on every scrap of paper I could find, and I copied those funny characters that appeared on the back of each week's issue of TV Guide. While I took one art class in high school, I was mostly self-taught. I always knew I loved to draw, but I never wondered why. It was just something I did.
As I grew older, I continued to suffer from panic attacks and depressive episodes, which I managed to hide from others. I eventually became a theater professor at Penn State University, where I still teach today. In addition to teaching history and literature, I make autobiographical solo performance pieces. But in 2014, my sister died after spending two years in a vegetative state due to a traumatic brain injury. It was as if the one thread capable of unraveling my entire life was pulled.
Drawing became almost an obsession.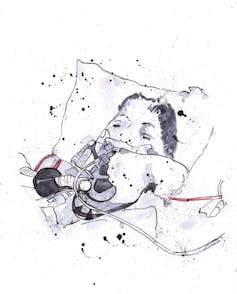 'Sister Sam.' (William Doan, CC BY-ND)
I did over 200 drawings of my sister and eventually created a play and solo performance piece titled "Drifting." I visually archived her journey to death. In the midst of this, I started what became the Anxiety Project, which now contains over 500 drawings and two performance pieces. I didn't really think too much about its purpose. I just knew I had to make drawings about anxiety and depression.
I made a lot of this work without any initial plans to share it. I was just trying to survive. As I slowly began to share some of the work, there was a strange mix of relief from sharing my feelings and dread that the work would ultimately fail to mean anything to others, or that people would think I was crazy for making this kind of work. (These same feelings have cropped up while writing this article.)
And then I pretty much crashed. I still couldn't emerge from my grief or separate it from my ongoing struggles with anxiety and depression.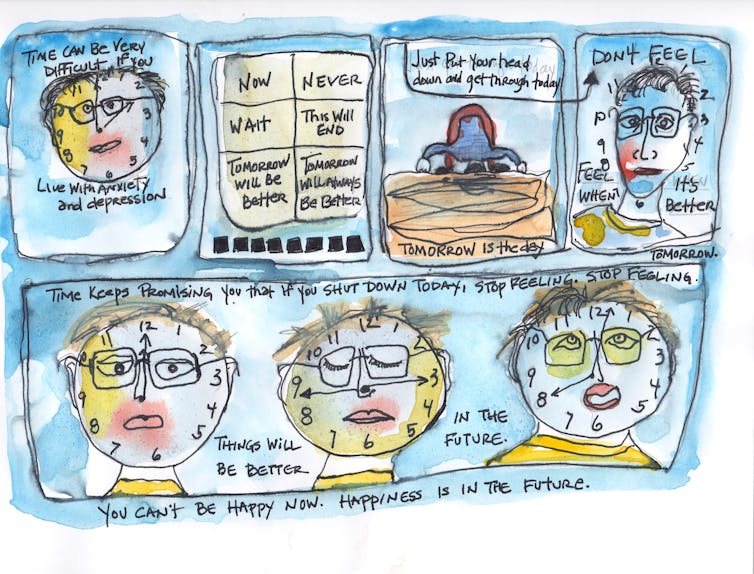 'Time Lies.' (William Doan, CC BY-ND)
I was in trouble. And I knew I had to get help. So I started to tell my wife and family the truth – that this struggle went beyond the death of my sister, that for most of my life, I had been in an almost constant battle with anxiety and depression, and that I was afraid I was finally losing and might go crazy. I found an excellent therapist. I started doing the hard work of living with my anxiety and depression honestly and openly, which, for me, includes taking an antidepressant. Acknowledging and accepting the need for medication was perhaps the most difficult stigma to face. I felt like a failure. Getting past that feeling took some time.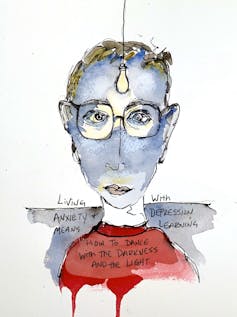 'Dark/Light.' (William Doan, CC BY-ND)
Living openly with my anxiety and depression has helped me better understand my drawing and creative work as efforts to make meaning out of the volcanic feelings of fear and despair – and the almost catatonic shutdowns that could happen inside me at any time.
This new understanding eventually led me to become intentional about drawing as a way to imagine myself as mentally healthy, rather than define myself by my mental illness. I drew upon the work of artists like Frederick Franck and his books "The Zen of Seeing" and "The Awakened Eye," which outline simple meditative approaches to drawing.
I work almost solely in ink- and water-based mediums because of the gestural and fluid ways I can translate feelings into lines and movement of color. I draw every day, and sometimes I'll simply draw what I see – birds, flowers, landscapes, people, myself – to stay grounded in the here and now.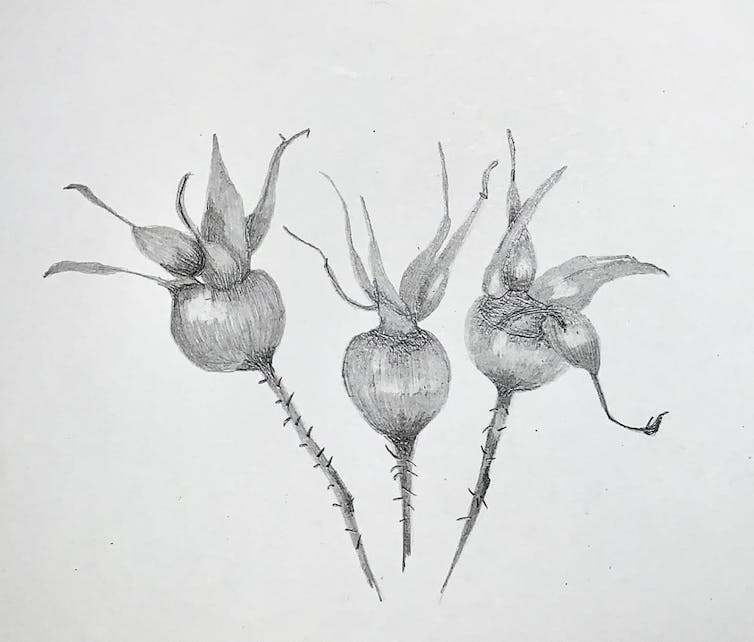 'RoseHips Meditation.' (William Doan, CC BY-ND)
Sharing what it's like to live with anxiety and depression feels like undressing in front of strangers, but I thought it might help decrease stigma, which nearly 90% of people with mental health problems say has a negative effect on their lives.
As I learned more about the connection between drawing, wellness and stigma, it turns out that I was onto something.
In 2016, psychologist Jennifer Drake and her team of researchers studied the benefits of drawing over four consecutive days, and discovered that the simple daily act has benefits. "You can get a positive effect with just 15 minutes of drawing," she concludes. "Drawing to distract is a simple and powerful way to elevate mood, at least in the short term." Meanwhile, researchers across many scientific fields have explored the ways art making can combat stigma about mental illness.
As Jenny Lawson writes in "Furiously Happy: A Funny Book About Horrible Things," "When you come out of the grips of a depression there is an incredible relief, but not one you feel allowed to celebrate. Instead, the feeling of victory is replaced with anxiety that it will happen again, and with shame and vulnerability when you see how your illness affected your family, your work, everything left untouched while you struggled to survive."
For me, it was the kind of shame that shepherds you right into the waiting arms of the stigma around mental illness. I needed to find a way through – for myself and, hopefully, for others.
Art became the way.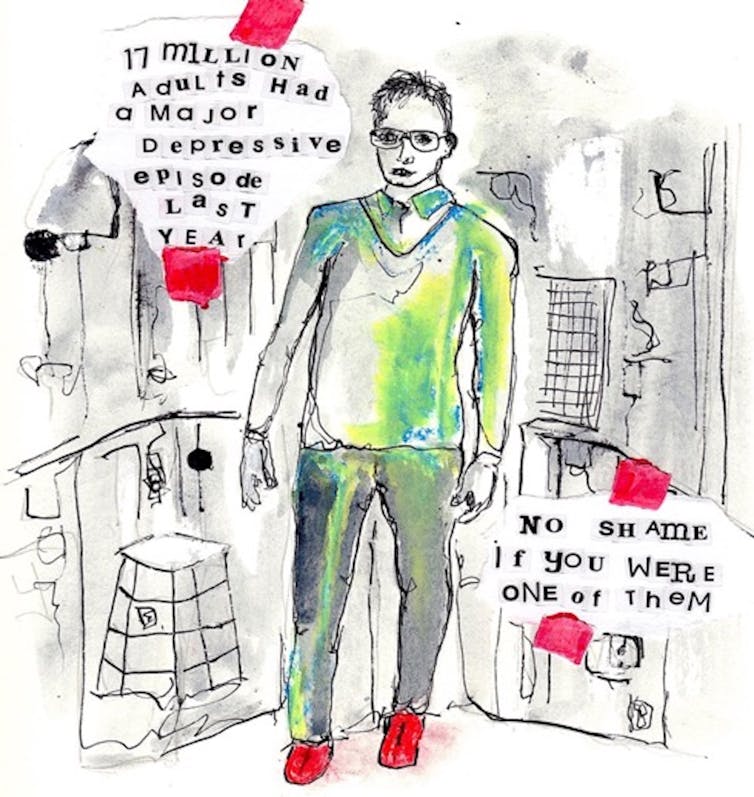 '17 million.' (William Doan, CC BY-ND)
William Doan, Professor of Theatre, Pennsylvania State University.
This article is republished from The Conversation under a Creative Commons license. Read the original article.