X-FILES 2: A Cultural Resurrection for the Paranormal?
Matthew C. Nisbet
Matthew C. Nisbet, Ph.D. is Associate Professor of Communication Studies, Public Policy, and Urban Affairs at Northeastern University. Nisbet studies the role of communication and advocacy in policymaking and public affairs, focusing on debates over over climate change, energy, and sustainability. Among awards and recognition, Nisbet has been a Visiting Shorenstein Fellow on Press, Politics, and Public Policy at Harvard University's Kennedy School of Government, a Health Policy Investigator at the Robert Wood Johnson Foundation, and a Google Science Communication Fellow. In 2011, the editors at the journal Nature recommended Nisbet's research as "essential reading for anyone with a passing interest in the climate change debate," and the New Republic highlighted his work as a "fascinating dissection of the shortcomings of climate activism."
16 August, 2010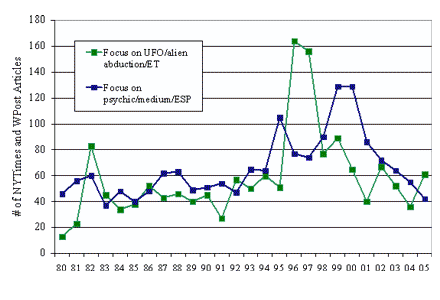 Note: Trends reflect the number of combined articles appearing annually in the New York Times and the Washington Post containing in the headline or lead paragraph the key words for psychic: "psychic" or "psychic medium" or "spirit medium" or "extrasensory perception," or "ESP," or the keywords for UFOs: "UFO" or "alien abduction" or "extraterrestrial." Source.

It troubles me to write, but a combination of signs point to a resurrection for the paranormal in American culture. As I have reviewed in past columns for the American Prospect and Skeptical Inquirer, the peak for the paranormal was the late 1990s, with attention dropping following the terrorist attacks of 2001.

Yet now with Indiana Jones trading biblical mythology for Roswell lore, The X-Files sequel set for worldwide release on July 25, and several new TV series scheduled for the fall that feature as a central plot line paranormal investigation, a familiar pattern is emerging, one that features a synergy between mass media products and the paranormal sub-cultures that have been mostly dormant since 9/11.

As the summer moves on, I will have much more to write about this, but for now, check out my previous columns, especially the American Prospect article that offers a cultural history of the paranormal. Below, I leave you with the trailer to the new X-Files movie.



Big think's weekly newsletter.
Get smarter faster from the comfort of your inbox.
See our newsletter privacy policy
here