Why the PZ Myers Affair is Really, Really Bad for Science
Matthew C. Nisbet
Matthew C. Nisbet, Ph.D. is Associate Professor of Communication Studies, Public Policy, and Urban Affairs at Northeastern University. Nisbet studies the role of communication and advocacy in policymaking and public affairs, focusing on debates over over climate change, energy, and sustainability. Among awards and recognition, Nisbet has been a Visiting Shorenstein Fellow on Press, Politics, and Public Policy at Harvard University's Kennedy School of Government, a Health Policy Investigator at the Robert Wood Johnson Foundation, and a Google Science Communication Fellow. In 2011, the editors at the journal Nature recommended Nisbet's research as "essential reading for anyone with a passing interest in the climate change debate," and the New Republic highlighted his work as a "fascinating dissection of the shortcomings of climate activism."
16 August, 2010
If you haven't seen this clip yet, above is a preview of the central message on how "Big Science" views religion in the documentary
Expelled
. There's little work needed on the part of the producers, since the message is spelled out via the interviews provided by PZ Myers and Richard Dawkins.
Notice the very clear translation for audiences as to what supposedly establishment science believes:
A) Learning about science makes you an atheist, it "kills off" religious faith.
B) If we boost science literacy in society, it will lead to erosion of religion, as religion fades away, we will get more and more science, and less and less religion.
C) Religion is a fairy tale, similar to hobgoblins, a fantasy,
and even evil
.
The simplistic and unscientific claim that more knowledge leads to less religion might be the particular
delusion
of Dawkins, Myers, and many others, but it is by no means the official position of science, though they often implicitly claim to speak for science. Nor does it stand up to mounds of empirical evidence about the complex relationship between science literacy and public perceptions.
Unfortunately, you couldn't focus group a better message for the pro-creationist crowd. And this message is already reaching well beyond the theaters, on display most recently with the
PZ Myers Affair
chronicled at the NY Times.
As long as Dawkins and PZ continue to be the representative voices from the pro-science side in this debate, it is really bad for those of us who care about promoting public trust in science and science education. Dawkins and PZ need to lay low as
Expelled
hits theaters. Let others play the role of communicator, most importantly the National Center for Science Education, AAAS, the National Academies or scientists such as Francis Ayala or Ken Miller. When called up by reporters or asked to comment, Dawkins and PZ should refer journalists to these organizations and individuals.
If Dawkins and PZ really care about countering the message of
The Expelled
camp, they need to play the role of Samantha Power, Geraldine Ferraro and so many other political operatives who through misstatements and polarizing rhetoric have ended up being liabilities to the causes and campaigns that they support:
Lay low and let others do the talking
.
So Richard and PZ, when it comes to
Expelled
, it's time to let other people be the messengers for science. This is not about censoring your ideas and positions, but rather being smart, strategic, tactical, and ultimately effective in promoting science rather than your own personal ideology, books, or blog. I will have more to say on Expelled strategy in a talk I am giving
Thursday night at UWisc-Eau Claire
and then next week Monday in a
lunch time talk
given with Chris Mooney at Princeton University's Woodrow Wilson School.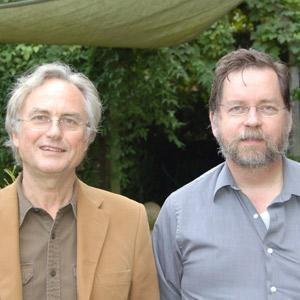 Dawkins and Myers: It's Time to Let Others Be the Spokespeople for Science
Orangutans join humans and bees in a very exclusive club
Surprising Science
Orangutan mothers wait to sound a danger alarm to avoid tipping off predators to their location
It took a couple of researchers crawling around the Sumatran jungle to discover the phenomenon
This ability may come from a common ancestor
Progressive America would be half as big, but twice as populated as its conservative twin.
Image: Dicken Schrader
Strange Maps
America's two political tribes have consolidated into 'red' and 'blue' nations, with seemingly irreconcilable differences.
Perhaps the best way to stop the infighting is to go for a divorce and give the two nations a country each
Based on the UN's partition plan for Israel/Palestine, this proposal provides territorial contiguity and sea access to both 'red' and 'blue' America
Journaling can help you materialize your ambitions.
Videos
Organizing your thoughts can help you plan and achieve goals that might otherwise seen unobtainable.
The Bullet Journal method, in particular, can reduce clutter in your life by helping you visualize your future.
One way to view your journal might be less of a narrative and more of a timeline of decisions.
Big think's weekly newsletter.
Get smarter faster from the comfort of your inbox.
See our newsletter privacy policy
here
Most Popular
Most Recent
Big think's weekly newsletter.
Get smarter faster from the comfort of your inbox.
See our newsletter privacy policy
here
© Copyright 2007-2018 & BIG THINK, BIG THINK EDGE,
SMARTER FASTER trademarks owned by The Big Think, Inc. All rights reserved.