Why Lindsey Graham Frames Cap and Trade As "Dead"
Matthew C. Nisbet
Matthew C. Nisbet, Ph.D. is Associate Professor of Communication Studies, Public Policy, and Urban Affairs at Northeastern University. Nisbet studies the role of communication and advocacy in policymaking and public affairs, focusing on debates over over climate change, energy, and sustainability. Among awards and recognition, Nisbet has been a Visiting Shorenstein Fellow on Press, Politics, and Public Policy at Harvard University's Kennedy School of Government, a Health Policy Investigator at the Robert Wood Johnson Foundation, and a Google Science Communication Fellow. In 2011, the editors at the journal Nature recommended Nisbet's research as "essential reading for anyone with a passing interest in the climate change debate," and the New Republic highlighted his work as a "fascinating dissection of the shortcomings of climate activism."
16 August, 2010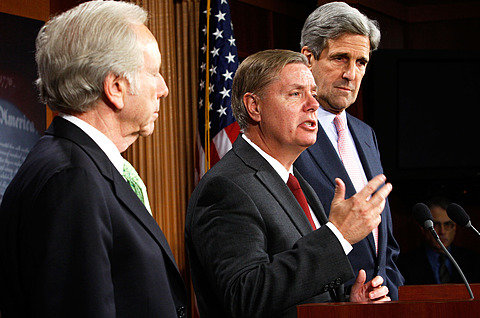 Graham, Kerry, Lieberman, and Gore all share the same goal but are moving to differentiate themselves as a way to claim credit for climate action and to appeal to different audience segments.

At The NYTimes.com, Greewire's Darren Samuelsohn examines Senator Lindsey Graham's strategy to define cap and trade legislation as "dead." The Senator's declaration has been most notably quoted in a January article at the New York Times and in an article Saturday at the Washington Post, with his remarks much discussed and debated among other members of Congress, by advocates, in the blogosphere, across various talk media outlets, and even as Samuelsohn reports, by foreign governments.

Here's what Graham tells Samuelsohn is behind his strategy:



Bigger picture, Graham explained his reason for declaring "cap-and-trade is dead" is more about framing the debate for public consumption than anything else.

"This started with the planet is heating up and Iowa is going to become beachfront property," he said. "Now people go around not saying that much. I think they've oversold the consequences to climate change, to global warming. And the momentum around this large cap-and-trade bill to save the planet has been replaced by a business model: How do we create jobs and stay ahead of the Chinese and clean up the air? Once you start changing your perspective from 'Iowa is going to be beachfront property' to 'How do you create jobs and clean up the air?' you have a completely different focus."

He added, "We're going to fundamentally change how we price carbon looking at the economy differently than we have in the past. And the goal of this bill is not only to clean up the air but to create energy independence and jobs. The goal of cap and trade was to solve the Al Gore problem. I'm trying to solve the Lindsey Graham problem."
After interviewing Graham yesterday, Samuelsohn called me this morning, asking what I thought the motives behind this strategy might be and the possible impacts. Here's what I said:
Matt Nisbet, a professor of communications at American University, sees an opportunity for better public debate in the wake of Graham's comments declaring the end to the broad cap-and-trade approach.

"I think what's happening politically is we're moving from a very narrow limited focus on just one option," he said.

In the past, the longtime focus among politicians and reporters was on cap and trade alone, squeezing out other options like a carbon tax or a cap-and-dividend approach.

"Most of the discussion is not on substance, but rather political viability and the game or jockeying in order to win support," Nisbet said.

Nisbet said the single-tracked focus has soured the public's understanding of the legislative debate and all of its complexities. "What you have is a picture for the public of a lot of ideological crossfire from the left and right over a policy that very few members of the public understands, or even cares to understand," he said.

Looking forward, opponents will slap the "cap and tax" title on the bill no matter what sponsors say.

But he predicted that Graham's message about energy independence and jobs may be the right strategy, especially as he speaks to a different constituent group of independents and Southern voters, compared with some of the movement's traditional leaders.

"Even though they might share the same goals, Lindsey Graham, Al Gore and John Kerry, they're also trying to differentiate among themselves and claim credit for achieving those goals," Nisbet said.
For more on communication strategy related to climate change,
see this video clip
from American University's Forum on "
The Climate Change Generation: Youth, Media, and Politics in an Unsustainable World
."
New research links urban planning and political polarization.
Pixabay
Politics & Current Affairs
Canadian researchers find that excessive reliance on cars changes political views.
Decades of car-centric urban planning normalized unsustainable lifestyles.
People who prefer personal comfort elect politicians who represent such views.
Progressive America would be half as big, but twice as populated as its conservative twin.
Image: Dicken Schrader
Strange Maps
America's two political tribes have consolidated into 'red' and 'blue' nations, with seemingly irreconcilable differences.
Perhaps the best way to stop the infighting is to go for a divorce and give the two nations a country each
Based on the UN's partition plan for Israel/Palestine, this proposal provides territorial contiguity and sea access to both 'red' and 'blue' America
Science and the squishiness of the human mind. The joys of wearing whatever the hell you want, and so much more.
Flickr / 13winds
Think Again Podcasts
Why can't we have a human-sized cat tree?
What would happen if you got a spoonful of a neutron star?
Why do we insist on dividing our wonderfully complex selves into boring little boxes
Big think's weekly newsletter.
Get smarter faster from the comfort of your inbox.
See our newsletter privacy policy
here
Most Popular
Most Recent
Big think's weekly newsletter.
Get smarter faster from the comfort of your inbox.
See our newsletter privacy policy
here
© Copyright 2007-2018 & BIG THINK, BIG THINK EDGE,
SMARTER FASTER trademarks owned by The Big Think, Inc. All rights reserved.