UPDATE: New Fall speaking events include Princeton, Bucknell, NCI, and UMinnesota
Matthew C. Nisbet
Matthew C. Nisbet, Ph.D. is Associate Professor of Communication Studies, Public Policy, and Urban Affairs at Northeastern University. Nisbet studies the role of communication and advocacy in policymaking and public affairs, focusing on debates over over climate change, energy, and sustainability. Among awards and recognition, Nisbet has been a Visiting Shorenstein Fellow on Press, Politics, and Public Policy at Harvard University's Kennedy School of Government, a Health Policy Investigator at the Robert Wood Johnson Foundation, and a Google Science Communication Fellow. In 2011, the editors at the journal Nature recommended Nisbet's research as "essential reading for anyone with a passing interest in the climate change debate," and the New Republic highlighted his work as a "fascinating dissection of the shortcomings of climate activism."
16 August, 2010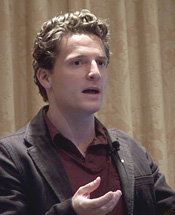 This fall, I am traveling to many different cities and institutions to talk to a diversity of groups about new directions in science communication. Below is an updated lineup with new events scheduled for Princeton University, Bucknell University, and the National Cancer Institute.

There are also more details on the much anticipated panel discussion at the University of Minnesota that will include the bloggers PZ Myers and Greg Laden. The popular podcast series CFI Point of Inquiry plans to record and rebroadcast the event.

A few other possible stops are still in the works for the fall and the spring. These trips will be an opportunity to talk about how research can and should inform public engagement efforts, but it will also be a great opportunity to gain insights from some of the smartest people in the country.


12.12.12. National Cancer Institute, Prevention & Control Colloquia, DC.

12.10.12. Science, Technology, and Environmental Policy Program, Woodrow Wilson School, Princeton, NJ.

11.27.07. National Academies of Science*, DC.

10.25.07. Bucknell University*, PA.

10.24.07. Center for Inquiry-NYC*.

10.19.07 Nicholas Institute for the Environment, Duke University

10.18.07. Biology Directorate, National Science Foundation, DC.

10.05.07. Forum on Science, Ethics, and Policy, University of Washington, Seattle*.

10.05.07. Dept. of Communication, University of Washington, Seattle.

10.01.07. George Washington University, DC*.

9.28.07. Bell Museum of Natural History, MN*.

9.28.07. Assoc. Reproductive Health Professionals, MN*.


*Part of the Speaking Science 2.0 tour.

Giving our solar system a "slap in the face"
Surprising Science
A stream of galactic debris is hurtling at us, pulling dark matter along with it
It's traveling so quickly it's been described as a hurricane of dark matter
Scientists are excited to set their particle detectors at the onslffaught
Bernardo Kastrup proposes a new ontology he calls "idealism" built on panpsychism, the idea that everything in the universe contains consciousness. He solves problems with this philosophy by adding a new suggestion: The universal mind has dissociative identity disorder.
We're all one mind in "idealism." (Credit: Alex Grey)
Mind & Brain
There's a reason they call it the "hard problem." Consciousness: Where is it? What is it? No one single perspective seems to be able to answer all the questions we have about consciousness. Now Bernardo Kastrup thinks he's found one. He calls his ontology idealism, and according to idealism, all of us and all we perceive are manifestations of something very much like a cosmic-scale dissociative identity disorder (DID). He suggests there's an all-encompassing universe-wide consciousness, it has multiple personalities, and we're them.
Once again, our circadian rhythm points the way.
Photo: Victor Freitas / Unsplash
Surprising Science
Seven individuals were locked inside a windowless, internetless room for 37 days.
While at rest, they burned 130 more calories at 5 p.m. than at 5 a.m.
Morning time again shown not to be the best time to eat.
Big think's weekly newsletter.
Get smarter faster from the comfort of your inbox.
See our newsletter privacy policy
here
Most Popular
Most Recent
Big think's weekly newsletter.
Get smarter faster from the comfort of your inbox.
See our newsletter privacy policy
here
© Copyright 2007-2018 & BIG THINK, BIG THINK EDGE,
SMARTER FASTER trademarks owned by The Big Think, Inc. All rights reserved.