UnPolitical America: A Crisis of Political Illiteracy?
16 August, 2010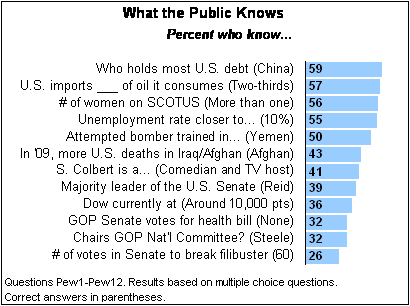 Much calamity has been made in popular books and by liberal commentators about the public's scores on quiz like survey questions tapping basic knowledge of scientific facts or the public's recognition of prominent figures in science.

Yet as social scientists have shown in various studies and have argued, we really shouldn't be surprised by the survey results on science literacy. Nor do studies find that these scores on literacy quizzes account for much of the variance in public opinion and perceptions about science-related debates, especially in comparison to other more influential factors such as political and social identity or trust. In fact, historically despite low scores on science literacy dating back to the first surveys in the late 1950s, the American public's belief in the promise of science and its trust in science has been consistently strong.

This past week more data and context on this issue is provided by Pew which released the results of its latest survey of Americans' knowledge of public affairs and politics. According to the Pew survey (table above), the public's knowledge of the most visible and most covered political issues is not surprisingly....very low.

Consider this finding from Pew on knowledge of the Senate rules to close debate on legislation:


Less than a third of Republicans or Democrats can correctly identify the number of votes needed to end a filibuster (30% among Republicans, 25% among Democrats). College graduates fared better than other demographic groups on this question, but fewer than half of college graduates (45%) know that it takes 60 Senate votes to overcome a filibuster.
Does this mean that there is a "dangerous divide" and "a widening gulf" between political institutions and the public or a rising "anti-politics" attitude on the part of the public, calamitous claims that parallel the arguments made by commentators about the relationship between science and society? Hardly. Similar to science, Americans have scored low on quizzes of political knowledge since the first surveys were done on the topic in the 1940s and 1950s.
What these political knowledge surveys and studies show is the tendency of Americans to make up for their lack of knowledge by relying on heuristics and mental short cuts such as values, identity, and trust; by turning to trusted media sources and political leaders; and by sorting out personal uncertainty through conversations with friends and co-workers, just like they rely on the same heuristics and sources in making sense of science-related debates.
Importantly, if the public has limited knowledge of even the most visible and prominent political issues in the news or basic attributes of major institutions such as the U.S Senate, can we realistically expect that the public will be well informed about issues and institutions receiving much less media attention such as climate change or funding for the NSF?
Finally, of interest in the Pew survey, Republicans on average score significantly higher on public affairs knowledge than Democrats even after controlling for education, age, and gender. Democratic activists, similar to science advocates, tend to often imply that the policy preferences of their supporters derive from greater understanding and knowledge of the issues, yet these Pew findings appear to cut against this assumption.
Here's how Pew describes the difference between Republicans and Democrats in terms of knowledge:
Republicans, on average, answered one more question correctly than Democrats (5.9 vs. 4.9 correct). These differences are partly a reflection of the demographics of the two groups; Republicans tend to be older, well educated and male, which are characteristics associated with political and economic knowledge. Still, even when these factors are held constant, Republicans do somewhat better than Democrats on the knowledge quiz.

International poker champion Liv Boeree teaches decision-making for Big Think Edge.
Big Think Edge
Learn to make decisions with the clarity of a World Series Poker Champion.

Liv Boeree teaches analytical thinking for Big Think Edge.

Subscribe to Big Think Edge before we launch on March 30 to get 20% off monthly and annual memberships.
"I was so moved when I saw the cells stir," said 90-year-old study co-author Akira Iritani. "I'd been hoping for this for 20 years."
Yamagata et al.
Surprising Science
The team managed to stimulate nucleus-like structures to perform some biological processes, but not cell division.
Unless better technology and DNA samples emerge in the future, it's unlikely that scientists will be able to clone a woolly mammoth.
Still, studying the DNA of woolly mammoths provides valuable insights into the genetic adaptations that allowed them to survive in unique environments.
An MIT study predicts when artificial intelligence will take over for humans in different occupations.
Photo credit: YOSHIKAZU TSUNO / AFP / Getty Images
Surprising Science
While technology develops at exponential speed, transforming how we go about our everyday tasks and extending our lives, it also offers much to worry about. In particular, many top minds think that automation will cost humans their employment, with up to 47% of all jobs gone in the next 25 years. And chances are, this number could be even higher and the massive job loss will come earlier.
The blood of horseshoe crabs is harvested on a massive scale in order to retrieve a cell critical to medical research. However, recent innovations might make this practice obsolete.
An Atlantic horseshoe crab in an aquarium. Photo: Domdomegg via Wikimedia Commons.
Surprising Science
Horseshoe crabs' blue blood is so valuable that a quart of it can be sold for $15,000.
This is because it contains a molecule that is crucial to the medical research community.
Today, however, new innovations have resulted in a synthetic substitute that may end the practice of farming horseshoe crabs for their blood.
Big think's weekly newsletter.
Get smarter faster from the comfort of your inbox.
See our newsletter privacy policy
here
Most Popular
Most Recent
Big think's weekly newsletter.
Get smarter faster from the comfort of your inbox.
See our newsletter privacy policy
here
© Copyright 2007-2018 & BIG THINK, BIG THINK EDGE,
SMARTER FASTER trademarks owned by The Big Think, Inc. All rights reserved.