UnPolitical America: A Crisis of Political Illiteracy?
Matthew C. Nisbet
Matthew C. Nisbet, Ph.D. is Associate Professor of Communication Studies, Public Policy, and Urban Affairs at Northeastern University. Nisbet studies the role of communication and advocacy in policymaking and public affairs, focusing on debates over over climate change, energy, and sustainability. Among awards and recognition, Nisbet has been a Visiting Shorenstein Fellow on Press, Politics, and Public Policy at Harvard University's Kennedy School of Government, a Health Policy Investigator at the Robert Wood Johnson Foundation, and a Google Science Communication Fellow. In 2011, the editors at the journal Nature recommended Nisbet's research as "essential reading for anyone with a passing interest in the climate change debate," and the New Republic highlighted his work as a "fascinating dissection of the shortcomings of climate activism."
16 August, 2010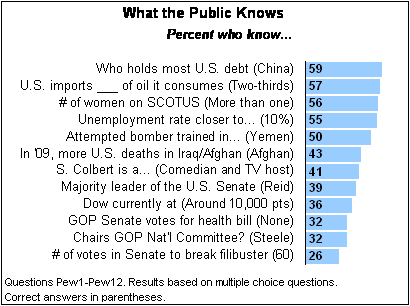 Much calamity has been made in popular books and by liberal commentators about the public's scores on quiz like survey questions tapping basic knowledge of scientific facts or the public's recognition of prominent figures in science.

Yet as social scientists have shown in various studies and have argued, we really shouldn't be surprised by the survey results on science literacy. Nor do studies find that these scores on literacy quizzes account for much of the variance in public opinion and perceptions about science-related debates, especially in comparison to other more influential factors such as political and social identity or trust. In fact, historically despite low scores on science literacy dating back to the first surveys in the late 1950s, the American public's belief in the promise of science and its trust in science has been consistently strong.

This past week more data and context on this issue is provided by Pew which released the results of its latest survey of Americans' knowledge of public affairs and politics. According to the Pew survey (table above), the public's knowledge of the most visible and most covered political issues is not surprisingly....very low.

Consider this finding from Pew on knowledge of the Senate rules to close debate on legislation:


Less than a third of Republicans or Democrats can correctly identify the number of votes needed to end a filibuster (30% among Republicans, 25% among Democrats). College graduates fared better than other demographic groups on this question, but fewer than half of college graduates (45%) know that it takes 60 Senate votes to overcome a filibuster.
Does this mean that there is a "dangerous divide" and "a widening gulf" between political institutions and the public or a rising "anti-politics" attitude on the part of the public, calamitous claims that parallel the arguments made by commentators about the relationship between science and society? Hardly. Similar to science, Americans have scored low on quizzes of political knowledge since the first surveys were done on the topic in the 1940s and 1950s.
What these political knowledge surveys and studies show is the tendency of Americans to make up for their lack of knowledge by relying on heuristics and mental short cuts such as values, identity, and trust; by turning to trusted media sources and political leaders; and by sorting out personal uncertainty through conversations with friends and co-workers, just like they rely on the same heuristics and sources in making sense of science-related debates.
Importantly, if the public has limited knowledge of even the most visible and prominent political issues in the news or basic attributes of major institutions such as the U.S Senate, can we realistically expect that the public will be well informed about issues and institutions receiving much less media attention such as climate change or funding for the NSF?
Finally, of interest in the Pew survey, Republicans on average score significantly higher on public affairs knowledge than Democrats even after controlling for education, age, and gender. Democratic activists, similar to science advocates, tend to often imply that the policy preferences of their supporters derive from greater understanding and knowledge of the issues, yet these Pew findings appear to cut against this assumption.
Here's how Pew describes the difference between Republicans and Democrats in terms of knowledge:
Republicans, on average, answered one more question correctly than Democrats (5.9 vs. 4.9 correct). These differences are partly a reflection of the demographics of the two groups; Republicans tend to be older, well educated and male, which are characteristics associated with political and economic knowledge. Still, even when these factors are held constant, Republicans do somewhat better than Democrats on the knowledge quiz.

The famed author headed to the pond thanks to Indian philosophy.
Image: Public Domain / Shutterstock / Big Think
Personal Growth
The famed author was heavily influenced by Indian literature, informing his decision to self-exile on Walden Pond.
He was introduced to these texts by his good friend's father, William Emerson.
Yoga philosophy was in America a century before any physical practices were introduced.
Pfizer's partnerships strengthen their ability to deliver vaccines in developing countries.
Susan Silbermann, Global President of Pfizer Vaccines, looks on as a health care worker administers a vaccine in Rwanda. Photo: Courtesy of Pfizer.
Sponsored
Community healthcare workers face many challenges in their work, including often traveling far distances to see their clients
Pfizer is helping to drive the UN's sustainable development goals through partnerships.
Pfizer partnered with AMP and the World Health Organization to develop a training program for healthcare workers.
A little goes a long way.
Photo: Shutterstock / Big Think
Personal Growth
A recent study from the Department of Health and Human Services found that 80 percent of Americans don't exercise enough.
Small breaks from work add up, causing experts to recommend short doses of movement rather than waiting to do longer workouts.
Rethinking what exercise is can help you frame how you move throughout your day.
Big think's weekly newsletter.
Get smarter faster from the comfort of your inbox.
See our newsletter privacy policy
here
Most Popular
Most Recent
Big think's weekly newsletter.
Get smarter faster from the comfort of your inbox.
See our newsletter privacy policy
here
© Copyright 2007-2018 & BIG THINK, BIG THINK EDGE,
SMARTER FASTER trademarks owned by The Big Think, Inc. All rights reserved.