Think Science Now and Biotech's Communication Challenge
Matthew C. Nisbet
Matthew C. Nisbet, Ph.D. is Associate Professor of Communication Studies, Public Policy, and Urban Affairs at Northeastern University. Nisbet studies the role of communication and advocacy in policymaking and public affairs, focusing on debates over over climate change, energy, and sustainability. Among awards and recognition, Nisbet has been a Visiting Shorenstein Fellow on Press, Politics, and Public Policy at Harvard University's Kennedy School of Government, a Health Policy Investigator at the Robert Wood Johnson Foundation, and a Google Science Communication Fellow. In 2011, the editors at the journal Nature recommended Nisbet's research as "essential reading for anyone with a passing interest in the climate change debate," and the New Republic highlighted his work as a "fascinating dissection of the shortcomings of climate activism."
16 August, 2010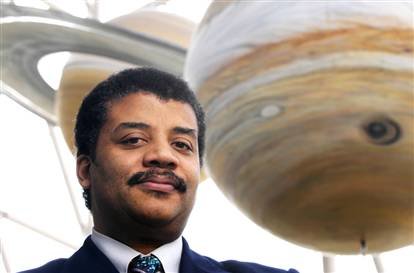 On TV, Neil deGrasse Tyson uses narrative to dramatize the importance of basic research.

Last week in San Diego, I participated on a panel at the BIO 2008 meetings that focused on the communication challenges facing the biotech industry. Organized by Richard Gallagher, editor of The Scientist magazine, a major topic of discussion were the challenges that industry faces in communicating the value of basic research. In fact, this was also a major topic at the Cal Tech seminar that I ran on Tuesday.

When the public thinks about "science," they generally think in terms of either medical advances or technology. They don't think immediately about basic research as the foundation for these achievements.

So if the public always has cures or wondrous new inventions at the top of mind, how do you communicate to them during tight budgetary battles the importance of maintaining and boosting funding for basic research?

As I suggested at the BIO panel and as I have recommended in conversations with various people from industry, one strategy for dramatizing the importance of basic research is to tell the stories of individual scientists in exciting and new ways, reaching publics across media platforms, specifically television and the Web.

A leading example of putting this strategy into action is Pfizer's recent launch of Think Science NOW. Here's how Pfizer summarizes the initiative in their press release:

---
Underscoring its commitment to scientific advancement, Pfizer Inc will launch Think Science Now, a science awareness program to promote exceptional researchers who have devoted their lives to unraveling the mysteries of biology, chemistry and human disease. A major part of the program will include profiles of outstanding scientists on Big Think, an interactive social networking site that provides information and discussions on politics, law, business and science as a means to support greater public dialogue on thought-provoking issues of national importance. Think Science Now (http://www.pfizer.com/thinksciencenow) seeks to help the public understand science by hearing directly from scientists who share their common values.

The program complements Pfizer's sponsorship of NOVA scienceNOW, a weekly television news magazine from the producers of NOVA that airs on PBS stations across the country beginning June 25, 2008 and includes a scientist profile in each episode.

"NOVA scienceNOW is devoted to the public understanding of scientific research. By profiling scientists on the show, viewers get a look into the personal and professional lives of scientists behind the cutting-edge research, and we hope they come away inspired by their stories," says Paula Apsell, senior executive producer of NOVA and NOVA scienceNOW. "We are thankful to Pfizer for their support of this summer's season and applaud their efforts to create online content that will further recognize scientists worldwide."

Think Science Now on Big Think will feature weekly profiles of exceptional scientists who will discuss their motivation to become scientists, share perspectives about their work, and make their advanced research uncomplicated and easy to understand. Pfizer will work with Big Think to identify company scientists and those from other research organizations who will be highlighted for the program. Think Science Now will feature one scientist for each of the weeks that NOVA scienceNOW airs on PBS this summer, including two of the scientists profiled on the show this season.
Related Articles
These modern-day hermits can sometimes spend decades without ever leaving their apartments.
700,000 Japanese people are thought to be hikikomori, modern-day hermits who never leave their apartments (BEHROUZ MEHRI/AFP/Getty Images).
Mind & Brain
A hikikomori is a type of person in Japan who locks themselves away in their bedrooms, sometimes for years.
This is a relatively new phenomenon in Japan, likely due to rigid social customs and high expectations for academic and business success.
Many believe hikikomori to be a result of how Japan interprets and handles mental health issues.
How a cataclysm worse than what killed the dinosaurs destroyed 90 percent of all life on Earth.
Credit: Ron Miller
Surprising Science
While the demise of the dinosaurs gets more attention as far as mass extinctions go, an even more disastrous event called "the Great Dying" or the "End-Permian Extinction" happened on Earth prior to that. Now scientists discovered how this cataclysm, which took place about 250 million years ago, managed to kill off more than 90 percent of all life on the planet.
A new study discovers the "liking gap" — the difference between how we view others we're meeting for the first time, and the way we think they're seeing us.
New acquaintances probably like you more than you think. (Photo by Simone Joyner/Getty Images)
Surprising Science
We tend to be defensive socially. When we meet new people, we're often concerned with how we're coming off. Our anxiety causes us to be so concerned with the impression we're creating that we fail to notice that the same is true of the other person as well. A new study led by Erica J. Boothby, published on September 5 in Psychological Science, reveals how people tend to like us more in first encounters than we'd ever suspect.
Big think's weekly newsletter.
Get smarter faster from the comfort of your inbox.
See our newsletter privacy policy
here
Most Popular
Most Recent
Big think's weekly newsletter.
Get smarter faster from the comfort of your inbox.
See our newsletter privacy policy
here
© Copyright 2007-2018 & BIG THINK, BIG THINK EDGE,
SMARTER FASTER trademarks owned by The Big Think, Inc. All rights reserved.