The Two Americas of Global Warming Perceptions: Concern Among Dems Rises While Republicans Remain Unmoved
Matthew C. Nisbet
Matthew C. Nisbet, Ph.D. is Associate Professor of Communication Studies, Public Policy, and Urban Affairs at Northeastern University. Nisbet studies the role of communication and advocacy in policymaking and public affairs, focusing on debates over over climate change, energy, and sustainability. Among awards and recognition, Nisbet has been a Visiting Shorenstein Fellow on Press, Politics, and Public Policy at Harvard University's Kennedy School of Government, a Health Policy Investigator at the Robert Wood Johnson Foundation, and a Google Science Communication Fellow. In 2011, the editors at the journal Nature recommended Nisbet's research as "essential reading for anyone with a passing interest in the climate change debate," and the New Republic highlighted his work as a "fascinating dissection of the shortcomings of climate activism."
16 August, 2010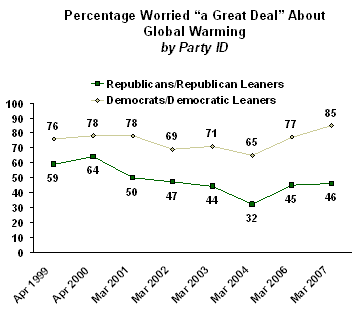 Gallup's annual Earth Day survey of public attitudes on the environment is out today, and the results are consistent with the patterns revealed across other surveys this year. In short, while 2006 featured a historic high in media attention to global warming and Al Gore scored publicity success with Inconvenient Truth, there still exists a "Two Americas" of public perceptions when it comes to the urgency of global warming.

As I have detailed here many times (1,2,3), the "Pandora's Box" frame of looming climate crisis continues to activate Democrats on the issue, but the powerful perceptual screen of partisanship drowns out the issue for the overwhelming majority of Republicans. As a key indicator, see the graph above. Worry about the issue among Dems climbed even higher over the past year to a record high of 85%, while Republicans remain unaffected at 46%.

Big think's weekly newsletter.
Get smarter faster from the comfort of your inbox.
See our newsletter privacy policy
here