The Oprah Effect: Activating Latent Supporters
16 August, 2010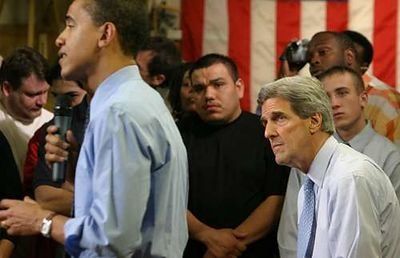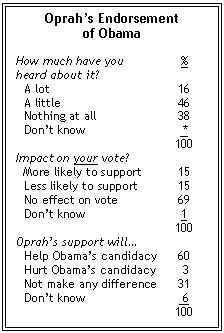 Why is this couple smiling? Because Oprah might be the friend they need in order to win ultra tight elections.
More than 8 million people watch Oprah's show and more than 2 million people read her magazine. Previous research shows that these heavy daytime TV viewers do not typically follow coverage of politics very closely and do not vote in presidential primaries. Indeed, the majority don't even vote in the general presidential election.
So what does it mean when Oprah comes out and endorses for president Barak Obama? The answer is that it is hard to say.
In today's political world, the country is so deeply and evenly divided, most people already know that they will vote their pre-existing partisan or ideological preference even before learning who the nominees will be. As was the case in 2004 the general election is likely to come down to a mobilization game rather than a traditional competition for swing voters. Why? There simply won't be many undecideds out there.
As Matthew Dowd describes the Bush strategy in the excellent documentary .
..So Goes the Nation
, the goals of contemporary campaigns should be very similar to the trends in marketing today. The question as he puts it, is whether you
persuade
people to switch from McDonalds to Burger King, or do you
activate and energize people
who already prefer Burger King to start going four times more often?
In 2004, instead of trying to persuade the few swing voters out there, Dowd and the Bush team focused their energies on micro-targeting and activating specific groups of citizens--such as Evangelicals--who might latently already identify with Bush. The goal was to get these latent supporters to vote for the first time, donate for the first time, volunteer on a campaign for the first time, and to turn out to vote for the first time.
Indeed, as US News reports, exit polls
showed
that 3.5 million white evangelicals who stayed home in 2000 cast ballots in 2004. Not only did the Bush team turn out more Evangelical voters, they also boosted their support, with 78 percent favoring Bush compared to 68 percent in 2000. This boost gained by activating latent supporters translated into nearly 6 million new evangelical votes, or twice Bush's margin of victory over Kerry nationally.
How does this relate to Oprah's endorsement of Obama? As USC history professor Steve Ross explains on a recent episode of NPR's
On the Media
, "If Oprah can get even one percent of the national population to vote who did not vote before, as we've seen from the last two elections, that one percent can make all the difference in the world." (audio above).
As a recent Pew
analysis
reports, Oprah's endorsement is not the only one that counts. Alan Greenspan and religious leaders rank higher among the total sample of adults surveyed. But in aggregate those figures are a bit misleading.
I read the Pew data differently. (So don't let the title at the top of that graph distract you.)
Oprah's endorsement is a huge exclamation point for Obama
because the diva's admirers have one major difference from those who might follow the lead of Greenspan or who might be mobilized at church: as heavy daytime talk show viewers, they are a demographic that barely pays attention to politics, much less votes.
By mobilizing these viewers, Oprah would be adding new people to the voter tallies and with a strong proportion favoring Obama. Moreover, the "Oprah Effect" spans beyond just her viewers. It's created the type of positive buzz that percolates into offices and interpersonal discussion. Not only that, but news of her endorsement has spread across the celebrity news outlets, giving one-sided promotional attention to Obama at places like Access Hollywood and
People
magazine, media zones that don't normally track the elections.
Electorally, it could prove to be a major
windfall gain
for Obama.
In today's political world, it's the law of small numbers.
Not only in the general election, but especially in the upcoming state primaries. If Oprah's viewers suddenly turn up to vote in these primaries, diluting the concentration of liberal party faithful who traditionally dominate the selection process, in some states, the 1% to 2% gain is what Obama might need to win.
Note: For more on celebrity news impacts on the election, see my discussion of
Fred Thompson.
Upstreamism advocate Rishi Manchanda calls us to understand health not as a "personal responsibility" but a "common good."
Sponsored by Northwell Health
Upstreamism tasks health care professionals to combat unhealthy social and cultural influences that exist outside — or upstream — of medical facilities.
Patients from low-income neighborhoods are most at risk of negative health impacts.
Thankfully, health care professionals are not alone. Upstreamism is increasingly part of our cultural consciousness.
It marks a major shift in the government's battle against the opioid crisis.
George Frey/Bloomberg via Getty Images
Politics & Current Affairs
The nation's sixth-largest drug distributor is facing criminal charges related to failing to report suspicious drug orders, among other things.
It marks the first time a drug company has faced criminal charges for distributing opioids.
Since 1997, nearly 222,000 Americans have died from prescription opioids, partly thanks to unethical doctors who abuse the system.
An innovation may lead to lifelike evolving machines.
Shogo Hamada/Cornell University
Surprising Science
Scientists at Cornell University devise a material with 3 key traits of life.
The goal for the researchers is not to create life but lifelike machines.
The researchers were able to program metabolism into the material's DNA.
The real Game of Thrones might be who best leverages the hit HBO show to shape political narratives.
Photo credit: Mario Tama / Getty Images
Politics & Current Affairs
Sen. Elizabeth Warren argues that Game of Thrones is primarily about women in her review of the wildly popular HBO show.
Warren also touches on other parallels between the show and our modern world, such as inequality, political favoritism of the elite, and the dire impact of different leadership styles on the lives of the people.
Her review serves as another example of using Game of Thrones as a political analogy and a tool for framing political narratives.
Big think's weekly newsletter.
Get smarter faster from the comfort of your inbox.
See our newsletter privacy policy
here
Most Popular
Most Recent
Big think's weekly newsletter.
Get smarter faster from the comfort of your inbox.
See our newsletter privacy policy
here
© Copyright 2007-2019 & BIG THINK, BIG THINK EDGE,
SMARTER FASTER trademarks owned by The Big Think, Inc. All rights reserved.