Big ideas.
Once a week.
Subscribe to our weekly newsletter.
The Opponent: How Bill McKibben Changed Environmental Politics and Took on the Oil Patch
09 July, 2013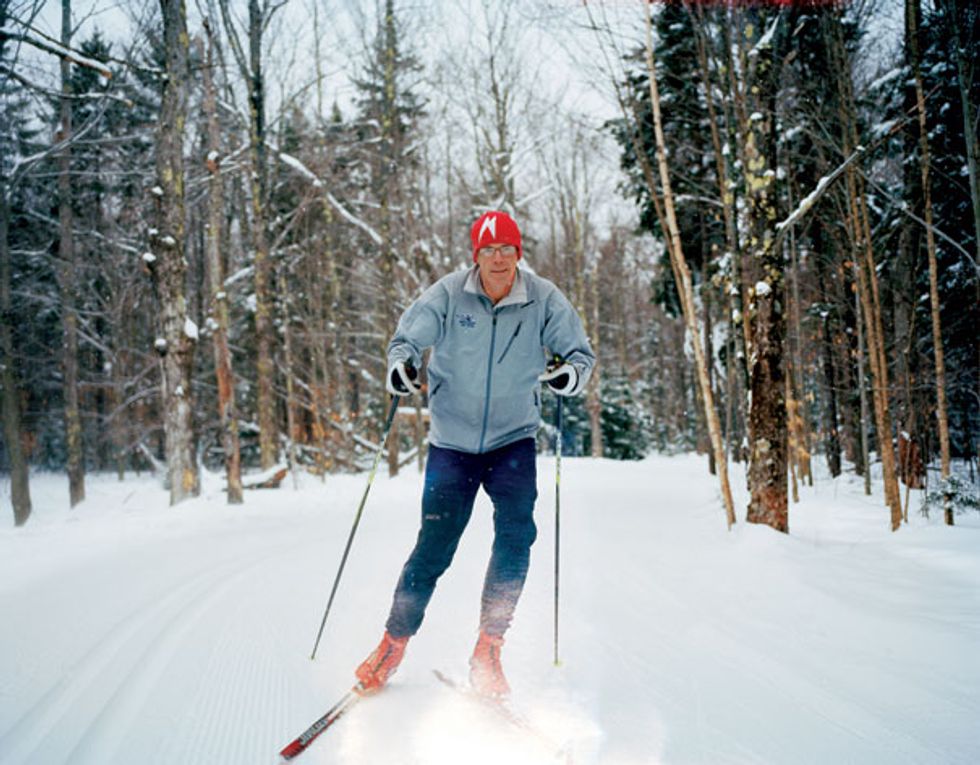 For the May/June issue of Canada's Policy Options magazine, I contributed an article adapted from my Spring 2013 Shorenstein Center paper examining the career of environmental writer and activist Bill McKibben.  With anticipation building over Obama's pending decision on the Keystone XL pipeline, the article at Policy Options is the first in the Canadian press to focus on McKibben and the movement against oil sands development.  Other articles in the issue focus on the implications of climate change for the Canadian arctic.
---
Here's how the article opens:
On a cold day this past February on the National Mall in Washington, DC, an estimated 30,000 people gathered to protest the Keystone XL pipeline, the controversial project intended to link the Alberta oil sands in Canada with Gulf of Mexico refineries and distribution centres in the United States. "All I ever wanted to see was a movement of people to stop climate change," declared activist Bill McKibben, addressing the crowd from a stage. "And now," he told them, "I've seen it."
McKibben's oil patch opponents in Canada may have derided the size of the crowd as smaller than expected, but the turnout was only a partial demonstration of the power this writer turned environmental activist has amassed against them. Through his writing and his grassroots activist organization 350.org, targeting fossil fuel industries, McKibben has emerged as a major obstacle for those in the Canadian government and oil sands industry who see the pipeline as key to getting the Alberta product to global markets.
He has melded his long, personal struggle to sound the alarm against the perils of climate change with pioneering methods of social protest, combining traditional face-to-face organizing strategies with the potency of social media and the storytelling ability of a bestselling author. In the process, McKibben has become the most visible environmental activist in the United States, redefining the way environmental groups practise politics and extending his influence into one of the biggest issues in Canada.
As I do in the Shorenstein paper, I discuss McKibben in the context of a new class of prominent public intellectual.  McKibben in particular has expertly navigated today's fragmented and ideologically selective media system to promote his ideas and political goals.  Here's the relevant section from the article.
Knowledge journalists in popular discussion remain loosely identified as celebrity authors who trade in big ideas, coin trends, drive book sales and inspire movements. Leading contemporary examples include the New York Times columnist David Brooks (author of The Social Animal), CNN/Timemagazine's Fareed Zakaria (The Post-American World), the Nation's Naomi Klein (The Shock Doctrine) and University of California journalism professor Michael Pollan (The Omnivore's Dilemma). Yet the members of this new class of public intellectuals are also criticized for imposing their point of view; for lacking specialized credentials, or for reducing explanations to a single idea, theory or field. Sometimes, as in McKibben's case, they are accused of blurring the lines between journalism and activism.
In the digital media landscape, however, highly motivated individuals can consume, contribute, recommend, share and comment on their preferred topics across preferred media outlets and platforms. This makes it very easy for an ideologically minded audience to follow only sites or blogs that reflect and confirm their opinions. They often prefer writers who advocate for their cause.
Meanwhile, specialized, not- for-profit news organizations, such as InsideClimateNews.org, which won a Pulitzer Prize for its coverage of a 2010 pipeline oil spill in Michigan's Kalamazoo River, are emerging as important complements to traditional news organizations. Yet these foundation-funded operations also raise new questions about the boundaries between reporting and advocacy. One of the main backers of InsideClimateNews, for example, is the Rockefeller Brothers Fund, which describes its mission as advancing "social change that contributes to a more just, sustainable, and peaceful world." It also funds McKibben's 350.org.
McKibben has masterfully navigated this online media ecosystem through frequent contributions to the Huffington Post, TomPaine.com, Grist. org and other left-leaning Web sites. Similarly, his efforts on behalf of 350. org are frequently covered and discussed on these outlets and others such as InsideClimateNews and Mother Jones magazine. Over his career, McKibben has also been a regular contributor to a host of environmental, outdoors and religious magazines. The fragmented nature of online news that leads news organizations to focus on driving traffic to specific stories by way of search engines, aggregators and social networks heightens the prominence of popular knowledge journalists like McKibben.
Similarly, these dynamics can transform the original analysis or perspective offered by knowledge journalists from a piece of journalism into a noteworthy, if pseudo, event. McKibben has been able to use niche media to engage readers already concerned about climate change, even as it becomes increasingly difficult to capture the wider public's attention for the problem, or to shift conservative-leaning news consumers away from media sources in the other ideological silo that reinforce their doubts about the science of climate change.
Here's the conclusion from the Policy Options article, building on those offered in the original Shorenstein Center paper.
Having spent months studying McKibben's books, writing and career, I hold a deep admiration for his ability to convey the urgency of climate change and to articulate a better approach to life that includes more time for family, reflection and nature. His work as an activist is equally impressive. From his start in 2006, working with a handful of college students, to his leadership today of 350. org, McKibben has helped shift the US environmental movement from an almost exclusive focus on insider lobbying, legal strategies and think-tank-style influence to focus greater resources on grassroots organizing and mobilization.
Yet as a public intellectual, McKibben has failed to offer pragmatic and achievable policy ideas. Instead, reflecting his intellectual roots in the deep ecology movement, McKibben's goal has been to generate a mass consciousness in support of limiting economic growth and consumption, with the hope of shifting the United States toward localized economies, food systems and "soft" energy sources. I wonder how many of the people turning out to protest the Keystone XL pipeline, working on behalf of divestment, or following along on Twitter and Facebook are aware of McKibben's long standing vision of societal change, detailed first in The End of Nature and most recently in Deep Economy and Eaarth.
In this pastoral future free of consumerism or material ambition, Americans would rarely travel and experience the world instead via the Internet; grow much of their own food; power their communities through solar and wind; and divert their wealth to developing countries. McKibben's romantic vision of a New-England-style utopia seems to have blinded him to alternative approaches that may be not only more effective at curbing greenhouse gas emissions and providing for the material needs of large, diverse populations, but also more politically probable.
McKibben is perhaps at even greater fault for downplaying the need for "hard" technological approaches like nuclear energy or carbon capture and storage, and focusing instead on "soft" technologies like solar, wind and efficiency. His favoured technologies are unlikely to alter the dynamics of fossil-fuel energy use and dependency worldwide. Consider that globally, an estimated 1,200 coal power plants are scheduled for construction, three-quarters of them in China and India. Compounding the challenge, according to University of Manitoba energy analyst Vaclav Smil in his 2010 book, solar and wind energy sources are unlikely to be able to overcome the problems of intermittency, storage capacity and cost, and to be scalable in time to compete with coal power worldwide.
In other words, innovative technologies are needed that can not only power the mega-cities of Asia but also limit emissions from the thousands of coal plants already in place and scheduled to be built around the world. In advocating for nuclear energy, even McKibben's long-time inspiration Hansen is blunt, saying on his Web site in 2011: "Suggesting that renewables will let us phase rapidly off fossil fuels in the United States, China, India, or the world as a whole is almost the equivalent of believing in the Easter Bunny and Tooth Fairy."
In this case, it is useful to see the contrast between McKibben and evironmentalists like Stewart Brand and Mark Lynas, who have urged their peers to adopt a new outlook on technological innovation. Sharing many of the same political aims as McKibben over the course of his career, Lynas has developed a very different perspective about technology and humans' relation to nature. In his most recent book, The God Species: How the Planet Can Survive the Age of Humans, Lynas argues that "we cannot afford to foreclose powerful technological options like nuclear, synthetic biology and [genetic engineering] because of Luddite prejudice and ideological inertia."
In a recent essay titled "Wicked Polarization," Michael Shellenberger and Ted Nordhaus describe progress on climate change and similarly complex social problems as obstructed by experts and public intellectuals who have "come to frame virtually every national problem as a consequence of the irrationality, ignorance, and immorality of the political Other." In this light, arguments for action on climate change that evoke idealized visions of small-scale, hyperefficient agrarian communities powered by wind and solar reflect the priorities and values of environmentalists like McKibben, rather than a pragmatic set of choices designed to effectively manage the problem and align a diversity of political interests in support of compromise.
"The problem is not that we are in a post-truth age but rather that we have not learned to adapt to it," Shellenberger and Nordhaus write. "Perhaps a good place to begin is by recognizing our own biases, perspectives, and agendas and attempting to hold them more lightly. Bringing an end to our ideological arms race will ultimately require that we force partisans out of their comfort zone by redefining those problems in ways to which partisans do not already know the answers."
As a complement to activists like McKibben — and to the powerful voice of his oil patch opponents — we urgently need to bridge these polarized narratives around climate change. In our digital, algorithmic media culture we must find ways to hear each other, to listen as well as test our assumptions. And that begins by accepting that total victory for a single point of view is unachievable. "There is no kumbaya moment," argued New York University's Jay Rosen in a 2012 speech outlining ways to improve media coverage of wicked problems like climate change. "You never get everyone on the same page. What's possible is a world where different stakeholders 'get' that the world looks different to people who hold different stakes." The question that the Bill McKibbens pose to us, then, is not whether our fate lies in a choice between a mythologized pastoral past and apocalyptic visions of the future. It is whether our new media culture can be a path to the understanding of others, or force us even deeper into our ideological bunkers.
See Also:
Nisbet, M.C. (2013). Nature's Prophet: Bill McKibben as Journalist, Public Intellectual, and Activist. Joan Shorenstein Center for Press, Politics, and Public Policy.  Discussion Paper Series, D-78 March.  Cambridge, MA: Kennedy School of Government, Harvard University.
Revkin, A. (2013, March 7). A Communications Scholar Analyzes Bill McKibben's Path on Climate. Dot Earth blog, The New York Times.com.
"You dream about these kinds of moments when you're a kid," said lead paleontologist David Schmidt.
Surprising Science
The triceratops skull was first discovered in 2019, but was excavated over the summer of 2020.
It was discovered in the South Dakota Badlands, an area where the Triceratops roamed some 66 million years ago.
Studying dinosaurs helps scientists better understand the evolution of all life on Earth.
In ancient Greece, the Olympics were never solely about the athletes themselves.
Coronavirus
Because of a dramatic rise in COVID-19 cases, the opening and closing ceremonies of the 2021 Olympics will unfold in a stadium absent the eyes, ears and voices of a once-anticipated 68,000 ticket holders from around the world.
Events during the intervening days will likewise occur in silent arenas missing the hundreds of thousands of spectators who paid US$815 million for their now-useless tickets.
After 48 years teaching classics, I can't help but wonder what the Greeks – who invented the Games nearly 3,000 years ago, in 776 B.C. – would make of such a ghostly version of their Olympic festival.
In many ways, they'd view the prospect as absurd.
In ancient Greece, the Olympics were never solely about the athletes themselves; instead, the heart and soul of the festival was the experience shared by all who attended. Every four years, athletes and spectators traveled from far-flung corners of the Greek-speaking world to Olympia, lured by a longing for contact with their compatriots and their gods.
In the shadow of dreams
For the Greeks, during five days in the late-summer heat, two worlds miraculously merged at Olympia: the domain of everyday life, with its human limits, and a supernatural sphere from the days superior beings, gods and heroes populated Earth.
Greek athletics, like today's, plunged participants into performances that pushed the envelope of human ability to its breaking point. But to the Greeks, the cauldron of competition could trigger revelations in which ordinary mortals might briefly intermingle with the extraordinary immortals.
The poet Pindar, famous for the victory songs he composed for winners at Olympia, captured this sort of transcendent moment when he wrote, "Humans are creatures of a day. But what is humankind? What is it not? A human is just the shadow of a dream – but when a flash of light from Zeus comes down, a shining light falls on humans and their lifetime can be sweet as honey."
However, these epiphanies could occur only if witnesses were physically present to immerse themselves – and share in – the spine-tingling flirtation with the divine.
Simply put, Greek athletics and religious experience were inseparable.
At Olympia, both athletes and spectators were making a pilgrimage to a sacred place. A modern Olympics can legitimately take place in any city selected by the International Olympic Committee. But the ancient games could occur in only one location in western Greece. The most profoundly moving events didn't even occur in the stadium that accommodated 40,000 or in the wrestling and boxing arenas.
Instead, they took place in a grove called the Althis, where Hercules is said to have first erected an altar, sacrificed oxen to Zeus and planted a wild olive tree. Easily half the events during the festival engrossed spectators not in feats like discus, javelin, long jump, foot race and wrestling, but in feasts where animals were sacrificed to gods in heaven and long-dead heroes whose spirits still lingered.
On the evening of the second day, thousands gathered in the Althis to reenact the funeral rites of Pelops, a human hero who once raced a chariot to win a local chief's daughter. But the climactic sacrifice was on the morning of the third day at the Great Altar of Zeus, a mound of plastered ashes from previous sacrifices that stood 22 feet tall and 125 feet around. In a ritual called the hecatomb, 100 bulls were slaughtered and their thigh bones, wrapped in fat, burned atop the altar so that the rising smoke and aroma would reach the sky where Zeus could savor it.
No doubt many a spectator shivered at the thought of Zeus hovering above them, smiling and remembering Hercules' first sacrifice.
Just a few yards from the Great Altar another, more visual encounter with the god awaited. In the Temple of Zeus, which was erected around 468 to 456 B.C., stood a colossal image, 40 feet high, of the god on a throne, his skin carved from ivory and his clothing made of gold. In one hand he held the elusive goddess of victory, Nike, and in the other a staff on which his sacred bird, the eagle, perched. The towering statue was reflected in a shimmering pool of olive oil surrounding it.
During events, the athletes performed in the nude, imitating heroic figures like Hercules, Theseus or Achilles, who all crossed the dividing line between human and superhuman and were usually represented nude in painting and sculpture.
The athletes' nudity declared to spectators that in this holy place, contestants hoped to reenact, in the ritual of sport, the shudder of contact with divinity. In the Althis stood a forest of hundreds of nude statues of men and boys, all previous victors whose images set the bar for aspiring newcomers.
"There are a lot of truly marvelous things one can see and hear about in Greece," the Greek travel writer Pausanias noted in the second century B.C., "but there is something unique about how the divine is encountered at … the games at Olympia."
Communion and community
The Greeks lived in roughly 1,500 to 2,000 small-scale states scattered across the Mediterranean and Black Sea regions.
Since sea travel in summertime was the only viable way to cross this fragile geographical web, the Olympics might entice a Greek living in Southern Europe and another residing in modern-day Ukraine to interact briefly in a festival celebrating not only Zeus and Heracles but also the Hellenic language and culture that produced them.
Besides athletes, poets, philosophers and orators came to perform before crowds that included politicians and businessmen, with everyone communing in an "oceanic feeling" of what it meant to be momentarily united as Greeks.
Egisto Sani/flickr, CC BY-NC
Now, there's no way we could explain the miracle of TV to the Greeks and how its electronic eye recruits millions of spectators to the modern games by proxy. But visitors to Olympia engaged in a distinct type of spectating.

The ordinary Greek word for someone who observes – "theatês" – connects not only to "theater" but also to "theôria," a special kind of seeing that requires a journey from home to a place where something wondrous unfolds. Theôria opens a door into the sacred, whether it's visiting an oracle or participating in a religious cult.
Attending an athletic-religious festival like the Olympics transformed an ordinary spectator, a theatês, into a theôros – a witness observing the sacred, an ambassador reporting home the wonders observed abroad.
It's hard to imagine TV images from Tokyo achieving similar ends.
No matter how many world records are broken and unprecedented feats accomplished at the 2020 games, the empty arenas will attract no gods or genuine heroes: The Tokyo games are even less enchanted than previous modern games.
But while medal counts will confer fleeting glory on some nations and disappointing shame on others, perhaps a dramatic moment or two might unite athletes and TV viewers in an oceanic feeling of what it means to be "kosmopolitai," citizens of the world, celebrants of the wonder of what it means to be human – and perhaps, briefly, superhuman as well.
The ancient Greeks wouldn't recognize some aspects of the modern Olympics.
Vincent Farenga, Professor of Classics and Comparative Literature, USC Dornsife College of Letters, Arts and Sciences
This article is republished from The Conversation under a Creative Commons license. Read the original article.

A new brain imaging study explored how different levels of the brain's excitatory and inhibitory neurotransmitters are linked to math abilities.
Mind & Brain
Glutamate and GABA are neurotransmitters that help regulate brain activity.
Scientists have long known that both are important to learning and neuroplasticity, but their relationship to acquiring complex cognitive skills like math has remained unclear.
The new study shows that having certain levels of these neurotransmitters predict math performance, but that these levels switch with age.
Why do roughly one in five people find math especially difficult?
You might blame teaching methods, which some argue explains why the U.S. lags behind other countries in standardized math test scores. You could point to math anxiety, which affects about 20 percent of students and 25 percent of teachers, according to surveys. And there are also medical conditions that make math difficult, such as dyscalculia, a learning disability that disrupts the normal development of arithmetic skills.
But another explanation centers on neurotransmitters. In a new study published in PLOS Biology, researchers explored how the brain's levels of GABA and glutamate relate to math abilities over time in students of varying ages. The results showed that levels of these neurotransmitters can predict students' performance on math tests. However, this relationship seems to flip as people get older.
GABA and glutamate are responsible for regulating brain activity. In the mature brain, GABA is the brain's main inhibitory neurotransmitter, helping to block impulses between nerve cells in the brain, which can calm feelings of stress, anxiety, or fear. GABA is made from glutamate, the brain's major excitatory neurotransmitter that helps send signals throughout the central nervous system.
Researchers have long known that these neurotransmitters play crucial roles in learning, development, and neuroplasticity. That is partly because they are thought to help trigger developmental windows (or "sensitive periods") during which neural systems become more plastic and better able to acquire certain cognitive skills.
"Importantly, sensitive periods vary for different functions, with relatively simple abilities (e.g., sensorimotor integration) occurring earlier in development, while the sensitive period for acquiring more complex cognitive functions extends into the third decade of life," the researchers wrote.
GABA, glutamate, and math
Still, the exact relationship between GABA, glutamate, and complex cognitive functions has remained unclear. The new study explored that relationship by focusing on associations between the neurotransmitters and math abilities, which "provides a unique cognitive model to examine these questions due to its protracted skill acquisition period that starts already from early childhood and can continue for nearly two decades," the researchers wrote.
For the study, the researchers measured levels of GABA and glutamate in the left intraparietal sulcus (IPS) of 255 students, ranging from primary school to college. The participants completed a math test as their brains were imaged. About a year and a half later, the participants repeated the same process.
"The longitudinal design allowed us to further examine whether neurotransmitter concentration is linked to MA [mathematical abilities] as well as predict MA in the future," the researchers wrote. "Crucially, adopting this design allowed us to discern the selective effect of glutamate and GABA in response to natural (i.e., learning in school) rather than artificial environmental stimulation, thus allowing us to test the knowledge gained from lab-based experiments in high ecological settings."
The results suggest that GABA and glutamate play an important role in math abilities, but that the dynamic switches with age. For the young participants, higher GABA levels in the IPS were associated with higher scores on math tests. The opposite was observed among older students: higher glutamate levels correlated with higher scores. Both results held true on subsequent math tests.
Although the study sheds light on how neurotransmitter levels at different stages of development contribute to learning some cognitive skills, like math, the researchers noted that acquiring other skills may involve different processes.
"Our findings may also highlight a general principle that the developmental dynamics of regional excitation and inhibition levels in regulating the sensitive period and plasticity of a given high-level cognitive function (i.e., MA) may be different compared to another high-level cognitive function (i.e., general intelligence) that draws on similar, albeit not identical, cognitive and neural mechanisms," they wrote.
Scroll down to load more…