The Onion Pokes Fun at Science Bloggers & Commenters
Matthew C. Nisbet
Matthew C. Nisbet, Ph.D. is Associate Professor of Communication Studies, Public Policy, and Urban Affairs at Northeastern University. Nisbet studies the role of communication and advocacy in policymaking and public affairs, focusing on debates over over climate change, energy, and sustainability. Among awards and recognition, Nisbet has been a Visiting Shorenstein Fellow on Press, Politics, and Public Policy at Harvard University's Kennedy School of Government, a Health Policy Investigator at the Robert Wood Johnson Foundation, and a Google Science Communication Fellow. In 2011, the editors at the journal Nature recommended Nisbet's research as "essential reading for anyone with a passing interest in the climate change debate," and the New Republic highlighted his work as a "fascinating dissection of the shortcomings of climate activism."
16 August, 2010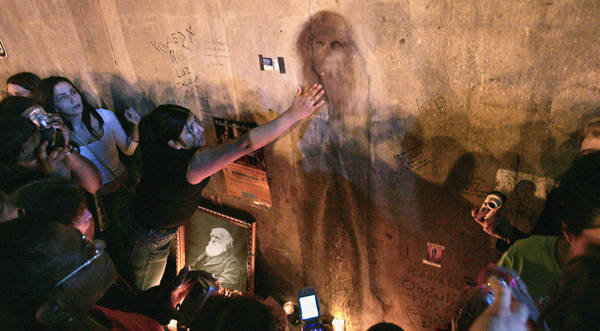 "Behold the power and glory of the scientific method!," quotes The Onion in a satirical spoof of science enthusiasts flocking to a wall stain of the image of Darwin (above.) The parody plays on the type of religious-like hero worship of Darwin and hardline atheist scientists that is common to some of the discussion threads here at ScienceBlogs.

As the Onion article hilariously describes of the sacred image:


Despite the enthusiasm the so-called "Darwin Smudge" has generated among the evolutionary faithful, disagreement remains as to its origin. Some believe the image is actually closer to the visage of Stephen Jay Gould, longtime columnist for Natural History magazine and originator of the theory of punctuated equilibrium, and is therefore proof of rapid cladogenesis. A smaller minority contend it is the face of Carl Sagan, and should be viewed as a warning to those nonbelievers who have not yet seen his hit PBS series Cosmos: A Personal Voyage.

Still others have attempted to discredit the miracle entirely, claiming that there are several alternate explanations for the appearance of the unexplained discoloration.

"It's a stain on a wall, and nothing more," said the Rev. Clement McCoy, a professor at Oral Roberts University and prominent opponent of evolutionary theory. "Anything else is the delusional fantasy of a fanatical evolutionist mindset that sees only what it wishes to see in the hopes of validating a baseless, illogical belief system. I only hope these heretics see the error of their ways before our Most Powerful God smites them all in His vengeance."
The stories we tell define history. So who gets the mic in America?
Videos
History is written by lions. But it's also recorded by lambs.
In order to understand American history, we need to look at the events of the past as more prismatic than the narrative given to us in high school textbooks.
Including different voices can paint a more full and vibrant portrait of America. Which is why more walks of American life can and should be storytellers.

A glass of juice has as much sugar, ounce for ounce, as a full-calorie soda. And those vitamins do almost nothing.
popular
Quick: think back to childhood (if you've reached the scary clown you've gone too far). What did your parents or guardians give you to keep you quiet? If you're anything like most parents, it was juice. But here's the thing: juice is bad for you. 
Orangutans join humans and bees in a very exclusive club
Surprising Science
Orangutan mothers wait to sound a danger alarm to avoid tipping off predators to their location
It took a couple of researchers crawling around the Sumatran jungle to discover the phenomenon
This ability may come from a common ancestor
Big think's weekly newsletter.
Get smarter faster from the comfort of your inbox.
See our newsletter privacy policy
here
Most Popular
Most Recent
Big think's weekly newsletter.
Get smarter faster from the comfort of your inbox.
See our newsletter privacy policy
here
© Copyright 2007-2018 & BIG THINK, BIG THINK EDGE,
SMARTER FASTER trademarks owned by The Big Think, Inc. All rights reserved.