The Onion Pokes Fun at Science Bloggers & Commenters
16 August, 2010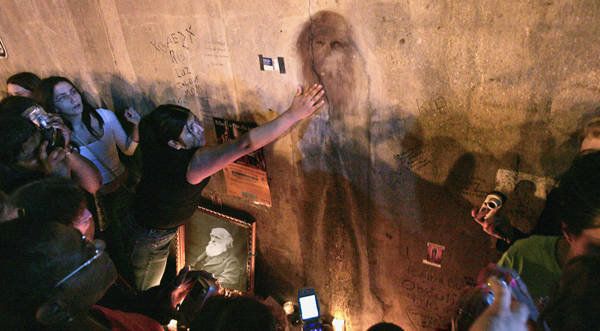 "Behold the power and glory of the scientific method!," quotes The Onion in a satirical spoof of science enthusiasts flocking to a wall stain of the image of Darwin (above.) The parody plays on the type of religious-like hero worship of Darwin and hardline atheist scientists that is common to some of the discussion threads here at ScienceBlogs.

As the Onion article hilariously describes of the sacred image:


Despite the enthusiasm the so-called "Darwin Smudge" has generated among the evolutionary faithful, disagreement remains as to its origin. Some believe the image is actually closer to the visage of Stephen Jay Gould, longtime columnist for Natural History magazine and originator of the theory of punctuated equilibrium, and is therefore proof of rapid cladogenesis. A smaller minority contend it is the face of Carl Sagan, and should be viewed as a warning to those nonbelievers who have not yet seen his hit PBS series Cosmos: A Personal Voyage.

Still others have attempted to discredit the miracle entirely, claiming that there are several alternate explanations for the appearance of the unexplained discoloration.

"It's a stain on a wall, and nothing more," said the Rev. Clement McCoy, a professor at Oral Roberts University and prominent opponent of evolutionary theory. "Anything else is the delusional fantasy of a fanatical evolutionist mindset that sees only what it wishes to see in the hopes of validating a baseless, illogical belief system. I only hope these heretics see the error of their ways before our Most Powerful God smites them all in His vengeance."
Research in plant neurobiology shows that plants have senses, intelligence and emotions.
Getty Images
Surprising Science
The field of plant neurobiology studies the complex behavior of plants.
Plants were found to have 15-20 senses, including many like humans.
Some argue that plants may have awareness and intelligence, while detractors persist.
Most people think human extinction would be bad. These people aren't philosophers.
Shutterstock
Politics & Current Affairs
A new opinion piece in The New York Times argues that humanity is so horrible to other forms of life that our extinction wouldn't be all that bad, morally speaking.
The author, Dr. Todd May, is a philosopher who is known for advising the writers of The Good Place.
The idea of human extinction is a big one, with lots of disagreement on its moral value.
Since the idea of locality is dead, space itself may not be an aloof vacuum: Something welds things together, even at great distances.

Videos
Realists believe that there is an exactly understandable way the world is — one that describes processes independent of our intervention. Anti-realists, however, believe realism is too ambitious — too hard. They believe we pragmatically describe our interactions with nature — not truths that are independent of us.
In nature, properties of Particle B may depend on what we choose to measure or manipulate with Particle A, even at great distances.
In quantum mechanics, there is no explanation for this. "It just comes out that way," says Smolin. Realists struggle with this because it would imply certain things can travel faster than light, which still seems improbable.