The Daily Show: Obama's Total Primetime TV Blitz
16 August, 2010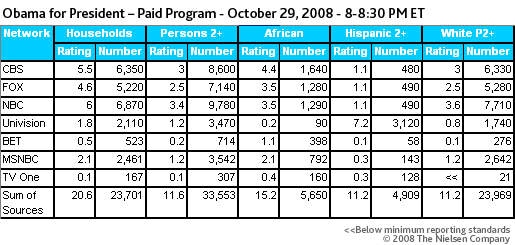 Obama took over the airwaves Wednesday night, hitting most of the important audience groups. According to Nielsen (above), Obama's 30 minute 8pm infomercial which aired on CBS, FOX, NBC, Univision, BET, MSNBC, and TV One drew a combined 33.5 million viewers. His later taped appearance on The Daily Show registered another 3.6 million hard to reach young viewers, a record audience for the program.

Obama even tied into the 11pm local news and cable news broadcast, with many stations and networks cutting live to his first joint appearance with Bill Clinton. CNN video below.

McCain attempts to manage the same type of hard to reach audiences with a just announced appearance on Saturday Night Live this weekend.





A new study estimated the untapped potential of wind energy across Europe.
Pixabay
Surprising Science
A new report calculated how much electricity Europe could generate if it built onshore wind farms on all of its exploitable land.
The results indicated that European onshore wind farms could supply the whole world with electricity from now until 2050.
Wind farms come with a few complications, but the researchers noted that their study was meant to highlight the untapped potential of the renewable energy source in Europe.
French newspapers report that the trial hasn't lived up to expectations.
Image source: Charly Triballeau / AFP / Getty Images
Technology & Innovation
The French government initially invested in a rural solar roadway in 2016.
French newspapers report that the trial hasn't lived up to expectations.
Solar panel "paved" roadways are proving to be inefficient and too expensive.
You want one. Now you may be able to survive one.
Technology & Innovation
Cats live in a quarter of Western households.
Allergies to them are common and can be dangerous.
A new approach targets the primary trouble-causing allergen.