Social Progress vs. Endless War: Why do Atheists and Humanists Disagree?
Matthew C. Nisbet
Matthew C. Nisbet, Ph.D. is Associate Professor of Communication Studies, Public Policy, and Urban Affairs at Northeastern University. Nisbet studies the role of communication and advocacy in policymaking and public affairs, focusing on debates over over climate change, energy, and sustainability. Among awards and recognition, Nisbet has been a Visiting Shorenstein Fellow on Press, Politics, and Public Policy at Harvard University's Kennedy School of Government, a Health Policy Investigator at the Robert Wood Johnson Foundation, and a Google Science Communication Fellow. In 2011, the editors at the journal Nature recommended Nisbet's research as "essential reading for anyone with a passing interest in the climate change debate," and the New Republic highlighted his work as a "fascinating dissection of the shortcomings of climate activism."
12 October, 2010
Tension was evident as humanists and atheists gathered this weekend, reported Mitchell Landsberg at the Los Angeles Times.  At issue among the attendees at the annual conference of the Council for Secular Humanism was how humanists and atheists should participate as citizens in society. 
---
On one side, the so-called accommodationists argue that humanists should focus their energies on serving with other societal leaders in confronting common challenges such as climate change, poverty, or failing schools.  On the other side, confrontationists tend to argue instead for go-it-alone criticism and ridicule of religion at every opportunity, a bunker mentality that sees atheists as losing a war against what they frequently refer to as religious idiots, fanatics, and nitwits.
At the conference in Los Angeles, a panel on the topic featured journalist Chris Mooney (accommodationist), blogger-biologist PZ Myers (confrontationist), science educator Eugenie Scott (accommodationist), and author-physicist Victor Stenger (confrontationist) (see picture below from left to right).
As Mooney described, the two camps in the debate share "99% of our intellectual DNA."  How is it then that adherents to either side view the issues and the stakes so very differently?
Mapping the Social Factors that Lead to Diverging Perspectives and Goals
The difference turns on a number of likely sociological influences, factors that could be mapped in a survey study of the humanist community and its leadership. 
To start, contrary to how the division is characterized at panels, blogs, or in news coverage, most humanists do not fit neatly into either camp.  In other words, perspectives on this issue are not binary.  Instead, as a dependent measure, multiple items could be developed that validly and reliably placed respondents in the survey on a continuum from "strong accommodation" to "strong confrontation."
To predict where an individual might fall on this scale, a number of important independent variables should be examined.  These include:
Personality measures such as close mindedness/open mindedness, dogmatism, authoritarianism, and need for cognition. One hypothesis to test is that confrontationists tend to score higher on close mindedness, dogmatism, and authoritarianism while accommodationists tend to score lower on need for cognition.
Gender also likely plays a role.  Confrontationist authors and bloggers are an almost exclusively male club.  What is it about being a male that correlates with strong confrontationist commitment?
Related to personality and gender is personal experience.  What has been the individual's experience with religion? Were they formerly religious and converted to non-belief?  What sect or tradition did they convert from? Or were they raised a non-believer?  What was the predisposition of their parents?
Educational background such as field also likely matters.  Anecdotal  evidence would suggest that individuals in biology, for example, tend to adhere to the confrontation end of the scale whereas individuals in philosophy might lean more accommodationist. If so, why?
Related to educational field is profession.  One hypothesis is that individuals who have formal leadership positions in organizations or who work directly on policy issues are likely to score in the direction of accommodationism, based on their experience in brokering relationships and partnerships with a diversity of others.
Also connected might be an individual's bonding and bridging social capital, as measured by their group membership and participation.  Do individuals only tend to participate in humanist and atheist groups (bonding capital) or do they also participate across social settings where they encounter others from different religious backgrounds and world views (bridging capital)?  Bridging social capital is likely to be correlated with accommodationism.
Related to profession and group membership is the composition of an individual's social network, particularly the diversity of their core and weak ties.  Accommodationists are likely to have a more diverse set of both core and weak ties, which research finds often moderates extremity of opinion and views.
Similar to the influence of social and discussion networks are an individual's media and information sources.  A greater diversity of media and information sources is likely to be correlated with accommodationism.
These are all possible measures and research questions to explore, getting at the difference in views among individuals who otherwise share many common traits and experiences.
What do readers think?  Are there other factors that might be important to measure and examine?
See also:
Are Atheists Better at Blogging?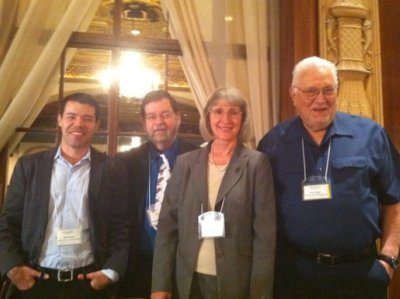 Related Articles
These five main food groups are important for your brain's health and likely to boost the production of feel-good chemicals.
Infographics show the classes and anxieties in the supposedly classless U.S. economy.
What is the middle class now, anyway? (JEWEL SAMAD/AFP/Getty Images)
Politics & Current Affairs
For those of us who follow politics, we're used to commentators referring to the President's low approval rating as a surprise given the U.S.'s "booming" economy. This seeming disconnect, however, should really prompt us to reconsider the measurements by which we assess the health of an economy. With a robust U.S. stock market and GDP and low unemployment figures, it's easy to see why some think all is well. But looking at real U.S. wages, which have remained stagnant—and have, thus, in effect gone down given rising costs from inflation—a very different picture emerges. For the 1%, the economy is booming. For the rest of us, it's hard to even know where we stand. A recent study by Porch (a home-improvement company) of blue-collar vs. white-collar workers shows how traditional categories are becoming less distinct—the study references "new-collar" workers, who require technical certifications but not college degrees. And a set of recent infographics from CreditLoan capturing the thoughts of America's middle class as defined by the Pew Research Center shows how confused we are.
Big think's weekly newsletter.
Get smarter faster from the comfort of your inbox.
See our newsletter privacy policy
here
Most Popular
Most Recent
Big think's weekly newsletter.
Get smarter faster from the comfort of your inbox.
See our newsletter privacy policy
here
© Copyright 2007-2018 & BIG THINK, BIG THINK EDGE,
SMARTER FASTER trademarks owned by The Big Think, Inc. All rights reserved.