Sizzle? Call for Papers on Documentary Film and Its Impacts
16 August, 2010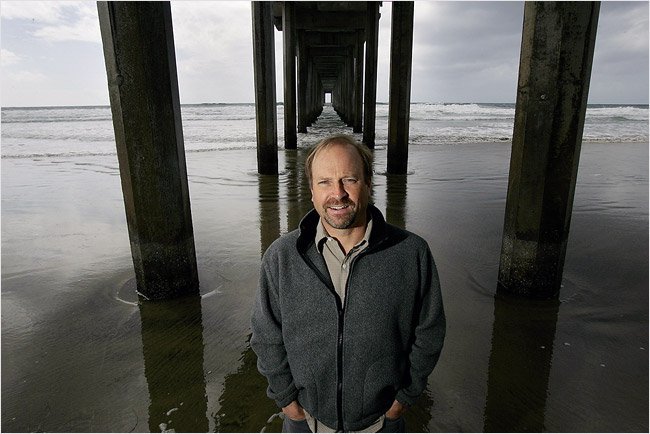 Director Randy Olson's Sizzle: A Global Warming Comedy has already shaped the agenda and framed the discussion among scientists and the science media, a key impact of a successful documentary film.

I haven't had a chance to weigh in yet on the blog debate that has been raging over Sizzle. Needless to say, it's already one of the most talked about science-related documentaries of the year, even though very few people have actually even seen it. I will be writing a column about the film for Skeptical Inquirer Online, so stay tuned.

In the meantime, here's something that will likely interest some readers. I'm co-editing a special issue of the journal Mass Communication & Society exactly on the topic that has had so much of the blogosphere buzzing: understanding the forms, functions, and impacts of the many emerging sub-genres of documentary film. Details on the special issue are below.

---
Call for Papers

Mass Communication & Society Special Symposium

DOCUMENTARY FILM:
FORMS, FUNCTIONS, AND IMPACTS


Matthew C. Nisbet & Patricia Aufderheide, Guest Editors
School of Communication
American University

**Manuscripts due no later than January 12, 2009**

Recent films such as Fahrenheit 9/11, Supersize Me, An Inconvenient Truth, and Expelled have generated attention to how documentaries can shape debates over social issues and policy questions. Documentaries are no longer conventionally perceived as a passive experience meant solely for informal learning or entertainment. Instead, with ever increasing frequency, these films are considered part of a larger effort to spark debate, mold public opinion, shape policy, and build activist networks.

In addition to these new forms and uses, more traditional public media genres such as Frontline, Bill Moyers, or POV continue to be leading outlets for public affairs journalism and perspective. At the same time, documentaries are becoming an ever-more-valued commercial enterprise at for-profit cable television networks and a wildly popular amateur genre on Youtube.

These quickly changing trends in documentary content, distribution, and reach generate a range of questions for media scholars to examine. In this special issue of Mass Communication & Society, we seek theoretically-driven and empirically-grounded manuscripts that investigate the forms, functions, and impacts of documentary film. We especially seek submissions that explore the subject in one or several of the following ways:

* Cultural production questions. What is the economic, social, and cultural context for documentary film? For example, how do changing structural and economic factors shape the content, goals, and reach of a documentary? In what ways do different sub-genres vary by convention, style, forms, and tone?

* Normative and ethical questions. Relative to society, how do different kinds of documentary filmmakers and producers identify their roles--for instance, as journalists, artists, storytellers, historians, satirists, or entertainers? How do publics and stakeholders perceive the authority, intentions, or objectivity of these film producers? Connected to these perceived professional norms and roles, what sort of ethical considerations and professional standards guide the production, content, and strategic use of a film?

* Influence and impact questions. How does media theory help us understand or measure the social impact of a documentary's release--not only in terms of direct audience effects but also for publics beyond those who actually watch the film? For example, what is the agenda-building and frame-building influence of a film on news coverage and/or policy decisions? For audiences, what influence can a film have on informal learning about a complex policy topic? From an evaluation standpoint, how can research in this area inform the design, distribution, and marketing of a film? What kind of metrics can be defined and observed?

* Civil society and democracy questions. How and when do documentaries function as vehicles to engage people not only as viewers but as members of affected publics and participants in the public sphere? In what ways can a film be used as a tool to sponsor or facilitate public deliberation? As documentaries become a highly valued commercial genre and/or a new form of campaign strategy, does their perceived and/or actual role shift?

Edited by Matthew C. Nisbet and Patricia Aufderheide, both of American University's School of Communication, the special issue will appear at the end of 2009.

Submitted papers should be no longer than 30 pages including tables and figure. For additional guidelines, go to http://aejmc.net/mcs/submission.php.

Manuscripts are due no later than Jan. 12, 2009 to:

Prof. Matthew Nisbet
School of Communication, American University
4400 Massachusetts Av. NW
Washington, DC 20016
Contact: nisbet@american.edu, paufder@american.edu
Malcolm Gladwell teaches "Get over yourself and get to work" for Big Think Edge.
Big Think Edge
Learn to recognize failure and know the big difference between panicking and choking.

At Big Think Edge, Malcolm Gladwell teaches how to check your inner critic and get clear on what failure is.

Subscribe to Big Think Edge before we launch on March 30 to get 20% off monthly and annual memberships.
Can sensitive coral reefs survive another human generation?
Videos
Coral reefs may not be able to survive another human decade because of the environmental stress we have placed on them, says author David Wallace-Wells. He posits that without meaningful changes to policies, the trend of them dying out, even in light of recent advances, will continue.
The World Wildlife Fund says that 60 percent of all vertebrate mammals have died since just 1970. On top of this, recent studies suggest that insect populations may have fallen by as much as 75 percent over the last few decades.
If it were not for our oceans, the planet would probably be already several degrees warmer than it is today due to the emissions we've expelled into the atmosphere.
Image source: Topical Press Agency / Getty Images
Politics & Current Affairs
Though we know today that his policies eventually ended the Great Depression, FDR's election was seen as disastrous by some.
A group of wealthy bankers decided to take things into their own hands; they plotted a coup against FDR, hoping to install a fascist dictator in its stead.
Ultimately, the coup was brought to light by General Smedley Butler and squashed before it could get off the ground.
Michael Dowling, Northwell Health's CEO, believes we're entering the age of smart medicine.
Sponsored by Northwell Health
The United States health care system has much room for improvement, and big tech may be laying the foundation for those improvements.
Technological progress in medicine is coming from two fronts: medical technology and information technology.
As information technology develops, patients will become active participants in their health care, and value-based care may become a reality.
Big think's weekly newsletter.
Get smarter faster from the comfort of your inbox.
See our newsletter privacy policy
here
Most Popular
Most Recent
Big think's weekly newsletter.
Get smarter faster from the comfort of your inbox.
See our newsletter privacy policy
here
© Copyright 2007-2018 & BIG THINK, BIG THINK EDGE,
SMARTER FASTER trademarks owned by The Big Think, Inc. All rights reserved.