Seventy Million Watch Biden-Palin Debate
Matthew C. Nisbet
Matthew C. Nisbet, Ph.D. is Associate Professor of Communication Studies, Public Policy, and Urban Affairs at Northeastern University. Nisbet studies the role of communication and advocacy in policymaking and public affairs, focusing on debates over over climate change, energy, and sustainability. Among awards and recognition, Nisbet has been a Visiting Shorenstein Fellow on Press, Politics, and Public Policy at Harvard University's Kennedy School of Government, a Health Policy Investigator at the Robert Wood Johnson Foundation, and a Google Science Communication Fellow. In 2011, the editors at the journal Nature recommended Nisbet's research as "essential reading for anyone with a passing interest in the climate change debate," and the New Republic highlighted his work as a "fascinating dissection of the shortcomings of climate activism."
16 August, 2010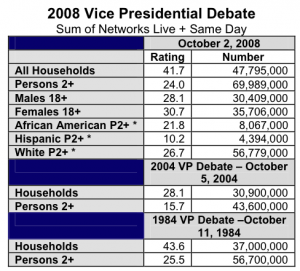 According to Nielsen, close to 70 million Americans tuned in to watch the Biden-Palin debate. For comparison, the 2004 vice presidential debate between V.P. Dick Cheney and Sen. John Edwards drew 43.6 million viewers. The second Bush/Clinton/Perot debate of 1992 also attracted 69.9 million viewers. The all-time debate leader is the Carter/Reagan debate of 1980.

In a CBS News web poll of uncommitted voters who agreed to watch the debate, 46 percent said they believed Biden won the debate, compared to 21 percent for Palin, and 33 percent who were undecided.

In a CNN survey of people who had watched the debate, 51 percent of those polled thought Biden did the best job, while 36 percent thought Palin did the best job. Respondents said Palin was more likable, 54 percent to Biden's 36 percent. On qualifications to be president, 87 percent said Biden is qualified and 42 percent said Palin is qualified.

The Frank Luntz-Fox News focus group (video below) cuts against these overnight poll returns. In part, there is likely to be some suggestability going on in the focus group based on Luntz's steering of the questions and the participants knowledge that they are voicing their views on the decidedly partisan Fox network.



Big think's weekly newsletter.
Get smarter faster from the comfort of your inbox.
See our newsletter privacy policy
here