Big ideas.
Once a week.
Subscribe to our weekly newsletter.
Response to James Inhofe's Statements to Rachel Maddow on Climate Shift Report
Specific to climate change and energy related activities, environmental groups outspent conservative groups and their industry association allies $394 million to $259 million.
16 March, 2012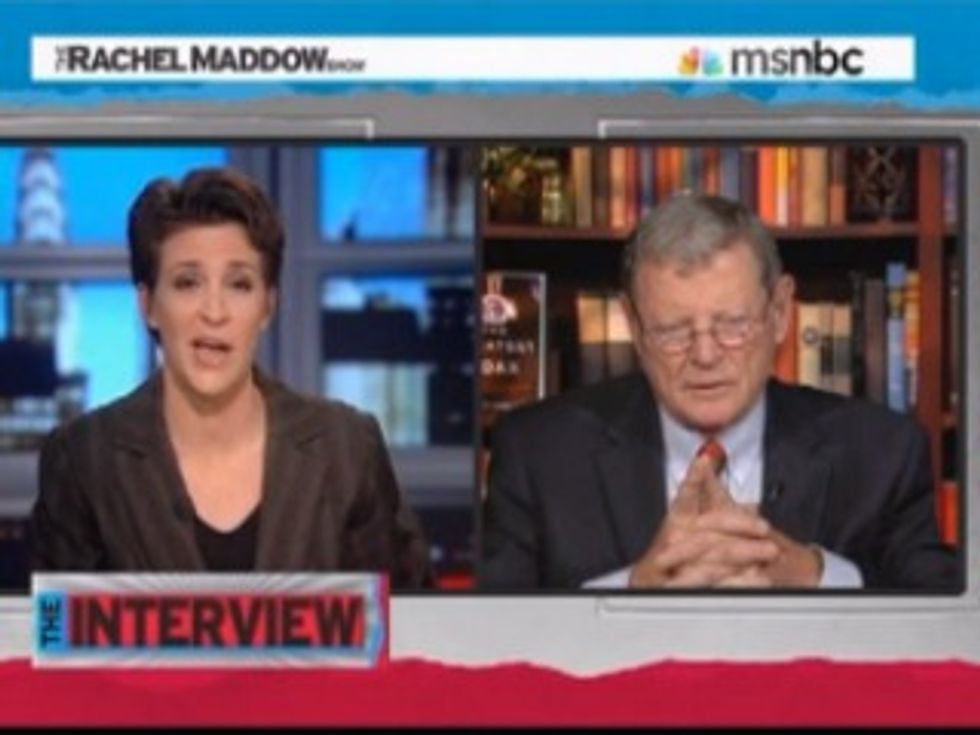 Senator James Inhofe (R-OK) appeared on the March 15, 2012 MSNBC Rachel Maddow program to discuss his book The Greatest Hoax: How the Global Warming Conspiracy Threatens Your Future. On the program, Inhofe cited findings from the April 2011 Climate Shift report comparing 2009 revenue and spending estimates for 45 environmental groups that had campaigned for action on climate change with similar totals for 42 conservative think tanks, advocacy groups, and industry associations.
---
Below I have posted the transcript of the relevant exchange with Maddow as well as a video clip edited to be specific to the exchange. I follow with several corrections to Inhofe's characterization of the report's findings and offer additional context. In their exchange, Inhofe conflates the totals for spending on all program activities by these opposing coalitions of non-profit organizations with totals spent on lobbying by aligned corporations.
MADDOW: I got to say, let me -- let me bring up one other thing.You joke in your book, when people ask you how much of your campaign contributions come from the energy industry, you answer "not enough," which is a very funny answer and your top three donors are Koch Industries, big part of their business is petroleum refining; Murray Industry, a coal company; and Devin Energy, which is an oil and gas natural company.
INHOFE: And they`re a great group. Let me mention to you --
MADDOW: Hold on. Let me just ask you a question -- why wouldn`t a reasonable person learn that about you and assume that your anti-global warming, pro-fossil fuel stance is what your donors are paying for?
INHOFE: Because we hear things about big oil, what you named there is not all that big of oil. But it doesn`t really make any difference. There`s an article that you would love, and I dare say you haven`t seen it yet. It was in "Nature" magazine, a very liberal publication, or publication on your side, and they talk about this thing from American University, and they analyze.
They say, why is it we, on the global warming side, are not winning? We are spending more money, we have the media on our side eight to ten, 80 percent of the media is on our side, yet we`re losing. And then they go into the detail as to how much money actually comes out.
Did you know, and I dare say a lot of your guys on your program in your camp don`t realize that the environmentalist groups raised, and this is in the period of 2009-2010, $1.7 billion as opposed to the other side, $900 million. So, you`re talking about spending twice as much money. And that`s --
MADDOW: You think that the environmental groups have more money to spend on this issue than the entire energy industry?
INHOFE: Absolutely.
MADDOW: The energy industry is the poor partner here?
INHOFE: You get to MoveOn.org, the George Soros, the Michael Moores, and all the Hollywood elites, and all your good friends out there -- yes, they sure do.
MADDOW: I would put Michael Moore up against Exxon any day.
INHOFE: Hey, Rachel, this is in their article.
MADDOW: OK.
INHOFE: And, again, it pretty well-documented. So, I suggest you read that, maybe the most recent copy. Anyway, about the study that was done by American University.
Visit msnbc.com for breaking news, world news, and news about the economy
The correct context for understanding these findings and spending figures are as follows and are provided in FAQ format.
How did you arrive at the conclusion that environmental groups hold an overall resource and spending edge over conservative/industry association groups?
In the main analysis conducted in Chapter 1 of the report, my goal was to estimate the overall organizational resources and capacity of the opposing networks of green groups and conservative/ industry association groups.
The 45 environmental groups were selected from among the major national environmental organizations analyzed by political scientist Christopher Bosso in his book Environment Inc:  From Grassroots to Beltway, an award-winning study of the history, financing and political strategies of the U.S. environmental movement.   The 45 analyzed organizations coordinated their work through alliances such as the U.S. Climate Action Partnership, the Green Group, Clean Energy Works and The Partnership Project.
For conservative groups and industry associations, the analysis included a list of 42 organizations that had opposed cap and trade legislation, had dismissed expert consensus on climate science through various communication strategies and/or had exaggerated the economic costs of action.  These conservative and industry organizations had been identified and analyzed in previous scholarly studies and in investigations conducted by journalists, environmentalists and others.
Estimates on spending are compiled from Internal Revenue Service filings and annual reports.  Records from 2009 are analyzed, the year for which data is most recently available.  In this year, cap and trade legislation passed in the U.S. House, debate began on a U.S. Senate version of the bill, and international climate accord meetings took place in Copenhagen.
In the majority of cases, environmental groups provided specific information in their annual reports and tax documents on how much was spent on climate change and energy-related program activities.  Details and sources of these estimates are provided in the notes to each table and/or in the end notes to the chapter.  [More Info]
Figures on spending specific to climate change and energy policy were not provided by conservative think tanks, groups and industry associations.  Estimates based on a review of annual reports and web sites are used with details specific to these estimates in the notes to each table and in the main text of the chapter.  [More Info]
Here is the main finding from the chapter on the financial capacity and resources of these two opposing coalitions of non-profit organizations.
In total, the environmental groups analyzed in 2009 brought in $1.7 billion in revenue, spent $1.4 billion on program activities, and spent an estimated $394 million on climate change and energy-specific activities.  The combined program spending of environmental organizations ($1.4 billion) is almost twice as much as the combined program spending of conservative organizations and industry associations ($787 million).  Specific to climate change and energy related activities, environmental groups outspent conservative groups and their industry association allies $394 million to $259 million.
Within this overall spending, what could environmental groups spend their money on?
As Chapter 1 discusses in detail, environmental groups as mostly 501C3 organizations were allowed to spend unlimited sums on public education which includes advertising and communication efforts advocating generally for a need for action on climate change or a general cap on emissions.  They could also spend unlimited sums on think tank style analysis and information dissemination.
Apart from contacts from their members, most groups were capped at $250,000 (or less) in spending on legislative mobilization of the general public which involves requesting that they urge Congress to vote for specific legislation and $1,000,000 on direct lobbying.  Industry associations have no such limits.
How does your analysis provide new insight on the data provided by the Center for Responsive Politics?
This section of the chapter builds on our understanding of the data provided in the past by the Center for Responsive Politics, which has grouped lobbying totals by the Energy and Natural Resources sector versus the Environment sector.  In my analysis, I go beyond these aggregate lobbying totals, by looking at specific companies and organizations across many sectors (i.e. financial, retail etc) that registered to lobby on the bill and were on record as supporters or opponents, providing a finer grained understanding of lobbying expenditures.  I also unpack the Energy and Natural Resources data, looking at specific groups within this diverse sector that either supported or opposed cap and trade legislation. Here's how that section to the report concludes, emphasizing the limits of what can be said about the lobbying data:
With the exception of the figures for the environmental groups, this comparison of lobbying expenditures across coalitions should not be interpreted as reflecting the actual amounts spent on cap and trade legislation.  Instead, in the aggregate, these totals are representative of the capacity for power and influence that each side could apply in 2009.  Through their work building coalitions and alliances, the environmental groups were able to forge a network of organizations that spent a combined $229 million on lobbying across all issues.  In comparison, the network of prominent opponents of cap and trade legislation spent $272 million lobbying across all issues.  These figures represent a dramatically reduced power difference compared with past legislative debates over climate change.
If major corporations partnered with environmental groups in announcing their support for cap and trade but did not spend resources lobbying in support, what are the implications?
Following the release of the Climate Shift report, several environmental groups argued that their aligned USCAP corporate partners did little to actually lobby in support of the cap and trade bill.  If this is the case, more disclosure should take place about the exact role and resources these corporate partners devoted to the cap and trade battle.  This would help inform decision-making as to whether relying on corporate partners is a reliable strategy for the future.  If corporate partners cannot be relied on, then it suggests that a big omnibus, regulatory solution bill like cap and trade (i.e. a legislative battle on the scale, if not greater than health care reform) may not be possible and instead other policy paths need to be taken.
How do Inhofe's comments compare to his consistent framing strategy on the issue of climate change?
In a 2009 paper published at the journal Environment, I spotlighted Inhofe's longstanding efforts at strategically framing the issue of climate change in ways that downplayed the urgency of the issue and undermined support for policy action.  From the article:
What explains the stark differences between the objective reality of climate change and the partisan divide in Americans' perceptions? In part, trusted sources have framed the nature and implications of climate change for Republicans and Democrats in very different ways.
Several conservative think tanks, political leaders, and commentators continue to hew closely to their decade-old playbook for downplaying the urgency of climate change, which includes questioning whether human activities drive climate change while also arguing that any action to curb it will lead to dire economic consequences. Even over the past several years, as Republican leaders such as U.S. Senator John McCain (R-AZ) and California Governor Arnold Schwarzenegger have urged for action on global warming, the strength of these decade-old frames linger as salient in popular culture, political discourse, and the memory store of many audiences.23
During the 1990s, based on focus groups and polling, Republican consultant Frank Luntz helped shape the climate skeptic playbook, recommending in a strategy memo to lobbyists and Republican members of Congress that the issue be framed as scientifically uncertain, using opinions of contrarian scientists as evidence. He also wrote that the "emotional home run" would be an emphasis on the dire economic consequences of action, impacts that would result in an "unfair burden" on Americans if other countries such as China and India did not participate in international agreements.24
This framing strategy was effectively incorporated into talking points, speeches, white papers, and advertisements by conservative think tanks and members of Congress to defeat major policy proposals along with the adoption of the Kyoto Protocol, a treaty that would have committed the United States to cutting greenhouse gas emissions.25 The communication campaign also promoted distortions in news coverage.....
....U.S. Senator James Inhofe (R-OK), former chair of the Senate Committee on Environment and Public Works, remains the loudest voice of climate skepticism. In speeches, press releases, and on his Senate Web log, Inhofe casts doubt on the conclusions of the Intergovernmental Panel on Climate Change and other major scientific organizations, selectively citing scientific-sounding evidence. To amplify his message, Inhofe takes advantage of the fragmented news media, with appearances at television outlets, such as Fox News, on political talk radio, and Web traffic driven to his blog from the Drudge Report.27
For example, in a February 2007 Fox & Friends segment titled, "Weather Wars," Inhofe deceptively argued that global warming was in fact due to natural causes and mainstream science was beginning to accept this conclusion. Inhofe asserted, unchallenged by host Steve Doocy, "those individuals on the far left, such as Hollywood liberals and the United Nations," want the public to believe that global warming is manmade. Similar frames of scientific uncertainty and economic consequences continue to be pushed by other conservative commentators, including influential syndicated columnists George Will, Charles Krauthammer, and Tony Blankley.28
See Also:
Nisbet, M.C. (2011, April). Climate Shift: Clear Vision for the Next Decade of Public Debate. Washington, DC: School of Communication, American University.
Geologists discover a rhythm to major geologic events.
Surprising Science
It appears that Earth has a geologic "pulse," with clusters of major events occurring every 27.5 million years.
Working with the most accurate dating methods available, the authors of the study constructed a new history of the last 260 million years.
Exactly why these cycles occur remains unknown, but there are some interesting theories.
Our hearts beat at a resting rate of 60 to 100 beats per minute. Lots of other things pulse, too. The colors we see and the pitches we hear, for example, are due to the different wave frequencies ("pulses") of light and sound waves.
Now, a study in the journal Geoscience Frontiers finds that Earth itself has a pulse, with one "beat" every 27.5 million years. That's the rate at which major geological events have been occurring as far back as geologists can tell.
A planetary calendar has 10 dates in red
Credit: Jagoush / Adobe Stock
According to lead author and geologist Michael Rampino of New York University's Department of Biology, "Many geologists believe that geological events are random over time. But our study provides statistical evidence for a common cycle, suggesting that these geologic events are correlated and not random."

The new study is not the first time that there's been a suggestion of a planetary geologic cycle, but it's only with recent refinements in radioisotopic dating techniques that there's evidence supporting the theory. The authors of the study collected the latest, best dating for 89 known geologic events over the last 260 million years:
29 sea level fluctuations
12 marine extinctions
9 land-based extinctions
10 periods of low ocean oxygenation
13 gigantic flood basalt volcanic eruptions
8 changes in the rate of seafloor spread
8 times there were global pulsations in interplate magmatism
The dates provided the scientists a new timetable of Earth's geologic history.
Tick, tick, boom
Credit: New York University
Putting all the events together, the scientists performed a series of statistical analyses that revealed that events tend to cluster around 10 different dates, with peak activity occurring every 27.5 million years. Between the ten busy periods, the number of events dropped sharply, approaching zero.

Perhaps the most fascinating question that remains unanswered for now is exactly why this is happening. The authors of the study suggest two possibilities:
"The correlations and cyclicity seen in the geologic episodes may be entirely a function of global internal Earth dynamics affecting global tectonics and climate, but similar cycles in the Earth's orbit in the Solar System and in the Galaxy might be pacing these events. Whatever the origins of these cyclical episodes, their occurrences support the case for a largely periodic, coordinated, and intermittently catastrophic geologic record, which is quite different from the views held by most geologists."
Assuming the researchers' calculations are at least roughly correct — the authors note that different statistical formulas may result in further refinement of their conclusions — there's no need to worry that we're about to be thumped by another planetary heartbeat. The last occurred some seven million years ago, meaning the next won't happen for about another 20 million years.
A new episode of "Your Brain on Money" illuminates the strange world of consumer behavior and explores how brands can wreak havoc on our ability to make rational decisions.
popular
Effective branding can not only change how you feel about a company, it can actually change how your brain is wired.
Our new series "Your Brain on Money," created in partnership with Million Stories, recently explored the surprising ways brands can affect our behavior.
Brands aren't going away. But you can make smarter decisions by slowing down and asking yourself why you're making a particular purchase.
How Apple and Nike have branded your brain | Your Brain on Money | Big Think youtu.be
Brands can manipulate our brains in surprisingly profound ways. They can change how we conceptualize ourselves and how we broadcast our identities out to the social world. They can make us feel emotions that have nothing to do with the functions of their products. And they can even sort us into tribes.
To grasp the power of brands, look to Apple. In the 1990s, the company was struggling to compete with Microsoft over the personal computer market. Despite flirting with bankruptcy in the mid-1990s, Apple turned itself around to eventually become the most valuable company in the world.
That early-stage success wasn't due to superior products.
"People talk about technology, but Apple was a marketing company," John Sculley, a former Apple marketing executive, told The Guardian in 1997. "It was the marketing company of the decade."
So, how exactly does branding make people willing to wait hours in line to buy a $1,000 smartphone, or pay exorbitant prices for a pair of sneakers?
Branding and the brain

For more than a century, brands have capitalized on the fact that effective marketing is much more than simply touting the merits of a product. Some ads have nothing to do with the product at all. In 1871, for example, Pearl Tobacco started advertising their cigarettes through branded posters and trading cards that featured exposed women, a trend that continues to this day.
It's crude, sure. But research shows that it's also remarkably effective, even on monkeys. Why? The answer seems to center on how our brains pay special attention to information from the social world.
"In theory, ads that associate sex or status with specific brands or products activate the brain mechanisms that prioritize social information, and turning on this switch may bias us toward the product," wrote neuroscience professor Michael Platt for Scientific American.
Brands can burrow themselves deep into our subconscious. Through ad campaigns, brands can form a web of associations and memories in our brains. When these connections are robust and positive, it can change our behavior, nudging us to make "no-brainer" purchases when we encounter the brand at the store.
Nike storeThamKC
It's a marketing principle that's related to the work of Daniel Kahneman, a psychologist and economist who won the 2002 Nobel Memorial Prize in Economic Sciences. In his book "Thinking Fast and Slow", Kahneman separates thinking into two broad categories, or systems:

System 1 is fast and automatic, requiring little effort or voluntary control.
System 2 is slow and requires subjective deliberation and logic.
Brands that tap into "system 1" are likely to dominate the competition. After all, it's far easier for us as consumers to automatically reach for a familiar brand than it is to analyze all of the available information and make an informed choice. Still, the most successful brands can have an even deeper impact on our psychology, one that causes us to conceptualize them as something like a family member.
A peculiar relationship with brands
Apple has one of the most loyal customer bases in the world, with its brand loyalty hitting an all-time high earlier this year, according to a SellCell survey of more than 5,000 U.S.-based smartphone users.
Qualitatively, how does that loyalty compare to Samsung users? To find out, Platt and his team conducted a study in which functional magnetic resonance imaging scanned the brains of Samsung and Apple users as they viewed positive, negative, and neutral news about each company. The results revealed stark differences between the two groups, as Platt wrote in "The Leader's Brain":
"Apple users showed empathy for their own brand: The reward-related areas of the brain were activated by good news about Apple, and the pain and negative feeling parts of the brain were activated by bad news. They were neutral about any kind of Samsung news. This is exactly what we see when people empathize with other people—particularly their family and friends—but don't feel the joy and pain of people they don't know."
Meanwhile, Samsung users didn't show any significant pain- or pleasure-related brain activity when they saw good or bad news about the company.
"Interestingly, though, the pain areas were activated by good news about Apple, and the reward areas were activated by bad news about the rival company—some serious schadenfreude, or "reverse empathy," Platt wrote.
The results suggest a fundamental difference between the brands: Apple has formed strong emotional and social connections with consumers, Samsung has not.
Brands and the self
Does having a strong connection with a brand justify paying higher prices for their products? Maybe. You could have a strong connection with Apple or Nike and simultaneously think the quality of their products justifies the price.
But beyond product quality lies identity. People have long used objects and clothing to express themselves and signal their affiliation with groups. From prehistoric seashell jewelry to Air Jordans, the things people wear and associate with signal a lot of information about how they conceptualize themselves.
Since the 1950s, researchers have examined the relationship between self-image and brand preferences. This body of research has generally found that consumers tend to prefer brands whose products fit well with their self-image, a concept known as self-image congruity.
By choosing brands that don't disrupt their self-image, consumers are able not only to express themselves personally, but also broadcast a specific version of themselves into the social world. That might sound self-involved. But on the other hand, humans are social creatures who use information from the social world to make decisions, so it's virtually impossible for us not to make inferences about people based on how they present themselves.
Americus Reed II, a marketing professor at the University of Pennsylvania, told Big Think:
"When I make choices about different brands, I'm choosing to create an identity. When I put that shirt on, when I put that shirt on — those jeans, that hat — someone is going to form an impression about what I'm about. So, if I'm choosing Nike over Under Armour, I'm choosing a kind of different way to express affiliation with sport. The Nike thing is about performance. The Under Armour thing is about the underdog. I have to choose which of these different conceptual pathways is most consistent with where I am in my life."
Making smarter decisions
Brands may have some power over us when we're facing a purchasing decision. So, considering brands aren't going away, what can we do to make better choices? The best strategy might be to slow down and try to avoid making "automatic" purchasing decisions that are characteristic of Kahneman's fast "system 1" mode of thinking.
"I think it's important to always pause and think a little bit about, "Okay, why am I buying this product?" Platt said.
As for getting out of the brand game altogether? Good luck.
"I've heard lots of people push back and say, "I'm not into brands,"" Reed II said. "I take a very different view. In some senses, they're not doing anything different than what someone who affiliates with a brand is doing. They have a brand. It's just an anti-brand brand."
Powerful branding can not only change how you feel about a company, it can actually change how your brain is wired.
Sponsored by Singleton
Powerful branding can not only change how you feel about a company, it can actually change how your brain is wired.
"We love to think of ourselves as rational. That's not how it works," says UPenn professor Americus Reed II about our habits (both conscious and subconscious) of paying more for items based primarily on the brand name. Effective marketing causes the consumer to link brands like Apple and Nike with their own identity, and that strong attachment goes deeper than receipts.
Using MRI, professor and neuroscientist Michael Platt and his team were able to see this at play. When reacting to good or bad news about the brand, Samsung users didn't have positive or negative brain responses, yet they did have "reverse empathy" for bad news about Apple. Meanwhile, Apple users showed a "brain empathy response for Apple that was exactly what you'd see in the way you would respond to somebody in your family."
Scroll down to load more…