Quick Thoughts on Sanjay Gupta and CNN Science
16 August, 2010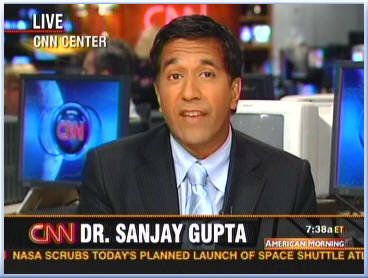 Kudos to the Obama administration for approaching one of America's top science communicators for the position of Surgeon General. Not only could CNN's Dr. Sanjay Gupta be a visible and persuasive media presence on heath care reform, but he will also hopefully use the authority of the Surgeon General's office to emphasize the health impacts of climate change.

---
As I have written in the past, by re-framing climate change as a public health problem, there is an important new emphasis on the linkages to infectious diseases, heat stroke, and other familiar health problems, especially among the elderly, children, or low income groups. This interpretation shifts the visualization of the issue away from remote arctic regions, peoples, and animals to more socially proximate neighbors and places. In the process, the issue begins to cut across media zones, triggering coverage at local news and urban media outlets. The frame also brings new respected spokespeople such as doctors and health professionals, activating participation from new interest groups including medical associations, patient advocacy organizations, or social justice and minority rights groups.

A different take on CNN science...

Sanjay Gupta has experience on the topic of climate change and public health, as a correspondent for CNN's outstanding Planet in Peril documentary and weekly segments (trailer). Co-produced with Scientific American, the series takes a Discovery Channel approach, a format that is likely to to expand the audience reach for environmental science coverage on the part of the network and the magazine.

While some have knocked the series, lamenting that it replaces CNN's traditional science unit, survey data suggests that this style of coverage is one of the best strategies for engaging broad, diverse audiences on science. According to Pew, consider that just 10% of Americans say they regularly watch standard formats such as PBS NOVA or subscribe to a variety of science magazines. And according to the NSF Science Indicators tracking data, less than 15% of the public say they closely follow news coverage of science and technology. This small audience of science enthusiasts skews heavily male, older, and is highly educated.

In contrast, more than 50% of Americans say they regularly watch the Discovery Channel, the Learning Channel, or the National Geographic Channel. This audience is also broad and diverse cutting almost equally across gender, education, ideology, partisanship, and religiosity.

CNN was never a flagship outlet for science coverage and the network's intermittent attention to the subject amounted to less than 1% of its news hole. Certainly, if you are a science journalist or a university press officer placing stories, CNN's cutting of its traditional science unit is bad news.

But in terms of audience reach and engagement, this might be an important way that the news network is consolidating its budget and resources in a competitive news environment, choosing to focus on the pressing issue of global environmental sustainability, and in the process, actually reaching more people with science news and information that is accessible and meaningful.

The move has nothing to do with a lack of respect for science or science illiteracy on the part of network heads or the public. Rather it reflects a long term trend among major news organizations to shift towards a diversity of soft journalism formats.

When focused on celebrity or infotainment topics that deflect public attention away from substantive policy issues, this is bad news. But when applied to environmental sustainability, as Planet in Peril expertly executes, the format likely broadens the audience at the news organization. (Listen to Planet in Peril hosts Anderson Cooper and Lisa Ling discuss their approach, knowledge, respect for the topic in this recent public radio interview.)

Other trends to consider...

A few veteran science journalists have asked my take on the CNN news announcement, so this is a very quick jotting down of several thoughts, pegged around the Sanjay Gupta announcement. I hope to have a more substantive post or article on this topic out soon and I will be discussing some of these themes at an upcoming panel at the American Museum of Natural History.

Of course, there are other major trends that science journalism needs to consider. The first, is that the future is probably some type of collaborative non-profit model. The second is that where science journalism will be most needed is at the local level, meeting the information needs of communities as they deal with important questions about sustainability, energy use, and climate adaptation or grapple with collective choices about issues such as biomedical research, science education, or nanotechnology. In this area, new forms of digital and citizen media will be important as will new models for funding and sharing of news content. For a vision of the future adaptable to science, go here.

Upstreamism advocate Rishi Manchanda calls us to understand health not as a "personal responsibility" but a "common good."
Sponsored by Northwell Health
Upstreamism tasks health care professionals to combat unhealthy social and cultural influences that exist outside — or upstream — of medical facilities.
Patients from low-income neighborhoods are most at risk of negative health impacts.
Thankfully, health care professionals are not alone. Upstreamism is increasingly part of our cultural consciousness.
Videos
Oumuamua, a quarter-mile long asteroid tumbling through space, is Hawaiian for "scout", or "the first of many".
It was given this name because it came from another solar system.
Some claimed Oumuamua was an alien technology, but there's no actual evidence for that.
America isn't immune to attempts to remove books from libraries and schools, here are ten frequent targets and why you ought to go check them out.
Nazis burn books on a huge bonfire of 'anti-German' literature in the Opernplatz, Berlin. (Photo by Keystone/Getty Images)
Culture & Religion
Even in America, books are frequently challenged and removed from schools and public libraries.
Every year, the American Library Association puts on Banned Books Week to draw attention to this fact.
Some of the books they include on their list of most frequently challenged are some of the greatest, most beloved, and entertaining books there are.
Big Think
Sponsored by Lumina Foundation
Upvote the video, or videos, you want to win.

As you vote, keep in mind that we are looking for a winner with the most engaging social venture pitch - an idea you would want to invest in. And note: We'll only count upvotes (not downvotes).
Big think's weekly newsletter.
Get smarter faster from the comfort of your inbox.
See our newsletter privacy policy
here
Most Popular
Most Recent
Big think's weekly newsletter.
Get smarter faster from the comfort of your inbox.
See our newsletter privacy policy
here
© Copyright 2007-2019 & BIG THINK, BIG THINK EDGE,
SMARTER FASTER trademarks owned by The Big Think, Inc. All rights reserved.