Podcast: More on Framing (and Dawkins)
16 August, 2010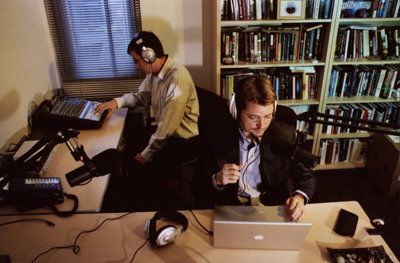 The Point of Inquiry podcast is produced by the Center for Inquiry-Transnational and averages 60,000 listeners a week.

In this week's show, host DJ Grothe and I engage in a lively forty-five minute discussion. You can listen here.

I offer more details on:

--> the nature of framing and media influence.
--> does framing mean false spin?
--> the likely negative impact of Dawkins.
--> communication strategy specific to the teaching of evolution in schools.
--> what the Discovery Institute understood about framing (also see this post.)
--> the role of framing in the debates over climate change and stem cell research.
--> the use of "science navigators" in communication campaigns.
-->an effective means for engaging the broader American public on atheism.

PS : Chris Mooney also posts from the road in Australia. He has more to offer on framing, climate change, and Dawkins.

PS II: The Point of Inquiry series is a terrific example of real "public media," programs that create a public space for a substantive discussion and presentation of ideas. Make sure you check out their MySpace page. The programs are produced by DJ Grothe and Thomas Donnelly. The executive producer is Paul Kurtz. They and the rest of the staff at the Center for Inquiry deserve tremendous credit for creating this wonderful resource.



We are constantly trying to force the world to look like us — we need to move on.
Videos
When the Berlin Wall fell in 1989, many Americans jumped for joy. At the time, some believed there weren't going to be any more political disagreements anywhere in the world. They thought American democracy had won the "war of ideas."
American exceptionalism has sought to create a world order that's really a mirror image of ourselves — a liberal world order founded on the DNA of American thinking. To many abroad this looks like ethnic chauvinism.
We need to move on from this way of thinking, and consider that sometimes "problem-solving," in global affairs, means the world makes us look like how it wants to be.
Scientists make an important discovery for the future of computing.
Pixabay
Surprising Science
Researchers find a new state of matter called "topological superconductivity".
The state can lead to important advancements in quantum computing.
Utilizing special particles that emerge during this state can lead to error-free data storage and blazing calculation speed.
French newspapers report that the trial hasn't lived up to expectations.
Image source: Charly Triballeau / AFP / Getty Images
Technology & Innovation
The French government initially invested in a rural solar roadway in 2016.
French newspapers report that the trial hasn't lived up to expectations.
Solar panel "paved" roadways are proving to be inefficient and too expensive.