On PZ, Don Imus Atheism, and "Atheistblogs.com"?
Matthew C. Nisbet
Matthew C. Nisbet, Ph.D. is Associate Professor of Communication Studies, Public Policy, and Urban Affairs at Northeastern University. Nisbet studies the role of communication and advocacy in policymaking and public affairs, focusing on debates over over climate change, energy, and sustainability. Among awards and recognition, Nisbet has been a Visiting Shorenstein Fellow on Press, Politics, and Public Policy at Harvard University's Kennedy School of Government, a Health Policy Investigator at the Robert Wood Johnson Foundation, and a Google Science Communication Fellow. In 2011, the editors at the journal Nature recommended Nisbet's research as "essential reading for anyone with a passing interest in the climate change debate," and the New Republic highlighted his work as a "fascinating dissection of the shortcomings of climate activism."
16 August, 2010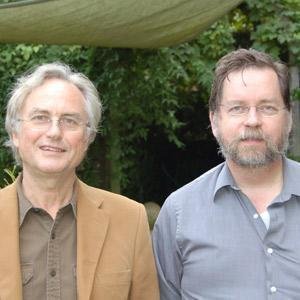 Myers with Richard Dawkins: Does his atheist punditry damage the scienceblogs.com brand?

Call me agnostic on the controversy that has erupted over the Catholic wafer incident in Florida. On the one hand I see the outcry from conservative groups as opportunistic and ridiculous. The reported death threats are outrageous, should be condemned by all parties, and prosecuted to the full extent of the law. The calls for expelling the student or the firing of PZ Myers are equally ridiculous.

Yet I also recognize that the Communion wafer has deep symbolic importance to the Catholic community and in that context many of the sharp emotional protests are not surprising.

As for the reaction to blogger PZ Myers commentary, it's another example of the unintended consequences of his preferred brand of Don Imus atheism. Even fellow atheists and free speech advocates are troubled. Here's what Andrew Sullivan has to say:


It is one thing to engage in free, if disrespectful, debate. It is another to repeatedly assault and ridicule and abuse something that is deeply sacred to a great many people. Calling the Holy Eucharist a "goddamned cracker" isn't about free speech; it's really about some baseline civility. Myers' rant is the rant of an anti-Catholic bigot. And atheists and agnostics can be bigots too.
What alarms me the most about the incident, however, is the major perceptual hit that the scienceblogs.com community and brand continues to take because of PZ's antics. The Seed sponsored blog portal is supposed to be a place that attracts new audiences to science, but in fact, it has turned into the Web's leading echo chamber of anti-religious rants and sophomoric discussions of atheism, what the physicist Chad Orzel refers to as the "
screechy monkey
" problem.
In a
recent interview
on the podcast Point of Inquiry, host DJ Grothe asked PZ if he worried that scienceblogs.com was becoming better known as "atheistblogs.com." It's a question that merits serious consideration, especially in light of recent events.
Related Articles
Are university safe spaces killing intellectual growth?
Videos
Why you should want your ideological opposites on campus
Universities must be safe—but they cannot be censored
Don't be afraid of being offended. Be afraid of never changing your mind.
Our experience of time may be blinding us to its true nature, say scientists.
Back to the Future.
Surprising Science
Time may not be passing at all, says the Block Universe Theory.
Time travel may be possible.
Your perception of time is likely relative to you and limited.
From questionable shipwrecks to outright attacks, they clearly don't want to be bothered.
Culture & Religion
Many have tried to contact the Sentinelese, to write about them, or otherwise.
But the inhabitants of the 23 square mile island in the Bay of Bengal don't want anything to do with the outside world.
Their numbers are unknown, but either 40 or 500 remain.
Big think's weekly newsletter.
Get smarter faster from the comfort of your inbox.
See our newsletter privacy policy
here
Most Popular
Most Recent
Big think's weekly newsletter.
Get smarter faster from the comfort of your inbox.
See our newsletter privacy policy
here
© Copyright 2007-2018 & BIG THINK, BIG THINK EDGE,
SMARTER FASTER trademarks owned by The Big Think, Inc. All rights reserved.