Monday: Framing Science Talk at Princeton University
Matthew C. Nisbet
Matthew C. Nisbet, Ph.D. is Associate Professor of Communication Studies, Public Policy, and Urban Affairs at Northeastern University. Nisbet studies the role of communication and advocacy in policymaking and public affairs, focusing on debates over over climate change, energy, and sustainability. Among awards and recognition, Nisbet has been a Visiting Shorenstein Fellow on Press, Politics, and Public Policy at Harvard University's Kennedy School of Government, a Health Policy Investigator at the Robert Wood Johnson Foundation, and a Google Science Communication Fellow. In 2011, the editors at the journal Nature recommended Nisbet's research as "essential reading for anyone with a passing interest in the climate change debate," and the New Republic highlighted his work as a "fascinating dissection of the shortcomings of climate activism."
16 August, 2010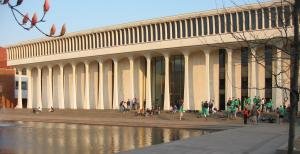 For readers on campus or in the area, on Monday I will be giving a lecture hosted by the Program in Science, Technology, & Environmental Policy (STEP) at Princeton University's Woodrow Wilson School of Public and International Affairs. The talk is scheduled for 1145am to 1pm and will be in 300 Wallace Hall. Below is a description:


Framing Science: A New Paradigm in Public Engagement?

Matthew C. Nisbet, Ph.D.
School of Communication
American University

Over the past several years, controversies over evolution, embryonic stem cell research, global climate change, and many other topics have led to a troubling revelation. Scientific knowledge, alone, does not always suffice when it comes to winning political arguments, changing government policies, or influencing public opinion. Put simply, many journalists, policymakers, and citizens consume and act on scientific information in a vastly different way than do the scientists who generate it. As a result, scientists and their organizations repeatedly face difficult challenges in explaining their knowledge to diverse groups of citizens.

As one possible antidote to repeated communication failures, many scholars have advocated large-scale investments in "public dialogue" initiatives such as town meetings, deliberative forums, and science cafes. But like any other tool, such deliberative meetings have obvious limitations. Most importantly, very few people actually participate. Indeed, research shows that at these forums, the citizens who are most likely to attend and speak up are those who are already informed, opinion-intense, and active on an issue.

As issues at the intersection of science, society, and policy gain more and more attention, something beyond just traditional science communication efforts and small scale deliberative meetings will be necessary to effectively engage the diverse American public. Recognizing this pressing need, this year, in articles appearing at the journal Science (& reply to letters), the Sunday Outlook section of the Washington Post, and The Scientist magazine, Nisbet challenged prevailing assumptions and proposed several innovative--if not controversial--methods.

With his respective co-authors Chris Mooney and Dietram Scheufele, Nisbet argued that scientists must draw on research from political communication in order to systematically "frame" their messages across media outlets in ways that connect with diverse audiences. This means remaining true to the underlying science, but drawing on polling and focus group research to tailor messages in ways that make them personally relevant and meaningful to different publics.

His ideas triggered an international blog debate, generated considerable media attention, and launched a national speaking tour that has taken Nisbet to more than two dozen universities, cities, and venues over the past six months. In this presentation, he details his "controversial" suggestions that scientists adopt a scientific approach to communicating with the public and the media. He also discusses the political and social nature of the reaction to his arguments.
The famed author headed to the pond thanks to Indian philosophy.
Image: Public Domain / Shutterstock / Big Think
Personal Growth
The famed author was heavily influenced by Indian literature, informing his decision to self-exile on Walden Pond.
He was introduced to these texts by his good friend's father, William Emerson.
Yoga philosophy was in America a century before any physical practices were introduced.
Progressive America would be half as big, but twice as populated as its conservative twin.
Image: Dicken Schrader
Strange Maps
America's two political tribes have consolidated into 'red' and 'blue' nations, with seemingly irreconcilable differences.
Perhaps the best way to stop the infighting is to go for a divorce and give the two nations a country each
Based on the UN's partition plan for Israel/Palestine, this proposal provides territorial contiguity and sea access to both 'red' and 'blue' America
Pfizer's partnerships strengthen their ability to deliver vaccines in developing countries.
Susan Silbermann, Global President of Pfizer Vaccines, looks on as a health care worker administers a vaccine in Rwanda. Photo: Courtesy of Pfizer.
Sponsored
Community healthcare workers face many challenges in their work, including often traveling far distances to see their clients
Pfizer is helping to drive the UN's sustainable development goals through partnerships.
Pfizer partnered with AMP and the World Health Organization to develop a training program for healthcare workers.
Big think's weekly newsletter.
Get smarter faster from the comfort of your inbox.
See our newsletter privacy policy
here
Most Popular
Most Recent
Big think's weekly newsletter.
Get smarter faster from the comfort of your inbox.
See our newsletter privacy policy
here
© Copyright 2007-2018 & BIG THINK, BIG THINK EDGE,
SMARTER FASTER trademarks owned by The Big Think, Inc. All rights reserved.