Left Behind: As Fewer Americans Identify with GOP, "Republicans" as Measured in Polls Appear More Resistant to Changing Their Views on Science
Matthew C. Nisbet
Matthew C. Nisbet, Ph.D. is Associate Professor of Communication Studies, Public Policy, and Urban Affairs at Northeastern University. Nisbet studies the role of communication and advocacy in policymaking and public affairs, focusing on debates over over climate change, energy, and sustainability. Among awards and recognition, Nisbet has been a Visiting Shorenstein Fellow on Press, Politics, and Public Policy at Harvard University's Kennedy School of Government, a Health Policy Investigator at the Robert Wood Johnson Foundation, and a Google Science Communication Fellow. In 2011, the editors at the journal Nature recommended Nisbet's research as "essential reading for anyone with a passing interest in the climate change debate," and the New Republic highlighted his work as a "fascinating dissection of the shortcomings of climate activism."
16 August, 2010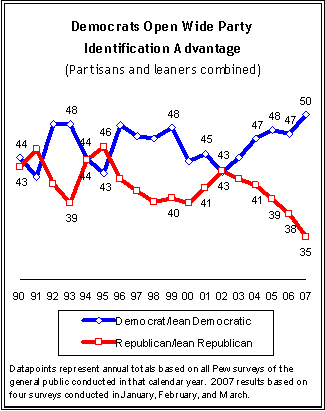 As I have detailed at Framing Science many times, over the past five years, as Democrats and Independents have shifted their views in support of embryonic stem cell research and policy action on climate change, little or no movement in opinion has occurred among self-identifying Republicans. In part, this is because partisanship acts as a very strong perceptual screen on news messages. However, there is also something else very interesting going on. Republicans appear so resistant to changing their views on controversial areas of science because, as measured in surveys, this group is becoming "more pure" in their partisan sentiment. Released this week is a major Pew report on the changing nature of American social values. Of note is the first graph depicted in this post. With the failures in Iraq and a litany of political wrong-doing, since 2003, many Americans have jumped off the GOP bandwagon (or left in disgust), choosing instead to identify themselves in polls as Independent or even Democrat. The respondents in polls who are left behind as identifying "Republican" are the true-believers, respondents who are likely to be strongly conservative in their views. This roughly 35% of the public are almost immune to shifting their opinion on issues like climate change or stem cell research as long as their conservative Republican leaders continue to remain vocal in their opposition.


Big think's weekly newsletter.
Get smarter faster from the comfort of your inbox.
See our newsletter privacy policy
here