In Missouri, More Political Trouble Over Stem Cell
Matthew C. Nisbet
Matthew C. Nisbet, Ph.D. is Associate Professor of Communication Studies, Public Policy, and Urban Affairs at Northeastern University. Nisbet studies the role of communication and advocacy in policymaking and public affairs, focusing on debates over over climate change, energy, and sustainability. Among awards and recognition, Nisbet has been a Visiting Shorenstein Fellow on Press, Politics, and Public Policy at Harvard University's Kennedy School of Government, a Health Policy Investigator at the Robert Wood Johnson Foundation, and a Google Science Communication Fellow. In 2011, the editors at the journal Nature recommended Nisbet's research as "essential reading for anyone with a passing interest in the climate change debate," and the New Republic highlighted his work as a "fascinating dissection of the shortcomings of climate activism."
16 August, 2010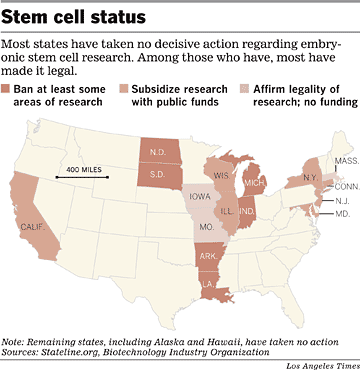 Back in November, when Missouri passed a constitutional amendment protecting the ability of scientists to conduct embryonic stem cell research in the state, it was heralded as one more political victory for science, and a sign that even in the Midwest, proponents had turned the corner on conservative opposition.

Yet the LA Times reports that the Amendment campaign has only served to catalyze opposition within the state legislature and among activists, threatening the state's ability to move forward with research:

---
The amendment passed by fewer than 51,000 votes, or about two percentage points. The tight margin galvanized opponents. Within weeks, conservative lawmakers had introduced a measure to ban the very research protected by the amendment. That effort failed. But others have succeeded.

This spring, the legislature scratched plans to build an $85-million science center at the University of Missouri. The stated reason: Concern that the labs might one day be used for embryonic research -- even though the university's president explicitly stated they would not. To make sure that embryonic projects would not get funding, lawmakers banned a state science research fund from spending any money on human health -- grants will only go to projects involving plants and animals. Meanwhile, activists are discussing a petition drive to put an embryo-cloning ban on the ballot in 2008: "We're exploring however we can to get this back before the voters," said Pam Fichter, president of Missouri Right to Life.

The political tumult has demoralized Kevin Eggan, an assistant biology professor at Harvard who was seriously considering bringing his embryonic stem-cell lab to the Stowers Institute. Eggan grew up in the Midwest and said he'd like to return; plus, he said, "the Stowers is the Taj Mahal of science." After the November election, he thought he might take the leap. Now, he's sure he won't. "Anyone who does the kind of work I do," said Eggan, "would never consider going there now."
Big think's weekly newsletter.
Get smarter faster from the comfort of your inbox.
See our newsletter privacy policy
here