In 2008, the Democratic Nominee Will Be the Evangelical
Matthew C. Nisbet
Matthew C. Nisbet, Ph.D. is Associate Professor of Communication Studies, Public Policy, and Urban Affairs at Northeastern University. Nisbet studies the role of communication and advocacy in policymaking and public affairs, focusing on debates over over climate change, energy, and sustainability. Among awards and recognition, Nisbet has been a Visiting Shorenstein Fellow on Press, Politics, and Public Policy at Harvard University's Kennedy School of Government, a Health Policy Investigator at the Robert Wood Johnson Foundation, and a Google Science Communication Fellow. In 2011, the editors at the journal Nature recommended Nisbet's research as "essential reading for anyone with a passing interest in the climate change debate," and the New Republic highlighted his work as a "fascinating dissection of the shortcomings of climate activism."
16 August, 2010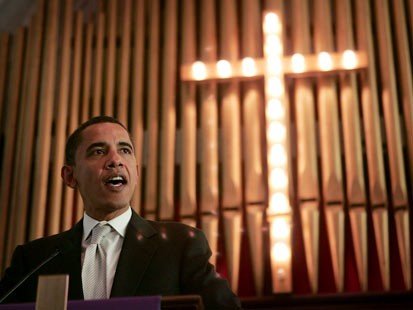 The irony of the 2008 presidential race is that this time around, the Democratic nominee is by far the more religiously devout candidate, promoting a born again language and professed faith. In a match up with John McCain, it's Barack Obama who can genuinely speak the language of evangelicals, softening some of the Democratic party's "God problem."

Indeed, news reports are speculating that many young Evangelical voters might break for Obama in the general election, a proposition that fits with some of the recent polling data that I have spotlighted at this blog.

The Obama campaign is already actively targeting Evangelicals, priming born again voters with an emphasis on the Senator's commitment to Christ. Consider this flyer distributed at churches in Kentucky quoting Obama as asserting: "My faith teaches me that I can sit in church and pray all that I want but I won't be fulfilling God's will unless I go out and do the Lord's work."

Evangelical pundits have taken notice. As Christian Broadcasting News senior correspondent Richard Brody writes:


I know the conservative policy purists will say that Obama is liberal and therefore Evangelicals won't buy his "Evangelical speak". Not so fast. Remember, many people vote based on an emotional connection to a candidate or if they can relate to that person. Obama may need to work on this perception that he is "elite" but when he talks about Jesus and the Bible and the fact that he's a sinner, it makes him more real and in the process, more electable too.
Related Articles
These modern-day hermits can sometimes spend decades without ever leaving their apartments.
700,000 Japanese people are thought to be hikikomori, modern-day hermits who never leave their apartments (BEHROUZ MEHRI/AFP/Getty Images).
Mind & Brain
A hikikomori is a type of person in Japan who locks themselves away in their bedrooms, sometimes for years.
This is a relatively new phenomenon in Japan, likely due to rigid social customs and high expectations for academic and business success.
Many believe hikikomori to be a result of how Japan interprets and handles mental health issues.
How a cataclysm worse than what killed the dinosaurs destroyed 90 percent of all life on Earth.
Credit: Ron Miller
Surprising Science
While the demise of the dinosaurs gets more attention as far as mass extinctions go, an even more disastrous event called "the Great Dying" or the "End-Permian Extinction" happened on Earth prior to that. Now scientists discovered how this cataclysm, which took place about 250 million years ago, managed to kill off more than 90 percent of all life on the planet.
A new study discovers the "liking gap" — the difference between how we view others we're meeting for the first time, and the way we think they're seeing us.
New acquaintances probably like you more than you think. (Photo by Simone Joyner/Getty Images)
Surprising Science
We tend to be defensive socially. When we meet new people, we're often concerned with how we're coming off. Our anxiety causes us to be so concerned with the impression we're creating that we fail to notice that the same is true of the other person as well. A new study led by Erica J. Boothby, published on September 5 in Psychological Science, reveals how people tend to like us more in first encounters than we'd ever suspect.
Big think's weekly newsletter.
Get smarter faster from the comfort of your inbox.
See our newsletter privacy policy
here
Most Popular
Most Recent
Big think's weekly newsletter.
Get smarter faster from the comfort of your inbox.
See our newsletter privacy policy
here
© Copyright 2007-2018 & BIG THINK, BIG THINK EDGE,
SMARTER FASTER trademarks owned by The Big Think, Inc. All rights reserved.