In 2007, Climate Change Falls Short of Top 20 Public Issues
16 August, 2010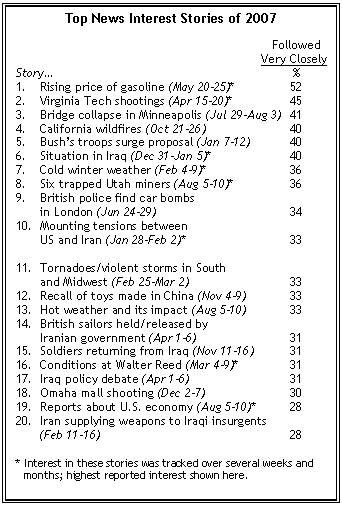 Pew has released its annual analysis of the top 20 most followed news stories of the year by the public. Pew pairs the survey data with a summary of their weekly news agenda tracking. For regular readers of this blog, you should not be surprised that climate change fails to crack the top 20 most followed issues or the top 20 most covered topics of 2007. (See previous posts here, and here.)


Several issues appear in the top 20 agenda items that are incidental to climate change including gas prices, periodic heat or cold waves, wild fires, and even the economy. In terms of effective public communication, if you are going to raise the public profile of climate change, one challenge is to figure out how to meaningfully and accurately connect the dots on these other agenda items, drawing attention to climate change by "riding piggyback" on focusing events.

One possible strategy is for scientists and environmental groups to put carefully vetted crisis communication plans in place so when wild fires, heat waves, skyrocketing gas prices, or other focusing events occur, each group can communicate in an accurate and coordinated way about the relevance of global climate change.

For example, when the wild fires hit California earlier this year, the event could have served as a major opportunity for environmental groups to engage the public. Yet their efforts were either paralyzed or off target because of a lack of careful and thorough research and planning about exactly what the message should be and how to communicate the message in a coordinated and consistent way.

We are constantly trying to force the world to look like us — we need to move on.
Videos
When the Berlin Wall fell in 1989, many Americans jumped for joy. At the time, some believed there weren't going to be any more political disagreements anywhere in the world. They thought American democracy had won the "war of ideas."
American exceptionalism has sought to create a world order that's really a mirror image of ourselves — a liberal world order founded on the DNA of American thinking. To many abroad this looks like ethnic chauvinism.
We need to move on from this way of thinking, and consider that sometimes "problem-solving," in global affairs, means the world makes us look like how it wants to be.
Scientists make an important discovery for the future of computing.
Pixabay
Surprising Science
Researchers find a new state of matter called "topological superconductivity".
The state can lead to important advancements in quantum computing.
Utilizing special particles that emerge during this state can lead to error-free data storage and blazing calculation speed.
French newspapers report that the trial hasn't lived up to expectations.
Image source: Charly Triballeau / AFP / Getty Images
Technology & Innovation
The French government initially invested in a rural solar roadway in 2016.
French newspapers report that the trial hasn't lived up to expectations.
Solar panel "paved" roadways are proving to be inefficient and too expensive.