Big ideas.
Once a week.
Subscribe to our weekly newsletter.
How Do Americans View the Risks of a Major Spike in Oil Prices?
20 February, 2012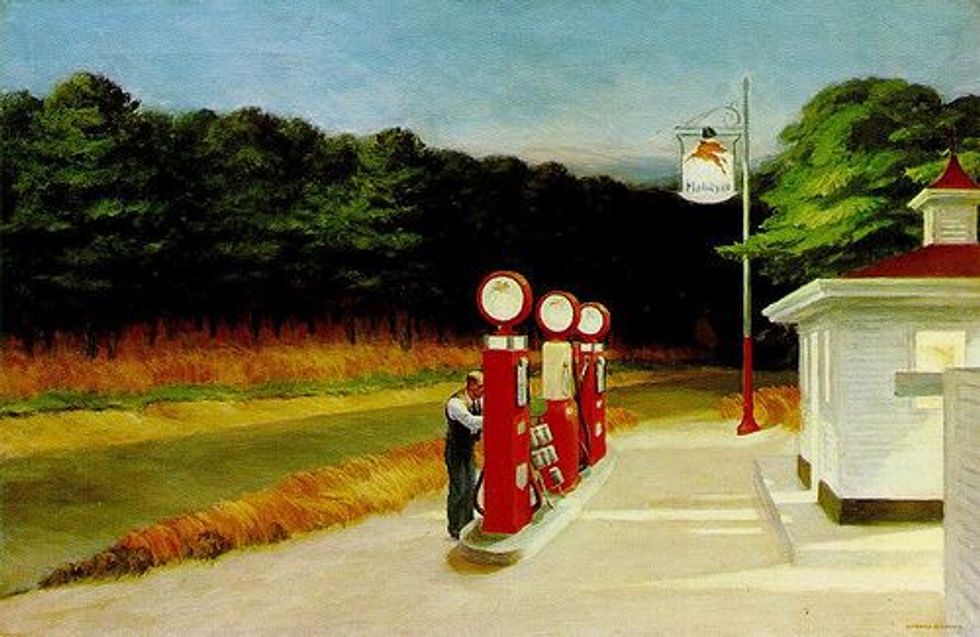 Gasoline prices have never been higher this time of the year, reports the Associated Press. At $3.53 a gallon, prices are already up 25 cents since Jan. 1. And experts say they could reach a record $4.25 a gallon by late April.  A 25-cent jump in gasoline prices, if sustained over a year, would cost the economy about $35 billion, according to the AP.  
---
World oil prices are the highest they have been since last June.  Continuing tension with Iran may limit supply.  And a recovering U.S. economy that creates more demand may further drive up the price of oil, reports the AP.  
All of this points to a likely record price for gasoline this summer, a trend that is sure to affect Americans, not to mention deeply impact the presidential campaign.
Yet how do Americans perceive the societal risks of volatile and record high oil and gasoline prices?  Are they aware of the impacts not just on the economy but also to the public health system?  And how does ideology and views of climate change shape risk perceptions?
The answers are somewhat surprising, as we discovered in a study we published last year at the American Journal of Public Health.  Liberals in particular tend to have a blind spot to the risks of a spike in oil and gas prices.  Below, I repost the blog summary I wrote on that study with links to more information--Matthew Nisbet.
Peak Oil: Threats to the Economy and to Public Health
A strong majority of Americans say it is likely that oil prices will triple in the coming five years and that such a tripling would be harmful both to the economy and to public health. Conservatives and those dismissive of climate change are among the most concerned by the threat of a major spike in oil prices, suggesting that a broad cross section of Americans may be ready to engage in dialogue about ways to manage the risks associated with peak petroleum.
Those are among the key findings of a forthcoming study published online this week at the American Journal of Public Health. I co-authored the study with Edward Maibach of George Mason University and Anthony Leiserowitz of Yale University.
In this post I summarize the study, provide supplementary graphs, and discuss several implications.  You can read a PDF of the study at the Climate Shift Project web site and download the supplementary graphs.
As the editors of the special issue of the American Journal of Public Health review, estimates on when society passes "peak" production of petroleum have put the peak as early as the first decade and as late as the third decade of this century.The associated instability in gas and energy prices is likely to lead to a loss of personal income, unemployment, a decline in consumer confidence, and an overall increased cost of goods and services. The associated public health impacts include an increase in the cost of medical supplies and pharmaceuticals; a rise in the cost of transportation for patients, health care providers, and medical suppliers; an increase in the operating costs of hospitals and health care facilities; and a rise in the cost of food, home heating, and cooling.
As we review in our study, like climate change, experts and their organizations must plan for and mobilize societal actions that mitigate (i.e. delay) the advent of peak petroleum while also pursuing adaptation strategies that protect the public against negative economic and health consequences when peak petroleum does occur.
In addition, there is a pressing need to launch public engagement initiatives that partner members of the public with experts and officials in establishing long-term policy planning at the local, regional and national levels. Coverage by legacy news organizations -- along with newer digital and non-profit news providers -- will be a central part of the communication infrastructure that society needs to respond to the threats posed by peak petroleum.
Just as is the case on climate change, each of these efforts need to be informed by careful audience research that assesses where different segments of the public currently stand in terms of awareness and perceptions of the issue.  Unfortunately, to date, there has been very limited research in this area.
Measuring Risk Perceptions Associated with Peak Petroleum
To address this gap, between December 24, 2009 and January 3, 2010, we conducted a nationally representative survey of 1,001 American adults using KnowledgePanel, an online panel operated by Knowledge Networks.  Recruited nationally using random-digit dialing (RDD) telephone methodology, KnowledgePanel is representative of the U.S. population.
At the time of the start of the survey in December 2009, gas prices nationally were at a relative low of $2.60-a-gallon.  The beginning of the year had seen even lower prices at $1.85-a-gallon.  Memory of high gas prices, however, likely remained salient as June 2008 had seen a surge to more than $4 nationally, with gas prices receiving heavy focus during the presidential primary contest between Barack Obama and Hillary Clinton.
Given to date the minimal news attention to the expert debate over peak petroleum, respondents were not asked directly about the specific topic, but were instead asked about their reactions to several possible scenarios related to peak petroleum.  The perceived likelihood of experiencing the price consequences of peak petroleum within the next five years was measured with a statement followed by a question:
Some energy experts predict that oil prices will soon begin to rise dramatically higher, possibly tripling in price within five years.  How likely do you think this is?
Response options were: very unlikely; somewhat unlikely; somewhat likely; and very likely.
Following this question, we then prompted respondents to consider the potential economic consequences of peak petroleum – and then switching context – the public health consequences.  Specifically, we asked:
If oil prices were to triple over the next five years, how harmful or helpful to the U.S. economy would it be?"
If oil prices were to triple over the next five years, how harmful or helpful to the health of Americans would it be?"
Response options to these two questions were: very harmful; somewhat harmful; somewhat helpful; very helpful; don't know.
A Strong Majority of Conservatives Believe that a Tripling of Oil Prices Would Lead to Very Harmful Impacts
At the time of our survey in January 2010, approximately 3 out of 4 Americans said that oil prices were either "very likely" (24%) or "somewhat likely" (52%) to triple over the next five years.  Nearly 2/3 --or 65%-- of these respondents said that if oil prices were to triple, it would be "very harmful" to the economy and 44% said it would be "very harmful" to the health of Americans.
Let's take a look at how these perceptions varied by ideological background. The graph below shows that in January 2010, approximately 33% of Americans self-identified as conservative compared to 21% of Americans who self-identified as liberal and 41% who identified as moderates.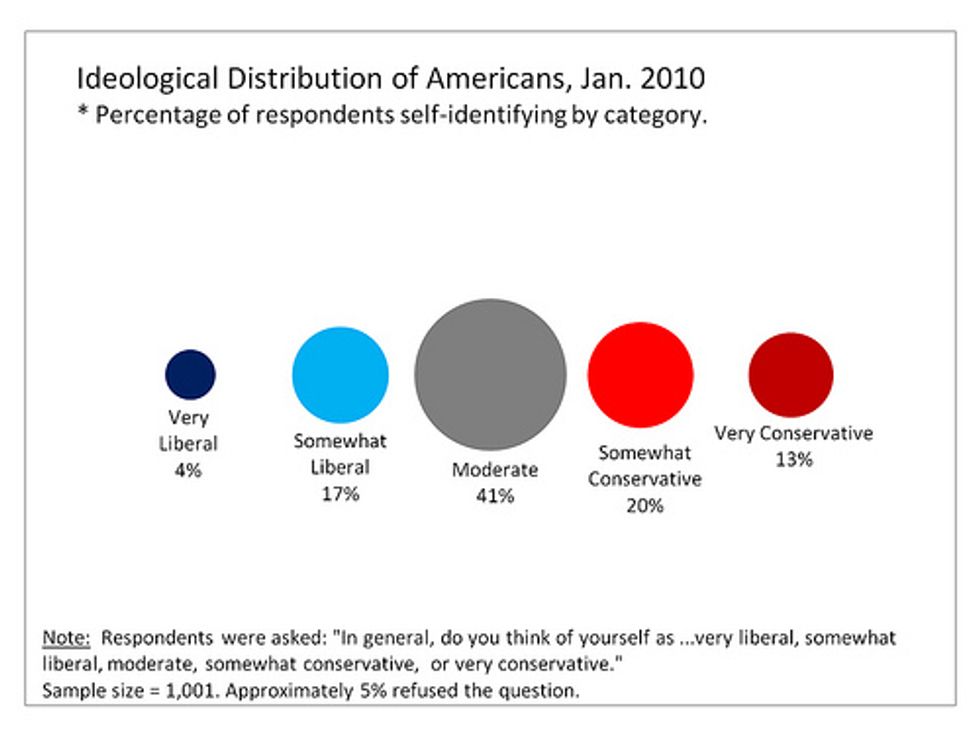 Given that past research shows that the strongly ideological on the left and the right are typically among the most public affairs attentive, it is not surprising in the graph below that approximately 1/3 of these tail-end ideological groups say it is "very likely" that oil prices will triple over the next 5 years.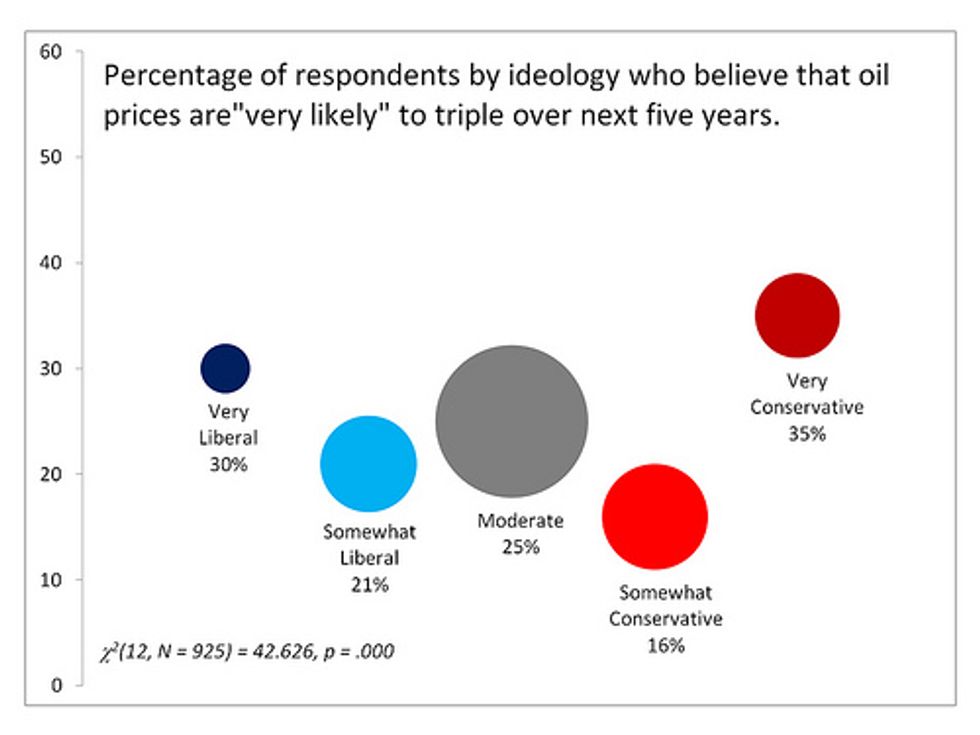 However, when asked about the severity of the economic impacts associated with a major spike in oil prices, there is more than a 20% difference in risk perceptions between strong liberals and strong conservatives with risk perceptions correlated in the conservative direction.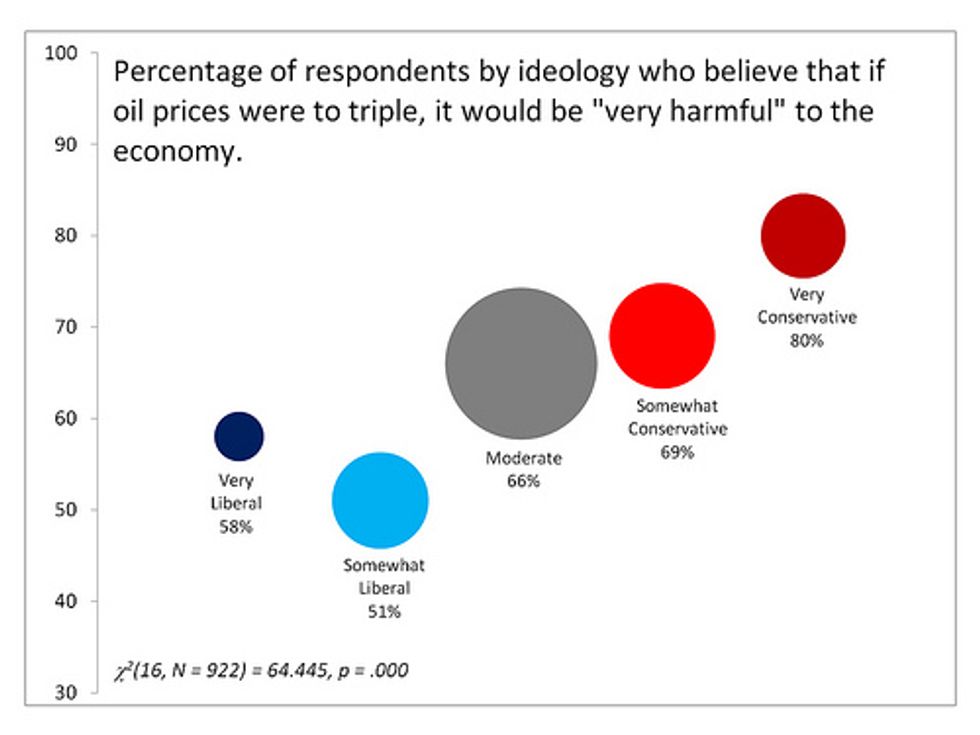 There are a number of possible reasons that conservatives exhibit stronger risk perceptions relative to the economic impacts of a major spike in oil prices. These include a difference in worldview that tends to prioritize economic issues over other concerns; differences in professional and geographic background that translate into a stronger sensitivity to oil prices; and politically-like minded opinion-leaders and media sources that may place a stronger emphasis on gas prices and oil dependency.
More research is needed to better understand the latent predispositions, background factors, and communication processes that account for the difference in risk perceptions between liberals and conservatives on the issue and how this understanding then translates into effectively engaging decision-makers and the public on energy policy.
Though the difference between conservatives and liberals is not as pronounced, 53% of strongly conservative Americans believe that a major spike in oil prices would be "very harmful" to health.  Several of the same factors that account for the difference in risk perceptions on economic impacts also likely play a role on the health dimension.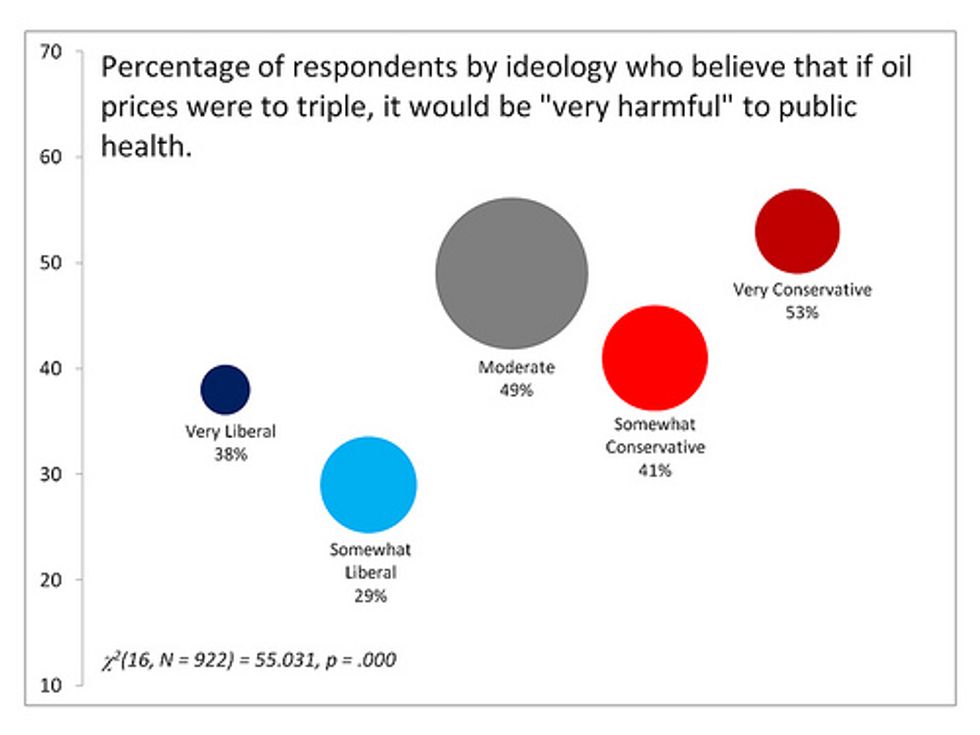 In addition, from past research we have conducted, we know that concerns over public health tend to transcend ideological background and offer an important opening for engaging the public on the risks of climate change and the health benefits that accrue from action on the issue. In the current study, we see this relationship similarly holding up for peak petroleum, as I discuss in the next section.
A Majority of Americans Who Dismiss Climate Change Believe that a Tripling in Oil Prices Would Lead to Very Harmful Impacts
Using an audience segmentation methodology developed by Maibach and Leiserowitz, we also examined risk perceptions across segments of the public with uniquely different views on climate change.  These six unique audience segments displayed below ranged from those "Alarmed" by climate change to those "Dismissive" of the problem.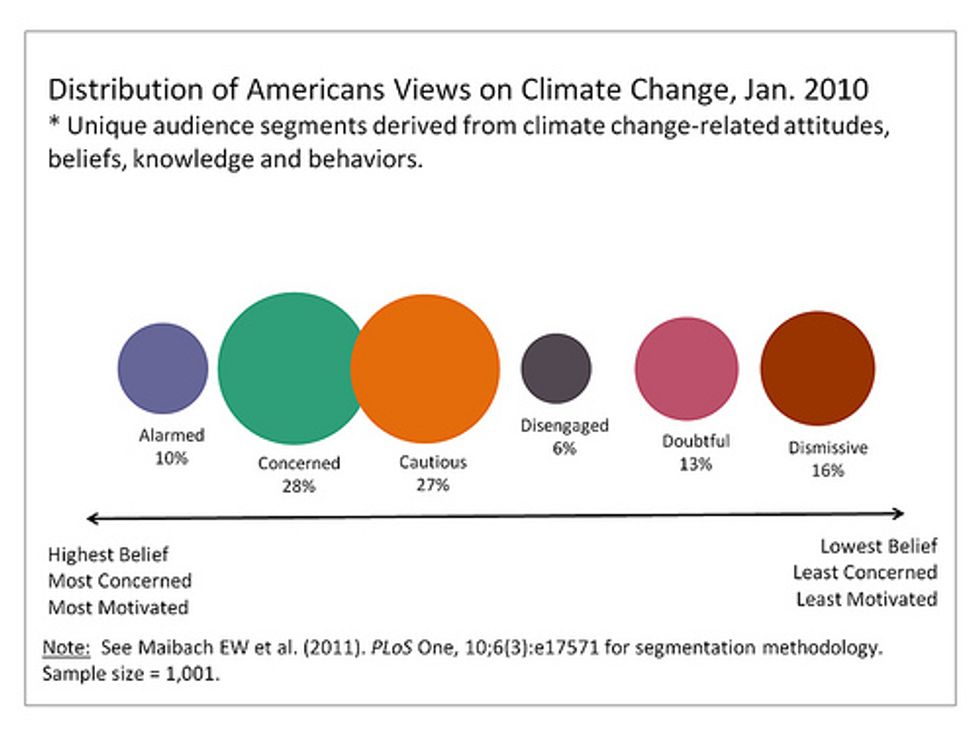 In the graph below, those Alarmed by climate change are the most likely to believe that a tripling of oil prices is very likely, but those Dismissive of climate change are second among the six audience segments in this regard.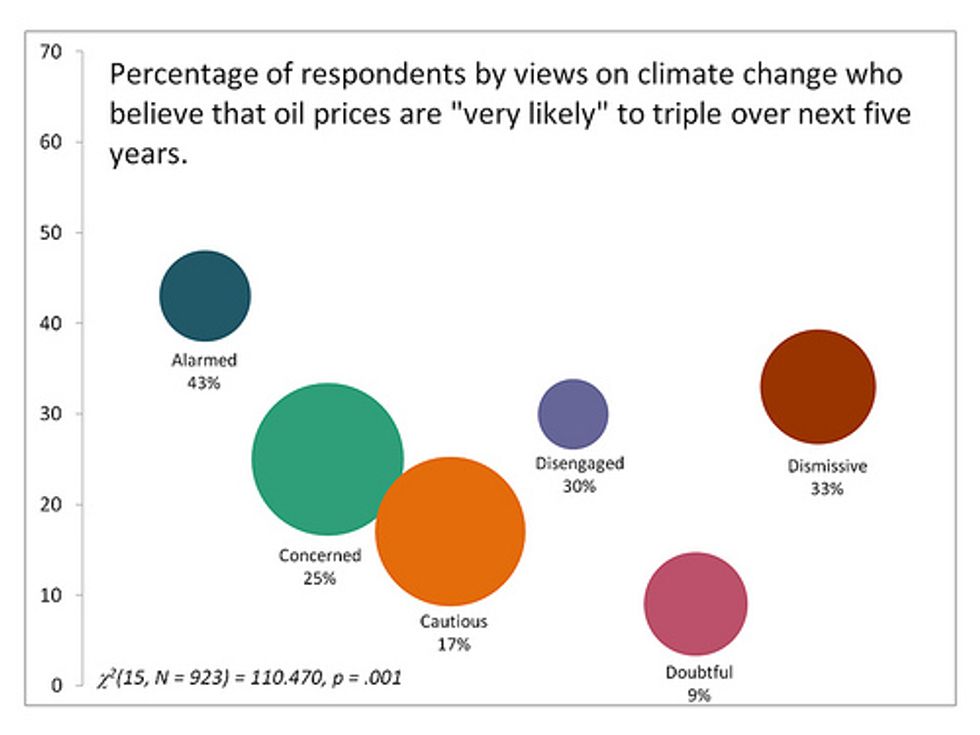 Of perhaps even greater interest, 75% of those respondents Dismissive of climate change believe that a tripling in oil prices would be very harmful to the economy, an almost 20% difference in comparison to those Alarmed by climate change.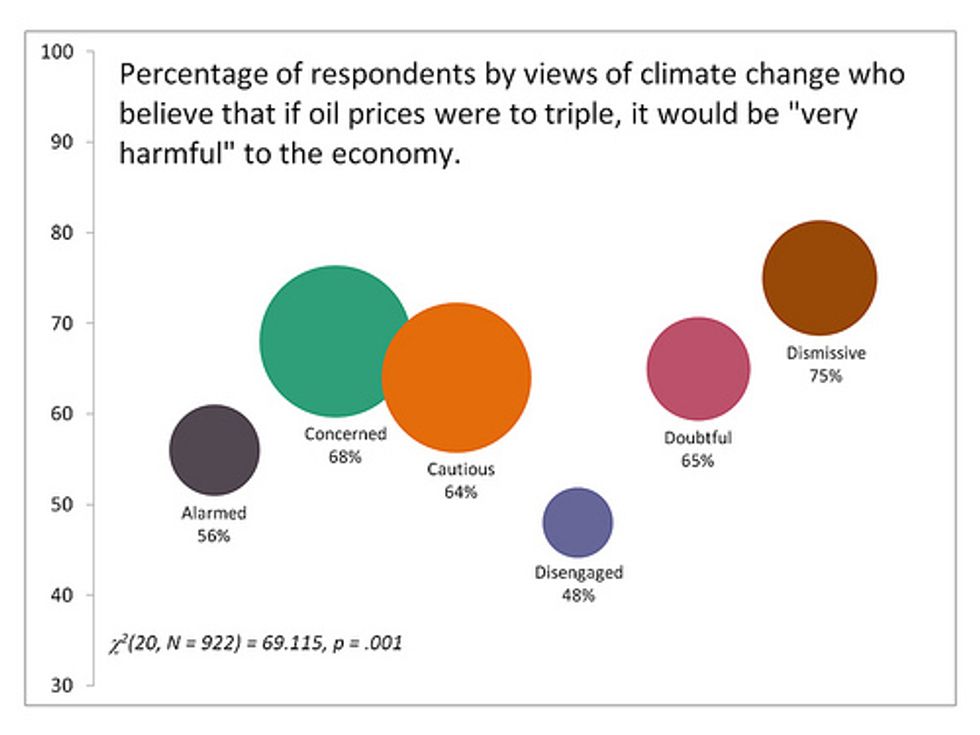 Those Dismissive of climate change also hold strong risk perceptions related to the health impacts of a major spike in oil prices with 52% of Dismissives indicating such an event would be "very harmful" to public health.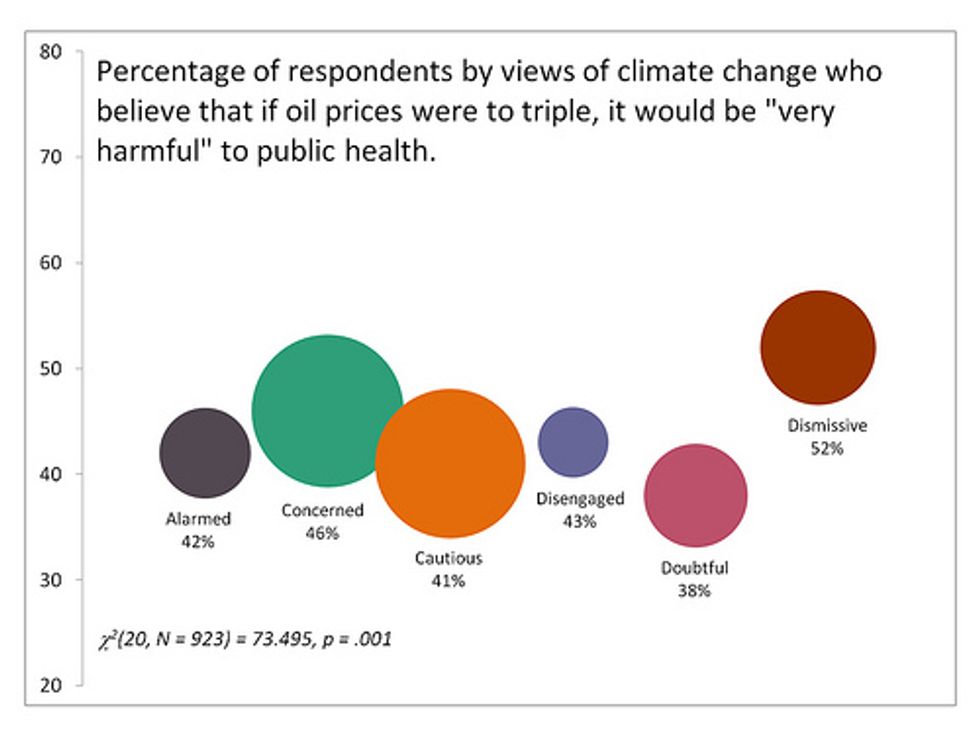 More research is needed to better understand the factors accounting for these findings showing that those Alarmed by climate change tend to be less sensitive to the economic risks of peak petroleum while those Dismissive of climate change hold greater sensitivity.  Some of the same factors shaping the difference between liberals and conservatives also likely play a role in explaining these findings.  Indeed there is a correlation between ideology and the audience segments on climate change but this relationship explains only a part of the variance.
Conclusion and Recommendations
Below is how we conclude the article at the American Journal of Public Health.  You can read the full study here.
...A significant proportion of American adults––at least half––appear open to considering the possibility that our health is vulnerable to major shifts in energy prices. Moreover, this belief was widely shared among people of different political ideologies and was strongly held even among individuals otherwise dismissive of the issue of climate change. This latter finding is particularly intriguing because it suggests that a broad cross section of Americans may be ready to engage in dialogue about ways to manage the risks that experts associate with peak petroleum.
At the time of our survey, news coverage, polls, and public statements indicated that the American people and policymakers, especially political conservatives, were strongly concerned about the economy, jobs, and health insurance reform.8 This context may partly explain why conservatives in our survey perceived a higher risk of the economic impacts of a spike in oil prices than other respondents. Yet our survey findings suggest that a broad cross section of the public––including people from opposite ends of the ideological spectrum––were more receptive than we had expected to the idea that a significant increase in energy costs could lead to greater health risks....
...Although Americans are unlikely to be aware of the concept of peak petroleum, the level of expert agreement on the issue, or the potentially significant impacts of peak petroleum on society, the public does possess a latent sense of a pending energy problem and is concerned about the potential consequences of this problem for public health.
These are not highly salient, deeply held, or emotionally laden reactions; rather, they are more akin to latent public sentiment.  However, if organizations, agencies, and institutions pursue well-coordinated and well designed engagement initiatives, then these latent predispositions could evolve into highly salient, deeply held, and informed public concerns.
In addition to the influence of engagement strategies, public concern over energy prices and future awareness of peak petroleum are likely to vary over time because of events like economic downturns, the price of gas, political focusing events, and disasters such as the 2010 oil spill in the Gulf of Mexico. At the time of our survey, the price of gasoline was a relatively low $2.60 per gallon, but gas prices currently are more than $4 per gallon nationally. Constant changes in relevant contextual factors point to the need for continuing survey research and monitoring to track and query the public on a regular basis.
Moreover, our measures of the likelihood of the tripling of energy prices over the next 5 years and concern over health impacts do not measure whether the public perceives or accepts the ''long emergency''of peak petroleum, including the changes to daily life and social organization predicted by some experts. As public engagement initiatives to address peak petroleum are pursued, careful measures should be developed to map this more complex understanding across segments of the public.
Although the issue of peak petroleum maybe relatively new to the wider public health field, there is an important need to launch public engagement initiatives that partner members of the public with experts and officials in establishing long-term policy planning––a goal directly in line with past community based participatory research (CBPR) initiatives in public health....
...CBPR and associated public engagement methods may also prove valuable in helping public health officials make better decisions about some inherently uncertain choices that must be made relative to peak petroleum. For example, climate change, energy scarcity, the built environment, and food security are all interconnected; should public health officials address these factors (or even communicate about them) as an integrated whole, or should they be addressed independently? How does long-term public engagement planning differ from the short-term emergency communication that would follow an acute crisis related to dramatic changes in the price of petroleum?
Investment in audience research and participatory engagement will have financial, human resource, and opportunity costs, yet these costs are quite modest compared with the risks they are intended to help manage and the benefits that can accrue. We hope that this special issue of the American Journal of Public Health, along with other efforts on the part of the public health community, will catalyze additional research and engagement initiatives to address peak petroleum.
Citation:
Nisbet MC, Maibach E, & Leiserowitz A (2011). Framing Peak Petroleum as a Public Health Problem: Audience Research and Participatory Engagement in the United States. American journal of public health PMID: 21778500
Abstract
Between December 2009 and January 2010, we conducted a nationally representative telephone survey of US adults (n=1001; response rate=52.9%) to explore perceptions of risks associated with peak petroleum. We asked respondents to assess the likelihood that oil prices would triple over the next 5 years and then to estimate the economic and health consequences of that event. Nearly half (48%) indicated that oil prices were likely to triple, causing harm to human health; an additional 16% said dramatic price increases were unlikely but would harm health if they did occur. A large minority (44%) said sharp increases in oil prices would be "very harmful" to health.  Respondents who self-identified as very conservative (53%) and those who were strongly dismissive of climate change (52%) were the respondents most likely to perceive very harmful health consequences. (Am J Public Health. Published online ahead of print July 21, 2011: e1-e7. doi:10.2105/AJPH.2011.300230)
Acknowledgements
This study was supported with funding from the Robert Wood Johnson Foundation Health Policy Investigators Program, the 11th Hour Project, and the Surdna Foundation.
See Also:
Study: Re-Framing Climate Change as a Public Health Issue
Report on Conveying the Public Health Implications of Climate Change<
* Reposted from Age of Engagement.
These alien-like creatures are virtually invisible in the deep sea.
Credit: Karen Osborn/Smithsonian
Surprising Science
A team of marine biologists used nets to catch 16 species of deep-sea fish that have evolved the ability to be virtually invisible to prey and predators.
"Ultra-black" skin seems to be an evolutionary adaptation that helps fish camouflage themselves in the deep sea, which is illuminated by bioluminescent organisms.
There are likely more, and potentially much darker, ultra-black fish lurking deep in the ocean.
A team of marine biologists has discovered 16 species of "ultra-black" fish that absorb more than 99 percent of the light that hits their skin, making them virtually invisible to other deep-sea fish.
The researchers, who published their findings Thursday in Current Biology, caught the species after dropping nets more than 200 meters deep near California's Monterey Bay. At those depths, sunlight fizzles out. That's one reason why many deep-sea species have evolved the ability to illuminate the dark waters through bioluminescence.
But what if deep-sea fish don't want to be spotted? To counter bioluminescence, some species have evolved ultra-black skin that's exceptionally good at absorbing light. Only a few other species are known to possess this strange trait, including birds of paradise and some spiders and butterflies.
The Pacific blackdragon
Credit: Karen Osborn/Smithsonian
When researchers first saw the deep-sea species, it wasn't immediately obvious that their skin was ultra-black. Then, marine biologist Karen Osborn, a co-author on the new paper, noticed something strange about the photos she took of the fish.
"I had tried to take pictures of deep-sea fish before and got nothing but these really horrible pictures, where you can't see any detail," Osborn told Wired. "How is it that I can shine two strobe lights at them and all that light just disappears?"
After examining samples of fish skin under the microscope, the researchers discovered that the fish skin contains a layer of organelles called melanosomes, which contain melanin, the same pigment that gives color to human skin and hair. This layer of melanosomes absorbs most of the light that hits them.
A crested bigscale
Credit: Karen Osborn/Smithsonian
"But what isn't absorbed side-scatters into the layer, and it's absorbed by the neighboring pigments that are all packed right up close to it," Osborn told Wired. "And so what they've done is create this super-efficient, very-little-material system where they can basically build a light trap with just the pigment particles and nothing else."
The result? Strange and terrifying deep-sea species, like the crested bigscale, fangtooth, and Pacific blackdragon, all of which appear in the deep sea as barely more than faint silhouettes.
Pacific viperfish
David Csepp, NMFS/AKFSC/ABL
But interestingly, this unique disappearing trick wasn't passed on to these species by a common ancestor. Rather, they each developed it independently. As such, the different species use their ultra-blackness for different purposes. For example, the threadfin dragonfish only has ultra-black skin during its adolescent years, when it's rather defenseless, as Wired notes.
Other fish—like the oneirodes species, which use bioluminescent lures to bait prey—probably evolved ultra-black skin to avoid reflecting the light their own bodies produce. Meanwhile, species like C. acclinidens only have ultra-black skin around their gut, possibly to hide light of bioluminescent fish they've eaten.
Given that these newly described species are just ones that this team found off the coast of California, there are likely many more, and possibly much darker, ultra-black fish swimming in the deep ocean.
Information may not seem like something physical, yet it has become a central concern for physicists. A wonderful new book explores the importance of the "dataome" for the physical, biological, and human worlds.
Credit: agsandrew via Adobe Stock
13-8
The most important current topic in physics relates to a subject that hardly seems physical at all — information, which is central to thermodynamics and perhaps the universe itself.
The "dataome" is the way human beings have been externalizing information about ourselves and the world since we first began making paintings on cave walls.
The dataome is vast and growing everyday, sucking up an ever increasing share of the energy humans produce.
Physics is a field that is supposed to study real stuff. By real, I mean things like matter and energy. Matter is, of course, the kind of stuff you can hold in your hand. Energy may seem a little more abstract, but its reality is pretty apparent, appearing in the form of motion or gravity or electromagnetic fields.
What has become apparent recently, however, is the importance to physics of something that seems somewhat less real: information. From black holes to quantum mechanics to understanding the physics of life, information has risen to become a principal concern of many physicists in many domains. This new centrality of information is why you really need to read astrophysicist Caleb Scharf's new book The Ascent of Information: Books, Bits, Machines, and Life's Unending Algorithms.
Scharf is currently the director of the Astrobiology Program at Columbia University. He is also the author of four other books as well as a regular contributor to Scientific American.
(Full disclosure: Scharf and I have been collaborators on a scientific project involving the Fermi Paradox, so I was a big fan before I read this new book. Of course, the reason why I collaborated with him is because I really like the way he thinks, and his creativity in tackling tough problems is on full display in The Ascent of Information.)
What is the dataome?
In his new book, Scharf is seeking a deeper understanding of what he calls the "dataome." This is the way human beings have been externalizing information about ourselves and the world since we first began making paintings on cave walls. The book opens with a compelling exploration of how Shakespeare's works, which began as scribbles on a page, have gone on to have lives of their own in the dataome. Through reprintings in different languages, recordings of performances, movie adaptations, comic books, and so on, Shakespeare's works are now a permanent part of the vast swirling ensemble of information that constitutes the human dataome.
I found gems in these parts of the book that forced me to put the volume down and stare into space for a time to deal with their impact.
But the dataome does not just live in our heads. Scharf takes us on a proper physicist's journey through the dataome, showing us how information can never be divorced from energy. Your brain needs the chemical energy from food you ate this morning to read, process, and interpret these words. One of the most engaging parts of the book is when Scharf details just how much energy and real physical space our data-hungry world consumes as it adds to the dataome. For example, the Hohhot Data Center in the Inner Mongolia Autonomous Region of China is made of vast "farms" of data processing servers covering 245 acres of real estate. A single application like Bitcoin, Scharf tells us, consumes 7.7 gigawatts per year, equivalent to the output of half a dozen nuclear reactors!
Information is everywhere
But the dataome is not just about energy. Entropy is central to the story as well. Scharf takes the reader through a beautifully crafted discussion of information and the science of thermodynamics. This is where the links between energy, entropy, the limits of useful work, and probability all become profoundly connected to the definition of information.
The second law of thermodynamics tells us that you cannot use all of a given amount of energy to do useful work. Some of that energy must be wasted by getting turned into heat. Entropy is the physicist's way of measuring that waste (which can also be thought of as disorder). Scharf takes the reader through the basic relations of thermodynamics and then shows how entropy became intimately linked with information. It was Claude Shannon's brilliant work in the 1940s that showed how information — bits — could be defined for communication and computation as an entropy associated with the redundancy of strings of symbols. That was the link tying the physical world of physics explicitly to the informational and computational world of the dataome.
The best parts of the book are where Scharf unpacks how information makes its appearance in biology. From the data storage and processing that occurs with every strand of DNA, to the tangled pathways that define evolutionary dynamics, Scharf demonstrates how life is what happens to physics and chemistry when information matters. I found gems in these parts of the book that forced me to put the volume down and stare into space for a time to deal with their impact.
The physics of information
There are a lot of popular physics books out there about black holes and exoplanets and other cool stuff. But right now, I feel like the most important topic in physics relates to a subject that hardly seems physical at all. Information is a relatively new addition to the physics bestiary, making it even more compelling. If you are looking for a good introduction to how that is so, The Ascent of Information is a good place to start.
A new study tested to what extent dogs can sense human deception.
Credit: Adobe Stock / kozorog
Surprising Science
A study of 260 dogs found that, in some cases, dogs can tell when people are lying.
The experiments involved giving dogs information about the location of food.
The majority of the dogs did not follow false suggestions when they knew humans were lying.
Is humanity's best friend catching on to our shenanigans? Researchers at the University of Vienna discovered that dogs can in certain cases know when people are lying.
The scientists carried out a study with hundreds of dogs to determine to what extent dogs could spot deception. The team's new paper, published in Proceedings of the Royal Society B, outlined experiments that tested whether dogs, like humans, have some inner sense of how to assess truthfulness.
As the researchers wrote in their paper, "Among non-primates, dogs (Canis familiaris) constitute a particularly interesting case, as their social environment has been shared with humans for at least 14,000 years. For this reason, dogs have been considered as a model species for the comparative investigation of socio-cognitive abilities." The investigation focused specifically on understanding if dogs were "sensitive to some mental or psychological states of humans."
The experiment
The experiments involved 260 dogs, which were made to listen to advice from a human "communicator" whom they did not know. The human told them which one of two bowls had a treat hidden inside by touching it and saying, "Look, this is very good!" If the dogs took the person's advice, they would get the treat.
Once they established the trust of the dogs, the researchers then complicated the experience by letting dogs watch another human that they did not know transfer the treat from one bowl to another. In some cases, the original communicator would also be present to watch but not always.
The findings revealed that half of the dogs did not follow the advice of the communicator if that person was not present when the food was switched to a different bowl. The dogs had a sense that this human could not have known the true location of the treat. Furthermore, two-thirds of the dogs ignored the human's suggestion if she did see the food switch but pointed to the wrong bowl. The dogs figured out the human was lying to them.
Photos of experiments showing the dog, human communicator, and person hiding the treat. Credit: Lucrezia Lonardo et al / Proceedings of the Royal Society B.
"We thought dogs would behave like children under age five and apes, but now we speculate that perhaps dogs can understand when someone is being deceitful," co-author Ludwig Huber from the University of Vienna told New Scientist. "Maybe they think, 'This person has the same knowledge as me, and is nevertheless giving me the wrong [information].' It's possible they could see that as intentionally misleading, which is lying."
This is not the first time such experiments have been carried out. Previously, children under age five, macaques, and chimps were tested in a similar way. It turned out that children and other animals were more likely than dogs to listen to the advice of the liars. Notably, among the dogs, terriers were found to be more like children and apes, more eagerly following false suggestions.
Personal Growth
When we rely on the conscious mind alone, we lose; but when we listen to the body, we gain a winning edge.
Scroll down to load more…