Big ideas.
Once a week.
Subscribe to our weekly newsletter.
How AAAS Scientists View the Public, the Media, and the Political Process
16 February, 2012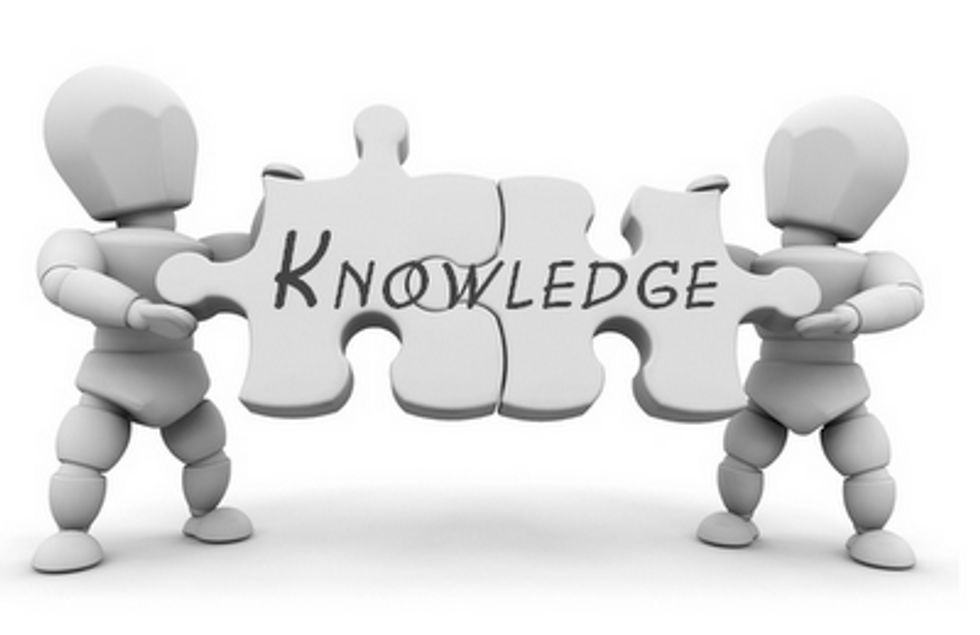 Today marks the start of the annual conference of the American Association for the Advancement of Science, one of the world's great scientific meetings. Many of the panels held in Vancouver are designed to educate and inform scientists and science-related professionals as they seek to engage the public, the media, and the policy process.
---
Yet how do scientists tend to perceive these institutions?  What mental models do they apply in attempting to make sense of complex political debates like those over climate change? What are the range of factors that influence both their opinions and their decision-making?
In a forthcoming study at the journal Public Understanding of Science, John Besley and I synthesized past research on how scientists view the public, the goals of communication, the performance and impacts of the media, and the role of the public in policy decision-making. We added to these past findings by analyzing a recent large-scale survey of AAAS members as well as a survey of members of the UK Royal Society. 
As we find, most scientists in the US and UK continue to blame public ignorance of science for flawed policy preferences and political choices. They tend to be critical of media coverage, yet rate favorably their own experience with the media.  Scientists say policy-makers and journalists are the most important groups to engage and view the public as having secondary importance in political decision-making. Among scientists, perceptions of science-related policy debates are likely to be influenced by ideology and like-minded information sources such as blogs. 
In this blog post, I discuss our analysis, main findings and conclusions.  I also connect these findings to other recent papers and studies. A PDF version of the forthcoming study is available at the Climate Shift Project web site.  
WHY STUDY THE VIEWS OF SCIENTISTS?
The first issue of Public Understanding of Science in 1992 included a suggestion by the physicist Jean-Marc Levy-Leblond that scholars "supplement our studies and activities on the understanding of science by the public, with studies and activities on the understanding of the public by scientists."  In the last decade, a number of scholars have taken up this call using in depth interviews, case studies and small-sample surveys to identify common elements of scientists' views.
As I described in a previous paper with Dietram Scheufele, it is increasingly important to understand how scientists form judgments about the public, the communication process, media coverage, and political decision-making. With strong levels of societal trust and admiration, scientists remain among the leading authorities called upon in policy debates to give media interviews, testify before political bodies or address public forums.
In addition, as decision-makers at their organizations, many scientists are responsible for setting strategy, allocating resources and establishing communication priorities. Scientists also contribute to the framing of debates over topics such as climate change and stem cell research through blogging, political activism and other forms of public communication, shaping societal interpretations about why an issue might be a problem, who or what is to blame and what should be done.
In this article, we therefore focus on connecting past scholarship with the analysis of two recent surveys of UK and U.S. scientists, examining:
scientists' views of the general public.
scientists' views of the news media.
scientists' views of the role of the public in the policy process.
DATA SOURCES AND ANALYSIS
Our analysis makes use of two recent large-sample surveys of scientists – one from the United Kingdom and another form the United States.
The UK survey was conducted in 2005 by People Science and Policy with funding from The Royal Society, Research Councils UK, and The Wellcome Trust. Respondents were from a diversity of fields including medicine (26% of respondents), biological science (28%), engineering (21% ), chemistry (5%), physics ( 8%), mathematics (4%), and the environmental sciences (8%).
The US survey was collected by the Pew Center for the People and the Press in collaboration with the American Association for the Advancement of Science (AAAS). Online interviews were completed in early summer 2009 with randomly selected AAAS members and this data was also weighted to ensure that the sample reflected the AAAS membership. Respondents were similarly from a diversity of fields including the biological and medical sciences (51% of respondents), chemistry (14%), physics and astrophysics (8%), social scientists (8%), engineering (6%), and the geosciences (6%). A small proportion chose not to respond, said they were not a scientist or gave "other" as their field (n = 127).
One limitation of the use of the AAAS membership as the baseline population of scientists for this survey is that the organization is specifically aimed at the "advancement" of science, increasing the likelihood that those who belong may have a different set of political views than the overall population of scientists.
With an annual $70 million budget, AAAS publishes Science magazine and educates policy-makers, the media, the public and its members on a range of policy debates such as those over climate change and stem cell research. Many scientists may, however, forgo membership in AAAS because the chief benefit – a Science magazine subscription – can be read online at their workplace. Still others may disagree with some of the policy positions taken by AAAS. [For more on the composition of the respondents to the AAAS survey, see this discussion and analysis.]
Written as a synthesis article, we take a descriptive approach to each of the three outlined areas. This is done by first highlighting major past work, most of which is qualitative, and then integrating, where possible, our analysis of the surveys of UK and US scientists. In our review, we also draw on findings from a 2001 survey of 1,540 scientists in Great Britain sponsored by the Wellcome Trust.
In the conclusion to the paper, we discuss several likely factors influencing scientists' views. These include social background, discipline, gender, worldviews, ideology, information sources, perceived group norms and other communication-related processes. Previous studies have identified these factors as shaping how experts perceive risks related to technologies such as nuclear energy or nanotechnology and how these technologies should be managed and/or regulated.
For example in a recent survey study of the most productive nanoscientists, after controlling for expert judgments about potential risks and benefits, conservative scientists were less supportive of regulation and liberal scientists more supportive. Given that most scientists lack substantial expertise in research related to public opinion, the media or the political process, factors such as ideology are likely to play an even stronger role in how scientists make sense of the complexities of public communication and engagement.
HOW SCIENTISTS VIEW THE PUBLIC
Almost universally, studies find that scientists believe the public is inadequately informed about science topics, including food risks, genetic modification, chemicals, and even aquaculture. Further, scientists believe that, except for a small minority, the public is uninterested in becoming more knowledgeable.
The consequence, and cause, of the public's limited scientific sophistication has also been the subject of speculation by scientists. Several studies find that scientists view the public as non-rational and unsystematic in their thinking such that they rely on anecdotes and then overreact to minor risks. Others have found that scientists see the public as emotional, fear prone, overly focused on the sensational, self-interested and stubborn in the face of new evidence. Because of these perceived limits, scientists argue that scientific information needs to be simple, carefully worded, visual and entertaining.
The 2001 Wellcome Trust study found that 53% of scientists said the main barrier to "greater understanding of science" among the public was lack of education. Another 35% said the problem was the media, 26% said the problem was lack of understanding about scientific processes, and 22% suggested that the problem was the lack of interest. Less than a third suggested that the problem was with scientists. Among those that did reflect on their own faults, 20% argued for lack of communication skills by scientists and 11% pointed to scientists' limited interest in public communication. Several studies have also found that scientists see the public as homogeneous.
One such study of scientists involved in genetically modified food research suggested that experts view the public as a uniform group of non-experts with little allowance for "any relevant expertise outside of the scientific community, or for any intermediate degrees of scientific knowledge or understanding." In contrast, other studies emphasize a range of specific homogeneous groups of lay-persons (e.g., farmers, consumers, etc.), though these were often simplified using dichotomies that asked respondents to differentiate between a dominant public that does not understand science and a minority, pro-science public.
Another study of scientists in the chemical industry suggests a view of the public either as chemical plant neighbors or as consumers of chemical products. One group that scientists may differentiate from the public is opponents of science such as environmental or animal rights group members. Limited work notes that actual experience interacting with the public tends to give scientists a more nuanced view, encouraging scientists to view the public as diverse in background, orientation and views.
The more recent data from the 2009 US AAAS/Pew show that scientists agree the public knows too little about science but disagree on whether this presents a problem. As our analysis indicates, men and social scientists were somewhat less likely to view the public's expectation of short-term solutions as a "major problem," whereas those involved in the biosciences were more likely to view such expectations as problematic. Older scientists are slightly more likely to see the problem as major. Scientists name the public's limited capacity when describing their rationale for public communication.
The 2006 UK Royal Society data suggest that scientists are evenly divided on whether their work is too complicated for the public to understand. When asked to respond on the degree to which their "research is too specialized to make much sense to the non-specialist public" on a five-point scale anchored by "strongly agree" (1) and "strongly disagree" the mean response was 3.54 (SD = 1.11). Younger respondents, men, and those in engineering, physics and math were more likely to view their research as too specialized. Those in medicine and environmental science appeared to view their work as more accessible to the general public.
An open-ended question in the UK Royal Society survey showed that 10% of scientists said the "main drawback" to engaging the public was becoming a potential "target." Another 14% named "becoming a target" as a "second main drawback." A related concern was that the public would misunderstand any attempt at communication and either make the scientists look bad or misuse their work. The same 2006 Royal Society open-ended question saw 19% say that engaging the public can result in sending out "the wrong message" (another 16% gave this as a "second main drawback").
Together, these findings reflect a traditional "deficit model" of science communication that assumes that scientific illiteracy is at the root of opposition to new technologies, environmental action and adequate science funding.  The table below, from a paper I co-authored in 2009 at Frontiers in Ecology and the Environment, conceptualizes the dominant assumptions of the deficit model.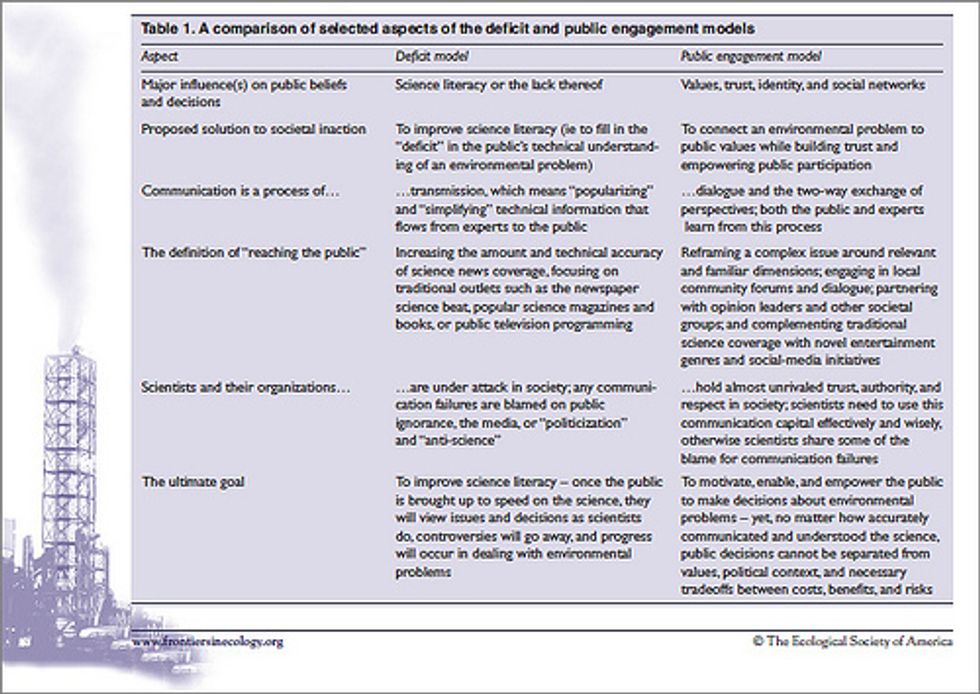 The pervasiveness of this mental model makes it very difficult to break away from the influence of these assumptions in popular debate and in strategic planning by scientists and their organizations.  Yet alternative models do exist, as summarized under the column specific to the "public engagement" model. (For more discussion, see also this article.)
HOW SCIENTISTS VIEW THE MEDIA
Scientists do not exclusively blame the public for its failings; they also blame the news media. The public is misguided, according to this argument, because it is inordinately swayed by biased or sensational news coverage.  Studies find that such coverage is often critiqued by scientists for emphasizing the views of interest groups, industry and other vocal minorities rather than those of scientists and other experts perceived as impartial and authoritative. Journalists' lack of specialist training is also seen as the cause of poor scientific coverage. 
Studies do, however, find that some scientists appear to recognize that different types of journalists can produce different types of content, that scientists sometimes lack the ability to communicate effectively to reporters, and that science can be difficult to adequately report. Despite the frequency with which the media is mentioned, most of the qualitative, interview-based studies focus only tangentially on views about the media.
The available survey data, however, speak to scientists' concerns in some detail. The 2001 Mori/Wellcome Trust data show that a greater percentage of scientists believe the public trusts television documentaries (67%), television news (68%) and national newspaper journalists (49%) more than university scientists (39%). Scientists further believe that media coverage has influenced public opinion on bovine spongiform encephalopathy (BSE), genetically modified foods (GMOs) and human genetics, making the public more confused (59%, 58% and 43%, respectively) and more wary (59%, 69% and 68%, respectively).
Nevertheless, when asked about effective methods for communicating with the public about social and ethical implications of research, 48% said that being on television or the radio was the "most effective" means of communication. Another 26% said talking to television or radio journalists, and a further 26% said talking to national newspapers was the most effective communication method.
Some 30% said writing for the national press themselves was the most effective method while smaller percentages mentioned writing for the popular science press (19%) or talking to local newspaper reporters. Results of the UK Royal Society suggest that scientists see some limited value in being in contact with journalists, with popular science journalists viewed as more important than other types of writers and documentarians.  See Table 2 below.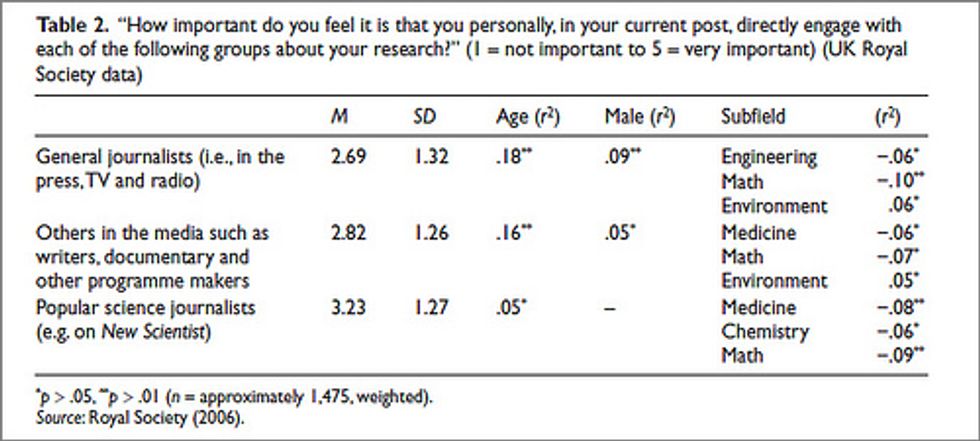 Analysis of the US AAAS/Pew survey shows that scientists are equally split between those who view the media's tendency to oversimplify as a "major" or "minor" problem but are in near unanimity in their negative opinion of science coverage. (Table 3 below).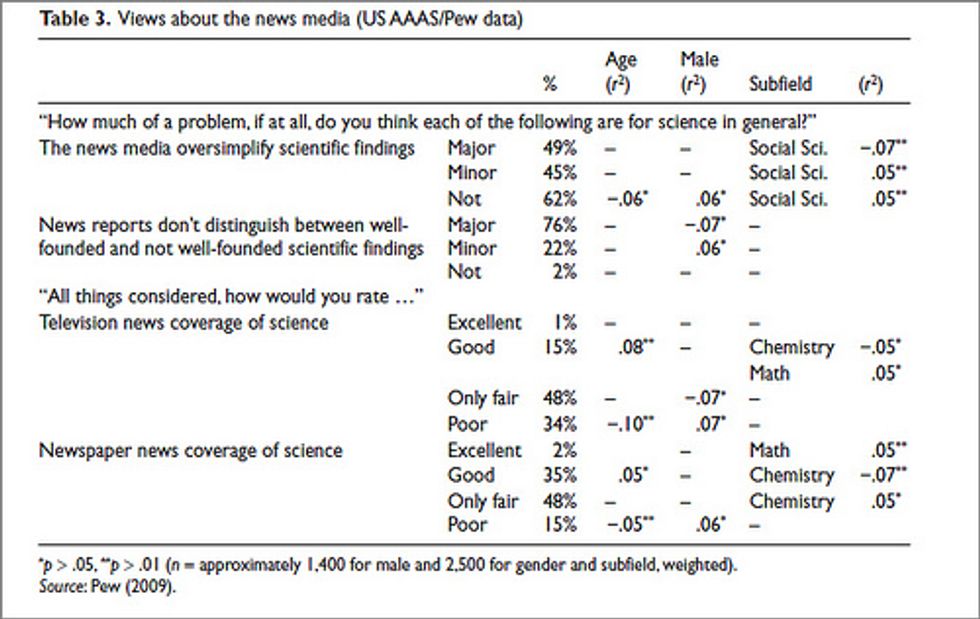 In contrast, a third of respondents in the UK (34%) strongly agreed or agreed that "engagement with the non-specialist public is best done by trained professionals and journalists" (44% disagreed or strongly disagreed). About a third of UK scientists also indicate that talking to various types of specialty and non-specialty reporters is important to their current position (based on choosing a "4" or "5" on a five-point scale anchored by "not important" and "very important").
Science journalists focused on "popular" topics are seen as particularly key. Some 21% of scientists in the Royal Society data identify general journalists as the "hardest [group] to talk with" about research and another 6% feel popular science journalists are the most difficult to communicate with. Some 10% said they saw other media writers and documentarians as being the most difficult group to talk to about their work.
The AAAS/Pew data further suggest that respondents see television as particularly problematic, with nearly 85% of scientists' describing television news coverage as "only fair" or "poor" with nearly 85% of scientists' describing television news coverage as "only fair" or "poor." Newspaper coverage does somewhat better, but still barely a third of scientists view the coverage as "good" or "excellent." Indeed, almost no scientists described either newspapers or television coverage as "excellent" (See Table 3 above).
However, a 2005–2006 survey study of epidemiologists and stem cell researchers in France, Germany, Japan, the UK, and the US counters the assumption that scientists feel ill at ease in dealing with journalists. In this study, representative samples of scientists from each country reported considerable media experience with 30% indicating that they had more than 5 media contacts over the past three years and 39% reporting between 1 to 5 media contacts. Contact was associated with leadership positions and research productivity and a plurality rated their interactions with journalists as having a positive impact on their careers.
Many scientists (57%) indicated they were "mostly pleased" with their most recent appearance in the media and generally agreed that journalists asked good questions, used information accurately, explained research well, and included important information. Respondents were more ambivalent, however, about the media's overall accuracy, use of credible sources, tone, and comprehensiveness. [Original study at Science; follow-up discussion by authors.]
The survey also asked about 16 motives for engaging with the media with more than 9 out of 10 respondents indicating the goal of "achieving a more positive attitude towards research" and more than 9 out of 10 scientists indicating the goal of "a better educated public." In terms of factors weighing against interaction, 9 out of 10 respondents indicated the "risk of incorrect quotation" and 8 out of 10 cited the "unpredictability of journalists."
HOW SCIENTISTS VIEW THE PUBLIC'S ROLE IN THE POLITICAL PROCESS
Research on scientists' views of the public relative to political decision-making has focused on two main themes: (1) the appropriate role of the public and (2) how the public should be engaged in public decision-making. Scientists seem to walk a difficult line both in recognizing the right of citizens to play a role in decision-making while having reservations about the public's capacity to do so.
One study spoke of a scientist's need to have the public provide "legitimacy and validation." This position appeared to be operationalized as a duty to empower citizens to make good decisions. However, a good decision was understood as one that was consistent with scientists' point of view, and empowerment was understood as education. In the end, these studies describe scientists as feeling frustrated when they believe their views receive inadequate attention.
A study dealing with aboriginal knowledge also focused on the need to empower non-scientists to contribute to science, but the goal was to facilitate better quality data, rather than to give non-scientists a voice. The value of citizens in providing anecdotal evidence as potential areas for research was similarly discussed. A more limited perspective was the view that the public needs to be provided opportunities to speak but that it is unrealistic to expect scientists to receive substantive input.
This viewpoint was elaborated as a sense that (industry) scientists viewed it as their job to work directly with regulators to protect the public because the public is incapable of and uninterested in doing so. In contrast, in a different study, whereas the public wanted their right to decide about prenatal genetic tests, scientists said decisions should be made by panels of both scientists and the public. These results suggest that, when asked about the role of the public, scientists may opt for some type of co-decision-making but also suggest a desire by scientists to differentiate themselves from the public.
The UK and US survey data are limited on the question of the public's role in political decision-making. The AAAS/Pew survey shows that 97% of scientists believe they should be "actively involved in political debates about issues such as nuclear power or stem cell research." Those involved in mathematics were less likely to hold this view (r = .05, p > .05).
There was less agreement on the degree to which scientists believe that others have "too much influence" over scientific decision-making within their own specialty. Only 41% of respondents held this view and it was most common in older respondents (r = .07, p > .05) and those involved in chemistry (r = .05, p > .05).
The Royal Society data further show that scientists perceive policy-makers as the most important group with which to engage. The general public are perceived in the mid-range of importance, somewhat more important than young people or non-governmental organizations (NGOs), but less important than the private sector and educators.
Correlations show that those in the medical field are most likely to see the public as important while engineers are less likely to hold this view. Age is related to seeing more value in engagement while men are less likely to see engagement with NGOs and the public as important and more likely to see value in engaging with the private sector and policy-makers.
Previous studies suggest that scientists tend to favor one-way communication with the public via the media, viewing engagement as chiefly about dissemination rather than two-way dialogue and active public participation in decisions.  One study, for example, notes many scientists view it as their responsibility to inform the public via the media about the benefits of nanotechnology because of the public money that goes towards research.
This finding is consistent with those from the cross-national survey of researchers who reported that achieving "a more positive attitude towards research" and a "better educated public" as chief motivations for engaging with journalists.
Consistent with deficit model assumptions, in previous studies, scientists have described the primary reasons for engaging the public in terms of the need to increase citizen knowledge or allay unfounded fears.  Several studies also emphasize that scientists are willing to engage directly with citizens  but that such engagement is usually still framed in terms of providing information.
The key difficulty may be that scientists often believe public debates should turn on logic and cost-benefit-analysis accounting whereas the public wants consideration of factors such as fairness, ethics and accountability.
A small quantitative study showed that scientists' intention to engage with the public is predicted by attitudes about the process or activity (e.g., would it be enjoyable), social norm perceptions about what other scientists in the peer group are doing, and feelings of efficacy based on the belief that one has the skill and tools necessary to succeed. Previous large-scale surveys conducted in the UK include extensive information about scientists' engagement views.
The 2001 Wellcome Trust data showed that 91% of scientists agreed or strongly agreed that "scientists have a responsibility to communicate the social and ethical implications of their research to policy-makers." A further 84% agreed or strongly agreed that scientists had the same obligation to the "non-specialist public."
The more recent UK Royal Society data showed that, when asked what engagement means, however, only 12% indicated it meant listening to or attempting to understand the views of the public. Another 7% said it meant being accountable for public funding. Most of the remainder gave a response that focused on either informing the public about science or the scientific process, or working with the media. When given a list with 10 potential reasons to engage, fully 80% chose informing or raising awareness as their first or second reason.
In contrast, only about one third said that contributing to public debates or discussions about social and ethical issues is a key reason for engagement. According to our analysis, engineers appeared to be somewhat less likely to choose a statement that reflects concern about public involvement (and were more likely to focus on recruitment and funding). Those involved in bioscience appear to be the most likely to see a public role for themselves.
Most of the other correlations between specific arguments and either demographics or subfield were relatively small. When Royal Society respondents were asked whether getting support for science was the "main reason" for public engagement, the mean fell nearly in the mid-point (M = 2.97, SD = 1.08) of a five-point scale with respondents in engineering (r = −.14, p > .01) and chemistry (r = −.06, p > .01) slightly more likely to agree with this position and environmental scientists (r = .08, p > .01) more likely to disagree.
In addition to the data above, the US AAAS/Pew data highlight that only about a quarter of the respondents from the AAAS, an organization that works to get scientists involved in public debates, have heard about activities such as town hall meetings to discuss science. Within that smaller group, respondents are evenly divided on the usefulness of such meetings for the public and policy-makers and more cautious about the value to journalists and scientists themselves.
Some 44% of respondents said town halls are "very" useful for the public and 42% said these were valuable for the policy-makers. Only 36% said such meetings were very useful for journalists and 33% said they were very useful for scientists. Respondents could also indicate if they saw these as "fairly" or "not" useful. Younger respondents (age) were more likely to view town halls as "very" valuable to the public (r = -10, p > .05) and older respondents were more likely to see such meetings as "fairly" useful (r = .11, p > .05).
Those involved in physics were more likely to see meetings as "fairly" useful to the public (r = .09, p > .05) and less likely to see them as "very" useful to policy-makers (r = .08, p > .05). Social scientists were more likely to perceive town hall meetings as "not" useful to the public (r = .08, p > .05). Demographics and subfield did not generally predict views about town hall meetings.
DISCUSSION AND CONCLUSION
Past studies provide clear evidence that scientists believe the public knows little about a range of scientific issues and that they see this knowledge deficit as shaping risk perceptions, policy preferences and decisions.
Scientists further tend to blame media coverage for many of the public's failings. Scientists' negative views about the media, however, are matched by a positive impression of their own interactions and a belief that the media remain an effective means of public communication.
When it comes to policy debates, scientists recognize that they have a role to play in supporting public debate but emphasize a need to educate the public so that non-experts will make policy choices in line with the preferences of scientists. It also appears that scientists believe direct engagement with policy-makers is the most effective route for affecting policy outcomes.
Only a small proportion of scientists appear to view their role as an enabler of public participation through formats such as deliberative meetings, and see few personal benefits for such engagement.
Generally, there were few differences in views between scientists in the UK and the US, though subfields appeared to matter more in the UK data.
There are a number of topics, however, that the analyzed survey data and past research do not address. While several of the qualitative studies note that scientists recognize the public's diversity of background and views, the quantitative data do not speak to this belief. A failure to ask scientists in surveys about different subsets of the public may result in over-emphasizing scientists' dissatisfaction with the public as a whole.
Second, whereas commentators still tend to describe the relationship between scientists and journalists in negative terms, the available survey data suggest that most scientists have positive personal interactions with journalists. As the authors of this study suggest, a number of reasons likely account for the continued narrative asserting a dramatic "gulf" between scientists and journalists.
The fact that the surveys emphasized either general engagement or engagement in a respondent's specific specialty could also limit the degree, type, or importance of reported outreach activities. For researchers involved in non-controversial science, for example, an emphasis on school-based outreach and specialty beats within the media may be effective.
In contrast, for scientists involved in issues such as climate change, other forms of engagement may be more desirable. To get at these questions, scientist surveys may need to avoid generalities and either focus on views about communication on specific topics or focus on sampling scientists in specific fields.
As we mentioned at the outset of this article, future research should also more carefully examine how factors such as personal experience, gender, ideology, worldview, selective information sources and other communication processes shape how scientists perceive the public and the media.
In this regard, it is noteworthy that a few of the studies reviewed emphasized that respondents who had participated in engagement activities had more positive and more nuanced views of the public. This question could be the subject of additional analyses of the existing quantitative data but the cross-sectional nature of the data will make it difficult to determine whether views about the public lead to engagement or whether participating in engagement activities changes views about the public.
Future work therefore needs to include studies aimed at assessing individual scientists over time, perhaps in conjunction with sustained leadership and training initiatives such as Stanford University's Leopold Leadership Program or the European Union's ESCOnet communication trainings. Our hope is that scientists will continue to participate in such programs and that funding will support their development and evaluation.
Several well-established areas of communication research should also be applied to the understanding of scientists' perceptions and behavior.  Research on pluralistic ignorance and false consensus – a failure to realize when one's own opinion is in the majority or minority, respectively – has long demonstrated that individuals will often inadvertently misperceive the views of others, especially when there is a self-interested reason to do so and when those others are perceived as socially distant or lacking competence.
While we are unaware of work in this area that has specifically focused on scientists, there is no reason to believe that scientists are immune to such effects. For example, despite opinion polling that contradicts such fears, the consistent claims by some scientists that the public is "hostile to science" and that there is a growing "anti-science sentiment," are likely a result of these processes. (See discussion.)
As I discussed in the Climate Shift report, scientists are also likely to be strongly prone to faulty estimates of media coverage. Known as the hostile media effect,this means individuals with a strong commitment to an issue – such as action on climate change, funding for stem cell research and/or a strong political identity – tend to view even favorable coverage as slanted against their goals and point of view.
This process is particularly likely to be found in the US setting, as the AAAS/Pew survey results reveal that more than half of members surveyed self-identify as either "strongly liberal" or "liberal," indicating a strongly one-sided political composition for the organization. See figure below from the Climate Shift report.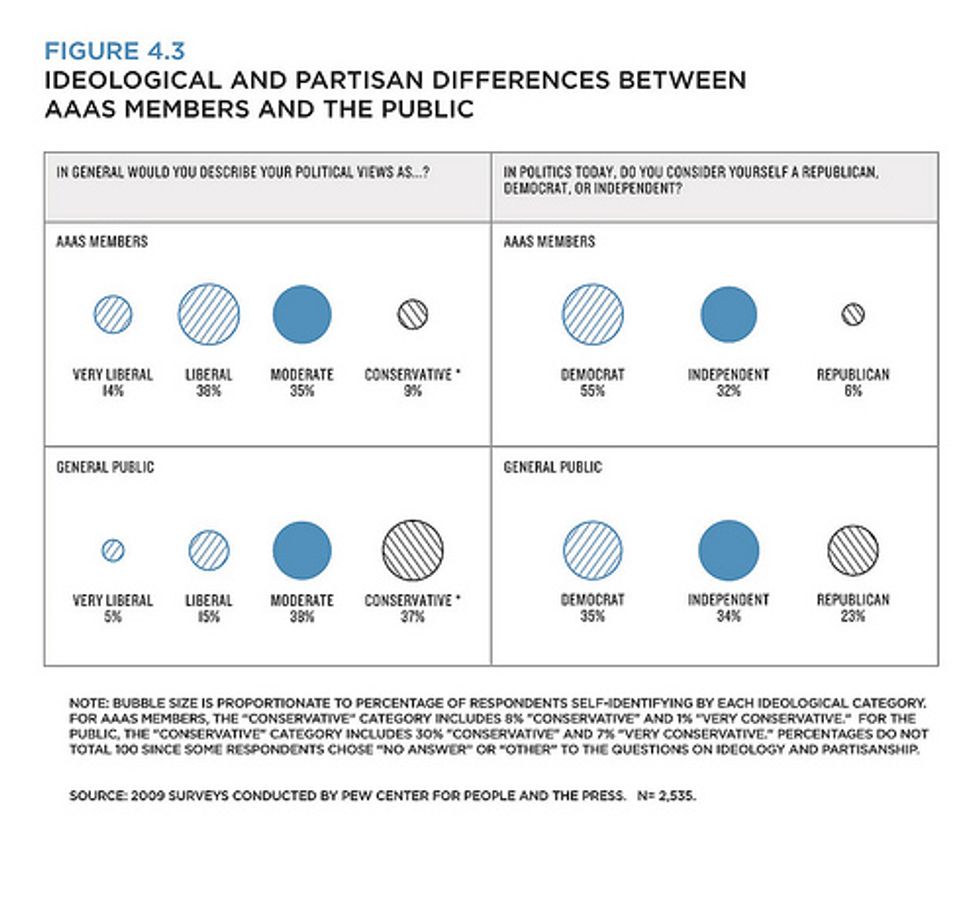 The second figure below compares AAAS members with other politically relevant social groups on a matrix that plots these groups by proportion as Democrat/Republican and Liberal/Conservative.  As the figure depicts, there is considerable ideological and partisan distance between AAAS members, the general public and many other politically relevant social groups. 
As organizations such as the AAAS train and encourage their members to engage in public outreach, most participating scientists are likely to view politics very differently from the audiences with which such scientists are trying to engage, a challenge that merits greater focus as part of these trainings.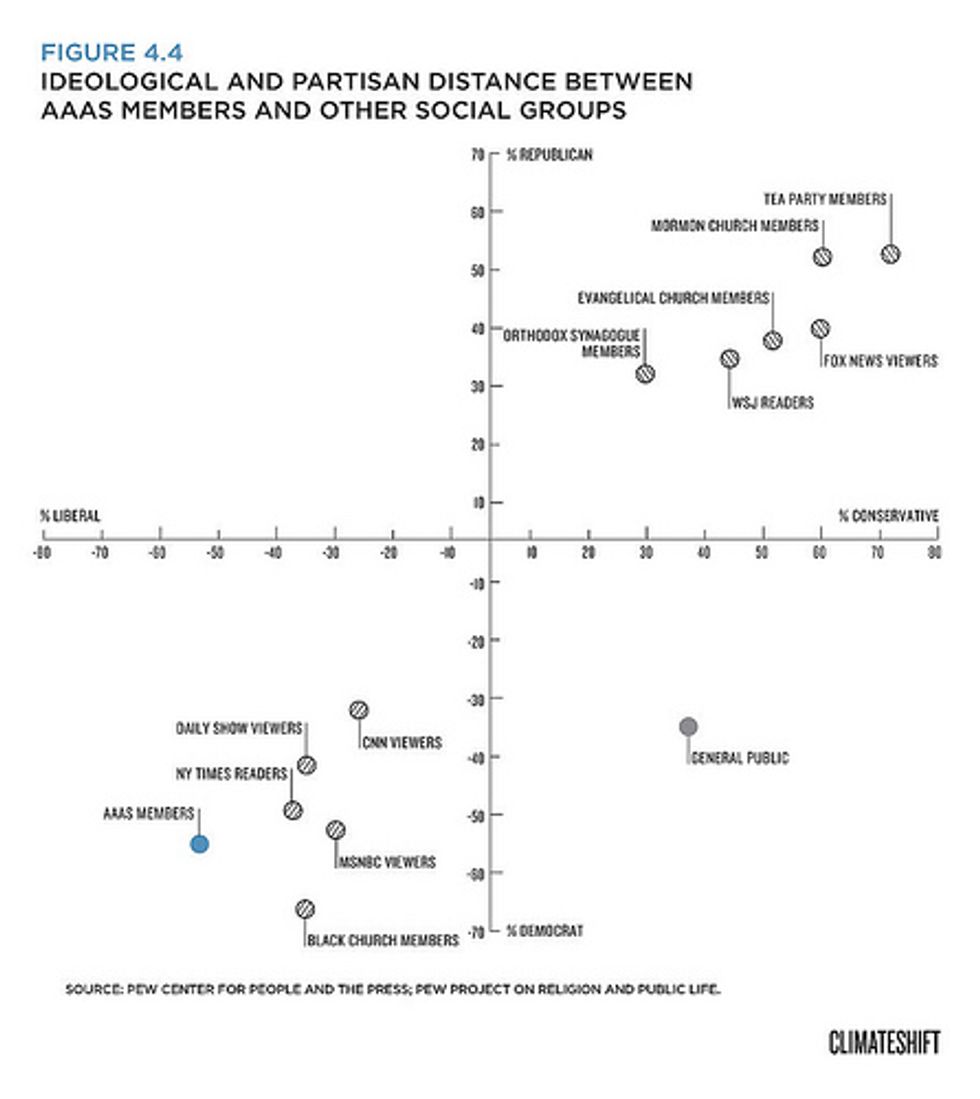 "Third person effect" research may also prove useful to understanding the perceptions of scientists. This widely used theory suggests that a member of one social group will perceive media coverage (or a message) as not affecting them but will think the media coverage has influenced those socially distant from their group.
It seems particularly relevant to scientists who, as we have reviewed, tend to view the wider public as mostly ill-informed about science if not often lacking competence. Such views seem likely to magnify concerns about slanted and biased media coverage that may lead to misplaced communication strategy on the part of scientists and their organizations.
Similarly, as I discussed in the Climate Shift report, ideology also likely influences how scientists selectively attend to, interpret and frame science-related political trends and controversies. 
For example, during the Bush administration, many scientists mobilized in response to attempts by the administration to control the public statements of government scientists and to interfere with the conclusions of government reports.  This debate received heavy attention at science-related blogs, from science journalists and via several top-selling books.
Yet awareness of the controversy among AAAS members varied strongly by ideology, indicating that many AAAS members were selectively seeking out commentary and news regarding the issue.  As the figure below shows, in 2009, among strong liberals, 74 percent reported hearing a lot about the claims, compared with 47 percent of moderates and just 27 percent of conservative AAAS members.  In comparison, just 10 percent of the public had heard "a lot" about the debate.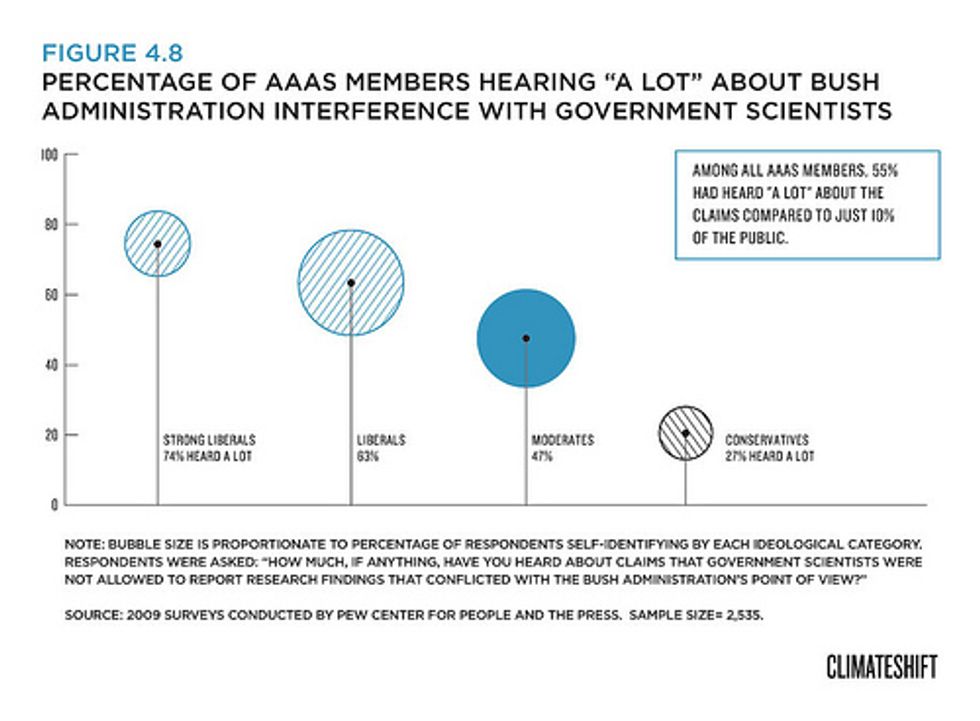 Choices relative to communication and public engagement strategy also connect to how the perceived majority views and opinions among scientists shape an individual scientist's willingness to express (or censor) their own political views and preferences.
In the US data, for example, given the strong left-leaning political identity of scientists in the AAAS sample, moderates and conservatives among their ranks may feel reluctant to express political views, policy proposals or preferred public engagement approaches that are perceived as different from the preferences of their liberal counterparts.
With an ever-increasing reliance on blogs, Facebook and personalized news, the tendency among scientists to consume, discuss and refer to self-confirming information sources is only likely to intensify, as will in turn the criticism directed at those who dissent from conventional views on policy or public engagement strategy.
Moreover, if perceptions of bias and political identity do indeed strongly influence the participation of scientists in communication outreach via blogs, the media or public forums, there is the likelihood that the most visible scientists across these contexts are also likely to be among the most partisan and ideological.
These are all questions and hypotheses that deserve considerably more attention and research, moving beyond physicist Levy-Leblond's focus on whether or not scientists understand the public, and examining how the same processes that influence the lay public, also influence the judgments and perceptions of scientists.
CITATION:
Besley, J., & Nisbet, M. (2011). How scientists view the public, the media and the political process Public Understanding of Science DOI: 10.1177/0963662511418743
ABSTRACT:
We review past studies on how scientists view the public, the goals of communication, the performance and impacts of the media, and the role of the public in policy decision-making. We add to these past findings by analyzing two recent large-scale surveys of scientists in the UK and US. These analyses show that scientists believe the public is uninformed about science and therefore prone to errors in judgment and policy preferences. Scientists are critical of media coverage generally, yet they also tend to rate favorably their own experience dealing with journalists, believing that such interactions are important both for promoting science literacy and for career advancement. Scientists believe strongly that they should have a role in public debates and view policy-makers as the most important group with which to engage. Few scientists view their role as an enabler of direct public participation in decision-making through formats such as deliberative meetings, and do not believe there are personal benefits for investing in these activities. Implications for future research are discussed, in particular the need to examine how ideology and selective information sources shape scientists' views.
SEE ALSO:
What's Next for Science Communication? Promising Directions and Emerging Best Practices
Online News and the Demise of Political Disagreement
Field Notes from a Summit on Climate Change Communication
Understanding Public Opinion and Participation in the Climate Change Debate
Why Partisans View Mainstream Media as Biased and Ideological Media as Objective
Reading List for Course in Science and Environmental Communication
So much for rest in peace.
Credit: fergregory via Adobe Stock
Surprising Science
Australian scientists found that bodies kept moving for 17 months after being pronounced dead.
Researchers used photography capture technology in 30-minute intervals every day to capture the movement.
This study could help better identify time of death.
We're learning more new things about death everyday. Much has been said and theorized about the great divide between life and the Great Beyond. While everyone and every culture has their own philosophies and unique ideas on the subject, we're beginning to learn a lot of new scientific facts about the deceased corporeal form.
An Australian scientist has found that human bodies move for more than a year after being pronounced dead. These findings could have implications for fields as diverse as pathology to criminology.
Dead bodies keep moving
Credit: Flickr
Researcher Alyson Wilson studied and photographed the movements of corpses over a 17 month timeframe. She recently told Agence France Presse about the shocking details of her discovery.
Reportedly, she and her team focused a camera for 17 months at the Australian Facility for Taphonomic Experimental Research (AFTER), taking images of a corpse every 30 minutes during the day. For the entire 17 month duration, the corpse continually moved.
"What we found was that the arms were significantly moving, so that arms that started off down beside the body ended up out to the side of the body," Wilson said.
The researchers mostly expected some kind of movement during the very early stages of decomposition, but Wilson further explained that their continual movement completely surprised the team:
"We think the movements relate to the process of decomposition, as the body mummifies and the ligaments dry out."
During one of the studies, arms that had been next to the body eventually ended up akimbo on their side.
The team's subject was one of the bodies stored at the "body farm," which sits on the outskirts of Sydney. (Wilson took a flight every month to check in on the cadaver.)
Her findings were recently published in the journal,
Forensic Science International: Synergy.
Implications of the study
The researchers believe that understanding these after death movements and decomposition rate could help better estimate the time of death. Police for example could benefit from this as they'd be able to give a timeframe to missing persons and link that up with an unidentified corpse. According to the team:
"Understanding decomposition rates for a human donor in the Australian environment is important for police, forensic anthropologists, and pathologists for the estimation of PMI to assist with the identification of unknown victims, as well as the investigation of criminal activity."
While scientists haven't found any evidence of necromancy. . . the discovery remains a curious new understanding about what happens with the body after we die.
Credit: Willrow Hood / 362693204 via Adobe Stock
13-8
The distances between the stars are so vast that they can make your brain melt. Take for example the Voyager 1 probe, which has been traveling at 35,000 miles per hour for more than 40 years and was the first human object to cross into interstellar space. That sounds wonderful except, at its current speed, it will still take another 40,000 years to cross the typical distance between stars.
Worse still, if you are thinking about interstellar travel, nature provides a hard limit on acceleration and speed. As Einstein showed, it's impossible to accelerate any massive object beyond the speed of light. Since the galaxy is more than 100,000 light-years across, if you are traveling at less than light speed, then most interstellar distances would take more than a human lifetime to cross. If the known laws of physics hold, then it seems a galaxy-spanning human civilization is impossible.
Unless of course you can build a warp drive.
Warp speed!
Ah, the warp drive, that darling of science fiction plot devices. So, what about a warp drive? Is that even a really a thing?
Let's start with the "warping" part of a warp drive. Without doubt, Albert Einstein's theory of general relativity ("GR") represents space and time as a 4-dimensional "fabric" that can be stretched and bent and folded. Gravity waves, representing ripples in the fabric of spacetime, have now been directly observed. So, yes spacetime can be warped. The warping part of a warp drive usually means distorting the shape of spacetime so that two distant locations can be brought close together — and you somehow "jump" between them.
This was a basic idea in science fiction long before Star Trek popularized the name "warp drive." But until 1994, it had remained science fiction, meaning there was no science behind it. That year, Miguel Alcubierre wrote down a solution to the basic equations of GR that represented a region that compressed spacetime ahead of it and expanded spacetime behind to create a kind of traveling warp bubble. This was really good news for warp drive fans.
The problems with a warp drive
There were some problems though. Most important was that this "Alcubierre drive" required lots of "exotic matter" or "negative energy" to work. Unfortunately, there's no such thing. These are things theorists dreamed up to stick into the GR equations in order to do cool things like make stable open wormholes or functioning warp drives.
It's also noteworthy that researchers have raised other concerns about an Alcubierre drive — like how it would violate quantum mechanics or how when you arrived at your destination it would destroy everything in front of the ship in an apocalyptic flash of radiation.
Warp drives: A new hope
Credit: Primada / 420366373 via Adobe Stock
Recently, however, there seemed to be good news on the warp drive front with the publication this April of a new paper by Alexey Bobrick and Gianni Martre entitled "Introducing Physical Warp Drives." The good thing about the Bobrick and Martre paper was it was extremely clear about the meaning of a warp drive.

Understanding the equations of GR means understanding what's on either side of the equals sign. On one side, there is the shape of spacetime, and on the other, there is the configuration of matter-energy. The traditional route with these equations is to start with a configuration of matter-energy and see what shape of spacetime it produces. But you can also go the other way around and assume the shape of spacetime you want (like a warp bubble) and determine what kind of configuration of matter-energy you will need (even if that matter-energy is the dream stuff of negative energy).
Warp drives are simpler and much less mysterious objects than the broader literature has suggested.
What Bobrick and Martre did was step back and look at the problem more generally. They showed how all warp drives were composed of three regions: an interior spacetime called the passenger space; a shell of material, with either positive or negative energy, called the warping region; and an outside that, far enough away, looks like normal unwarped spacetime. In this way they could see exactly what was and was not possible for any kind of warp drive. (Watch this lovely explainer by Sabine Hossenfelder for more details). They even showed that you could use good old normal matter to create a warp drive that, while it moved slower than light speed, produced a passenger area where time flowed at a different rate than in the outside spacetime. So even though it was a sub-light speed device, it was still an actual warp drive that could use normal matter.
That was the good news.
The bad news was this clear vision also showed them a real problem with the "drive" part of the Alcubierre drive. First of all, it still needed negative energy to work, so that bummer remains. But worse, Bobrick and Martre reaffirmed a basic understanding of relativity and saw that there was no way to accelerate an Alcubierre drive past light speed. Sure, you could just assume that you started with something moving faster than light, and the Alcubierre drive with its negative energy shell would make sense. But crossing the speed of light barrier was still prohibited.
So, in the end, the Star Trek version of the warp drive is still not a thing. I know this may bum you out if you were hoping to build that version of the Enterprise sometime soon (as I was). But don't be too despondent. The Bobrick and Martre paper really did make headway. As the authors put it in the end:
"One of the main conclusions of our study is that warp drives are simpler and much less mysterious objects than the broader literature has suggested"
That really is progress.
The Black Death wasn't the only plague in the 1300s.
Culture & Religion
In a unique study, researchers have determined how many people in medieval England had bunions
A fashion trend towards pointed toe shoes made the affliction common.
Even monks got in on the trend, much to their discomfort later in life.
Late Medieval England had its share of problems. The Wars of Roses raged, the Black Death killed off large parts of the population, and passing ruffians could say "Ni" at will to old ladies.
To make matters worse, a first of its kind study published in the International Journal of Paleopathology has demonstrated that much of the population suffered from another plague — a plague of bunions likely caused by a ridiculous medieval fashion trend.
If the shoe fits, it won't cause bunions
The outlines of a leather shoe from the King's Ditch, Cambridge. It is easy to see how these shoes might be constricting. Copyright Cambridge Archaeological Unit.
The bunion, known to medicine as "hallux valgus," is a deformity of the joint connecting the big toe to the rest of the foot. It is painful and can cause other issues including poor balance. The condition is associated with having worn constrictive shoes for a long period of time as well as genetic factors. Today, it is often caused by wearing high heeled shoes.
The medieval English didn't care for high heeled shoes as much as modern fashionistas, but there was a major fashion trend toward shoes with long, pointed toes called "poulaines" or "crakows" for their supposed place of origin, Krakow, Poland.
This trend, already silly-looking to a modern observer, got out of hand in a hurry. According to some records, the points on nobleman's shoes could be so long as to require tying them to the leg with string so the wearer could walk. At one point, King Edward IV had to ban commoners from wearing points longer than two inches. A couple years later, he saw fit to ban the shoes altogether.
But, just knowing that people back in the day made poor fashion choices doesn't prove they suffered for it. That is where digging up old skeletons to look at their feet comes in.
Beauty is pain: the price of high medieval fashion
To learn how bad the bunion epidemic was, the researchers looked to four burial sites in and around Cambridge. One was a rural cemetery where poor peasants were buried. Another was the All Saints by the Castle parish, which had a mixed collection of people that tended toward poverty. The Hospital of St. John's burial ground contained both the poor charges of a charity hospital and wealthy benefactors. Lastly, they considered the cemetery of a local Augustinian friary, home to monks and well-to-do philanthropists.
The team considered 177 adult skeletons that were at least a quarter complete and still had enough of their feet to make studying them possible. The remains were classified by age and sex by observation and DNA testing. Each was examined for evidence of bunions and signs of complications from the condition, such as falling.
Those buried in the monastery's graveyard were the most affected. Nearly half, 43 percent, of the remains found there had bunions. This includes five of the eleven members of the clergy they found. Twenty-three percent of those laid to rest at the Hospital of St. John had bunions, though only 10 percent of those at the All Saints by the Castle parish graveyard did.
The rural cemetery had a much lower rate of instances, only three percent, suggesting that these peasants were able to avoid at least one plague.
Overall, eighteen percent of the individuals examined had bunions, with men more likely to have them than women. Those at cemeteries known for exclusivity were more likely to have them as well, though it is clear that the condition also affected members of other classes. This makes sense, as it is known that these shoes had mass appeal.
The authors note that the rural cemetery having fewer cases is partly because that cemetery "went out of use prior to the wide adoption of pointed shoes, and it is likely that those residing in the parish predominately wore soft leather shoes, or possibly went barefoot."
Those skeletons with evidence of bunions were more likely to have fractures indicative of a fall. This was more common on those estimated or recorded as having lived past age 45.
In our much more enlightened times, 23 percent of the population currently endures having bunions, most of them women, and one of the leading culprits behind this is the high heeled shoe.
Some things never change.
Scroll down to load more…