Big ideas.
Once a week.
Subscribe to our weekly newsletter.
Horse Race Coverage & the Political Spectacle
16 August, 2010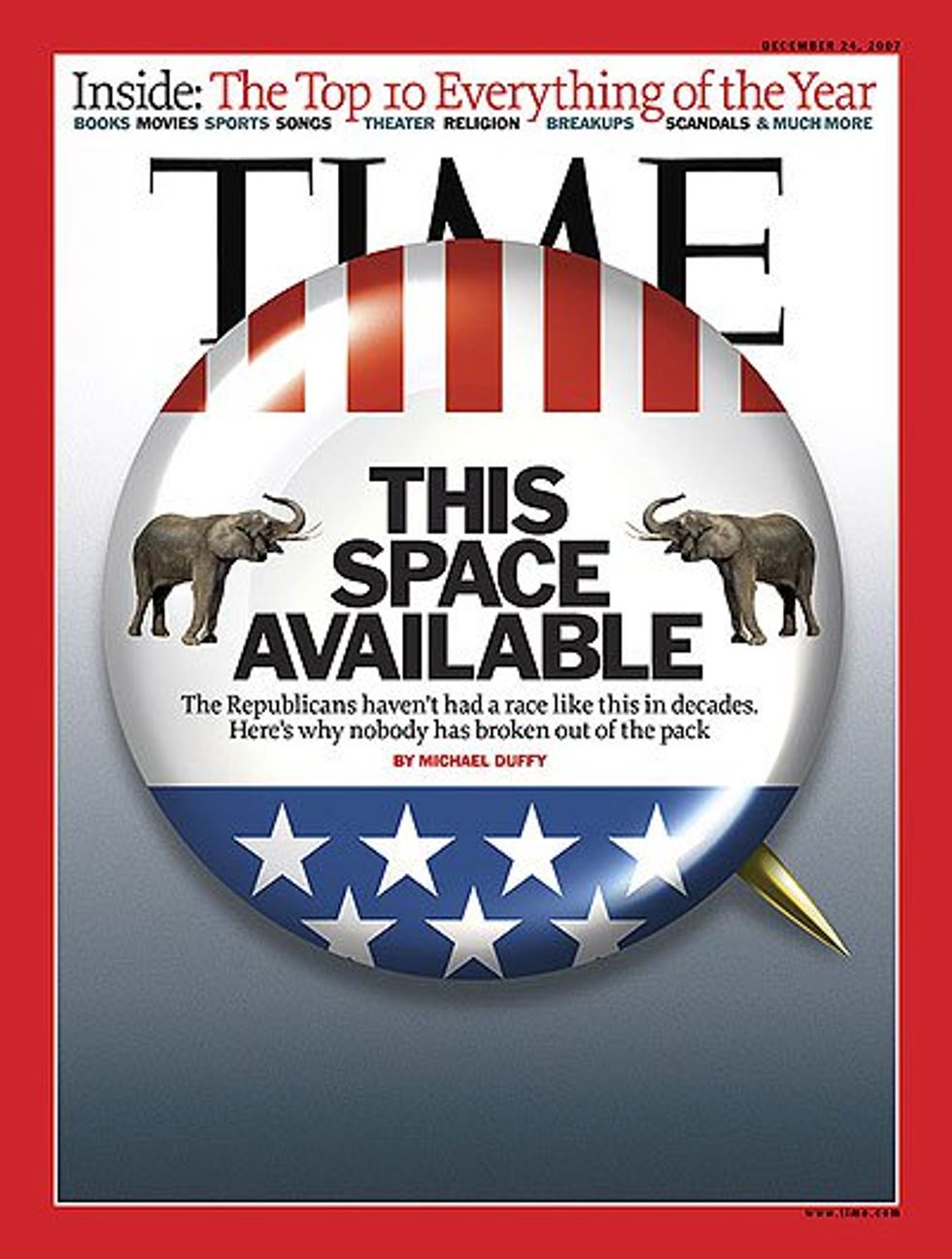 At Time magazine, a focus on who will break out of the pack?!

As the Iowa caucus and New Hampshire primary approaches, it's all horse race all the time in the news media with an almost exclusive focus on "insider" coverage of campaign strategy and a fascination with who's ahead and who's behind in the polls. Lost in the media spectacle is any careful coverage of issues and policy proposals, or serious discussion of candidate background. In fact, it seems there's never been a time in 2007 where issues have taken primacy over the sports game of political coverage.

Consider that an analysis by Pew and Harvard University of the first five months of coverage in 2007 finds that 63% of the campaign stories focused on political and tactical aspects compared to just 17% that focused on the personal backgrounds of the candidates, 15% that focused on the candidates' ideas and policy proposals and just 1% of stories that examined the candidates' records or past public performance.

I was asked to contribute an overview on horse race journalism to the forthcoming Encyclopedia of Survey Research Methods. Below I have posted a first draft of the overview, at roughly 1800 words it provides a good backgrounder on the nature and impacts of horse race journalism, though I strongly recommend checking out the sources cited.

---
Horse Race Journalism

Matthew C. Nisbet, Ph.D.

In contemporary political reporting, a focus on elections and policy debates as "a game" among competing candidates and elites has come to dominate virtually every aspect of coverage. Rather than foregrounding issue positions, candidate qualifications, or the context behind a range of policy proposals, journalists instead tend to cast these features of the political terrain as secondary to a focus on who's ahead and who's behind in winning the campaign or policy battle, the generals and lieutenants involved, and the shifting strategies and tactics employed. This dominant narrative is referred to commonly as "horse race journalism," (Patterson, 1977), the "game schema," (Patterson, 1993), or the "strategy frame" (Capella and Jamieson, 1997.)

Horse race journalism focuses almost exclusively on which candidates or players are most adept at gaining power while also undermining the political chances of opponents. "Horse race" is an apt metaphor as much of contemporary political reporting translates easily into the conventions of sports coverage, with a focus on competing political gladiators who survive to campaign another day or who are the first to cross the finish line. Polling and public opinion surveys are a central feature of this political spectacle. In fact they supply the "objective" data for reporters to define who is winning while offering a news peg for offering attributions about the reasons for political success or failure.

The Rise of Horse Race Journalism

Over the past forty years, the rise in horse race journalism has been called by Patterson (1993) the "quiet revolution" in U.S. election reporting. His now classic analysis finds that coverage focusing on the "game schema" that frames elections in terms of strategy and political success rose from 45% of stories sampled in 1960 to more than 80% of stories in 1992. In comparison, coverage focusing on "policy schema," framing elections in terms of policy and leadership, dropped from 50% of coverage in 1960 to just 10% of coverage analyzed in 1992.

Other analyses confirm the contemporary dominance of the horse race interpretation in election coverage. In one study of the 2000 U.S. presidential campaign, strategy coverage accounted for more than 70% of the TV stories at the major news networks (Farnsworth and Lichter, 2003). The most recent available analysis--tracking the first five months of 2007 presidential primary coverage--found that horse race reporting accounted for 63% of print and TV stories analyzed compared to just 15% of coverage that focused on ideas and policy proposals and just 1% of stories that focused on the track records or past public performance of candidates (Pew 2007).

In the U.S. context not only has horse race and strategy come to define elections, the convention also increasingly characterizes coverage of what were originally considered complex and technical policy debates. First observed by Capella and Jamieson (1997) in their analysis of the early 1990s debate over health care reform, when coverage of policy debates have shifted from specialty beats to the political pages, the strategy frame has been tracked as the dominant narrative in reporting of issues as diverse as stem cell research, climate change, food biotechnology, the Human Genome Project, and the teaching of evolution in schools (Nisbet and Huge, 2006).


Reasons for the "Quiet Revolution" in Political Journalism

Horse race journalism is fueled in part by industry trends and organizational imperatives. In a hyper-competitive news environment with a 24 hour news cycle and tight budgets, reporting the complexity of elections and policy debates in terms of the strategic game is simply easier, more efficient, and considered better business practice.

Public opinion surveys are a competitive advantage in the news marketplace; they are even an important part of media organization branding and marketing. Perhaps more importantly, polls help fill the demand for "anything new" in a day long coverage cycle while also fitting with trends towards "second hand" rather than primary reporting (Rosenstiel, 2005).

The growth in political polling has helped fuel the rise in horse race coverage. For example, in analyzing trial heat polls between the two major party nominees, Traugott (2005) reports a 900% increase in such polls between 1984 and 2000. In 2004, the total number of trial heat polls remained equivalent to the previous presidential campaign, but there was more of a mix of different types of polls, as several organizations focused specifically on anticipated battleground states.

Rosenstiel (2005) observes that the increase use of tracking polls likely magnifies horse race coverage. In these polls samples of 150-200 respondents are combined across two to three nights allowing journalists to rely on an almost daily diet of "up and down" indicators.
In combination with economic imperatives and the increased availability of polling, horse race coverage also resonates strongly with the informal rules of political reporting. American journalists pay heavy attention to scandals, corruption, or false and deceptive claims but because of their preferred objectivity norm, they typically shy away in coverage from actively assessing whether one side in an election or policy debate has the better set of candidates, ideas, or proposed solutions. With a preference for partisan neutrality, it is much easier for journalists to default to the strategic game interpretation. Issue positions and policy debates are part of this coverage but very much secondary to a dominant narrative of politics that turns on conflict, advancement, and personal ambition (Patterson, 1993; 2005).

Rosenstiel (2005) connects the objectivity norm to the new "synthetic journalism" that further emphasizes poll driven horse race coverage. In a hyper-competitive 24 hour news cycle there is increasing demand for journalists to try to synthesize into their own coverage what has already been reported by other news organizations. This might include new insider strategy, the latest negative attack, or a perceived embarrassing gaffe or mistake. The need to synthesize critical or damaging information runs up against the preferred norm of objectivity while also providing potential fodder for claims of liberal bias.

Polls, however, help insulate journalists from such claims since they provide the "objective" organizing device by which to comment and analyze news that is being reported by other outlets. For example, if a new survey indicates that a candidate is slipping in public popularity, the reporting of the poll's results provides the subsequent opening for journalists to then attribute the opinion shift to a recent negative ad, allegation, or political slip up. As news organizations rely more and more on public opinion surveys and tracking polls as branding devices and news pegs, a focus on horse race coverage and synthetic journalism is only likely to be magnified.

Frankovic (2005) observes a dramatic rise not just in the reporting of specific poll results, but importantly, in terms of general rhetorical references to "polls say" or "polls show," with close to 9,000 such general mentions at newspapers in 2004 compared to roughly 3,000 such mentions in 1992. This reliance on the authority of polls adds perceived precision and objectivity to journalists' coverage. According to Frankovic, this rhetorical innovation in reporting allows journalists to make independent attributions about candidate success or failure without relying on the consensus of experts. Moreover, she argues that the heightened emphasis on "the polls" alters the criteria by which audiences think about the candidates, shifting from a focus on issue positions and qualifications to that of "electability."

Of course, an accent on strategy, ambition, poll position, and insider intrigue is not the only way that political reporters can translate an election campaign or policy debate for audiences. Journalists, for example, could alternatively emphasize issue positions; the choice between distinct sets of ideas and ideologies; the context for policy proposals, or the credentials and governing record of candidates and parties (Kerbel, Apee, and Ross, 2000). Yet in comparison to the horse race, the storytelling potential of each of these alternative ways of defining what's newsworthy in politics is perceived as more limited. In fact, according to the norms that dominate most political news beats, once the issue positions, credentials, background, or track record of a candidate is first covered, they are quickly considered "old news" (Patterson, 1993).

Reasons for Concern about Horse Race Journalism

Scholars have raised multiple concerns about the impacts of horse race journalism. Patterson (1993; 2005) and others fear that the focus on the game over substance undermines the ability of citizens to learn from coverage and to reach informed decisions in elections or about policy debates. Capella and Jamieson (1997) argue that the strategy frame portrays candidates and elected officials as self-interested and poll driven opportunists, a portrayal that they show promotes cynicism and distrust among audiences. Farnsworth and Licther (2006) go so far as to suggest that horse race coverage in the primary elections results in a self-reinforcing bandwagon effect with positive horse race coverage improving a candidate's standing in subsequent polls and negative horse-race coverage hurting a candidate's poll standings. Their observation fits with what many political commentators and candidates complain about, that over-reliance on polling narrows news attention and emphasis to just two to three candidates while over-emphasizing perceived electability as a criteria for voters. In this sense, horse race coverage unduly promotes the media as a central institution in deciding electoral outcomes.

In terms of horse race coverage of policy debates, other than failing to provide context and background for audiences, Nisbet and Huge (2006) argue that the strategy frame's preferred "he said, she said" style leads to a false balance in the treatment of technical issues such as climate change or the teaching evolution, issues where there is clear expert consensus. Polling experts offer other reservations. For example, Frankovic (2005) and others warn that over-reliance on horse race journalism and polling potentially undermines public trust in the accuracy and validity of polling.

References

Capella, J. N & Jamieson, K.H. (1997). Spiral of Cynicism: The Press and the Public Good. New York: Oxford University Press.

Farnsworth, S.J. and Lichter, S.R. (2003). The Nightly News Nightmare: Network Television's Coverage of US Presidential Elections, 1988-2000. Rowman & Littlefield.

Farnsworth, S.J. and Lichter, S.R. (2006). The 2004 New Hampshire Democratic Primary and Network News. Harvard International Journal of Press/Politics, 11, 1, 53-63.

Frankovic, K. A. (2005). Reporting "the polls" in 2004. Public Opinion Quarterly, 69, 682-697.

Nisbet, M.C. & Huge, M (2006). Attention cycles and frames in the plant biotechnology debate: Managing power and participation through the press/policy connection. Harvard International Journal of Press/Politics, 11, 2, 3-40.

Patterson, T. E. (1977). The 1976 horserace. The Wilson Quarterly 1: 73-79.

Patterson, T.E. (1993). Out of Order. New York: Knopf.

Patterson, T.E. (2005). Of Polls, Mountains: U.S. Journalists and Their Use of Election Surveys. Public Opinion Quarterly 69, 5, 716-724.

Pew Project for Excellence in Journalism (2007, Oct. 29). The Invisible Primary. Press Release and Report.

Rosenstiel, T. (2005). Political Polling and the New Media Culture: A Case of More Being Less. Public Opinion Quarterly 69, 698-715.

Traugott, M. (2005). The Accuracy of the National Preelection Polls in the 2004 Presidential Election. Public Opinion Quarterly, 65, 5, 642-654.


Geologists discover a rhythm to major geologic events.
Surprising Science
It appears that Earth has a geologic "pulse," with clusters of major events occurring every 27.5 million years.
Working with the most accurate dating methods available, the authors of the study constructed a new history of the last 260 million years.
Exactly why these cycles occur remains unknown, but there are some interesting theories.
Our hearts beat at a resting rate of 60 to 100 beats per minute. Lots of other things pulse, too. The colors we see and the pitches we hear, for example, are due to the different wave frequencies ("pulses") of light and sound waves.
Now, a study in the journal Geoscience Frontiers finds that Earth itself has a pulse, with one "beat" every 27.5 million years. That's the rate at which major geological events have been occurring as far back as geologists can tell.
A planetary calendar has 10 dates in red
Credit: Jagoush / Adobe Stock
According to lead author and geologist Michael Rampino of New York University's Department of Biology, "Many geologists believe that geological events are random over time. But our study provides statistical evidence for a common cycle, suggesting that these geologic events are correlated and not random."

The new study is not the first time that there's been a suggestion of a planetary geologic cycle, but it's only with recent refinements in radioisotopic dating techniques that there's evidence supporting the theory. The authors of the study collected the latest, best dating for 89 known geologic events over the last 260 million years:
29 sea level fluctuations
12 marine extinctions
9 land-based extinctions
10 periods of low ocean oxygenation
13 gigantic flood basalt volcanic eruptions
8 changes in the rate of seafloor spread
8 times there were global pulsations in interplate magmatism
The dates provided the scientists a new timetable of Earth's geologic history.
Tick, tick, boom
Credit: New York University
Putting all the events together, the scientists performed a series of statistical analyses that revealed that events tend to cluster around 10 different dates, with peak activity occurring every 27.5 million years. Between the ten busy periods, the number of events dropped sharply, approaching zero.

Perhaps the most fascinating question that remains unanswered for now is exactly why this is happening. The authors of the study suggest two possibilities:
"The correlations and cyclicity seen in the geologic episodes may be entirely a function of global internal Earth dynamics affecting global tectonics and climate, but similar cycles in the Earth's orbit in the Solar System and in the Galaxy might be pacing these events. Whatever the origins of these cyclical episodes, their occurrences support the case for a largely periodic, coordinated, and intermittently catastrophic geologic record, which is quite different from the views held by most geologists."
Assuming the researchers' calculations are at least roughly correct — the authors note that different statistical formulas may result in further refinement of their conclusions — there's no need to worry that we're about to be thumped by another planetary heartbeat. The last occurred some seven million years ago, meaning the next won't happen for about another 20 million years.
Research shows that those who spend more time speaking tend to emerge as the leaders of groups, regardless of their intelligence.
Credit: Adobe Stock / saksit.
Surprising Science
A new study proposes the "babble hypothesis" of becoming a group leader.
Researchers show that intelligence is not the most important factor in leadership.
Those who talk the most tend to emerge as group leaders.
If you want to become a leader, start yammering. It doesn't even necessarily matter what you say. New research shows that groups without a leader can find one if somebody starts talking a lot.
This phenomenon, described by the "babble hypothesis" of leadership, depends neither on group member intelligence nor personality. Leaders emerge based on the quantity of speaking, not quality.
Researcher Neil G. MacLaren, lead author of the study published in The Leadership Quarterly, believes his team's work may improve how groups are organized and how individuals within them are trained and evaluated.
"It turns out that early attempts to assess leadership quality were found to be highly confounded with a simple quantity: the amount of time that group members spoke during a discussion," shared MacLaren, who is a research fellow at Binghamton University.
While we tend to think of leaders as people who share important ideas, leadership may boil down to whoever "babbles" the most. Understanding the connection between how much people speak and how they become perceived as leaders is key to growing our knowledge of group dynamics.
The power of babble
The research involved 256 college students, divided into 33 groups of four to ten people each. They were asked to collaborate on either a military computer simulation game (BCT Commander) or a business-oriented game (CleanStart). The players had ten minutes to plan how they would carry out a task and 60 minutes to accomplish it as a group. One person in the group was randomly designated as the "operator," whose job was to control the user interface of the game.
To determine who became the leader of each group, the researchers asked the participants both before and after the game to nominate one to five people for this distinction. The scientists found that those who talked more were also more likely to be nominated. This remained true after controlling for a number of variables, such as previous knowledge of the game, various personality traits, or intelligence.
How leaders influence people to believe | Michael Dowling | Big Think www.youtube.com
In an interview with PsyPost, MacLaren shared that "the evidence does seem consistent that people who speak more are more likely to be viewed as leaders."

Another find was that gender bias seemed to have a strong effect on who was considered a leader. "In our data, men receive on average an extra vote just for being a man," explained MacLaren. "The effect is more extreme for the individual with the most votes."
The great theoretical physicist Steven Weinberg passed away on July 23. This is our tribute.
Credit
: Billy Huynh via Unsplash
13-8
The recent passing of the great theoretical physicist Steven Weinberg brought back memories of how his book got me into the study of cosmology.
Going back in time, toward the cosmic infancy, is a spectacular effort that combines experimental and theoretical ingenuity. Modern cosmology is an experimental science.
The cosmic story is, ultimately, our own. Our roots reach down to the earliest moments after creation.
When I was a junior in college, my electromagnetism professor had an awesome idea. Apart from the usual homework and exams, we were to give a seminar to the class on a topic of our choosing. The idea was to gauge which area of physics we would be interested in following professionally.
Professor Gilson Carneiro knew I was interested in cosmology and suggested a book by Nobel Prize Laureate Steven Weinberg: The First Three Minutes: A Modern View of the Origin of the Universe. I still have my original copy in Portuguese, from 1979, that emanates a musty tropical smell, sitting on my bookshelf side-by-side with the American version, a Bantam edition from 1979.
Inspired by Steven Weinberg

Books can change lives. They can illuminate the path ahead. In my case, there is no question that Weinberg's book blew my teenage mind. I decided, then and there, that I would become a cosmologist working on the physics of the early universe. The first three minutes of cosmic existence — what could be more exciting for a young physicist than trying to uncover the mystery of creation itself and the origin of the universe, matter, and stars? Weinberg quickly became my modern physics hero, the one I wanted to emulate professionally. Sadly, he passed away July 23rd, leaving a huge void for a generation of physicists.
What excited my young imagination was that science could actually make sense of the very early universe, meaning that theories could be validated and ideas could be tested against real data. Cosmology, as a science, only really took off after Einstein published his paper on the shape of the universe in 1917, two years after his groundbreaking paper on the theory of general relativity, the one explaining how we can interpret gravity as the curvature of spacetime. Matter doesn't "bend" time, but it affects how quickly it flows. (See last week's essay on what happens when you fall into a black hole).
The Big Bang Theory
For most of the 20th century, cosmology lived in the realm of theoretical speculation. One model proposed that the universe started from a small, hot, dense plasma billions of years ago and has been expanding ever since — the Big Bang model; another suggested that the cosmos stands still and that the changes astronomers see are mostly local — the steady state model.
Competing models are essential to science but so is data to help us discriminate among them. In the mid 1960s, a decisive discovery changed the game forever. Arno Penzias and Robert Wilson accidentally discovered the cosmic microwave background radiation (CMB), a fossil from the early universe predicted to exist by George Gamow, Ralph Alpher, and Robert Herman in their Big Bang model. (Alpher and Herman published a lovely account of the history here.) The CMB is a bath of microwave photons that permeates the whole of space, a remnant from the epoch when the first hydrogen atoms were forged, some 400,000 years after the bang.
The existence of the CMB was the smoking gun confirming the Big Bang model. From that moment on, a series of spectacular observatories and detectors, both on land and in space, have extracted huge amounts of information from the properties of the CMB, a bit like paleontologists that excavate the remains of dinosaurs and dig for more bones to get details of a past long gone.
How far back can we go?
Confirming the general outline of the Big Bang model changed our cosmic view. The universe, like you and me, has a history, a past waiting to be explored. How far back in time could we dig? Was there some ultimate wall we cannot pass?
Because matter gets hot as it gets squeezed, going back in time meant looking at matter and radiation at higher and higher temperatures. There is a simple relation that connects the age of the universe and its temperature, measured in terms of the temperature of photons (the particles of visible light and other forms of invisible radiation). The fun thing is that matter breaks down as the temperature increases. So, going back in time means looking at matter at more and more primitive states of organization. After the CMB formed 400,000 years after the bang, there were hydrogen atoms. Before, there weren't. The universe was filled with a primordial soup of particles: protons, neutrons, electrons, photons, and neutrinos, the ghostly particles that cross planets and people unscathed. Also, there were very light atomic nuclei, such as deuterium and tritium (both heavier cousins of hydrogen), helium, and lithium.
Cosmic alchemy
So, to study the universe after 400,000 years, we need to use atomic physics, at least until large clumps of matter aggregate due to gravity and start to collapse to form the first stars, a few millions of years after. What about earlier on? The cosmic history is broken down into chunks of time, each the realm of different kinds of physics. Before atoms form, all the way to about a second after the Big Bang, it's nuclear physics time. That's why Weinberg brilliantly titled his book The First Three Minutes. It is during the interval between one-hundredth of a second and three minutes that the light atomic nuclei (made of protons and neutrons) formed, a process called, with poetic flair, primordial nucleosynthesis. Protons collided with neutrons and, sometimes, stuck together due to the attractive strong nuclear force. Why did only a few light nuclei form then? Because the expansion of the universe made it hard for the particles to find each other.
What about the nuclei of heavier elements, like carbon, oxygen, calcium, gold? The answer is beautiful: all the elements of the periodic table after lithium were made and continue to be made in stars, the true cosmic alchemists. Hydrogen eventually becomes people if you wait long enough. At least in this universe.
In this article, we got all the way up to nucleosynthesis, the forging of the first atomic nuclei when the universe was a minute old. What about earlier on? How close to the beginning, to t = 0, can science get? Stay tuned, and we will continue next week.
To Steven Weinberg, with gratitude, for all that you taught us about the universe.
Surprising Science
Long before Alexandria became the center of Egyptian trade, there was Thônis-Heracleion. But then it sank.
Scroll down to load more…