Higher Ed Wins: U.S. Gets Oval Office Professors
16 August, 2010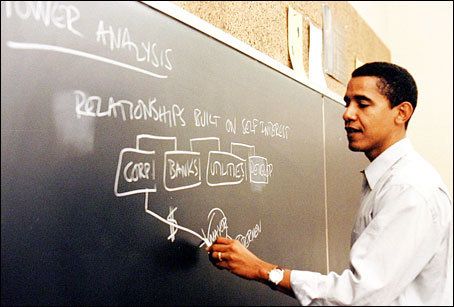 From the Chronicle of Higher Education:


The 2008 presidential election has broken so many political barriers that historians may overlook one unusual fact: When Barack Obama takes the oath of office next January alongside his running mate, Joe Biden, it will be the first time in history that the president, vice president, and both of their spouses have worked in higher education.

Taken together, the Obamas and the Bidens have amassed decades of experience at colleges and universities. Mr. Obama taught constitutional law at the University of Chicago Law School from 1992 until 2004, when he took office in the U.S. Senate. His wife, Michelle, has worked in the administration at the same university and is on leave from her job as vice president for community and external affairs at the University of Chicago Hospitals.

The Bidens also have spent considerable time in academe. For the past 17 years, Mr. Biden has taught as an adjunct professor at the Widener University School of Law. His wife, Jill, is an English instructor at Delaware Technical and Community College's Stanton-Wilmington campus.
A new study estimated the untapped potential of wind energy across Europe.
Pixabay
Surprising Science
A new report calculated how much electricity Europe could generate if it built onshore wind farms on all of its exploitable land.
The results indicated that European onshore wind farms could supply the whole world with electricity from now until 2050.
Wind farms come with a few complications, but the researchers noted that their study was meant to highlight the untapped potential of the renewable energy source in Europe.
French newspapers report that the trial hasn't lived up to expectations.
Image source: Charly Triballeau / AFP / Getty Images
Technology & Innovation
The French government initially invested in a rural solar roadway in 2016.
French newspapers report that the trial hasn't lived up to expectations.
Solar panel "paved" roadways are proving to be inefficient and too expensive.
You want one. Now you may be able to survive one.
Technology & Innovation
Cats live in a quarter of Western households.
Allergies to them are common and can be dangerous.
A new approach targets the primary trouble-causing allergen.