Global Warming Concerts to Catalyze World Action
Matthew C. Nisbet
Matthew C. Nisbet, Ph.D. is Associate Professor of Communication Studies, Public Policy, and Urban Affairs at Northeastern University. Nisbet studies the role of communication and advocacy in policymaking and public affairs, focusing on debates over over climate change, energy, and sustainability. Among awards and recognition, Nisbet has been a Visiting Shorenstein Fellow on Press, Politics, and Public Policy at Harvard University's Kennedy School of Government, a Health Policy Investigator at the Robert Wood Johnson Foundation, and a Google Science Communication Fellow. In 2011, the editors at the journal Nature recommended Nisbet's research as "essential reading for anyone with a passing interest in the climate change debate," and the New Republic highlighted his work as a "fascinating dissection of the shortcomings of climate activism."
16 August, 2010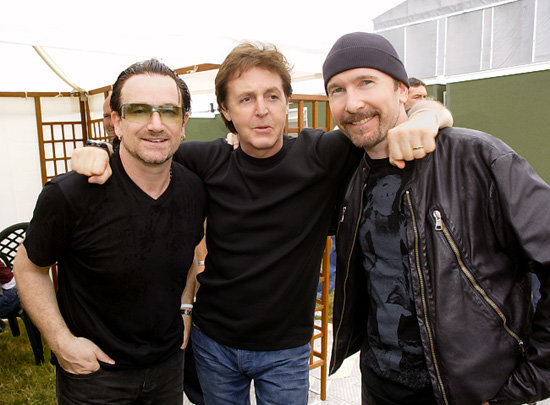 A series of concerts "bigger than Live Aid" are being planned for July, in a bid to put the subject of climate change before a global audience of two billion, reports the Financial Times. The event, scheduled for July 7, will feature co-ordinated film, music and television events in seven cities including London, Washington DC, Shanghai, Rio de Janeiro, Cape Town and Kyoto, with major broadcasters and media owners aiming to magnify public concern over global warming. Al Gore is reported to be a chief organizer.



---
Given the major challenges that even major moments like the release of the IPCC report face in breaking onto the news and public agenda, these "entertainment education" events in the form of blockbuster movies, multi-media celebrity initiatives like Global Cool, and "Live 8" style concerts are a necessary and very likely effective alternative strategy.

According to the Financial Times, they are promising a line-up of artists to "dwarf" that of the Live8 and Live Aid concerts, thought to be branded under the name "SOS." One person close to the event said yesterday: "The talent involved is just exponentially bigger because the issue itself is bigger. Live Aid was about asking people to stump up money, this is about effecting systemic change. The aim is not just to drive awareness but to get people to take action."

There's just one problem. As great a catalyst and leader as Al Gore has been on global warming, and as much as I admire Inconvenient Truth, he remains a major "negative brand" for the nearly half of Americans who hold an unfavorable view of the former VP. It's one reason why I've argued in the past that Gore's film should stay out of science classes. With this summer's world concerts, his prominent involvement will be just another convenient filtering device for Republicans
Related Articles
Both schizophrenics and people with a common personality type share similar brain patterns.
(shutterstock)
Mind & Brain
A new study shows that people with a common personality type share brain activity with patients diagnosed with schizophrenia.
The study gives insight into how the brain activity associated with mental illnesses relates to brain activity in healthy individuals.
This finding not only improves our understanding of how the brain works but may one day be applied to treatments.
It's a development that could one day lead to much better treatments for osteoporosis, joint damage, and bone fractures.
Image: Nissim Benvenisty
Surprising Science
Scientists have isolated skeletal stem cells in adult and fetal bones for the first time.
These cells could one day help treat damaged bone and cartilage.
The team was able to grow skeletal stem cells from cells found within liposuctioned fat.
Gut bacteria play an important role in how you feel and think and how well your body fights off disease. New research shows that exercise can give your gut bacteria a boost.
National Institutes of Health
Surprising Science
Two studies from the University of Illinois show that gut bacteria can be changed by exercise alone.
Our understanding of how gut bacteria impacts our overall health is an emerging field, and this research sheds light on the many different ways exercise affects your body.
Exercising to improve your gut bacteria will prevent diseases and encourage brain health.
Big think's weekly newsletter.
Get smarter faster from the comfort of your inbox.
See our newsletter privacy policy
here
Most Popular
Most Recent
Big think's weekly newsletter.
Get smarter faster from the comfort of your inbox.
See our newsletter privacy policy
here
© Copyright 2007-2018 & BIG THINK, BIG THINK EDGE,
SMARTER FASTER trademarks owned by The Big Think, Inc. All rights reserved.