Does Gore Contribute to the Communication Crisis?
Matthew C. Nisbet
Matthew C. Nisbet, Ph.D. is Associate Professor of Communication Studies, Public Policy, and Urban Affairs at Northeastern University. Nisbet studies the role of communication and advocacy in policymaking and public affairs, focusing on debates over over climate change, energy, and sustainability. Among awards and recognition, Nisbet has been a Visiting Shorenstein Fellow on Press, Politics, and Public Policy at Harvard University's Kennedy School of Government, a Health Policy Investigator at the Robert Wood Johnson Foundation, and a Google Science Communication Fellow. In 2011, the editors at the journal Nature recommended Nisbet's research as "essential reading for anyone with a passing interest in the climate change debate," and the New Republic highlighted his work as a "fascinating dissection of the shortcomings of climate activism."
16 August, 2010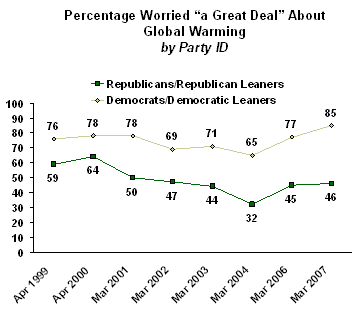 A busy day but a quick analysis of breaking news:

Gore's Inconvenient Truth has been a stunning success in generating news coverage to his preferred "pandora's box" framing of the "climate crisis" and in mobilizing a latent base of concerned citizens. His perspective is likely to only be amplified after winning the Nobel prize.

But as we describe in our framing article at Science and as I explain at NPR's On the Media, there still remains a Two Americas of climate change perceptions. Over the past year Democrats have grown even more concerned about the issue while Republicans remain relatively unmoved.

I provide context to these challenges in a study published in the recent issue of the journal Public Opinion Quarterly, in which I analyze 20 years of public opinion trends in the U.S. on global warming (major implications). Despite Gore's breakthrough success with Inconvenient Truth, public opinion today is little different from what it was in May 2006 when the movie was released.

Here's how I described the problem at NPR's On the Media:


And so, what's going on here? It's because several Democratic leaders, like Al Gore, and even some scientists are really adopting what I call the catastrophe frame or the Pandora's Box frame, really focusing in on specific climate impacts that might be scary or frightening, such as the possibility of more intense hurricanes.

When you move in that direction, where the science is still uncertain, you open yourself up to the counter argument that this is just simply alarmism. It's very easy for the public, then, to simply rely on their partisanship to make up their minds, and that's why you have this two Americas of public perception.
Gore says he plans to donate 100% of the Nobel prize money to changing public opinion on climate change, but if he is going to be successful, he needs to promote alternative frames and interpretations of the issue and pair these messages with less partisan appearing opinion leaders. In fact, Gore should take note of E.O. Wilson's
message and efforts at working with Evangelical leaders
.
Despite Gore's success, there's still a lot more research and work to be done in figuring out alternative meanings of global warming that go beyond just a focus on
crisis
and that can activate key segments of the American public.
Related Articles
Explore how alcohol affects your brain, from the first sip at the bar to life-long drinking habits.
(Photo by Angie Garrett/Wikimedia Commons)
Mind & Brain
Alcohol is the world's most popular drug and has been a part of human culture for at least 9,000 years.
Alcohol's effects on the brain range from temporarily limiting mental activity to sustained brain damage, depending on levels consumed and frequency of use.
Understanding how alcohol affects your brain can help you determine what drinking habits are best for you.
If you want to know what makes a Canadian lynx a Canadian lynx a team of DNA sequencers has figured that out.
Surprising Science
A team at UMass Amherst recently sequenced the genome of the Canadian lynx.
It's part of a project intending to sequence the genome of every vertebrate in the world.
Conservationists interested in the Canadian lynx have a new tool to work with.
Artwork: Guillaume le Clerc / Wikimedia Commons
13th-century fantastical depiction of an elephant.
It is easy to see how one can look at 66,000 genomic sequences stored away as being the analogous equivalent of the Svalbard Global Seed Vault. It is a potential tool for future conservationists.
But what are the practicalities of sequencing the genome of a lynx beyond engaging with broad bioethical questions? As the animal's habitat shrinks and Earth warms, the Canadian lynx is demonstrating less genetic diversity. Cross-breeding with bobcats in some portions of the lynx's habitat also represents a challenge to the lynx's genetic makeup. The two themselves are also linked: warming climates could drive Canadian lynxes to cross-breed with bobcats.
John Organ, chief of the U.S. Geological Survey's Cooperative Fish and Wildlife units, said to MassLive that the results of the sequencing "can help us look at land conservation strategies to help maintain lynx on the landscape."
What does DNA have to do with land conservation strategies? Consider the fact that the food found in a landscape, the toxins found in a landscape, or the exposure to drugs can have an impact on genetic activity. That potential change can be transmitted down the generative line. If you know exactly how a lynx's DNA is impacted by something, then the environment they occupy can be fine-tuned to meet the needs of the lynx and any other creature that happens to inhabit that particular portion of the earth.
Given that the Trump administration is considering withdrawing protection for the Canadian lynx, a move that caught scientists by surprise, it is worth having as much information on hand as possible for those who have an interest in preserving the health of this creature—all the way down to the building blocks of a lynx's life.
The exploding popularity of the keto diet puts a less used veggie into the spotlight.
Purple cauliflower. (Photo: Shutterstock)
Surprising Science
The cauliflower is a vegetable of choice if you're on the keto diet.
The plant is low in carbs and can replace potatoes, rice and pasta.
It can be eaten both raw and cooked for different benefits.
Big think's weekly newsletter.
Get smarter faster from the comfort of your inbox.
See our newsletter privacy policy
here
Most Popular
Most Recent
Big think's weekly newsletter.
Get smarter faster from the comfort of your inbox.
See our newsletter privacy policy
here
© Copyright 2007-2018 & BIG THINK, BIG THINK EDGE,
SMARTER FASTER trademarks owned by The Big Think, Inc. All rights reserved.