Do Roughly 40% of Americans Agree with Palin on Abortion?
Matthew C. Nisbet
Matthew C. Nisbet, Ph.D. is Associate Professor of Communication Studies, Public Policy, and Urban Affairs at Northeastern University. Nisbet studies the role of communication and advocacy in policymaking and public affairs, focusing on debates over over climate change, energy, and sustainability. Among awards and recognition, Nisbet has been a Visiting Shorenstein Fellow on Press, Politics, and Public Policy at Harvard University's Kennedy School of Government, a Health Policy Investigator at the Robert Wood Johnson Foundation, and a Google Science Communication Fellow. In 2011, the editors at the journal Nature recommended Nisbet's research as "essential reading for anyone with a passing interest in the climate change debate," and the New Republic highlighted his work as a "fascinating dissection of the shortcomings of climate activism."
16 August, 2010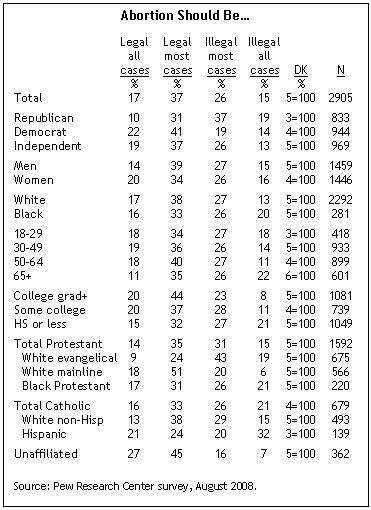 While many Democrats and women find Palin's support for criminalizing abortion to be outrageous, a recent survey by the Pew organization finds that roughly 40% of Americans generally agree with her views.

Combined, 41% of Americans answer that abortion should be outlawed in either in all cases (15%) or most cases (26%). Among White evangelicals, who Pew measures at roughly 30% of the American public, this support shoots up to a combined 62% (19% all cases, 43% most cases).

UPDATE: One problem in comparing this poll to Palin's specific views is the unclear nature of what counts as "most cases" for respondents. As commenters below note, Palin's position is to only allow abortion in cases where there is threat to the mother's life, but not for incest or rape. Few polls separate out the conditions differentiating between rape and incest and threat to the mother. Below are two additional examples from PollingReport.com.


Time magazine, August 2008

Which of these positions best represents your views about abortion? A woman should be able to get an abortion if she wants one, no matter what the reason, up until the time the fetus is viable, that is, can live on its own (46% support). Abortion should only be legal in certain circumstances, such as when a woman's health is endangered or when the pregnancy results from rape or incest (40%). Abortion should be illegal in all circumstances, even if the mother's life is in danger (10%)."
NBC News Sept. 28

"Which comes closest to your view on abortion: abortion should always be legal (25% support); should be legal most of the time (24% support); should be made illegal except in cases of rape , incest and to save the mother's life (37%); or abortion should be made illegal without any exceptions? (10%)"
Perhaps the best survey items on the specific conditions shaping support for abortion rights have been asked in polling sponsored by Fox News. In this case, we see that when the specific conditions of threat to a mother or circumstance of pregnancy is primed in survey respondents minds, support for abortion rights shifts to 70%.
FOX News/Opinion Dynamics Poll. Oct. 23-24, 2007.N=900 registered voters nationwide.

"Please tell me if you think abortion should be legal or illegal in each of the following situations..."

"If the pregnancy was the result of rape or incest"
70% Legal 21% Illegal 9% Not sure

"If the pregnancy puts the mother's life at risk"
73% Legal 15% Illegal 12% Unsure

"If the baby has a fatal birth defect"
53% Legal 30% Illegal 18% Unsure

"If the pregnancy is unwanted"
39% Legal 50% Illegal 11% Unsure
The stories we tell define history. So who gets the mic in America?
Videos
History is written by lions. But it's also recorded by lambs.
In order to understand American history, we need to look at the events of the past as more prismatic than the narrative given to us in high school textbooks.
Including different voices can paint a more full and vibrant portrait of America. Which is why more walks of American life can and should be storytellers.

A glass of juice has as much sugar, ounce for ounce, as a full-calorie soda. And those vitamins do almost nothing.
popular
Quick: think back to childhood (if you've reached the scary clown you've gone too far). What did your parents or guardians give you to keep you quiet? If you're anything like most parents, it was juice. But here's the thing: juice is bad for you. 
The controversy around the Torah codes gets a new life.
Michael Drosnin
Surprising Science
Mathematicians claim to see a predictive pattern in the ancient Torah texts.
The code is revealed by a method found with special computer software.
Some events described by reading the code took place after the code was written.
Big think's weekly newsletter.
Get smarter faster from the comfort of your inbox.
See our newsletter privacy policy
here
Most Popular
Most Recent
Big think's weekly newsletter.
Get smarter faster from the comfort of your inbox.
See our newsletter privacy policy
here
© Copyright 2007-2018 & BIG THINK, BIG THINK EDGE,
SMARTER FASTER trademarks owned by The Big Think, Inc. All rights reserved.