Disciplines Exchange Ideas on Art, Controversy, & Science
Matthew C. Nisbet
Matthew C. Nisbet, Ph.D. is Associate Professor of Communication Studies, Public Policy, and Urban Affairs at Northeastern University. Nisbet studies the role of communication and advocacy in policymaking and public affairs, focusing on debates over over climate change, energy, and sustainability. Among awards and recognition, Nisbet has been a Visiting Shorenstein Fellow on Press, Politics, and Public Policy at Harvard University's Kennedy School of Government, a Health Policy Investigator at the Robert Wood Johnson Foundation, and a Google Science Communication Fellow. In 2011, the editors at the journal Nature recommended Nisbet's research as "essential reading for anyone with a passing interest in the climate change debate," and the New Republic highlighted his work as a "fascinating dissection of the shortcomings of climate activism."
16 August, 2010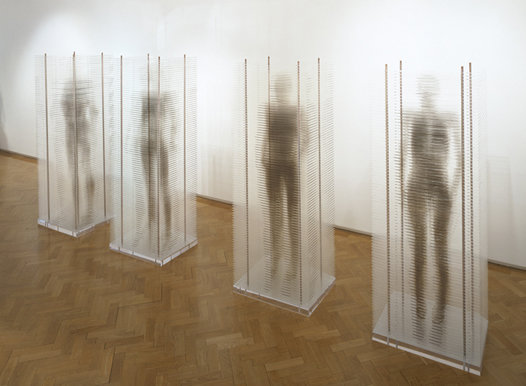 Sculptor Marilene Oliver uses MRI, PET, and CT scanning to create her works.

Last week I traveled to the Canadian Rockies to participate in a unique workshop organized by the University at Alberta that focused on the shared perspectives and collaborations among artists, scientists, ethicists, and social scientists. The workshop was the second in a series organized by brothers Sean Caulfield and Timothy Caulfield, professors of Art and Law respectively at the University of Alberta.

In 2009, the first workshop resulted in the "Imagining Science" exhibit at the Art Gallery of Alberta and a book by the same title. The critically acclaimed initiative highlighted the emerging genre of "bio art," which Tim Caulfield in his contribution to the award-winning book describes as "a field of artistic inquiry that both utilizes the techniques of biotechnology and serves as a medium of reflection on the societal implications of the research."

As Catherine Crowston, Chief Curator of the Art Gallery of Alberta wrote in the preface to Imagining Science, artistic works "do not provide explanations of science itself. They do not provide explanations or justifications for sciences and its infinite areas of research and investigation. Instead they are reflections, critiques, musings and semblances. They are not about fact per se, but about experience, interpretation and contemplation. They engage us with the possibility of their ideas and images, and leave us to decide what we will learn from them.

Despite the important function of artists relative to science, there is an unfortunate tendency to think about this relationship in terms of "two cultures" divided. This metaphor has come to dominate discourse about science and society more generally. Yet at the workshop, between the artists and scientists gathered, I couldn't help but recognize the obvious parallels in outlook and professional practice.

Art and science as disciplines offer methods to understand and discover the world. Scientists and artists through their work are both challenged to communicate to others what they observe about nature or about society. To do so, each profession is trained in specific tools and methods, draw upon discipline-specific theory, engage in collaboration across professional networks, are publicly funded and supported, engage in both "basic" art or research or applied work (in the case of art, advertising or design), and are peer-reviewed or juried by other experts. Artists, like scientists, are also limited by natural laws particularly light and perspective, often deal with issues of privacy and the ethical use of subjects, and both groups are deeply concerned by the need for public understanding and appreciation for their profession.

In my own presentation last week at the workshop, I spotlighted the relationship between film and television portrayals of science and their influence on audiences. You can read some of my thoughts on the topic in this separate post.

The most recent workshop is intended to serve as the foundation for a forthcoming exhibit at the Glennbow Museum in Calgary, Alberta and a second book. I will blog details when they become available.

The controversy around the Torah codes gets a new life.
Michael Drosnin
Surprising Science
Mathematicians claim to see a predictive pattern in the ancient Torah texts.
The code is revealed by a method found with special computer software.
Some events described by reading the code took place after the code was written.
Giving our solar system a "slap in the face."
Surprising Science
A stream of galactic debris is hurtling at us, pulling dark matter along with it
It's traveling so quickly it's been described as a hurricane of dark matter
Scientists are excited to set their particle detectors at the onslffaught
Orangutans join humans and bees in a very exclusive club
Surprising Science
Orangutan mothers wait to sound a danger alarm to avoid tipping off predators to their location
It took a couple of researchers crawling around the Sumatran jungle to discover the phenomenon
This ability may come from a common ancestor
Big think's weekly newsletter.
Get smarter faster from the comfort of your inbox.
See our newsletter privacy policy
here
Most Popular
Most Recent
Big think's weekly newsletter.
Get smarter faster from the comfort of your inbox.
See our newsletter privacy policy
here
© Copyright 2007-2018 & BIG THINK, BIG THINK EDGE,
SMARTER FASTER trademarks owned by The Big Think, Inc. All rights reserved.