"ClimateGate": A Catchphrase That Instantly Flips the Frame On Climate Scientists
Matthew C. Nisbet
Matthew C. Nisbet, Ph.D. is Associate Professor of Communication Studies, Public Policy, and Urban Affairs at Northeastern University. Nisbet studies the role of communication and advocacy in policymaking and public affairs, focusing on debates over over climate change, energy, and sustainability. Among awards and recognition, Nisbet has been a Visiting Shorenstein Fellow on Press, Politics, and Public Policy at Harvard University's Kennedy School of Government, a Health Policy Investigator at the Robert Wood Johnson Foundation, and a Google Science Communication Fellow. In 2011, the editors at the journal Nature recommended Nisbet's research as "essential reading for anyone with a passing interest in the climate change debate," and the New Republic highlighted his work as a "fascinating dissection of the shortcomings of climate activism."
16 August, 2010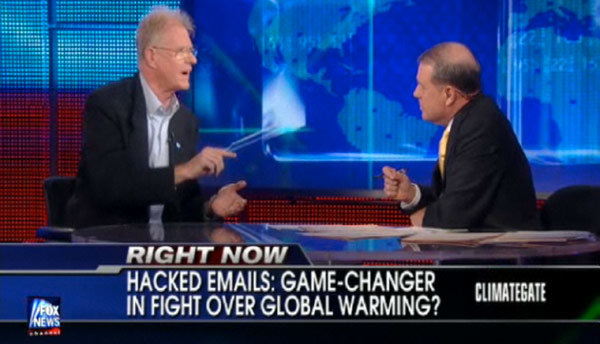 ClimateGate: A now ubiquitous tagline that conveys a preferred storyline.
In a
paper
published earlier this year at the journal
Environment
, I explained how claims and arguments relative to the climate change debate can be classified and tracked using a typology of frames that are common to science-related issues.
With the recent controversy over the East Anglia stolen emails, one of these common frames has come to dominate discussion leading up to Copenhagen. What's different this time around is that climate skeptics and conservatives are applying the frame, rather than liberals and environmental advocates.
This specific frame defines a science debate narrowly in terms of "public accountability and governance":
Is research or relevant policy in the public interest or serving special interests? The emphasis is on matters of control, transparency, participation, responsiveness, or ownership; or debate over proper use of science and expertise in decision-making ("politicization.")
In the
Environment
paper, I described how historically the public accountability frame has been used by Democrats, environmentalists, and science advocates in an attempt to raise concern that conservatives, industry, and the Bush administration were ignoring scientific expertise in favor of economic interests and/or ideology. Common
frame devices
used to instantly evoke and lock in this interpretation were allegations over a "
war on science
" and the "manufacture of uncertainty." As I wrote in the paper, while this frame might mobilize a liberal base it also likely inadvertently leads to further disengagement among the broader public, who are likely to see claims about a "war on science" as just more elite, partisan bickering.
The irony now is that conservatives and climate skeptics have discovered the utility of the public accountability frame to inflame and mobilize their base while also (intentionally) deactivating concern about climate change among the broader public.
The now commonly used term "ClimateGate" to refer to the case of the East Anglia stolen emails is an extremely effective frame device that instantly--if not falsely--conveys that there is wrongdoing, politicization, and a cover-up on the part of mainstream scientists.
Focusing events have the potential to powerfully amplify the resonance of a frame pushed by advocates. If the focusing event imbues a preferred storyline with even a tiny bit of validity, it can catapult a much stronger and broader frame into dominance. The case of the East Anglia emails, now defined in conversation as "ClimateGate," threatens to follow this trend. We will have to watch closely to see if the storyline cast by conservative skeptics and media becomes one of the classic examples of frame resonance in politics.
For a relevant case study on how an event can launch a politically preferred frame of reference into prominence, see this post from 2005 where
I detailed
how Hurricane Katrina fueled a larger narrative about the the Bush administration as a presidency in a "state of denial."
I will be discussing more on this issue at the
workshop on climate change communication
held Sunday at the annual meetings of the American Geophysical Union in San Francisco. More than 115 attendees have registered and there will be ample time allotted for questions and comments with the panelists.
The controversy around the Torah codes gets a new life.
Michael Drosnin
Surprising Science
Mathematicians claim to see a predictive pattern in the ancient Torah texts.
The code is revealed by a method found with special computer software.
Some events described by reading the code took place after the code was written.
Pfizer's partnerships strengthen their ability to deliver vaccines in developing countries.
Susan Silbermann, Global President of Pfizer Vaccines, looks on as a health care worker administers a vaccine in Rwanda. Photo: Courtesy of Pfizer.
Sponsored
Community healthcare workers face many challenges in their work, including often traveling far distances to see their clients
Pfizer is helping to drive the UN's sustainable development goals through partnerships.
Pfizer partnered with AMP and the World Health Organization to develop a training program for healthcare workers.
Orangutans join humans and bees in a very exclusive club
Surprising Science
Orangutan mothers wait to sound a danger alarm to avoid tipping off predators to their location
It took a couple of researchers crawling around the Sumatran jungle to discover the phenomenon
This ability may come from a common ancestor
Big think's weekly newsletter.
Get smarter faster from the comfort of your inbox.
See our newsletter privacy policy
here
Most Popular
Most Recent
Big think's weekly newsletter.
Get smarter faster from the comfort of your inbox.
See our newsletter privacy policy
here
© Copyright 2007-2018 & BIG THINK, BIG THINK EDGE,
SMARTER FASTER trademarks owned by The Big Think, Inc. All rights reserved.