Carville & Greenberg: McCain is Dominating on Energy Policy
Matthew C. Nisbet
Matthew C. Nisbet, Ph.D. is Associate Professor of Communication Studies, Public Policy, and Urban Affairs at Northeastern University. Nisbet studies the role of communication and advocacy in policymaking and public affairs, focusing on debates over over climate change, energy, and sustainability. Among awards and recognition, Nisbet has been a Visiting Shorenstein Fellow on Press, Politics, and Public Policy at Harvard University's Kennedy School of Government, a Health Policy Investigator at the Robert Wood Johnson Foundation, and a Google Science Communication Fellow. In 2011, the editors at the journal Nature recommended Nisbet's research as "essential reading for anyone with a passing interest in the climate change debate," and the New Republic highlighted his work as a "fascinating dissection of the shortcomings of climate activism."
16 August, 2010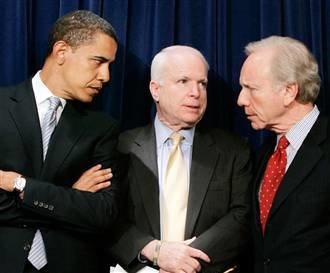 On energy policy, all eyes turn to McCain.

Earlier this week I spotlighted the unheard of 20-30 point shift since February in how Americans view what should be done about the energy problem, with as many liberals now as conservatives favoring energy exploration and investment in nuclear power over conservation efforts and regulation. As I noted, given this quickly changing interpretative landscape, it's not surprising that the first GOP-funded television spot of the presidential campaign touted McCain's "balanced" approach on energy and his willingness to "stand up" to his own party on the issue.

Now, in the latest report from Democratic strategist James Carville and pollster Stan Greenberg, the two veteran campaign consultants raise alarm that Obama is not responding to these public opinion shifts with an effective narrative on energy and that McCain is way out in front when it comes to a compelling policy and message.

Their recent polling is consistent with the findings from Pew I drew attention to earlier this week. As Carville and Greenberg report, by a 16-point margin voters place more importance on reducing gas prices than addressing energy conservation and global warming, and in order to achieve this goal a majority of voters believe that coupling an investment in alternative fuels with increased domestic production of oil is preferable to alternative fuel investment combined with energy conservation alone.

When it comes to which candidate comes out on top in this opinion environment, here's what they reluctantly describe:


John McCain enters the offshore drilling debate with voters' favor. Six-in-ten voters favor McCain's proposal to drill in some U.S. coastal regions to help lower the price of gas. McCain's proposal is overwhelmingly favored by independents and Republicans (69 and 86 percent, respectively) and even gathers support among more than one third of the Democratic electorate. More importantly, McCain's message adding domestic oil production to a policy of alternative energy investment and conservation is favored over Obama's message that blames oil companies, calls for investments in alternative energy and rejects limited offshore drilling.

As a response, Carville and Greenberg urge that Obama offer "a sharper attack on what McCain is really offering and a bigger offer for the short term and long." Specifically, Obama should emphasize in policy and message:
* Energy independence through alternative energy and American energy sources.

* Relief now from high prices with energy tax credits to offset prices and encourage weatherization for this winter.

* Require oil companies to drill now on their existing leases.

* Change in the way we make cars to create a significant rise in fuel efficiency - something opposed by McCain.

* Finally, have an energy policy for America, not the oil companies.



The controversy around the Torah codes gets a new life.
Michael Drosnin
Surprising Science
Mathematicians claim to see a predictive pattern in the ancient Torah texts.
The code is revealed by a method found with special computer software.
Some events described by reading the code took place after the code was written.
Pfizer's partnerships strengthen their ability to deliver vaccines in developing countries.
Susan Silbermann, Global President of Pfizer Vaccines, looks on as a health care worker administers a vaccine in Rwanda. Photo: Courtesy of Pfizer.
Sponsored
Community healthcare workers face many challenges in their work, including often traveling far distances to see their clients
Pfizer is helping to drive the UN's sustainable development goals through partnerships.
Pfizer partnered with AMP and the World Health Organization to develop a training program for healthcare workers.
Orangutans join humans and bees in a very exclusive club
Surprising Science
Orangutan mothers wait to sound a danger alarm to avoid tipping off predators to their location
It took a couple of researchers crawling around the Sumatran jungle to discover the phenomenon
This ability may come from a common ancestor
Big think's weekly newsletter.
Get smarter faster from the comfort of your inbox.
See our newsletter privacy policy
here
Most Popular
Most Recent
Big think's weekly newsletter.
Get smarter faster from the comfort of your inbox.
See our newsletter privacy policy
here
© Copyright 2007-2018 & BIG THINK, BIG THINK EDGE,
SMARTER FASTER trademarks owned by The Big Think, Inc. All rights reserved.