Bobby Jindal On Why He Supports Creationism
Matthew C. Nisbet
Matthew C. Nisbet, Ph.D. is Associate Professor of Communication Studies, Public Policy, and Urban Affairs at Northeastern University. Nisbet studies the role of communication and advocacy in policymaking and public affairs, focusing on debates over over climate change, energy, and sustainability. Among awards and recognition, Nisbet has been a Visiting Shorenstein Fellow on Press, Politics, and Public Policy at Harvard University's Kennedy School of Government, a Health Policy Investigator at the Robert Wood Johnson Foundation, and a Google Science Communication Fellow. In 2011, the editors at the journal Nature recommended Nisbet's research as "essential reading for anyone with a passing interest in the climate change debate," and the New Republic highlighted his work as a "fascinating dissection of the shortcomings of climate activism."
16 August, 2010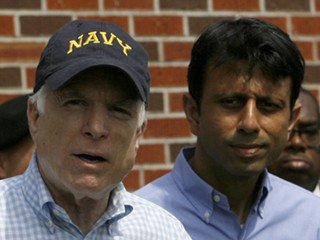 Similar to Sarah Palin, Bobby Jindal was heralded by conservatives as offering the belief credentials to be Vice President.

Louisiana Governor Bobby Jindal was interviewed by the Sunday NY Times magazine. In yesterday's edition, here's what he said about his support for teaching creationism in public schools:


Did you always want to be in politics? It was not something I anticipated doing. I always thought I'd go to medical school. I got accepted into medical school and did not end up going.

Where were you accepted? At Harvard.

Wow. Why would someone with so much knowledge of biology sign a bill allowing the biblical story of Creation to be taught in science class? I don't think that schools should be run by bureaucrats. I think these decisions need to be made by local school boards. In terms of teaching my own kids at home, I do believe there is a Creator. Catholicism doesn't teach authoritatively on evolution or the origins of life, but we do believe that God is our Creator.
Big think's weekly newsletter.
Get smarter faster from the comfort of your inbox.
See our newsletter privacy policy
here