Barbara Boxer on Managing James Inhofe and the Frame that Turned John Warner into a Climate Advocate
Matthew C. Nisbet
Matthew C. Nisbet, Ph.D. is Associate Professor of Communication Studies, Public Policy, and Urban Affairs at Northeastern University. Nisbet studies the role of communication and advocacy in policymaking and public affairs, focusing on debates over over climate change, energy, and sustainability. Among awards and recognition, Nisbet has been a Visiting Shorenstein Fellow on Press, Politics, and Public Policy at Harvard University's Kennedy School of Government, a Health Policy Investigator at the Robert Wood Johnson Foundation, and a Google Science Communication Fellow. In 2011, the editors at the journal Nature recommended Nisbet's research as "essential reading for anyone with a passing interest in the climate change debate," and the New Republic highlighted his work as a "fascinating dissection of the shortcomings of climate activism."
16 August, 2010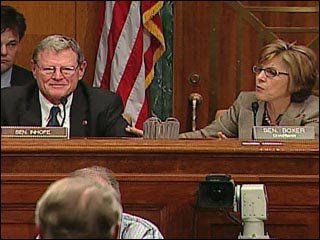 Barbara Boxer appeared on Bill Moyers last week, providing fresh insight into her relationship with James Inhofe as well as the strategic appeal that turned GOP Senator John Warner into a climate change advocate.

In describing her reaction to Inhofe's theatrics during Al Gore's testimony earlier this year, here's what she had to say (full transcript of the interview):


BARBARA BOXER: I was a little stunned because here I had taken the gavel after a tough, you know, election season. We came in. We got power finally, albeit very small margin. But I was the chairman of the committee now. And Jim Inhofe, we work pretty well together, given our ideological differences. But he kept trying to run the hearings. And I kept saying to myself at some point I'm going to have to show him that I am the chairman of the committee.




(Cut to actual transcript from Gore's testimony)

BARBARA BOXER:Would you agree to let the Vice President answer your questions? And then, if you want an extra few minutes at the end, I'm happy to give it to you. But we're not going to get anywhere --

SEN. JAMES INHOFE: Why don't we do this? Why don't we do this? At the end, you can have as much time as you want to answer all the questions.

BARBARA BOXER: No, that isn't the rule of -- you're not making the rules. You used to when you did this. You don't do this anymore. Elections have consequences.




BARBARA BOXER: What I meant is that times have changed now. And the Democrats are in charge. And this committee, what it means is that the environment is back, front and center.
On staunch GOP leader John Warner, she notes that when climate change was re-framed for the Virginia Senator as a national security matter, it connected the issue to something that Warner was already an advocate on and something that he cared about as a legislative leader.
It's a leading example of what can happen when climate change is switched from the mental box of just an environmental issue and recast for Republicans as either a national security issue or as an opportunity to grow the economy around innovation and new technology. With this type of re-framing, support can be activated among an otherwise demobilized audience. Indeed, it's no accident that the bill that was introduced was named "The Climate Security Act."
Here's how Boxer recounts Warner's conversion to the issue.

BARBARA BOXER: Actually, I think we did better than I thought and there's a reason, a man named John Warner. And for anyone who says, you know, individuals don't matter, the government goes on, individuals matter.

BARBARA BOXER: Now, John Warner is a Republican. And by any measure, a conservative Republican, a man who's retiring now and who has made his mark on national security.


(Cut to Warner speaking on the Senate floor.)



SEN. JOHN WARNER: Let's show the American public this institution can work and address a complicated subject and try and reach a common ground and common understanding. To do nothing is not an option.



BARBARA BOXER: When he came to realize that global warming was a national security issue and when his kids and grandkids said to him, "You need to have a legacy on this issue," and he then came to me, I knew we had brought bipartisanship to the committee.
New research links urban planning and political polarization.
Pixabay
Politics & Current Affairs
Canadian researchers find that excessive reliance on cars changes political views.
Decades of car-centric urban planning normalized unsustainable lifestyles.
People who prefer personal comfort elect politicians who represent such views.
Progressive America would be half as big, but twice as populated as its conservative twin.
Image: Dicken Schrader
Strange Maps
America's two political tribes have consolidated into 'red' and 'blue' nations, with seemingly irreconcilable differences.
Perhaps the best way to stop the infighting is to go for a divorce and give the two nations a country each
Based on the UN's partition plan for Israel/Palestine, this proposal provides territorial contiguity and sea access to both 'red' and 'blue' America
Science and the squishiness of the human mind. The joys of wearing whatever the hell you want, and so much more.
Flickr / 13winds
Think Again Podcasts
Why can't we have a human-sized cat tree?
What would happen if you got a spoonful of a neutron star?
Why do we insist on dividing our wonderfully complex selves into boring little boxes
Big think's weekly newsletter.
Get smarter faster from the comfort of your inbox.
See our newsletter privacy policy
here
Most Popular
Most Recent
Big think's weekly newsletter.
Get smarter faster from the comfort of your inbox.
See our newsletter privacy policy
here
© Copyright 2007-2018 & BIG THINK, BIG THINK EDGE,
SMARTER FASTER trademarks owned by The Big Think, Inc. All rights reserved.