At the NYTimes, A Frame Shift for Nanotech?
Matthew C. Nisbet
Matthew C. Nisbet, Ph.D. is Associate Professor of Communication Studies, Public Policy, and Urban Affairs at Northeastern University. Nisbet studies the role of communication and advocacy in policymaking and public affairs, focusing on debates over over climate change, energy, and sustainability. Among awards and recognition, Nisbet has been a Visiting Shorenstein Fellow on Press, Politics, and Public Policy at Harvard University's Kennedy School of Government, a Health Policy Investigator at the Robert Wood Johnson Foundation, and a Google Science Communication Fellow. In 2011, the editors at the journal Nature recommended Nisbet's research as "essential reading for anyone with a passing interest in the climate change debate," and the New Republic highlighted his work as a "fascinating dissection of the shortcomings of climate activism."
16 August, 2010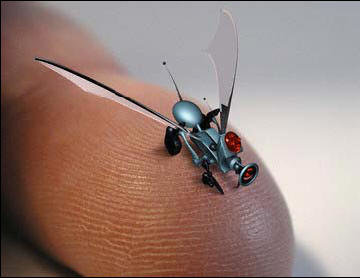 An artist's take on the "scary wonder" of nanotechnology.

The asbestos of tomorrow? As we wrote in our article last year at The Scientist, that's not the type of frame device that augurs well for public perceptions of nanotechnology. But it's exactly the perceptual lens by which the New York Times covers a new study appearing this week at Nature Nanotechnology. As Kenneth Chang opens the article, setting the train of thought for readers:


Nanotubes, one of the wonder materials of the new age of nanotechnology, may carry a health risk similar to that of asbestos, a wonder material of an earlier age that turned into a scourge after decades of use when its fibers were found to cause lung disease, researchers said Tuesday.
The asbestos comparison immediately places nanotechnology in the mental box of uncertainty and risky health impacts. For several years, consumer advocates have used asbestos as a familiar historical example to anchor interpretations of nanotech, but now this advocacy package has been given resonance by a
study appearing this week
in the journal Nature Nanotechnology. From the NY Times article:
A team of researchers reported that injecting nanotubes into the abdomens of mice induced lesions similar to those that appear on the outer lining of the lungs after the inhalation of asbestos...When foreign particles like smoke or dust land in the lungs, cells known as macrophages engulf the particles and clear them away. Some asbestos fibers are too long for the macrophages to handle, resulting in lesions. The researchers hypothesized that nanotubes would cause similar problems if they were long, but not if they were short or tangled into a ball...The mice injected with the short nanotubes or small carbon clumps did not develop disease. Those injected with long nanotubes or asbestos developed lesions on the tissue lining.
In its coverage, the LA Times ran this headline: "NANOTECHNOLOGY CANCER RISK FOUND." Alan Zarembo reinforces the frame of reference in his lede paragraps to the
article
:
Certain types of carbon nanotubes -- microscopic graphite cylinders used in a small but growing number of Space Age applications -- could pose a cancer risk similar to that of asbestos if inhaled, scientists reported Tuesday. Researchers found that mice injected with nanotubes quickly developed the same biological damage associated with early exposure to asbestos fibers, a known carcinogen. The study showed "the potential to cause harm if these things get into the air and into the lungs," said coauthor Andrew Maynard, a physicist at the Woodrow Wilson International Center for Scholars in Washington.
Shifting frames in coverage of nanotechnology also appeared yesterday at Canada's paper of record. As the Globe and Mail
reports
, the Canadian Institute for Environmental Law and Policy is pushing a focus on the public accountability dimensions of the technology. Emphasizing a regulatory vacuum, the advocacy group released a report this week calling for nanomaterials to be banned in foods and packaging, and for mandatory labeling in cosmetics, personal-care products and cleaning agents.
Orangutans join humans and bees in a very exclusive club
Surprising Science
Orangutan mothers wait to sound a danger alarm to avoid tipping off predators to their location
It took a couple of researchers crawling around the Sumatran jungle to discover the phenomenon
This ability may come from a common ancestor
In a breakthrough for nuclear fusion research, scientists at China's Experimental Advanced Superconducting Tokamak (EAST) reactor have produced temperatures necessary for nuclear fusion on Earth.
Credit: EAST Team
Surprising Science
The EAST reactor was able to heat hydrogen to temperatures exceeding 100 million degrees Celsius.
Nuclear fusion could someday provide the planet with a virtually limitless supply of clean energy.
Still, scientists have many other obstacles to pass before fusion technology becomes a viable energy source.
Journaling can help you materialize your ambitions.
Videos
Organizing your thoughts can help you plan and achieve goals that might otherwise seen unobtainable.
The Bullet Journal method, in particular, can reduce clutter in your life by helping you visualize your future.
One way to view your journal might be less of a narrative and more of a timeline of decisions.
Big think's weekly newsletter.
Get smarter faster from the comfort of your inbox.
See our newsletter privacy policy
here
Most Popular
Most Recent
Big think's weekly newsletter.
Get smarter faster from the comfort of your inbox.
See our newsletter privacy policy
here
© Copyright 2007-2018 & BIG THINK, BIG THINK EDGE,
SMARTER FASTER trademarks owned by The Big Think, Inc. All rights reserved.