74% of GOP Congress Members Reject Climate Science
Matthew C. Nisbet
Matthew C. Nisbet, Ph.D. is Associate Professor of Communication Studies, Public Policy, and Urban Affairs at Northeastern University. Nisbet studies the role of communication and advocacy in policymaking and public affairs, focusing on debates over over climate change, energy, and sustainability. Among awards and recognition, Nisbet has been a Visiting Shorenstein Fellow on Press, Politics, and Public Policy at Harvard University's Kennedy School of Government, a Health Policy Investigator at the Robert Wood Johnson Foundation, and a Google Science Communication Fellow. In 2011, the editors at the journal Nature recommended Nisbet's research as "essential reading for anyone with a passing interest in the climate change debate," and the New Republic highlighted his work as a "fascinating dissection of the shortcomings of climate activism."
16 August, 2010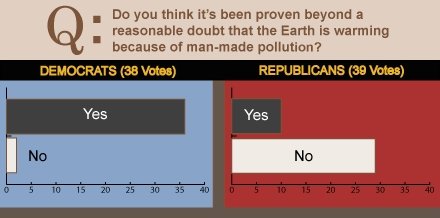 The National Journal has released its annual survey of Congressional members on their views of climate science. When asked: "Do you think it's been proven beyond a reasonable doubt that the Earth is warming because of man-made pollution?," of the 38 Democratic members of Congress interviewed, 98 percent answered "yes."

But among the 39 Republican members of Congress surveyed, just 26% percent answered in the affirmative. Among the reasons from Republican members on why they continue to doubt the science, the National Journal quotes the following:

"Reasonable people have doubts. For every Al Gore, there is an intelligent scientist armed with legitimate facts to debunk him."

"In the '70s, the 'consensus of scientists' was that we were beginning global cooling. Now it is global warming. Excuse me if I am skeptical of this newest form of secular religion. Perhaps we should pause and take a breath before we drink the new Kool-Aid!"

"What has been proven is that a well-targeted pop-culture campaign can trump even the best of science. The bad news is, a very few will get very rich, and the rest of us will foot the bill with mythical creations like cap and trade. The impact of such programs on the environment: Zero. The cost to the American public: Huge. The grin on Al Gore's very wealthy face: Priceless!"

"It's been proven beyond a reasonable doubt that Democrats are OK with the idea of surrendering our spot atop the world economy."

The stories we tell define history. So who gets the mic in America?
Videos
History is written by lions. But it's also recorded by lambs.
In order to understand American history, we need to look at the events of the past as more prismatic than the narrative given to us in high school textbooks.
Including different voices can paint a more full and vibrant portrait of America. Which is why more walks of American life can and should be storytellers.

A glass of juice has as much sugar, ounce for ounce, as a full-calorie soda. And those vitamins do almost nothing.
popular
Quick: think back to childhood (if you've reached the scary clown you've gone too far). What did your parents or guardians give you to keep you quiet? If you're anything like most parents, it was juice. But here's the thing: juice is bad for you. 
Orangutans join humans and bees in a very exclusive club
Surprising Science
Orangutan mothers wait to sound a danger alarm to avoid tipping off predators to their location
It took a couple of researchers crawling around the Sumatran jungle to discover the phenomenon
This ability may come from a common ancestor
Big think's weekly newsletter.
Get smarter faster from the comfort of your inbox.
See our newsletter privacy policy
here
Most Popular
Most Recent
Big think's weekly newsletter.
Get smarter faster from the comfort of your inbox.
See our newsletter privacy policy
here
© Copyright 2007-2018 & BIG THINK, BIG THINK EDGE,
SMARTER FASTER trademarks owned by The Big Think, Inc. All rights reserved.