Big ideas.
Once a week.
Subscribe to our weekly newsletter.
Whatever you think, you don't necessarily know your own mind
People think that stereotypes are true but also that it is not acceptable to admit this and therefore say they are false. Moreover, they say this to themselves too, in inner speech.
18 January, 2018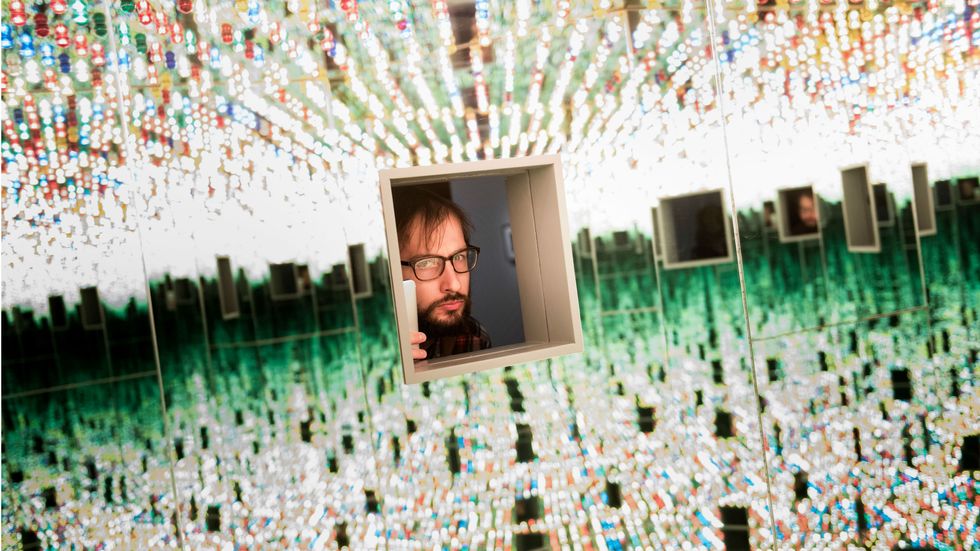 A man looks at the Love Forever room during a preview of the Yayoi Kusama's Infinity Mirrors exhibit at the Hirshhorn Museum February 21, 2017 in Washington, DC. (Photo credit: BRENDAN SMIALOWSKI/AFP/Getty Images)
Do you think racial stereotypes are false? Are you sure? I'm not asking if you're sure whether or not the stereotypes are false, but if you're sure whether or not you think that they are. That might seem like a strange question. We all know what we think, don't we?
---
Most philosophers of mind would agree, holding that we have privileged access to our own thoughts, which is largely immune from error. Some argue that we have a faculty of 'inner sense', which monitors the mind just as the outer senses monitor the world. There have been exceptions, however. The mid-20th-century behaviourist philosopher Gilbert Ryle held that we learn about our own minds, not by inner sense, but by observing our own behaviour, and that friends might know our minds better than we do. (Hence the joke: two behaviourists have just had sex and one turns to the other and says: 'That was great for you, darling. How was it for me?') And the contemporary philosopher Peter Carruthers proposes a similar view (though for different reasons), arguing that our beliefs about our own thoughts and decisions are the product of self-interpretation and are often mistaken.
Evidence for this comes from experimental work in social psychology. It is well established that people sometimes think they have beliefs that they don't really have. For example, if offered a choice between several identical items, people tend to choose the one on the right. But when asked why they chose it, they confabulate a reason, saying they thought the item was a nicer colour or better quality. Similarly, if a person performs an action in response to an earlier (and now forgotten) hypnotic suggestion, they will confabulate a reason for performing it. What seems to be happening is that the subjects engage in unconscious self-interpretation. They don't know the real explanation of their action (a bias towards the right, hypnotic suggestion), so they infer some plausible reason and ascribe it to themselves. They are not aware that they are interpreting, however, and make their reports as if they were directly aware of their reasons.
Many other studies support this explanation. For example, if people are instructed to nod their heads while listening to a tape (in order, they are told, to test the headphones), they express more agreement with what they hear than if they are asked to shake their heads. And if they are required to choose between two items they previously rated as equally desirable, they subsequently say that they prefer the one they had chosen. Again, it seems, they are unconsciously interpreting their own behaviour, taking their nodding to indicate agreement and their choice to reveal a preference.
Building on such evidence, Carruthers makes a powerful case for an interpretive view of self-knowledge, set out in his book The Opacity of Mind (2011). The case starts with the claim that humans (and other primates) have a dedicated mental subsystem for understanding other people's minds, which swiftly and unconsciously generates beliefs about what others think and feel, based on observations of their behaviour. (Evidence for such a 'mindreading' system comes from a variety of sources, including the rapidity with which infants develop an understanding of people around them.) Carruthers argues that this same system is responsible for our knowledge of our own minds. Humans did not develop a second, inward-looking mindreading system (an inner sense); rather, they gained self-knowledge by directing the outward-looking system upon themselves. And because the system is outward-looking, it has access only to sensory inputs and must draw its conclusions from them alone. (Since it has direct access to sensory states, our knowledge of what we are experiencing is not interpretative.)
The reason we know our own thoughts better than those of others is simply that we have more sensory data to draw on – not only perceptions of our own speech and behaviour, but also our emotional responses, bodily senses (pain, limb position, and so on), and a rich variety of mental imagery, including a steady stream of inner speech. (There is strong evidence that mental images involve the same brain mechanisms as perceptions and are processed like them.) Carruthers calls this the Interpretive Sensory-Access (ISA) theory, and he marshals a huge array of experimental evidence in support of it.
The ISA theory has some startling consequences. One is that (with limited exceptions), we do not have conscious thoughts or make conscious decisions. For, if we did, we would be aware of them directly, not through interpretation. The conscious events we undergo are all sensory states of some kind, and what we take to be conscious thoughts and decisions are really sensory images – in particular, episodes of inner speech. These images might express thoughts, but they need to be interpreted.
Another consequence is that we might be sincerely mistaken about our own beliefs. Return to my question about racial stereotypes. I guess you said you think they are false. But if the ISA theory is correct, you can't be sure you think that. Studies show that people who sincerely say that racial stereotypes are false often continue to behave as if they are true when not paying attention to what they are doing. Such behaviour is usually said to manifest an implicit bias, which conflicts with the person's explicit beliefs. But the ISA theory offers a simpler explanation. People think that the stereotypes are true but also that it is not acceptable to admit this and therefore say they are false. Moreover, they say this to themselves too, in inner speech, and mistakenly interpret themselves as believing it. They are hypocrites but not conscious hypocrites. Maybe we all are.
If our thoughts and decisions are all unconscious, as the ISA theory implies, then moral philosophers have a lot of work to do. For we tend to think that people can't be held responsible for their unconscious attitudes. Accepting the ISA theory might not mean giving up on responsibility, but it will mean radically rethinking it.

Keith Frankish
This article was originally published at Aeon and has been republished under Creative Commons.
Evolution proves to be just about as ingenious as Nikola Tesla
Surprising Science
For the first time, scientists developed 3D scans of shark intestines to learn how they digest what they eat.
The scans reveal an intestinal structure that looks awfully familiar — it looks like a Tesla valve.
The structure may allow sharks to better survive long breaks between feasts.
Considering how much sharks are feared by humans, it is a bit of a surprise that scientists don't know much about the predators. For example, until recently, sharks were thought to be solitary creatures searching the seas for food on their own. Now it appears that some sharks are quite social.
Another mystery is how these prehistoric swimming and eating machines digest food. Although scientists have made 2D sketches of captured sharks' digestive systems based on dissections, there is a limit to what can be learned in this way. Professor Adam Summers at University of Washington's Friday Harbor Labs says:
"Intestines are so complex, with so many overlapping layers, that dissection destroys the context and connectivity of the tissue. It would be like trying to understand what was reported in a newspaper by taking scissors to a rolled-up copy. The story just won't hang together."
Summers is co-author of a new study that has produced the first 3D scans of a shark's intestines, which turns out to have a strange, corkscrew structure. What's even more bizarre is that it resembles the amazing one-way valve designed by inventor Nikola Tesla in 1920. The research is published in the journal Proceedings of the Royal Society B.
What a 3D model reveals
Video: Pacific spiny dogfish intestine youtu.be
According to the study's lead author Samantha Leigh, "It's high time that some modern technology was used to look at these really amazing spiral intestines of sharks. We developed a new method to digitally scan these tissues and now can look at the soft tissues in such great detail without having to slice into them."

"CT scanning is one of the only ways to understand the shape of shark intestines in three dimensions," adds Summers. The researchers scanned the intestines of nearly three dozen different shark species.
It is believed that sharks go for extended periods — days or even weeks — between big meals. The scans reveal that food passes slowly through the intestine, affording sharks' digestive system the time to fully extract its nutrient value. The researchers hypothesize that such a slow digestive process may also require less energy.
It could be that this slow digestion is more susceptible to back flow given that the momentum of digested food through the tract must be minimal. Perhaps that is why sharks evolved something so similar to a Tesla valve.
What is Tesla's valve doing there?
Above, a Tesla valve. Below, a shark intestine.Credit: Samantha Leigh / California State University, Domi
Tesla's "valvular conduit," or what the world now calls a "Tesla valve," is a one-way valve with no moving parts. Its brilliance is based in fluid dynamics and only now coming to be fully appreciated. Essentially, a series of teardrop-shaped loops arranged along the length of the valve allow water to flow easily in one direction but not in the other. Modern tests reveal that at low flow rates, water can travel through the valve either way, but at high flow rates, the design kicks in. According to mathematician Leif Ristroph:

"Crucially, this turn-on comes with the generation of turbulent flows in the reverse direction, which 'plug' the pipe with vortices and disrupting currents. Moreover, the turbulence appears at far lower flow rates than have ever previously been observed for pipes of more standard shapes — up to 20 times lower speed than conventional turbulence in a cylindrical pipe or tube. This shows the power it has to control flows, which could be used in many applications."
A deeper dive
Summers suggests the scans are just the beginning. "The vast majority of shark species, and the majority of their physiology, are completely unknown," says Summers, adding that "every single natural history observation, internal visualization, and anatomical investigation shows us things we could not have guessed at."
To this end, the researchers plan to use 3D printing to produce models through which they can observe the behavior of different substances passing through them — after all, sharks typically eat fish, invertebrates, mammals, and seagrass. They also plan to explore with engineers ways in which the shark intestine design could be used industrially, perhaps for the treatment of wastewater or for filtering microplastics.
It could fairly be said, though, that Nikola Tesla was 100 years ahead of them.
Fear that new technologies are addictive isn't a modern phenomenon.
Credit
: Rodion Kutsaev via Unsplash
Technology & Innovation
This article was originally published on our sister site, Freethink, which has partnered with the Build for Tomorrow podcast to go inside new episodes each month. Subscribe here to learn more about the crazy, curious things from history that shaped us, and how we can shape the future.
In many ways, technology has made our lives better. Through smartphones, apps, and social media platforms we can now work more efficiently and connect in ways that would have been unimaginable just decades ago.
But as we've grown to rely on technology for a lot of our professional and personal needs, most of us are asking tough questions about the role technology plays in our own lives. Are we becoming too dependent on technology to the point that it's actually harming us?
In the latest episode of Build for Tomorrow, host and Entrepreneur Editor-in-Chief Jason Feifer takes on the thorny question: is technology addictive?
Popularizing medical language
What makes something addictive rather than just engaging? It's a meaningful distinction because if technology is addictive, the next question could be: are the creators of popular digital technologies, like smartphones and social media apps, intentionally creating things that are addictive? If so, should they be held responsible?
To answer those questions, we've first got to agree on a definition of "addiction." As it turns out, that's not quite as easy as it sounds.
If we don't have a good definition of what we're talking about, then we can't properly help people.

LIAM SATCHELL UNIVERSITY OF WINCHESTER
"Over the past few decades, a lot of effort has gone into destigmatizing conversations about mental health, which of course is a very good thing," Feifer explains. It also means that medical language has entered into our vernacular —we're now more comfortable using clinical words outside of a specific diagnosis.
"We've all got that one friend who says, 'Oh, I'm a little bit OCD' or that friend who says, 'Oh, this is my big PTSD moment,'" Liam Satchell, a lecturer in psychology at the University of Winchester and guest on the podcast, says. He's concerned about how the word "addiction" gets tossed around by people with no background in mental health. An increased concern surrounding "tech addiction" isn't actually being driven by concern among psychiatric professionals, he says.
"These sorts of concerns about things like internet use or social media use haven't come from the psychiatric community as much," Satchell says. "They've come from people who are interested in technology first."
The casual use of medical language can lead to confusion about what is actually a mental health concern. We need a reliable standard for recognizing, discussing, and ultimately treating psychological conditions.
"If we don't have a good definition of what we're talking about, then we can't properly help people," Satchell says. That's why, according to Satchell, the psychiatric definition of addiction being based around experiencing distress or significant family, social, or occupational disruption needs to be included in any definition of addiction we may use.
Too much reading causes... heat rashes?
But as Feifer points out in his podcast, both popularizing medical language and the fear that new technologies are addictive aren't totally modern phenomena.
Take, for instance, the concept of "reading mania."
In the 18th Century, an author named J. G. Heinzmann claimed that people who read too many novels could experience something called "reading mania." This condition, Heinzmann explained, could cause many symptoms, including: "weakening of the eyes, heat rashes, gout, arthritis, hemorrhoids, asthma, apoplexy, pulmonary disease, indigestion, blocking of the bowels, nervous disorder, migraines, epilepsy, hypochondria, and melancholy."
"That is all very specific! But really, even the term 'reading mania' is medical," Feifer says.
"Manic episodes are not a joke, folks. But this didn't stop people a century later from applying the same term to wristwatches."
Indeed, an 1889 piece in the Newcastle Weekly Courant declared: "The watch mania, as it is called, is certainly excessive; indeed it becomes rabid."
Similar concerns have echoed throughout history about the radio, telephone, TV, and video games.
"It may sound comical in our modern context, but back then, when those new technologies were the latest distraction, they were probably really engaging. People spent too much time doing them," Feifer says. "And what can we say about that now, having seen it play out over and over and over again? We can say it's common. It's a common behavior. Doesn't mean it's the healthiest one. It's just not a medical problem."
Few today would argue that novels are in-and-of-themselves addictive — regardless of how voraciously you may have consumed your last favorite novel. So, what happened? Were these things ever addictive — and if not, what was happening in these moments of concern?
People are complicated, our relationship with new technology is complicated, and addiction is complicated — and our efforts to simplify very complex things, and make generalizations across broad portions of the population, can lead to real harm.

JASON FEIFER HOST OF BUILD FOR TOMORROW
There's a risk of pathologizing normal behavior, says Joel Billieux, professor of clinical psychology and psychological assessment at the University of Lausanne in Switzerland, and guest on the podcast. He's on a mission to understand how we can suss out what is truly addictive behavior versus what is normal behavior that we're calling addictive.
For Billieux and other professionals, this isn't just a rhetorical game. He uses the example of gaming addiction, which has come under increased scrutiny over the past half-decade. The language used around the subject of gaming addiction will determine how behaviors of potential patients are analyzed — and ultimately what treatment is recommended.
"For a lot of people you can realize that the gaming is actually a coping (mechanism for) social anxiety or trauma or depression," says Billieux.
"Those cases, of course, you will not necessarily target gaming per se. You will target what caused depression. And then as a result, If you succeed, gaming will diminish."
In some instances, a person might legitimately be addicted to gaming or technology, and require the corresponding treatment — but that treatment might be the wrong answer for another person.
"None of this is to discount that for some people, technology is a factor in a mental health problem," says Feifer.
"I am also not discounting that individual people can use technology such as smartphones or social media to a degree where it has a genuine negative impact on their lives. But the point here to understand is that people are complicated, our relationship with new technology is complicated, and addiction is complicated — and our efforts to simplify very complex things, and make generalizations across broad portions of the population, can lead to real harm."
Behavioral addiction is a notoriously complex thing for professionals to diagnose — even more so since the latest edition of the Diagnostic and Statistical Manual of Mental Disorders (DSM-5), the book professionals use to classify mental disorders, introduced a new idea about addiction in 2013.
"The DSM-5 grouped substance addiction with gambling addiction — this is the first time that substance addiction was directly categorized with any kind of behavioral addiction," Feifer says.
"And then, the DSM-5 went a tiny bit further — and proposed that other potentially addictive behaviors require further study."
This might not sound like that big of a deal to laypeople, but its effect was massive in medicine.
"Researchers started launching studies — not to see if a behavior like social media use can be addictive, but rather, to start with the assumption that social media use is addictive, and then to see how many people have the addiction," says Feifer.
Learned helplessness
The assumption that a lot of us are addicted to technology may itself be harming us by undermining our autonomy and belief that we have agency to create change in our own lives. That's what Nir Eyal, author of the books Hooked and Indistractable, calls 'learned helplessness.'
"The price of living in a world with so many good things in it is that sometimes we have to learn these new skills, these new behaviors to moderate our use," Eyal says. "One surefire way to not do anything is to believe you are powerless. That's what learned helplessness is all about."
So if it's not an addiction that most of us are experiencing when we check our phones 90 times a day or are wondering about what our followers are saying on Twitter — then what is it?
"A choice, a willful choice, and perhaps some people would not agree or would criticize your choices. But I think we cannot consider that as something that is pathological in the clinical sense," says Billieux.
Of course, for some people technology can be addictive.
"If something is genuinely interfering with your social or occupational life, and you have no ability to control it, then please seek help," says Feifer.
But for the vast majority of people, thinking about our use of technology as a choice — albeit not always a healthy one — can be the first step to overcoming unwanted habits.
For more, be sure to check out the Build for Tomorrow episode here.
The Inglehart-Welzel World Cultural map replaces geographic accuracy with closeness in terms of values.
Credit
: World Values Survey, public domain.
Strange Maps
This map replaces geography with another type of closeness: cultural values.
Although the groups it depicts have familiar names, their shapes are not.
The map makes for strange bedfellows: Brazil next to South Africa and Belgium neighboring the U.S.
Some countries value self-expression more than others.Credit: Robyn Beck / AFP via Getty Images
Question: On what map is Lithuania a neighbor of China, Poland lies next to Brazil, and Morocco and Yemen touch?

Answer: The Inglehart-Welzel World Cultural Map. To be precise, the 2017 map. Because on the 2020 version, each of those pairs has drifted apart significantly.
These are not, strictly speaking, maps but rather scatterplot diagrams. Each dot represents a country, the position of which is based on how it ranks on two different values (discussed below). The dots are corralled together into geo-cultural groups:
Catholic Europe, which comprises countries as diverse and far apart as Hungary and Andorra■ Protestant Europe, taking in both Iceland and Germany
The Orthodox world, from Belarus all the way to Armenia
The three Baltic states
The English-speaking world, including both the U.S. and Northern Ireland
The huge African-Islamic world, ranging from Azerbaijan to South Africa
Latin America, which goes from Mexico to Argentina
South Asia, which comprises both India and Cyprus
The Confucian world, encompassing China and Japan.
The placement of the dots indicates cultural proximity or distance. Some countries from different groups can be more similar than other countries in the same group.
See the examples indicated above: cultural neighbors China and Lithuania belong to the Confucian and Baltic groups, respectively. Poland is part of Catholic Europe; its 2017 neighbor Brazil is in Latin America. Morocco and Yemen are closer culturally to Armenia, in the Orthodox group, than they are to Qatar, despite all belonging to the African-Islamic group.
The 2017 version of the map places Malta deep inside South America and lets Vietnam, Portugal, and Macedonia meet.Credit: World Values Survey, public domain.
Creating a culture map

So, what exactly are the criteria used for plotting these dots in the first place?
These maps are part of the World Values Survey, first conducted by political scientist Ronald Inglehart in the late 1990s. With his colleague Christian Welzel, he produced an update in 2005. The WVS has been revised several times since, most recently in 2020.
The WVS asserts that there are two fundamental dimensions to cross-cultural variation across the world. These are used as the axes to plot the various countries on the diagram.
The X-axis measures survival versus self-expression values.
Survival values focus on economic and physical security. There is not much room for trust and tolerance of "others." Self-expression values prioritize well-being, quality of life, and self-expression. There is more room for tolerating ethnic, religious, and sexual minorities.
The Y-axis measures traditional versus secular-rational values.
Traditional values include deference to religion and parental authority as well as traditional social and family values. Societies that score high on traditions typically also are highly nationalistic. In more secular-rational societies, science and bureaucracy replace faith as the basis for authority. Secular-rational values include high tolerance of things like divorce, abortion, euthanasia, and suicide.
As indicated by the significant changes on the 2020 map, the cultural values of nations are not static:
Countries that move up on the map are shifting from traditional to more secular-rational values.
Countries that move to the right on the map are shifting from survival values to self-expression values.
And, of course, vice versa in both cases.
According to the authors of the map, changes in cultural outlook can be the result of socioeconomic changes — increasing levels of wealth, for example. But the religious and cultural heritage of each country also plays a part.
The world's cultural landscape is dynamic — you could even say promiscuous, producing new bedfellows every few years.Credit: World Values Survey, public domain.
Some notable features of the 2020 map:

The Baltic group has been dissolved; Lithuania is now part of Catholic Europe, Estonia a lone Protestant island in a Catholic sea. More worryingly, Latvia seems to have dissolved completely.
In general, survival values are strongest in African-Islamic countries, self-expression values in Protestant Europe.
Traditional values are strongest in African-Islamic countries and Latin America, while secular values dominate in Confucian countries and Protestant Europe.
The United States is an atypical member of the English-speaking group, scoring much lower on both scales (that is to say, lower and more to the left). In other words, the U.S. is more into traditional and survival values than the group's other members.
Shifting attitudes don't just separate; they also unite. Belgium and the U.S. are now culture buddies, as are New Zealand and Iceland. Kazakhstan is virtually indistinguishable from Bosnia.
The Inglehart-Welzel map is not without its critics. It has been decried as Eurocentric, simplistic, and culturally essentialist (that is, the assumption that certain cultural characteristics are essential and fixed, and that some are superior to others). Which is, of course, a very self-expressive thing to say.
For more on these maps, on the WVS surveys, and on the methodology used, visit the World Values Survey.
Strange Maps #1098
Got a strange map? Let me know at strangemaps@gmail.com.

Surprising Science
A study finds that baby mammals dream about the world they are about to experience to prepare their senses.
Scroll down to load more…