More Than Just Sanctuary, Migrants Need Social Citizenship
Social citizenship is both a feeling of belonging and a definable set of commitments and obligations associated with living in a place; it is not second-class national citizenship.
30 August, 2017
Josephine Corral of Tacoma, Washington, puts her head through a large green card replica during a May Day march May 1, 2008 in Seattle, Washington. (Credit: Stephen Brashear/Getty Images)
In 1975, the English author John Berger wrote about the political implications of immigration, at a time when one in seven workers in the factories of Germany and Britain was a male migrant —what Berger called the 'seventh man'. Today, every seventh person in the world is a migrant.
---
Migrants are likely to settle in cities. In the United States, 20 cities (accounting for 36 per cent of the total US population in 2014) were home to 65 per cent of the nation's authorised immigrants and 61 per cent of unauthorised immigrants. In Singapore, migrant workers account for 20 per cent of the city-state's population. (Migrants continue to be a significant rural population. In the US, three-quarters of farm workers are foreign-born.)
Scholarship on migration tends to focus normative arguments on the national level, where policy concerning borders and immigration is made. Some prominent political philosophers – including David Miller at Nuffield College, Oxford, and Joseph Carens at the University of Toronto – also outline an account of 'social membership' in receiving societies. This process unfolds over five to 10 years of work, everyday life and the development of attachments. As Carens writes in 'Who Should Get In?' (2003), after a period of years, any migrant crosses a 'threshold' and is no longer a stranger. This human experience of socialization holds true for low-wage and unauthorized migrants, so a receiving society should acknowledge that migrants themselves, not only their economic contributions, are part of that society.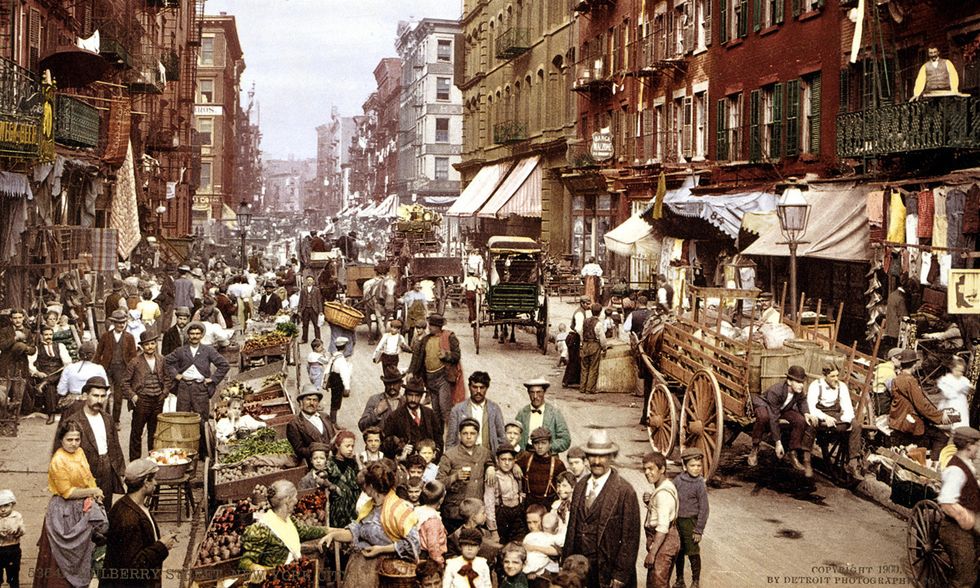 Mulberry Street, Little Italy, New York, c1900. Courtesy Wikipedia
Carens and Miller apply this argument to the moral claims of settled migrants at risk of deportation because they are unauthorised or because the terms of their presence are tightly limited by work contracts. In the US, for example, most of the estimated 11.3 million people who crossed a border without authorisation or are living outside the terms of their original visas have constituted a settled population for the past decade, with families that include an estimated 4 million children who are US citizens by birthright. In The Ethics of Immigration (2013), Carens writes that the prospect of deporting young immigrants from the place where they had lived most of their lives was especially troubling: it is 'morally wrong to force someone to leave the place where she was raised, where she received her social formation, and where she has her most important human connections'. Miller and Carens concur with the Princeton political theorist Michael Walzer's view of open-ended guest-worker programmes as ethically problematic. The fiction that such work is temporary and such workers remain foreign obscures the reality that these migrants are also part of the societies in which they live and work, often for many years, and where they deserve protection and opportunities for advancement.
Not all migrants will have access to a process leading to national citizenship or permanent legal residence status, whether this is because they are unauthorised, or their immigration status is unclear, or they are living in a nation that limits or discourages immigration while allowing foreign workers on renewable work permits. If we agree that migration is part of the identity of a society in which low-wage migrants live and work, whether or not this is acknowledged by non-migrants or by higher-status migrants, what would it mean to build on the idea of social membership and consider migrants as social citizens of the place in which they have settled? And what realistic work can the idea of social citizenship do in terms of improving conditions for migrants and supporting policy development?
Social citizenship is both a feeling of belonging and a definable set of commitments and obligations associated with living in a place; it is not second-class national citizenship. The place where one's life is lived might have been chosen in a way that the nation of one's birth was not; for a Londoner or a New Yorker, local citizenship can be a stronger identity than national citizenship. Migrants live in cities with a history of welcoming immigrants, in cities that lack this history, and also in cities where national policy discourages immigration. Considering how to ensure that social citizenship extends to migrants so that they get to belong, to contribute, and to be protected is a way to frame ethical and practical questions facing urban policymakers.
Considering migrants as social citizens of the cities in which they settle is related to but not the same as the idea of the city as a 'sanctuary' for migrants. Throughout the US, local officials have designated 'sanctuary cities' for undocumented immigrants subject to deportation under policies announced by the federal government in February 2017. This contemporary interpretation of an ancient concept refers to a policy of limited local cooperation with federal immigration officials, often associated with other policies supporting a city's migrant population. Canadian officials use the term 'sanctuary city' similarly, to refer to local protections and potentially also to limited cooperation with border-control authorities. In Europe, the term 'city of sanctuary' tends to refer to efforts supporting local refugees and coordinated advocacy for refugee admission and rights. These local actions protecting migrants are consistent with a practical concept of social citizenship in which civic history and values, and interests such as being a welcoming, diverse or growing city, correspond to the interests of migrants. However, the idea of 'sanctuary' suggests crisis: an urgent need for a safe place to hide. To become social citizens, migrants need more from cities than sanctuary.
Local policies that frame social citizenship in terms that apply to settled migrants should go beyond affirming migrants' legal rights and helping them to use these rights, although this is certainly part of a practical framework. Social citizenship, as a concept that should apply to migrants and non-migrants alike, on the basis of being settled into a society, can build on international human rights law, but can be useful in jurisdictions where human rights is not the usual reference point for considering how migrants belong to, contribute to, and are protected by a society.
What can a city expect or demand of migrants as social citizens? Mindful that the process of social integration usually takes more than one generation, it would not be fair to expect or demand that migrants integrate into a new society on an unrealistic timetable. Most migrants are adults, and opportunities to belong, to contribute, and to be protected should be available to them, as well as to the next generation. Migrants cannot be expected to take actions that could imperil them or their families. For example, while constitutionally protected civil rights in the US extend to undocumented immigrants, using these rights (by identifying themselves publicly, for example) can bring immigrants to the attention of federal authorities, a reality or fear that might constrain their ability to participate in civic life.
In his novel Exit West (2017), Mohsin Hamid offers a near-future fictional version of a political philosopher's 'earned amnesty' proposal. Under the 'time tax', newer migrants to London pay a decreasing 'portion of income and toil' toward social welfare programmes for longstanding residents, and have sweat-equity opportunities to achieve home ownership by working on infrastructure construction projects (the 'London Halo'). Today, the nonfictional citizens of Berlin are debating how to curb escalating rents so that the city remains open to lower-wage residents, including internal and transnational migrants. A robust concept of social citizenship that includes migrants who have begun the process of belonging to a city, and those who should be acknowledged as already belonging, will provide a necessary framework for understanding contemporary urban life in destination cities.

--
This article was originally published at Aeon and has been republished under Creative Commons.
The pandemic reminds us that our higher education system, with all its flaws, remains a key part of our strategic reserve.
Sponsored by Charles Koch Foundation
America's higher education system is under great scrutiny as it adapts to a remote-learning world. These criticisms will only make higher ed more innovative.
While there are flaws in the system and great challenges ahead, higher education has adapted quickly to allow students to continue learning. John Katzman, CEO of online learning organization Noodle Partners, believes this is cause for optimism not negativity.
Universities are pillars of scientific research on the COVID-19 frontlines, they bring facts in times of uncertainty and fake news, and, in a bad economy, education is a personal floatation device.
Researchers present what they've learned now that they can read the tiny text inside the Antikythera mechanism.
Exploded view of Antikythera mechanism (Peulle/Wikimedia)
Surprising Science
Though it it seemed to be just a corroded lump of some sort when it was found in a shipwreck off the coast of Greece near Antikythera in 1900, in 1902 archaeologist Valerios Stais, looking at the gear embedded in it, guessed that what we now call the "Antikythera mechanism" was some kind of astronomy-based clock. He was in the minority—most agreed that something so sophisticated must have entered the wreck long after its other 2,000-year-old artifacts. Nothing like it was believed to have existed until 1,500 years later.
The institutional barriers that have often held creative teaching back are being knocked down by the coronavirus era.
Future of Learning
Long-held structures in the education system, like classroom confines and schedules, have held back innovation for a long time, says education leader Richard Culatta.
In the coronavirus era, we have been able to shake some of those rigid structures loose, making way for creativity and, ultimately, a more open mindset.
When creativity and technology combine, learning can become so much more than delivering content to a student. Culatta gives two stunning examples: one of a biotech class, and another involving a student discovering a star.
We'd like to think that judging people's worth based on the shape of their head is a practice that's behind us.
PATRICK KOVARIK/AFP via Getty Images
Culture & Religion
'Phrenology' has an old-fashioned ring to it. It sounds like it belongs in a history book, filed somewhere between bloodletting and velocipedes.
Surprising Science
Maybe you've been wondering if you're seeing one persistent squirrel or a rotating cast of characters.
Scroll down to load more…